NHL Trade Rumors: 10 Least Movable Contracts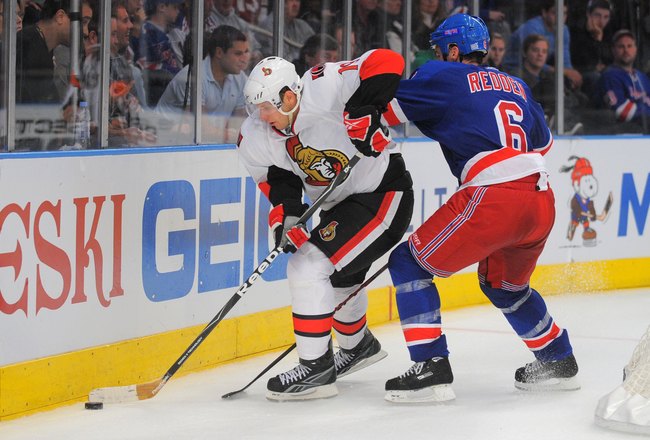 Christopher Pasatieri/Getty Images
Some players make the big bucks because they earned it from perennial stellar seasons.
Other players hit it big with a breakout season that they never matched again.
This list is a mix of both of the previous players, with the addition of players with clauses in their contracts that disallow any trades or movement in general.
All numbers courtesy of capgeek.com!
Enjoy the show!
Jason Spezza, F, Ottawa Senators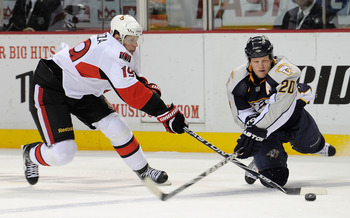 Frederick Breedon/Getty Images
Cap Hit: $7,000,000
Contract Clauses: NTC
Allegedly, Jason Spezza has had conversations with the management in Ottawa about possible trade destinations for the center.
Spezza would be a great addition to any team, but his contract may be a hurdle too tall to overcome.
Not only is the contract worth $7 million a year for the remainder of this season and the following four seasons, but it has a no trade clause.
If for any reason Spezza wants to deny a trade involving him, he holds the ability to do so.
Brad Richards, F, Dallas Stars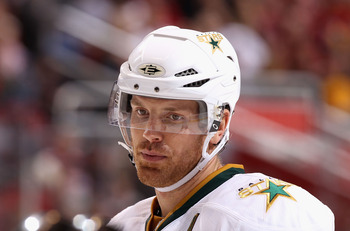 Christian Petersen/Getty Images
Cap Hit: $7,800,000
Contract Clauses: NTC
Brad Richards will be one of the top three free agents this offseason, and the time for movement might be at hand.
The Dallas Stars are in a great position to enter the playoffs high in the pecking order. I don't think that the Stars front office will make a move if they are in serious contention, but stranger things have happened.
If the team feels like they don't want to commit big money to the center, then it may be in its best interest to move him and get back some pieces for the future.
Richards contact is worth almost $8 million and has a no trade clause. All considered, this will be a tough move for Dallas.
Jarome Iginla, F, Calgary Flames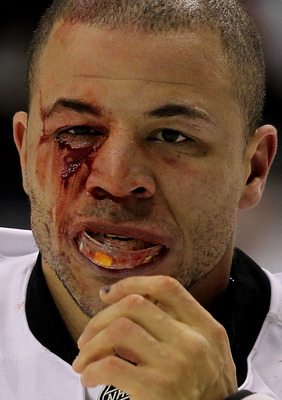 Ronald Martinez/Getty Images
Cap Hit: $7,000,000
Contract Clauses: NMC
Besides the massive amount of money due to Iginla over the next few years, he has a no movement clause that allows him to choose whether or not he will accept a move.
Jarome Iginla is highly talented and moving his talent is not the problem. People would trade the farm to have a player of Iginla's quality.
The problem lies in the fact that he can veto any move brought in front of him by the Flames management.
Iginla wants to stay in Calgary, so anything that management puts in front of him will be vetoed until proven amazing.
Ryan Malone, F, Tampa Bay Lightning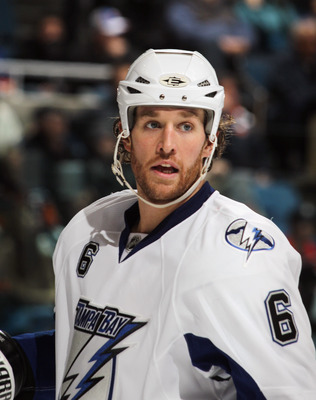 Bruce Bennett/Getty Images
Cap Hit: $4,500,000
Contract Clauses: NMC (2008-09 through 2012-13); NTC (2013-14 and 2014-15, can submit a 12-team trade list)
One of the worst contracts that I had the displeasure of analyzing, Ryan Malone will rob the Lightning for years to come.
Malone is a solid player but it will be an interesting conversation if someone can justify the $4.5 million annually against the cap. Not to mention the no movement clause and the no trade clause that were added to Malone's contract during the signing process.
If Tampa Bay could move his salary, they could make a serious push for some of the top tier free agents this offseason. They still can but moving him would alleviate some serious cash for the next few years.
Shawn Horcoff, F, Edmonton Oilers
Abelimages/Getty Images
Cap Hit: $5,500,000
Contract Clauses: NMC (through 2012-13); NTC (for 2013-14, starting July 1, 2013, player can provide list of 10 teams to which he will accept a trade); no NMC/NTC for 2014-15.
Shawn Horcoff is the Captain of the Edmonton Oilers and I don't see them moving him soon.
One because they love him, and two because no one in their right mind would absorb his contract and all of the clauses that come with it.
Horcoff is locked up through 2015 and he will make over $5 million each year. He is a solid two way forward with a knack for being in the right position. With that said, he's not worth what he is being paid.
The real problem I have is the clauses in the contract. He has a no movement clause and a no trade clause that will enable him to control his own future in Edmonton.
Chris Drury, F, New York Rangers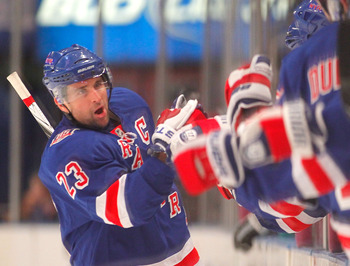 Paul Bereswill/Getty Images
Cap Hit: $7,050,000
Contract Clauses: NMC
Chris Drury isn't going anywhere.
Not because the Rangers are falling over themselves to keep him, but because he has a no movement clause, that allows him to veto any move that the team tries.
There are two more years on the deal, and the Rangers won't be able to move him for anything substantial before that. It's not for a lack of trying, that's for sure.
Drury is a solid player, but he has a contract the reaches beyond his real monetary value.
Jean-Sebastian Giguere, G, Toronto Maple Leafs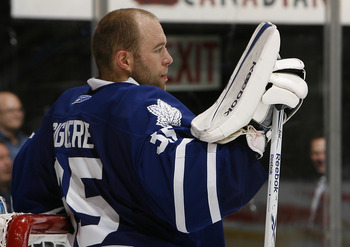 Abelimages/Getty Images
Cap Hit: $6,000,000
Contract Clauses: NTC
Toronto has made plenty of mistakes in the past, but I hope it makes the right decision this offseason with J.S. Giguere.
Giguere will be a free agent this offseason, and the Maple Leafs need to let him loose. He has played below what was expected of him from the management and the fans.
The Maple Leafs will try to move him at the deadline, but his injury and subpar play will make the move impossible. Also, his contract is worth $7 million this year, and he has a no trade clause to boot.
Scott Gomez, F, Montreal Canadiens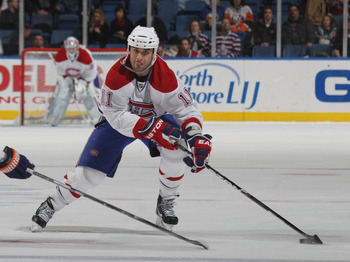 Bruce Bennett/Getty Images
Cap Hit: $7,357,143
Contract Clauses: NTC (can list three teams he will not accept a trade to)
The no trade clause in Gomez's contract isn't the problem; it's the over $7 million dollar a year hit against the salary cap he brings with him.
Scott Gomez is a good hockey player, but I don't think he is worth the money he makes.
It would be almost impossible for Montreal to move his giant salary, because it would be hard to find a trade partner who would offer a player making anywhere near what Gomez does.
Teams will not be willing to let go top notch players and prospects for a player over 30 years old who seems to have plateaued as an average to slightly above average forward in the NHL.
Wade Redden, D, New York Rangers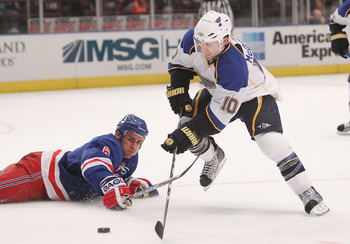 Nick Laham/Getty Images
Cap Hit: $6,500,000
Contract Clauses: NTC (can list eight teams he will not accept a trade to)
UGH!
Not only does Wade Redden make $6.5 million this year for playing with the Hartford Wolf Pack (which is the highest amount ever paid to an AHL player), but he will be making $6.5 million for the following three years as well.
I wish I got paid that much to do nothing. I'd do it for free.
Redden could be the worst signing in recent memory, and it couldn't have happened to a nicer team.
Brian Campbell, D, Chicago Blackhawks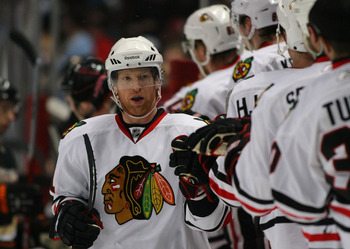 Victor Decolongon/Getty Images
Cap Hit: $7,142,875
Contract Clauses: NTC (can designate eight teams he will accept a trade to; team has 45 days from date of notice received to trade him to one of those teams)
The Chicago Blackhawks will pay Brian Campbell over $7 million each year until 2016.
That's not good.
The Blackhawks really went out of their way to sign Campbell, and the experiment has failed. Campbell adds some defensive depth to the team but little else. When he is playing well, he can be a force offensively, but it isn't often.
If the Blackhawks want to avoid losing further future players because of cap issues, they should try to find a way to get out from under this contract.
Good luck with that!
Keep Reading