NFL Super Bowl XLV Flavor of the Week: Can the Pack Get Back?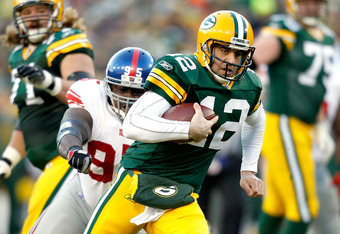 This A-Rod is a five tool football player!
Matthew Stockman/Getty Images
We tried this a few weeks ago and for the most part, though some of the seeding was off, the teams we expected to get into the playoffs—the Pats, Steelers, Ravens, Colts, Chiefs and Jets instead of the Chargers in the AFC—look right, and in the NFC the Falcons, Saints, Eagles, Bears and Rams all look pretty good, too.
Of course, you'll notice we left one spot missing on the NFC side.
Three weeks ago—before the Philly debacle—we filled that spot with the NY Giants and picked them to win the East, grab a first round bye, home field in Round 2, to perhaps set up a Super Bowl XLV rematch with the soon to be AFC Champion Pats from there.
How far fetched does that seem now?
In fact, this has been an altogether crazy year in the National Football Conference. You can start with the almost immediate downfall of preseason favorite, Dallas, and from there move quickly to the equally glaring ruination of Brett Favre and the Vikings.
Fast forward quite a bit and we run right up to the Philly 10-minute miracle comeback two weeks ago in New York. In fact, everything to do with Philly this year and the return of Michael Vick is kind of a miracle unto itself, considering the team was pretty hell bent on letting their 2010 fortunes ride on the neophyte right arm of Kevin Kolb.
Jim McIsaac/Getty Images
Wild Card New Orleans let their play do the talking against No. 1 seed Atlanta Monday night.
Then the Eagles, looking ready behind the resurrected Vick to run roughshod over the rest of the NFC in the playoff weeks to come shocked the world—but not in a good, way as they got slammed by Joe Webb (who?) and the self same, downtrodden Vikings in the league's first ever Tuesday night affair.
In between, the reprise of the Tampa Bay Bucs has been a great story. Nobody expected the Bears and Jay Cutler to win double figure games, especially after an early season loss to the Giants where the famed Mike Martz aerial attack was grounded like a twin propeller jobbie from way back God knows when.
And then you have the Green Bay Packers—banged up all year, lurking in the shadows, hoping their all-world quarterback wasn't going to be hinged to the bench for the remainder of the season due to post-concussion syndrome.
This past Sunday, Aaron Rodgers re-emerged and for anyone who witnessed the event, you had to come away thinking: This Packer team is scary!
No, they don't run the ball very well (although Rodgers has wheels) and yes, they have to beat 'Da Bears on Sunday even to make the dance.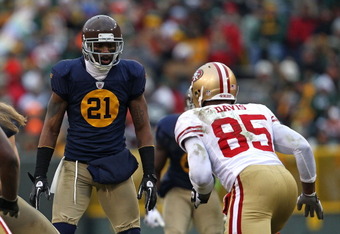 Jonathan Daniel/Getty Images
The last was made quite a bit easier by Tuesday night's upset. Where Chicago may have been battling Philly for Round 2 home field, they are now entrenched in that position. For whatever they say about giving it the old college try, they would be insane to risk Cutler's health against an attacking Packer D for more than a quarter, maybe a half.
So we like the Pack to come out alive by around 7:00 pm on Sunday from Lambeau, and then, if our calculations are correct, they'll travel to the City of Brotherly Love for a first round match with the the third seeded Eagles.
Again, a few weeks ago you might have said, "Oh that's a lock for Philly," but where are we now? Finally healthy, the Packers have played defense as well as any team in the league over the final seven or eight games only allowing around 10 per contest.
They're stout against the run and pass, B.J. Raji is finally playing up to expectations, consuming stud-like space up the middle with Matthews wreaking mayhem from the outside.
Their secondary is the best in the league, and if anyone can shut down DeSean Jackson one-on-one it's Charles Woodsen who's having another superlative season.
The Eagle D, as evidenced throughout the season, can be shredded through the air and Aaron Rodgers, who happens to have the second highest QB rating in NFL history, is just the man for the job.
Chris Graythen/Getty Images
He is the equivalent of a five tool baseball player: He can run for forward yardage, adroitly elude the rush, pump off defenders for little dumps that turn into big plays.
He's got a rifle for an arm and with the likes of Donald Drive, Greg Jennings, James Jones and Jordy Nelson, tools to make mincemeat of any D.
If they get to Philly they should get out of Philly too—with a win. Let's say 35-21.
Then you figure New Orleans will stomp the Rams and Green Bay will have to invade Atlanta in Round 2.
The Falcons have been a solid team all year, but Michael Turner, while tough and running for some good yardage this year, does not have the same explosion after logging around 600 carries these past couple of seasons.
If the Pack hold him down and preclude any real clock advantage for the Birds, solid simply won't do it against a high-flying attack like Green Bay's.
Final, Green Bay 31-Falcons 21.
Meanwhile, New Orleans will have to travel to frigid Chicago to match up with the Bears.
At a glance that would appear daunting for the indoor group from the famed Big Easy, but perhaps not so much, when you consider the Chicago defense has been cooked at home in two of the past three weeks by New England and the Jets.
Rick Stewart/Getty Images
Drew Brees was born and bred in cold weather, so he won't have any problem with the conditions and while the game will run tight, figure New Orleans will escape with a thrilling 35-31 victory.
And wouldn't that just be something, a highly compelling tussle in the Superdome between two of the league's most explosive offensives.
But if there's an edge here—well the Saints are at home, that's an edge—it has to go to the Packer defense. They've got the best secondary in football, and while it's no guarantee, that may limit Brees to a certain extent.
For his part, Rodgers should be able to elude the Saints rush—they will need to actually because Matt Flynn, an outstanding performance in New England notwithstanding, is not going to step in and keep up with Brees on this kind of stage.
If it comes to fruition, a Packer-Saint matchup should be one heck of an event. It's purposeless to try to predict a final, but I really do believe at this point that this Packer team, playing at this kind of high level, could give the Pats—it doesn't matter how the AFC playoffs shakedown, nobody is beating the Patriots in Foxborough this year—a very serious tussle in Super Bowl XLV.
That was the idea when they turned the reins over to Aaron Rodgers three years ago. If the Pack can get by Chicago this weekend, this might be the year for those plans to come to fruition.
That's it for today,
DR
This article is
What is the duplicate article?
Why is this article offensive?
Where is this article plagiarized from?
Why is this article poorly edited?

Green Bay Packers: Like this team?