Doug Baker's 2010 NFL All Pro Team: Offense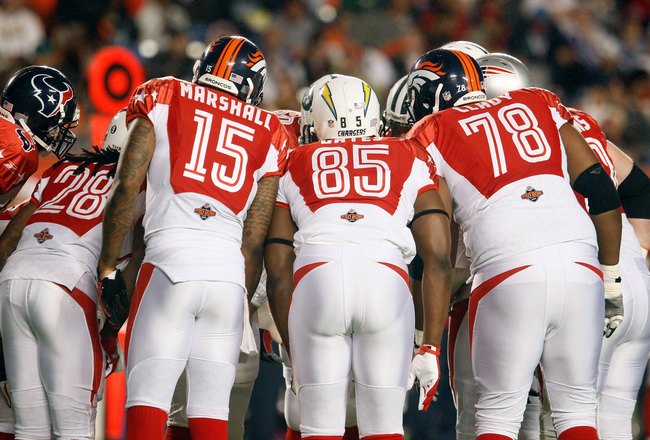 Scott Halleran/Getty Images
Well it is the end of the season and it's time to provide the definitive NFL All Pro Team.
Some things have changed in since the middle of the season. Michael "Killa" Vick has gotten healthy and gotten himself involved in the talk of NFL MVP. So, instead of sitting in a jail cell where he belongs, he gets accolades. That's professional sports for you I guess.
Arian Foster of the Houston Texans has trailed off just slightly running the ball but still leads the league in rushing.
And Pittsburgh's rookie center Maurkice Pouncey may be the best offensive lineman in the league.
As always the starters are listed first.
QB: Tom Brady, New England Patriots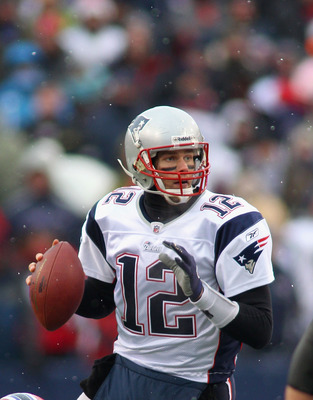 Rick Stewart/Getty Images
Tom Brady has had a terrific season and is the top rated quarterback in the league. The Patriots ability to adapt to a mostly new receiving corps this year, and thrive after the loss of Randy Moss leaving the Patriots without a real deep threat at wide receiver, places him at the top at his position.
QB: Michael Vick, Philadelphia Eagles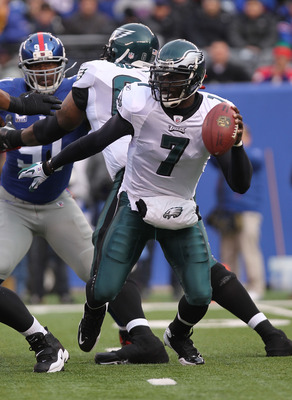 Nick Laham/Getty Images
Michael Vick has probably the fastest receiving corps in the entire league and his ability to make plays from the pocket and on his feet, something he was unable to do prior to going to jail for dog fighting, has placed him in the discussion for MVP.
RB: Arian Foster, Houston Texans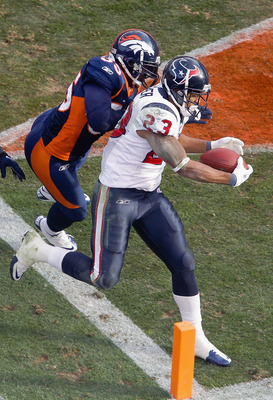 Justin Edmonds/Getty Images
It isn't entirely accurate to say that Arian Foster came out of nowhere to lead the league in rushing after the 15th game of the regular season, but he kind of did. Fantasy football fans knew about him from the preseason and he went off the draft boards fairly early in many leagues. But the gridiron is not fantasy and he has come through with a solid running game this year.
RB: Jamaal Charles, Kansas City Chiefs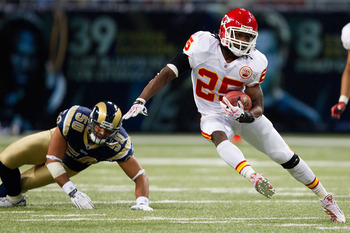 Dilip Vishwanat/Getty Images
Jamaal Charles definitely deserves a spot on this roster. He is a phenomenal second year running back who has made big strides both rushing and receiving this year. He is a big reason the Chiefs are doing so well this season.
Overall I still think Chris Johnson is likely the best running back in the league, but with such instability at quarterback and the receiving position this year teams have really stacked up against the run. Yet he is still third in the league in rushing and just barely gets edged out.
Adrian Peterson, Maurice Jones-Drew, Michael Turner, Rashard Mendenhall, Darren McFadden, and Ray Rice all deserve accolades this year.
And the out of nowhere most fun backs to watch is are Peyton Hillis and Danny Woodhead.
FB: Le'Ron McClain, Baltimore Ravens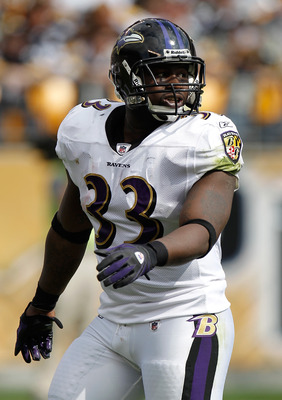 Gregory Shamus/Getty Images
Fullbacks are really a dying breed in the NFL and I wonder how much longer we will really have true fullbacks. Here I'm going with players who are the most versatile at the position.
Le'Ron McClain can do it all. He is an excellent run blocker, pass blocker, he can tote the rock, and catch passes out of the backfield. He is the most talented and versatile fullback in the game today.
FB: Heath Evans, New Orleans Saints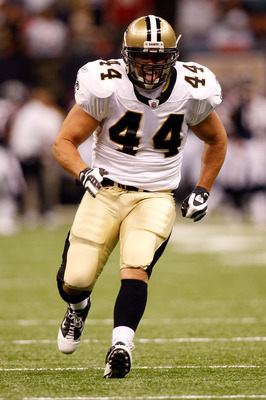 Chris Graythen/Getty Images
Heath Evans of the Saints also provides the full compliment of offensive skills and adds another dimension to the Saints already potent offense. He doesn't get a lot of playing time in the Saints pass happy offense, but when called upon he usually delivers.
WR: Roddy White, Atlanta Falcons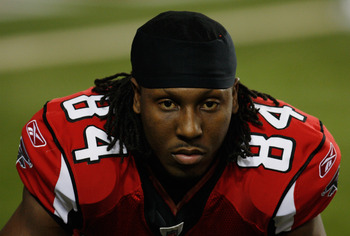 Scott Halleran/Getty Images
Roddy White has really come on the past couple of season and other than Andre Johnson is the most versatile, hard to cover receiver in the league.
WR: Andre Johnson, Hoston Texans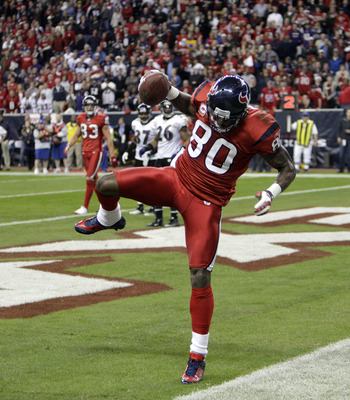 Bob Levey/Getty Images
If it weren't for his nagging injuries this year it is hard to tell what Andre Johnson might have done statistically. He is still the fourth leading receiver in yardage as of this writing.
WR: Reggie Wayne, Indianapolis Colts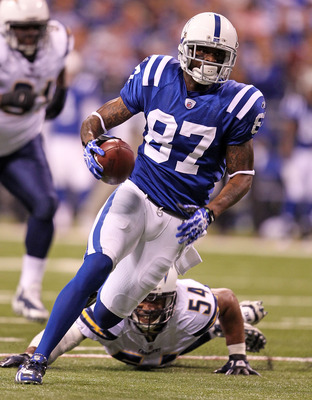 Andy Lyons/Getty Images
Reggie Wayne has had a very steady season and with all the changes to the Colts' lineup at the receiver position he has had to be the go to guy in clutch situations, and he always come through.
WR: DeSean Jackson, Philadelphia Eagles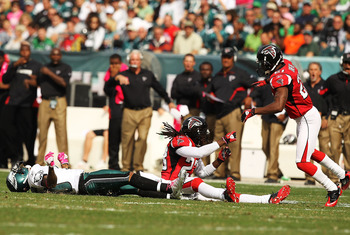 Al Bello/Getty Images
DeSean Jackson is one of those young, diva, unsportsmanlike receivers and personally I can't stand his stupid antics on the field. But he is the fastest, most explosive receiver I have seen in some time and makes the Eagles offense a big play machine.
TE: Jason Witten, Dallas Cowboys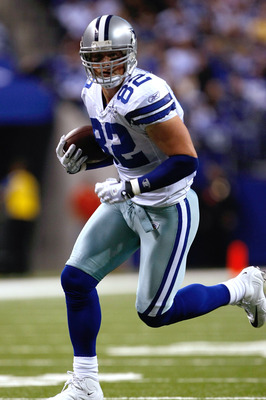 Scott Boehm/Getty Images
Jason Witten has been one bright spot in the Dallas Cowboys' arsenal this year. It doesn't matter what quarterback is playing, he is usually making big catches.
TE: Tony Gonzalez, Atlanta Falcons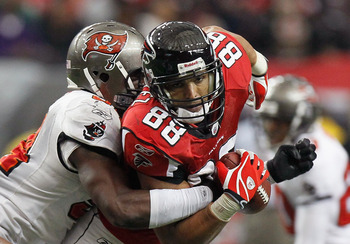 Kevin C. Cox/Getty Images
Tony Gonzalez is amazing. He is one of the best blocking and receiving tight ends in the league even at his age.
No Antonio Gates? The only reason he didn't make the cut is too many injuries and missed time
C: Maurkice Pouncey, Pittsburgh Steelers (Rookie)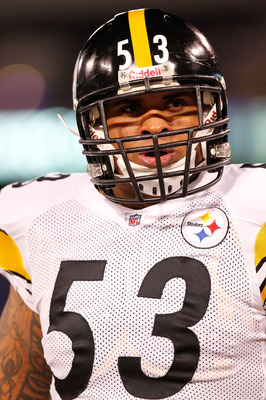 Geoff Burke/Getty Images
Maurkice Pouncey is a one nasty piece of work. He plays center like a defense player, attacking the line of scrimmage and the player he faces. This is one of the most impressive rookie offensive lineman I have seen in quite some time.
C: Matt Birk, Baltimore Ravens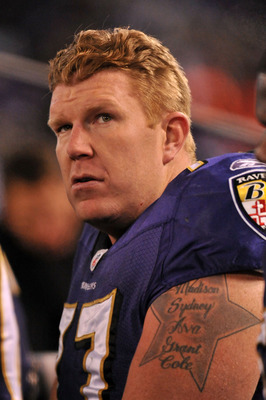 Larry French/Getty Images
By the end of this year there are a few teams that have just fabulous interior offensive lineman and the Baltimore Ravens are one of them. There is a reason a small player like Ray Rice can get so many yards running up the middle and Matt Birk is one of them.
Honorable mentions to Nick Mangold of the New York Jets and Jeff Saturday of the Indianapolis Colts.
G: Ben Grubbs, Baltimore Ravens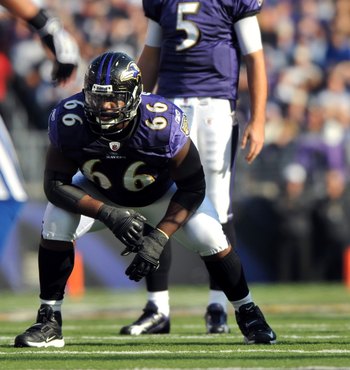 Larry French/Getty Images
Ben Grubbs has had an excellent season for the Baltimore Ravens, and along with center Matt Birk, is the reason the Ravens running game is successful up the middle.
G: Carl Nicks, New Orleans Saints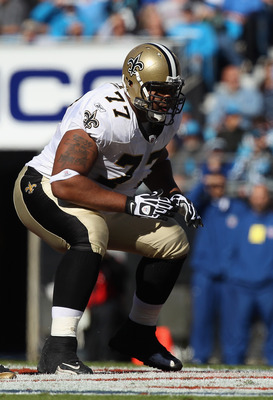 Streeter Lecka/Getty Images
Jahari Evans gets all the press and tends to be everybody's pick as one of the best guards in the league, but I think Carl Nicks is outstanding and one of the most impressive performers at guard, particularly since he often has to help Jermond Bushrod, the left tackle.
G: Adam Goldberg, St. Louis Rams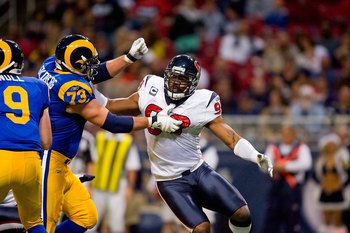 Dilip Vishwanat/Getty Images
I've only seen the Rams play a few times but one player that certainly stood out to me is the guard Adam Goldberg.
G: Rob Sims, Detroit Lions.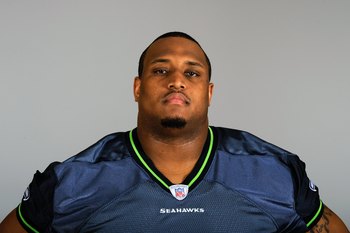 NFL Photos/Getty Images
Rob Sims of the Detroit Lions is another player that every time I see the Lions on television, which isn't often, he stands out as a superior interior offensive lineman.
Jahari Evans of the Saints, along with Carl Nicks and center Jonathan Goodwin make up one of the best offense lines in the league. They struggled a bit against the Pittsburgh Steelers defense, but who doesn't? Nevertheless, much to the hue and cry of those who think Evans is better than Nicks, he didn't make the cut.
T: Joe Thomas, Cleveland Browns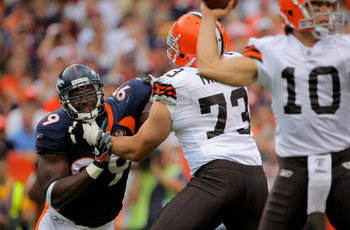 Doug Pensinger/Getty Images
Overall I have not seen great tackle play this year. The one most consistent player I have seen is Joe Thomas of the Cleveland Browns. In their last game against the Baltimore Ravens he essentially erased All Pro candidate and pass rushing specialist Terrell Suggs. And he faces two of the toughest defenses in the league twice a year in the Pittsburgh Steelers and Baltimore Ravens.
T: Jake Long, Miami Dolphins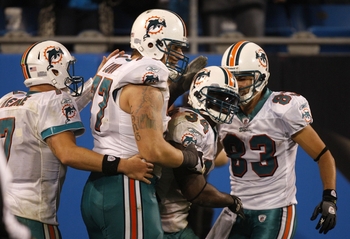 Streeter Lecka/Getty Images
Jake Long, while I think he is overrated, has also become a very consistent performer at the most critical of positions on the field at left tackle.
T: Sebastian Vollmer, New England Patriots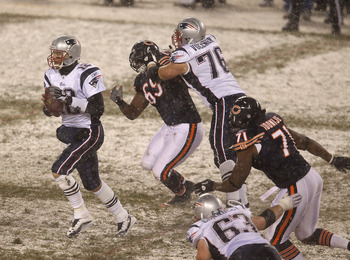 Jonathan Daniel/Getty Images
Sebastian Vollmer has been a real surprise for the New England Patriots. He has performed admirably against the likes of Dwight Freeney of the Colts and Julius Peppers of the Bears.
It was fun watching Peppers against the Patriots because he started on the right side against Matt Light, got handled, and then tried Vollmer. No luck there either Mr. Peppers.
T: Michael Roos, Tennessee Titans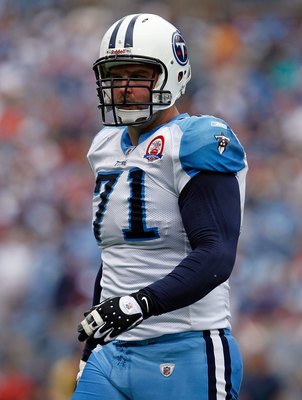 Andy Lyons/Getty Images
Michael Roos has been a very steady performer for the Titans for years and remains one of the better tackles in the league.
Damien Woody of the New York Jets would have made the team over but he is now on injured reserve.
K: Rob Bironas, Tennessee Titans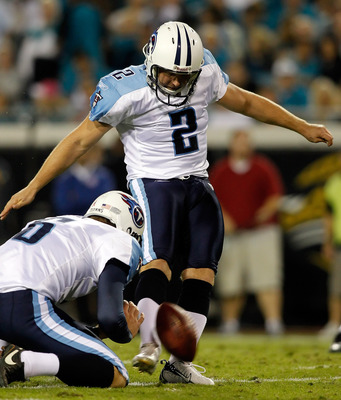 J. Meric/Getty Images
Rob Bironas has been the most consistent kicker in the league this year, particularly from 40 plus yards.
K: Josh Scobee, Jacksonville Jaguars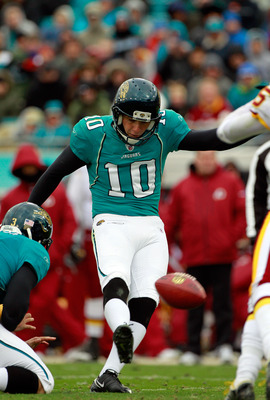 Sam Greenwood/Getty Images
Josh Scobee has missed a few of late but he also has been one of the more consistent kickers from long range.
Matt Bryant of the Atlanta Falcons almost made the cut. And Dan Carpenter of the Dolphins, who had a fine first half of the season, got cut for missing too many field goals late in the season.
Kick Returner: Devin Hester, Chicago Bears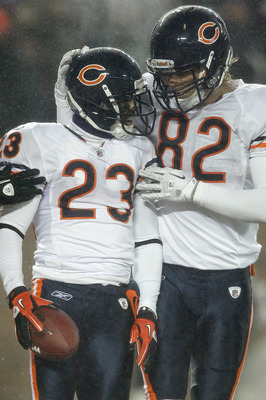 Matthew Stockman/Getty Images
If DeSean Jackson were used more as a kick returner he probably would have won this spot. After a slow start Hester is once again a player you just don't want to kick the ball to.
OFFENSIVE ROOKIE: Maurkice Pouncey, Pittsburgh Steelers
Pouncey Celebrating His Selection no Baker's All Pro Team
Karl Walter/Getty Images
Pouncey is one of the best rookie offensive linemen I have ever seen.
OFFENSIVE PLAYER: Tom Brady, New England Patriots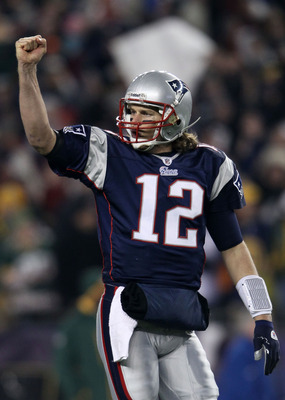 Elsa/Getty Images
Tom Brady has taken a group of unknown, smallish receivers, along with unsung heroes at the running back position and created the highest scoring offense in the league.
While many will scream that Michael Vick deserve the top spot, he has a lot more to work with than Brady.
Keep Reading