College Football's 25 Biggest Flops, Disappointments and Underachievers of 2010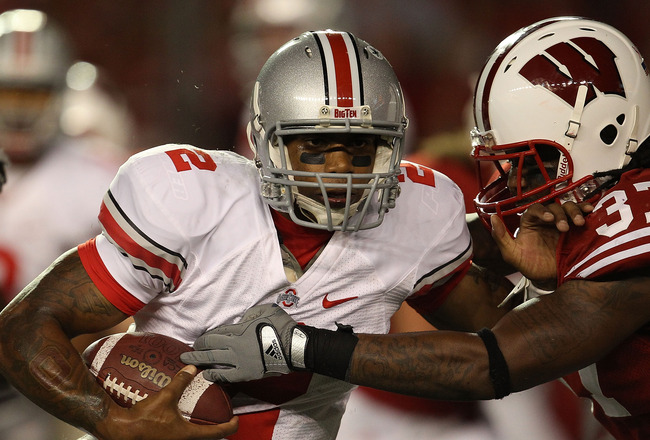 Jonathan Daniel/Getty Images
So much for the Christmas spirit. That didn't take long to wear off.
Nothing like a Little Caesars Bowl (in lieu of Vikings versus Eagles) to remind us what a disappointing college football season we just endured. And seeing Tim Tebow go all Tim Tebow for the Broncos only added insult to that injury.
Think Urban Meyer didn't miss a little of that in Gainesville this fall?
As you'll see, even the undefeated folks in Eugene and on The Plains have a right to complain. We expected more from college football 2010. And for the first time in a long time, any honest observer would have to admit the game failed to deliver.
Part of me wants to petition Phil Steele for a refund. The other half realizes that, in hindsight, we should have seen the writing on the wall way back on Media Day.
South Beach Parties, Jersey Sales and Suspensions at Alabama, UNC and Georgia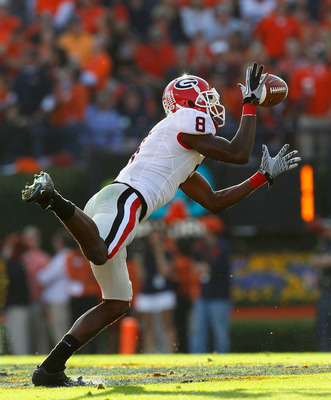 Kevin C. Cox/Getty Images
Nick Saban calling agents "pimps" at SEC Media Day almost made it all worth it.
However, once September Saturdays rolled around and Alabama's Marcel Dareus, Georgia's A.J. Green, and North Carolina's...well, entire team went missing, how could you not sense the letdown?
As it turned out, the NCAA was only scratching the surface.
Virginia Tech's Loss to James Madison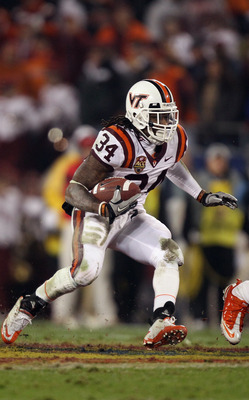 Streeter Lecka/Getty Images
To the Hokies' credit, Frank Beemer and Tyrod Taylor rallied the troops and claimed another conference crown.
But Virginia Tech's Week 2 loss to the FCS Dukes was a crotch-shot that had reverberations across the ACC and even in Boise, Idaho.
Texas Longhorns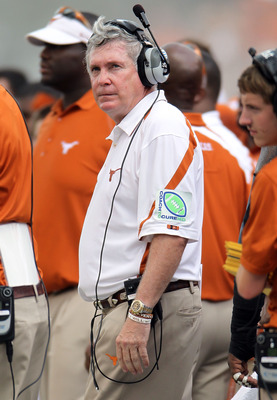 Ronald Martinez/Getty Images
Perhaps part of the blame should be redirected at preseason pollsters, who had the Horns in the top five nationally.
But talk about a fall from grace...
BCS National Championship Game to not bowl eligible in a calendar year. Ouch, Bevo.
SPOILER ALERT! Later in this movie, Florida's going to steal your coach-in-waiting, too.
John Brantley & the Florida Offense
Kevin C. Cox/Getty Images
Oh, it was bad.
So bad, the highlight of Brantley's year might have been the spring game.
So bad, Urban Meyer did something that not even Ron Zook dared to try—lose three-straight home games.
So bad, the Gators fell out of the AP Top 25 for the first time in 89 weeks.
So bad, South Carolina snapped an 0-for-12 in "The Swamp."
So bad, the rival Seminoles snapped a six-game skid against the Gators.
So bad, Joe Paterno outlasted Urban Meyer.
Urban Meyer's Resignation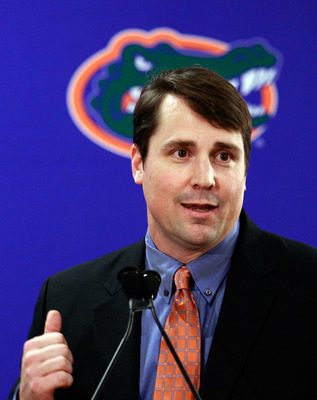 Sam Greenwood/Getty Images
Say what you will about Urban Meyer. Love him or hate him, college football is better with one of the premier coaches in the sport still in the mix.
Just look at this picture of Will Muschamp. He's like a substitute teacher thrust in front of the mic because Meyer called in sick. Good thing his wife was sensible enough to disguise that burnt orange tie with a UF blue button-down.
"Can you guys believe I've got that Gator behind me?!?"
Lane Kiffin Keeps His Mouth Shut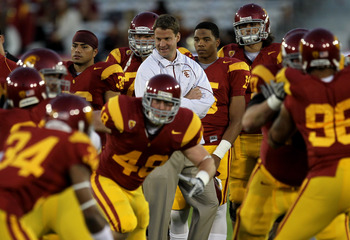 Stephen Dunn/Getty Images
We'll get back to the SEC shortcomings a bit later on, but it's high time we checked in with our old pal, Lane Kiffin.
What a dud in his first season in Los Angeles, huh?
Nevermind the 8-5 season, the Reggie Bush sanctions and the Coliseum sidelines sans Snoop.
College football's loudest mouth (Kiffin) in college football's biggest market (Los Angeles) at the head of one of college football's most prominent programs (USC)?
It should have been a media match made in heaven.
Instead, the Trojans debuted in Hawaii and Bleacher Report can neither confirm nor deny whether Kiffin ever made the return trip.
We haven't heard a peep out of him.
Tennessee Out-Miles Les Miles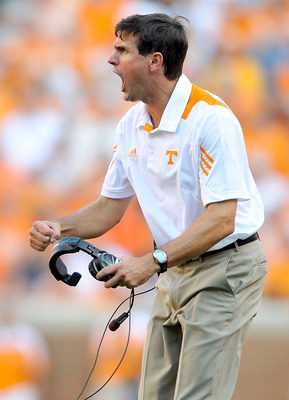 Grant Halverson/Getty Images
The Keystone Cops thought the final seconds of this game were a disaster.
While the LSU offense was draining the clock in confusion and subsequently scrambling after a botched snap, the Vols defenders were celebrating Derek Dooley's first signature win.
All 12 of them.
After the resulting penalty gave the Tigers one more chance, Stevan Ridley punched it in for the win.
If ever there was time to give both teams a loss...
The Entire Big East Conference, and Especially UConn in a BCS Bowl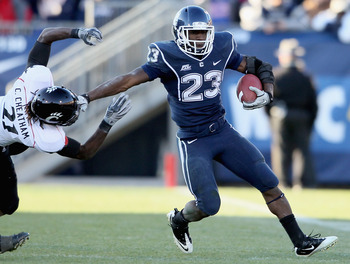 Elsa/Getty Images
Jordan Todman, earmuffs. None of this applies to you. You're awesome.
As for the rest of the Big East...do better.
Know what TCU, Boise State, Nevada and Utah have in common? Mid-major status. That, and a higher BCS ranking than every single Big East member.
West Virginia snuck into the Top 25 in the final couple weeks, saving the conference from the ignominy of being the only BCS conference without a ranked program.
No wonder the Horned Frogs are heading East.
TCU Left Out...Again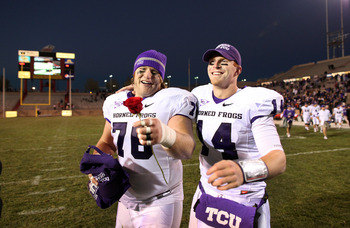 Eric Draper/Getty Images
No program or player should ever be disappointed about a Rose Bowl berth.
However, this was billed as the year that a small fry finally would finally get the shot at the whole enchilada. I'm not sure the dining analogy holds much further, but instead of the BCS Championship Game, the Horned Frogs are more or less on dish duty again.
Ladies and gentlemen, the 2010 TCU Horned Frogs: 13-0, and we'll just never know.
Boise State Shanks Title Shot
Ethan Miller/Getty Images
That image actually comes from the win over Utah in the Las Vegas Bowl. But I just couldn't resist.
Back to the previous point: 2010 was supposed to be the year we got to see a mid-major on college football's biggest stage. In hindsight, neither TCU or Boise State were holding off undefeated Oregon and Auburn in the BCS standings.
However, at the time, the Broncos' loss to Nevada crushed their hopes.
Kyle Brotzman missed a 26-yard field goal at the end of regulation and another from 29 yards in overtime.
Don't pin it all on the placekicker, though. Boise's 31 points were a regular season-low, and the 34 allowed a season-high.
P.S. Brotzman missed another in Las Vegas, in case you couldn't tell.
Tough Luck Temple
Joe Raedle/Getty Images
Thirty-five bowl games and still no room for the 8-4 Temple Owls?
Ok, I get that the fifth-best record in the MAC is nothing to write home about.
But c'mon! Couldn't we live without one of these 6-6 teams in the postseason: ECU, Illinois, Army, Tennessee, Washington, Clemson, Georgia, Middle Tennessee, Kentucky, BYU, UTEP, Louisville, FIU or Georgia Tech?
No wonder Al Golden took his talents to South Beach.
Randy Shannon, Jacory Harris and The U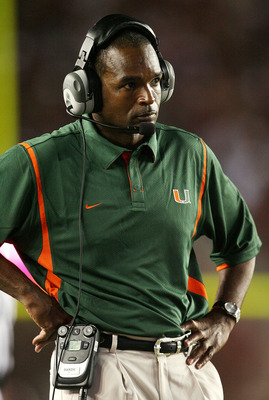 Doug Benc/Getty Images
The Hurricanes were the 13th-ranked team in both preseason polls. And even taking a Week 2 loss at Ohio State into account, Miami was putting on a pretty good show at 3-1.
It disintegrated from there, culminating with the firing of Randy Shannon following a home loss to USF in front of a family-and-friends crowd.
Harris, hyped in some circles as a Heisman dark horse, posted the lowest completion percentage of his career and was eventually obliterated by Virginia's John-Kevin Dolce in a late-October loss, a hit that effectively ended his junior campaign.
Notre Dame Losing Back-to-Back to Navy and Tulsa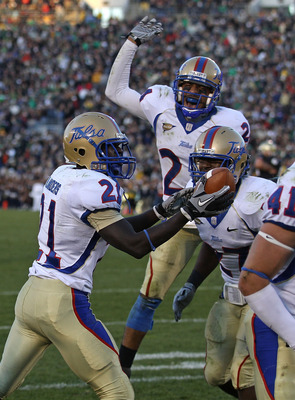 Jonathan Daniel/Getty Images
The worst loss to Navy in the history of the 84-year-old series.
Followed by the truly tragic loss of Declan Sullivan, a student videographer who died in an accident at practice.
Followed by an inexcusable coaching decision by Brian Kelly that cost the Irish a chance to boot a game-winning field goal over Tulsa.
Instead, freshman quarterback Tommy Rees was intercepted in the end zone, cementing the upset for Conference USA and the Golden Hurricane.
The sequence of events felt like they were snowballing into the early demise of the Brian Kelly era. In reality, the Sullivan tragedy provided some much-needed context and perspective for the darkest days in Irish history.
Case Keenum and Jake Locker's Heisman Campaigns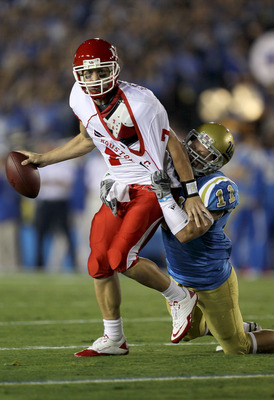 Stephen Dunn/Getty Images
In Keenum's case (no pun intended), the Heisman campaign never got off the ground. He threw picks in his first three games and tore his ACL trying to make a tackle following an interception against UCLA.
Locker's senior season was mediocre at best, and he also missed Washington's game against Oregon due to a broken rib.
Unfortunate for college football that in back-to-back seasons, top quarterbacks Sam Bradford and Locker have had decisions to return to school blow up in their faces.
Jeremiah Masoli's Impact (or Lack Thereof) at Ole Miss
Kevin C. Cox/Getty Images
Speaking of letdown seasons for high-profile quarterbacks, it would be impossible to exclude Jeremiah Masoli from this list.
While he was mired in a 13-interception, eight-loss season at Ole Miss, surely Masoli had to be wondering what might have been as his old mates at Oregon ran the table.
ESPN College GameDay Choices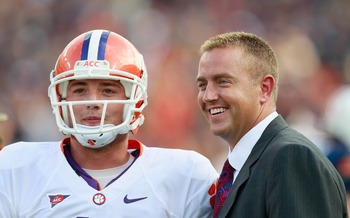 Kevin C. Cox/Getty Images
LSU @ North Carolina: Or what was left of the Tar Heels.
Penn State @ Alabama: Three-score game.
Clemson @ Auburn: Solid.
Oregon State @ Boise State: Long overdue, I'll grant you.
Stanford @ Oregon: West Coast bias?
Alabama @ South Carolina: Even a blind squirrel...
Ohio State @ Wisconsin: OK, that was cool.
Oklahoma @ Missouri: Lightning strikes twice. Fine.
Oregon @ USC: Did you not get the memo? Trojans are on probation.
TCU @ Utah: Yawn-fest.
Penn State @ Ohio State: Paterno's 400th was last week; You missed it..
Illinois @ Northwestern: They played in one direction.
Oklahoma @ Oklahoma State: Bedlam is never a bad bet.
Oregon @ Oregon State: Just because SEC Championship Game is on CBS doesn't mean you shouldn't be there.
Alright, upon further review, the picks weren't THAT bad. But they sure felt lame.
Cal Faking Injuries Against Oregon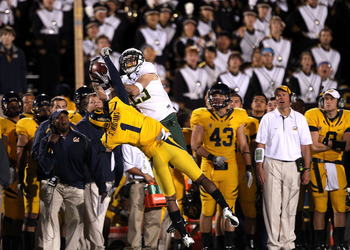 Ezra Shaw/Getty Images
Giorgio Tavecchio's false start on his own field goal was pretty disappointing.
But the Golden Bears faking injuries to slow down the fastest offense in the nation was worse.
Defensive line coach Tosh Lupoi was eventually suspended for implementing the strategy.
Nebraska Leaves Big 12 on Low Note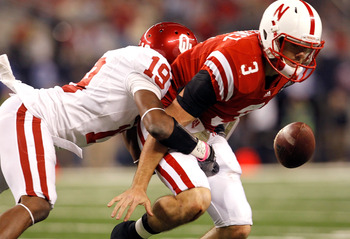 Tom Pennington/Getty Images
The Huskers watched a 17-0 lead evaporate, committing four turnovers and getting shut out in the second half.
This, just a year after Texas escaped Nebraska's grasp in the 2009 Big 12 title game with a last-second field goal.
Better luck in the Big Ten, Big Red.
Big Ten Logo and Division Announcement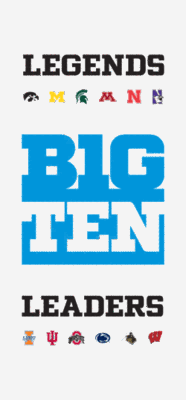 The only thing more disappointing than the new look, the "Legends and Leaders" divisions, and the 18 hyphenated trophies?
The fact that the Big Ten, now home to a dozen of the most prestigious universities that presumably have marketing departments, actually paid for these results.
We have the international design firm Pentagram to thank.
Alabama's Title Defense, Ingram's Repeat Heisman Attempt, Second Half vs. Auburn
Kevin C. Cox/Getty Images
Ingram missed the first two games of the season due to injury. Neither he nor Trent Richardson, the most vaunted rushing duo in the nation, cracked 900 yards on the ground, much less 1,000.
A three-loss campaign was certainly not what the defending BCS champions had in mind when they saw their streak of 19 straight wins snapped at South Carolina on October 9.
Far and away the most disappointing, however, was the loss to Auburn in the regular season finale after leading 24-0.
It's going to take at least a full calendar year to wash that taste out of the Tide's mouth.
Rich Rodriguez's Continued Employment at Michigan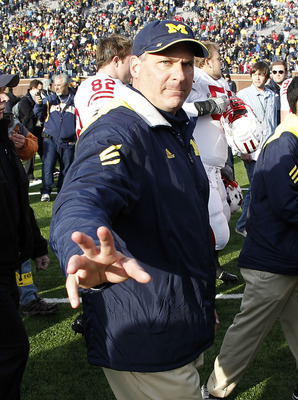 Gregory Shamus/Getty Images
Collapsing in the second half of a game, as Nebraska and Alabama did, is one thing.
Collapsing in the second half of a season, for the second season in a row? That's unacceptable.
Denard Robinson's Heisman hopes and the Wolverines' 2010 goals were last seen somewhere near East Lansing in Week 6.
And yet Rich Rod still has a job. And presumably will still have one in Ann Arbor next fall.
Why else would athletic director Dave Brandon let him coach the Gator Bowl? Michigan does realize Jim Harbaugh's about to be snatched up by an NFL franchise, right?
Maryland Freezing Out the Fridge...and Their Short List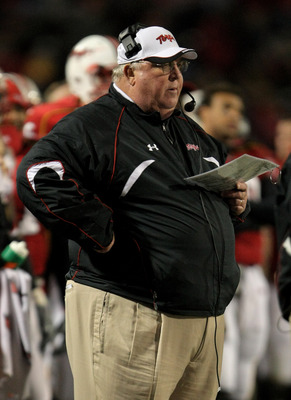 Doug Pensinger/Getty Images
As we just proved, a good head coach is hard to find. Michigan's keeping a 15-21 leader with NCAA violations on his resume.
So why in the world would Maryland can the ACC Coach of the Year?
When your short list includes Tyrone Willingham (last seen at 0-12) and Mike Locksley (career 2-22), maybe you have to strike while the iron is hot?
Iowa's Drug Testing Press Conference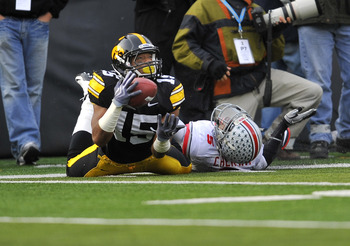 David Purdy/Getty Images
Dismissing wide receiver Derrell Johnson-Koulianos on drug charges, we get.
A press release announcing that running back Jewel Hampton had left the team and Adam Robinson had been suspended for the Insight Bowl would have sufficed.
But then athletic director Gary Barta and head coach Kirk Ferentz called a confusing press conference to draw even more attention to the Hawkeyes' drug problems.
"Flaws and inconsistencies in drug testing programs"? More like flaws and inconsistencies in the young men representing your university and football program.
As further evidence that this issue isn't going away any time soon, Robinson got busted for weed while his teammates geared up for Missouri.
O-S-Tattoo-U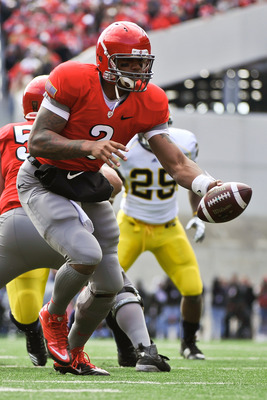 Jamie Sabau/Getty Images
Memo to Iowa: This is what a real media conference looks like.
As I've already noted in greater detail, Tattoogate is disappointing in every facet.
Buckeyes made bad decisions. They were punished for selling goods that belonged to them. The NCAA postponed the suspensions until next season to protect the BCS, ESPN, the Sugar Bowl and all the sponsors.
And Jim Tressel failed to take the moral high ground by sitting his star players for any amount of time in New Orleans.
The Cam Newton Investigation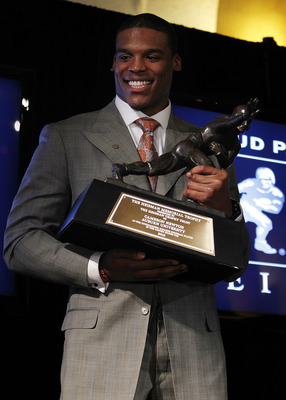 Jeff Zelevansky/Getty Images
From Reggie Bush to A.J. Green, Marvin Austin to Terrelle Pryor, it's been a bad year for the NCAA—unless you're looking at financial statements, perhaps.
Clearly the most lasting and damning disappointment, though, is the investigation, dark-of-night suspension, and immediate reinstatement of college football's brightest star.
Look, I'm not one of those writers or fans who dusted off the lantern and pitchfork when this story broke. I could not be more unaffected by his eligibility or lack thereof.
However, as a purebred college football fan, the NCAA's resolution to the situation was revolting.
Of all the evidence that was presented, why did the sport's governing body validate just enough to condemn Cecil Newton, believe just enough to conclude that a violation of Newton's amateur status had occurred, but discount the balance which indicated that he was involved in the misdeeds?
If those reports were incomplete or erroneous, explain why.
Why was the source claiming Newton told Mississippi State he was going to Auburn because "the money was too much" discredited, where others were not?
To simply pronounce that Newton and Auburn were not aware that his father was shopping his services doesn't cut it—especially just days before the SEC Championship Game.
I'd like nothing more than a reason to buy Newton's blissful ignorance. Without it, I have no choice but to doubt, and to feel disappointed in how this 2010 season played out.
Keep Reading