Breaking Down the Break Down for the Tennessee Volunteers
September 8, 2008
Well, it has become abundantly clear that the Tennessee Volunteers are not as good as many hoped.  Given the inherently unpredictable nature of the game of college football, I really suppose that we shouldn't be all that surprised—in all honesty, I am not.
I offered a few thoughts immediately after the game which began to discuss a few of the problems as I saw them.  As is usually the case with my brand of half-baked analysis, I didn't want to rush into criticisms based wholly upon my knee-jerk reaction to losing a game that I had down as a "W" in my preseason predictions.
All this goes to show is that I have no business making predictions…
Having now had a more than a week to ruminate on the realities of the game, I feel a little more prepared (and yet equally unqualified) to offer a few more observations and thoughts which have emerged from my slightly out-of-sync head.
Offense
Running Game:
I have to say that I was pretty impressed with Tennessee's 5.2 -ard per carry average (especially considering all of the yards lost due to sacks). What bothers me is that the team essentially gave up on the ground game in favor of throwing the ball away.
Obviously, Arian Foster has got to hang on to the ball — just like his mother needs to stay off message boards. Still, the fumble aside, both Hardesty and Foster looked good with their somewhat limited carries (Hardesty: 12 att. / 70 yds., Foster: 13 att. / 100 yds.).
Passing Game:
I knew Jonathan Crompton was not going to put up gaudy numbers in his first game as the regular starting quarterback at Tennessee.  I also expected a few bad decisions—making throws into coverage, etc.  I did not expect him to go 19-42-1 or for the passing game to pretty much collapse.
At times, Crompton seemed utterly bewildered and lost.  At other times, he had open men who—given the altitude of his passes— appeared to Crompton to be 15 feet tall.  Finally, any defensive pass rush at all seemed to get him completely rattled.
I also found his unwillingness to run or roll out when pressured a bit unusual based upon what we saw from him in 2006.  That makes me think either:
he is still trying to shake-off the ankle problems he had earlier this year;
he is being over-coached into being a pocket-passer; or
he is thinking entirely too much.
My guess—which is worth nothing—is that it's a little bit of all of these.
In the end, Crompton looked extremely uncomfortable in the pocket all night, but by the same token unwilling to leave the pocket.  Thus, the passing game was essentially dead…
In Crompton's defense, he did do a fine job of managing the final drive of regulation to get the Vols into position to play for overtime.  More importantly, I can completely understand why he seemed uncomfortable in the pocket, because the offensive line's pass protection just plain sucked.
Offensive Line:
Crompton spent the better part of the night watching Bruin linebackers blitz at him, and right past the offensive line.  Last year, the Vols set an NCAA record by allowing a meager four sacks. 
A lot of that was due to Erik Ainge's willingness to heave the ball into the cheerleaders if pressured (although Tee Martin still takes the prize in that regard for actually managing to hit a cheerleader in the side of the head while in a pyramid formation—he must have really not care for the spirit squads). 
Still, as one of the more veteran units on this year's team, with five starting upperclassmen, their hapless play was as uncharacteristic as it was unacceptable—especially considering they were fully aware that the signal-caller was just getting his legs under him.
Simply put, the O-Line must improve…


Offensive Play Calling:
The play calling on offense was unimpressive, but I'm not so sure I'd call bad.  True, it was hardly what I expected as the debut of Dave Clawson and his "Clawfense," but the reality is that it was pretty much the same sort of white-bread scheming Tennessee had run for over a decade, albeit favoring the pass a bit more.  The second-half calls were essentially the same as the first—which surprised me a bit since I was led to believe that Clawson excelled as a second-half coach.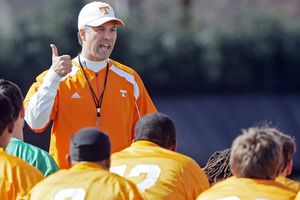 I will give the Clawfense some credit for using the G-Gun set (I believe) five times with some success.  On the flip side, as much as I have longed for a more wide-open passing game,  I cannot understand why the Vols seemed to completely abandon the run despite the relative success it had shown.
All that said—and style points aside—I cannot criticize the offensive play calling too much.  Why, you ask?  The main reason for my reluctance to attack the offensive calls is due to the fact that the gameplan, though unremarkable, was sound.  It was based upon fairly basic fundamental football conventions.
The problem with the offense lay in the execution…
Had Tennessee made the plays as called, then the Vols walk out of the Rose Bowl with a double-digit victory.  I won't attack an offensive call when the players completely fail to carry it out properly.
Of course, the issue of preparation is a different matter, which I touch on below.


Defense
In my post-game thoughts I suggested that, defensively, the game was a tale of two halves.  That, however, isn't really accurate.  With the exception of the final two defensive series, the defense really looked top notch.
The defensive line and secondary were as aggressive and as physical as I've seen in years.  Furthermore, the "missed-tackle-itis" which Tennessee defenses have traditionally shown—especially in early-season games—never reared its ugly head.  Despite those last two UCLA possessions, I believe the Vols' secondary may be one of the best in school history.  The blitz schemes were great and the coverage like glue.
This defense did everything it could to win the game—from the four first-half interceptions, the safety that the referees refused to call, the pressure on the quarterback, and the 0-yard net gain by UCLA in overtime—the effort and playmaking ability was outstanding.
This unit could be really special, which is a damn good thing given the offensive woes…
Defensive Play Calling:
The play calling—just like the performance—was strong early and weak late in the game.  I question why during UCLA's final two drives in regulation, the Chief refused to change up the defense to try and put the Bruins' second-wind on ice. 
UCLA QB Kevin Craft put on a short-pass exhibition late in the game—using screens as artfully as I've seen in a while.  Tennessee, however, stayed with four- and five-lineman sets and soft over-top zone coverage, rather than switching to a 3-4 (or similar package) with either man or underneath coverage to kill the momentum.
That said, the defense spent entirely too much time on the field  in the second-half due to the anemic performance by the offense.  I suppose it is possible that the coaches did not feel that the defense had enough left in the tank to successfully execute man coverage at that late point in the game. 
There is no question that fatigue was working against the defense.  To me, however, it seemed like the defense still had hustle left in them, and I question the refusal to change.
Nonetheless, had the offense taken care of business it wouldn't have mattered…


Special Teams
Press the kicking game.  Here is where the breaks are made.

Game Maxim No. 6

– Gen. Robert R. Neyland
Well, UCLA made General Neyland look prescient…
Punting:
First, the blocked punt—leading to an immediate touchdown—was simply unacceptable.  Chris Cunningham, in his first start as a Volunteer (courtesy of Britton Colquitt who was probably passed-out in the parking lot) should never have been put in that position.  The block was all the fault of the line, not Cunningham. 
That single play decided the game. The punt team must protect the punter better than that.
Field Goal Unit:
I feel sorry for Daniel Lincoln.  While it is true that either of his first two missed field goals would have won the game, and his third miss handed the victory to UCLA, Daniel Lincoln did not cause the loss. 
I question the decision to even attempt two 50+-yard field goals which were both beyond his effective range.  Given the often fragile psyche of kickers, I would not have set Lincoln up to miss two early—I would have punted. 
The final miss in overtime was—by all appearances—all Lincoln, but had he not hit an attempt with only seconds in regulation, overtime never even comes into play. Finally, in what is becoming a common theme, had the offense done their job then we would not be talking about this.
Kick Returns:
This was the bright spot of the special teams unit.  This squad actually looked improved and seems primed to add a bit of excitement to things this year.  I look forward to watching Dennis Rogan, Gerald Jones, and Brandon Warren on returns this year.
Coaching (Preparation)
In the interest of full disclosure, I feel it is only fair to first go on the record as being a "Homer" when it comes to Coach Fulmer and the Tennessee staff.
Actually, I would say that I am more appropriately a Homer for all coaches across the landscape of college football who are constantly questioned, rebuked, and derided by tens of thousands of armchair geniuses.
It is a peculiar characteristic of so many fans that they believe that simply being a follower of a team for a given length of time makes them an expert in how things should be done.  Make no mistake, as a sports blogger, I am as guilty of this offense as anyone, at least to some extent. 
There are things that anyone with a brain can assess and analyze based purely upon common sense, life experience, and the fluff that resides between our ears. (Upon further review, considering I do this sort of thing all the time, we'll lower the standard to "half a brain" and remove the "common sense" requirement.)
Even the dullest of individuals realizes that "scoring more points" is always the key to winning a game—Lou Holtz included.
These sorts of basic truths are fairly and frankly within the grasp of us all, and thus the rightful ability to comment on such profundities resides with each and every person who follows college football.  In much the same vein, I think it is reasonable for many (note, I did not say "all") long-term fans of the sport to comment on what a given team does, or in most cases, did.
Beyond that, however, it seems to me that trying to profess what the best way to coach a football team—a team which most have no access to except through their televisions—is an endeavor which necessarily makes the speaker feel smart and important, while simultaneously making them look foolish and arrogant.
That said, here are my thoughts on the coaching, I'll start with the good news…


Defensive Unit:
This was the best I've seen a Tennessee defensive unit look in the first game of the season in as long as I can remember from the perspective of fundamentals.  Their tackling skills looked solid and their ball awareness outstanding.
Even when UCLA was driving on their final two possessions in regulation, the defense was executing—making hits as soon as the ball was caught.  The open-field tackling by the secondary never let up.  Any criticisms of the fourth-quarter play calling aside, Coach Chavis had the defense ready to play.


Offensive and Special Teams Units:
I don't know what caused it, but these squads were simply not ready to play—not by a long shot—and at times looked completely clueless.  I don't have the foggiest idea what went wrong, but if the coaches don't get it fixed, then Tennessee is going to lose at least four or five more games—badly.
Things must improve …


Final Thoughts
Tennessee showed their best and their worst against UCLA, and made Rick Neuheisel look like both a goat and a genius.
The offense had three interceptions handed to them in the first-half (Nevin McKenzie went ahead and ran the fourth interception in for a touchdown on his own) and did little with them. 
Still, at times, it became apparent that the Vols have what it takes to be great.  Will they realize any of that potential?  I do not know, but I hope so.
Either way, this was but one game and a non-conference game at that.  What's more, this team deserves a chance to redeem itself—which I imagine it will be dying to do. 
It is far too early to write this season off.  Ignoring any issues those in the Orange Nation may have with the coaching staff, the players deserve this, they have earned it through all of the hard work they put in to get to this point, for all of the effort they put in to playing the game that all of us enjoy.
For that reason, I am concerned but remain hopeful—not just for the future of this team's potential, but also for the Tennessee fanbase.  I hope they will get out and give this team their full support, come what may.
As for me, I'll have my orange on and my backside will be planted firmly in Section Y7 of Neyland Stadium.  That is, until kickoff, when it's time to stand and cheer.
Hopefully, I won't be the only one…
---
Gate 21 Tags: College Football, Dave Clawson, Football, Gerald Jones, Jonathan Crompton, No Pass Out Checks, No Pass Out Checks, Orange Nation, SEC, SEC Football, Tennessee Football, Tennessee Volunteers, Vols
Related Posts (or so the Germans would have us think...)