Georges St-Pierre vs. Jake Shields: Anderson Silva a Fantasy; Shields Is Reality
Georges St-Pierre is coming off a dominating performance against Josh Koscheck at UFC 124, and there is a lot of speculation about what is next for St-Pierre.
St-Pierre has done it all in the welterweight division, and is considered the best pound-for-pound fighter in the world. A GSP vs. Silva fight would just be the culmination of all things MMA. Two of the best fighters in the world on a main event would be the highest PPV draw of the year, and maybe the history of the UFC.
Although this is what everyone wants, it is just a fantasy right now, and a matchup with Jake Shields is a reality.
Here is a preview of Georges "Rush" St-Pierre vs Jake Shields.
James Evens is a Purdue student and Basketball/Football Featured Columnist for the Boilermakers, along with being a Writing Intern at Bleacher Report. Follow him on Twitter or like him on Facebook.


The Challenger: Jake Shields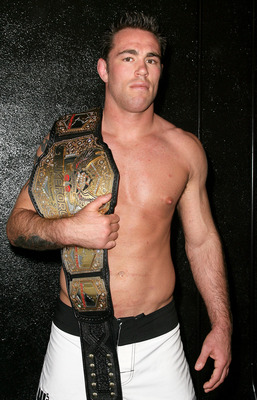 Valerie Macon/Getty Images
Jake Shields is a 6'0" welterweight who last weighed in at 170 pounds. Shields also has a reach of 72 inches.
Shields has a professional record of 26-4-1, and defeated Martin Kampmann in his UFC debut for the number one contendership.
The Champion: Georges St-Pierre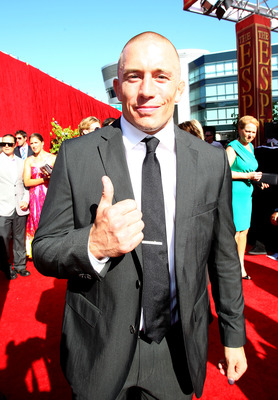 Alexandra Wyman/Getty Images
Georges St-Pierre is the world's best pound-for-pound fighter right now. He weighs in at 170 pounds and stands 5'10" with a reach of 76 inches.
Pierre has a record of 21-2 and currently holds the UFC Welterweight Title.
Shields' Weaknesses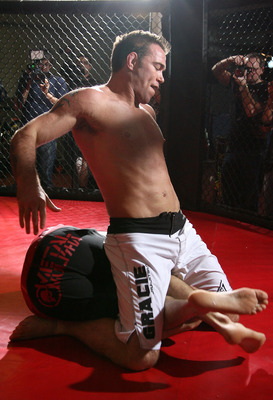 Valerie Macon/Getty Images
Jake Shields only has one major weakness: his boxing. He is very well-trained in Jiu Jitsu and would definitely be considered a submission specialist.
Shields has only knocked out his opponent three times, but has submitted his opponent 11 times in his career.
St-Pierre's Weaknesses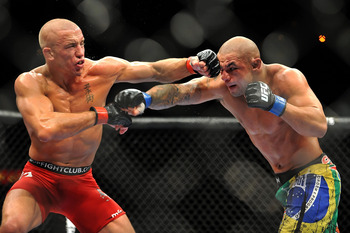 Jon Kopaloff/Getty Images
Good luck on figuring this one out. Before his last fight, many would say that St-Pierre's big weakness was his stand-up game, and that he would just take a superior stand-up fighter to the ground before facing him up.
After UFC 124, this has changed. St-Pierre proved that he could win by boxing, and that leaves almost no weakness in his game. With that win and how he did it, he proved he really is the best fighter in the world and has no real weakness.
However, one weakness that should be pointed out is his inability to finish opponents, although this should not be a big problem.
Jake Shields' Strengths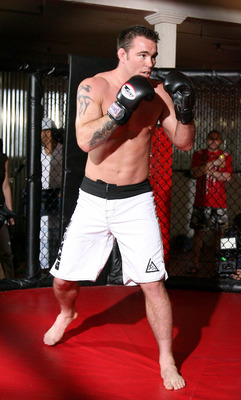 Valerie Macon/Getty Images
Jake Shields is excellent at submitting opponents and has proved to be master at it. This is his strength, and he will need to be able to use it when facing GSP.
Shields' Gameplan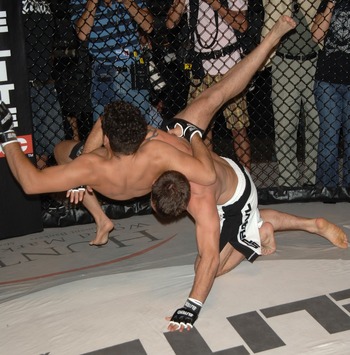 Stephen Shugerman/Getty Images
Jake Shields will more than likely try to take St-Pierre to the ground and submit him. It's obvious that he doesn't want to go toe-to-toe with Rush, so it will be important for him to take him down.
Shields needs to avoid the jab and make sure he isn't put on his back, or it is all but over.
Shields needs to take control of the fight from the beginning and fight at his own pace. He is definitely outmatched in this fight, and will need to have the fight of his life in order to beat GSP.
St-Pierre's Strengths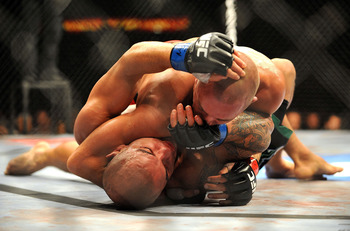 Jon Kopaloff/Getty Images
St-Pierre is such a well-rounded fighter that it's hard to pinpoint a strength. His most celebrated strength would have to be his ability to take down an opponent.
His ground-and-pound is one of the best in the sport, if not the best, and he is just an overall great fighter.
GSP's Gameplan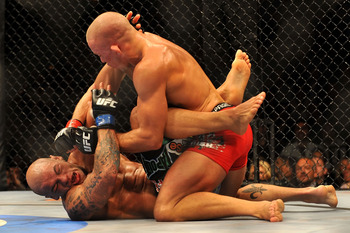 Jon Kopaloff/Getty Images
GSP will want to keep Shields out of his comfort zone in this one. He might try to utilize his stand-up game in this one, as the last thing he wants to do is get on his back against Shields.
The only way GSP could possibly lose this fight is by getting put on his back.
GSP could also try to submit Shields, but keeping it standing would be beneficial to Rush. With his jab that he utilized against Koscheck, it could be all he needs to defeat Shields.
How Will the Fight Go?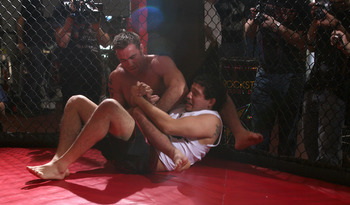 Valerie Macon/Getty Images
GSP will dance around the ring, avoiding take downs and throwing stiff punches. This will occur for the first two rounds.
In the third round, I can see GSP taking down Shields and submitting him just to make a statement.
Remember, this is just my opinion, and it is ultimately up to the fighters.
I don't see Shields having a big shot in this fight, although if his cards fall right, he could pull one of the biggest upsets in UFC history.
Keep Reading