Montreal-Carolina: Habs Capitalize on Second Period Penalty to Down Canes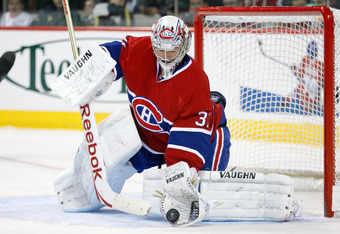 Richard Wolowicz/Getty Images
Last night, the Montreal Canadiens were in Carolina for their third game of seven on this end-of-year road trip that has so far proved to be fruitless.

The Canadiens were coming off of a loss in Dallas and back-to-back losses for only the third time this season, and were 1-5 in their previous six games. So, with the city of Montreal getting dangerously close to pushing the panic button, it was time for the Habs to turn things around.

Montreal started the game strong with their first two lines creating some nice scoring chances before the two-minute mark. Hal Gill set the tone when he played the role of brick wall, knocking Tuomo Ruutu to the ice early in the game.

The hit sent a message that the Canadiens came to play.

The Habs were much more active in the neutral zone and had a much smoother transition game than they have displayed over their last two contest. Moreover, it really looked like their day off—coach Martin gave them a day off rather than practicing them the day before—did wonders for the team. The rejuvenated squad used their speed to attack the Canes' zone creating several quality scoring opportunities in the process.

Despite their strong play, however, Montreal fell behind while on the power play when Roman Hamrlik whiffed on a defensive zone clearing attempt. Hamrlik's bothced clearing attempt set up an awkward rush for the Canes and Chad LaRose, left uncovered by Yannick Weber, put it past Price to make it 1-0.

Scott Gomez got that one back about three and a half minutes later when he took a Hamrlik pass, split the D and put the puck five-hole on Ward.

The back-and-forth game continued with the Canes taking the lead in the second despite the Habs dominating play. Hamrlik was again the culprit as he missed his assignment while his partner, Jaroslav Spacek, decided to go for the puck rather than the man. The result was that Eric Cole was able to get to the front of the net and shoot the puck past Price unmolested, to make it 2-1 Canes.

The turning point of the game, however, took place only nine seconds after Cole had put the Canes ahead. On the ensuing shift, Cole slammed Spacek into the boards from behind, earning himself a five minute major. On the power play, Andrei Kostitsyn scored his 10th of the season from the slot to tie it at two.

The Canadiens then took the lead 2:03 later, still on the power play, when Alexandre Picard fired a bullet past Ward to make it 3-2 Montreal.

Special teams were key as the Habs went 2-for-5 with the man-advantage and shut down all three Canes' PPs. With the Habs leading by one, they sat back in the third and allowed the Canes to blitz the Canadiens' zone. Carey Price was equal to the challenge, however, holding the fort for a well needed win.

Final score: Habs 3 - Canes 2

Habs' scorers: Scott Gomez (5), Andrei Kostitsyn (10), Alexandre Picard (3)
Canes' scorers: Chad LaRose (7), Eric Cole (7)

Three stars: 1. Scott Gomez, 2. Jaroslav Spacek, 3. Chad LaRose


Game Notes

1. Price again let in one soft goal.

Price is still playing good hockey but no longer seems to have that laser-point focus that he had only a month ago.

At the beginning of the season Price seemed almost impervious to distractions on the ice. Lately, however, he seems bothered and even occasionally reverts to looking at his defensemen after a goal gets past him, a behaviour that he tends to exhibit when he is not in top form.

Moreover, word from practice is that Price does not look as comfortable as he did a few weeks ago and maybe even seems a bit frustrated.

Now in Price's defense, the team has been playing horribly in front of him for the past few weeks and while he likely could have stopped the first Canes' marker last night, his defensemen made several critical mistakes that lead to the goal.

It's easy to blame the goalie for a soft goal but we have to remember that the goaltender is the last line of defense, not the first. This usually means that a lot of things had to go wrong in front of him before the puck got past him.

That aside, Price seemed to be fighting the puck through the first two periods.

There were a number of saves that he made where he looked behind him, unsure of where the puck was and that's how he tends to play when he is not 100 percent on his game.

As the Canadiens sat back on their heels in the third period, however, Price elevated his game, stopping a bunch of Canes' prime scoring chances and settling into a groove. If he can carry that momentum forward he will be well on his way towards rediscovering his early season form.


2. Andrei Kostitsyn seems to have gotten the message.

AK46 returned to the lineup last night after being a healthy scratch for one game and played some inspired hockey.

While he played well, scoring a beautiful tying goal, I think it's pretty clear that this is his last chance. The knock on Kostitsyn has always been about his work ethic and consistency. As skilled as he is, AK46 is a player who tends to go to sleep for long stretches and maybe that is just his nature; he is a streaky player.

It is clear that Jacques Martin is not a fan of this trend and in order for AK to reach his true potential, he has to find the consistency that has been lacking in his game since he broke into the league in 2003.

If he can't find that consistency this year, I think he will likely find himself on his way out of town.

Kostitsyn scored his first goal in 10 games last night—his 10th of the season—off of a beautiful feed from Plekanec on the power play. The goal illustrates just how strong Kostitsyn is as he fought off the Canes' defender from the slot to put the puck up over Cam Ward.

That goal also illustrates why Martin becomes frustrated with the young Belarusian, as he has such a high skill level that he should be producing on a more consistent basis.

That being said, I was not a fan of putting Kostitsyn in the press box because, like P.K. Subban—who was a healthy scratch last night—I think the team is better served with him in the lineup.


3. Tomas Plekanec played his best game in a week.

Plekanec is one of the players who looked yesterday like he really benefited from the day off that Martin gave his players. He looked fresh, rested and full of energy; the way he did at the beginning of the season.

As a result, his line was dangerous every time they were on the ice but their timing was a little off in the first period, resulting in a number of missed nets and botched scoring chances.

Once they found their rhythm, however, Plekanec's incredible speed and creativity with the puck was on display as he setup plays, almost at will, in the Canes' zone.

Plek's line was rewarded on the power play when Tomas found AK46 in front with a sweet pass, to make it a 2-2 game, with all three players getting in on the action.

Plekanec finished the night with one assist, five shots on net, 21:21 of ice-time, 4:25 on the power play, 1:55 on the PK and 50 percent in the faceoff circle.

Not a bad night's work!


4. Welcome back, Scott Gomez.

The much maligned Gomez seems to have finally gotten his game back on the rails. After going through a stretch where had had only three points (2G, 1A) in eleven games, Gomez sat out two games with a minor injury. Since returning from the injury and being united with Max Pacioretty and longtime linemate, Brian Gionta, Gomez has been on a tear.

He has 8 points (1G, 7A) in his past five games and scored his fifth of the season last night, while celebrating his 31st birthday.

More importantly, Gomez has that goofy grin back on his face when he's playing. He looks and acts more like the Scott Gomez who was the Canadiens' hottest player over the back half of last season.

With Gomez's line firing on all cylinders and the Plekanec line finding it's form again, we finally got to see the Canadiens playing with two scoring lines and that is the kind of balance they need if they want to stay at the top of their division.


5. Lars Eller is wasting away on the fourth line.

Eller is doing everything he can on the ice but paired with Tom Pyatt and Travis Moen, getting 7:55 of ice time and zero minutes on the PP, there is only so much he can do.

His talent as a setup guy is apparent but his lack of skilled linemates continues to be his Achilles Heel.

Eller didn't necessarily play poorly last night but he was pretty much invisible on the ice.

The first time he did anything of note was when he turned the puck over at the blueline in the third period, hemming the Canadiens into their own zone. Eller ended up getting the puck back and, in an attempt to relieve the pressure, accidentally shot it into the crowd and took a delay of game penalty.

With all of the problems with this team lately, that is certainly not the type of play that Jacques Martin wants to see from the young Dane. Hopefully, JM will not exact his wrath on Eller by benching him next game.

With Eller, Subban and Yannick Weber all getting varying degrees of the yo-yo treatment from Martin, it is no wonder that people grimace at that thought of him trying to develop young players.

Eller was playing his best hockey when he was paired with Benoit Pouliot—who was a healthy scratch last night—and Mathieu Darche. Why he is now playing on the fourth line is beyond me with two checkers is beyond me.

Standings and Next Game

The win moves the Habs' record to 20-13-2 with 42 points in the standings. It also allows them to maintain a two-point buffer over the Boston Bruins, who also won last night and who have two games in hand.

The Habs now have two days off to celebrate the holidays with their families before game four of this road trip against the Islanders on Sunday evening.
Happy holidays folks! Enjoy your weekend!
---
Follow Kamal on Facebook, Twitter, HabsAddict.com and Hockeybuzz.com
This article is
What is the duplicate article?
Why is this article offensive?
Where is this article plagiarized from?
Why is this article poorly edited?

Montreal Canadiens: Like this team?