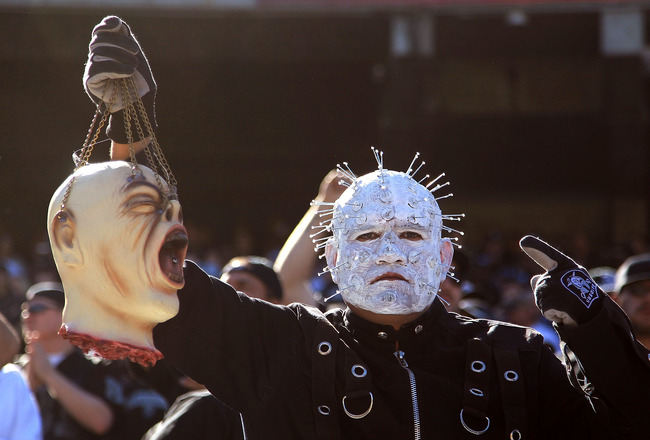 Ezra Shaw/Getty Images
NFL fans can be some weird people. Add two parts beer, one part devotion and three parts insanity, and this is what you get.
Some of these people are borderline psychotic. Most do it for the fun. Some do it for TV attention. Others just aren't quite done with Halloween. Regardless, they are fun to watch.
Cincinnati Bengals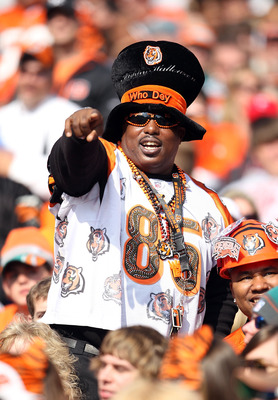 Andy Lyons/Getty Images
Obviously he's pointing to his ladies on the sidelines. Nothing like a pimp wearing orange and black.
Baltimore Ravens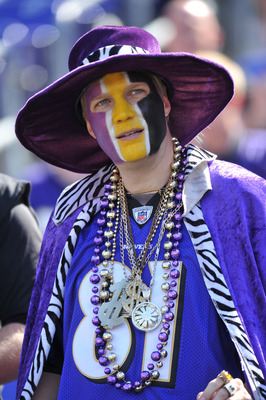 Larry French/Getty Images
Apparently everybody wants to be a pimp. Is Wayne Brady gonna have to smack a... never mind.
Cleveland Browns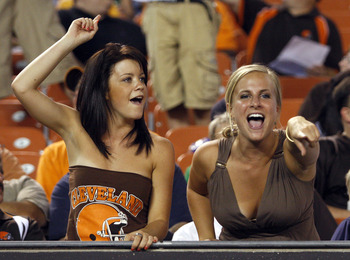 Justin K. Aller/Getty Images
These two aren't exactly crazy, but the one on the left is wearing a bandanna for a top and that's something I can get with. They should definitely stay away from the Ravens and Bengals fans.
Pittsburgh Steelers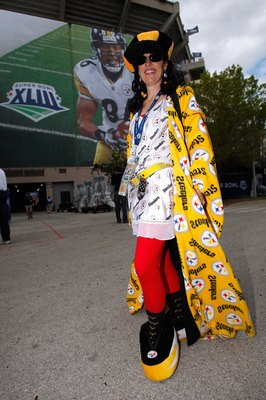 Chris Graythen/Getty Images
Old lady trying to do some Japanese girl look. It's not working. Needs to take that blanket back home. It's not a cape.
Chicago Bears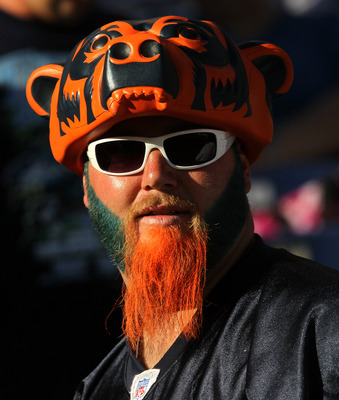 Stephen Dunn/Getty Images
This is what happens when you get kicked out of the Hells Angels.
Detroit Lions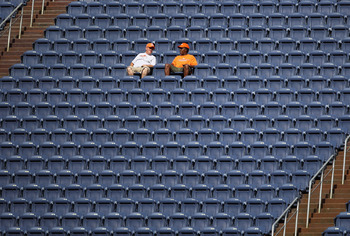 Doug Pensinger/Getty Images
Just a couple guys at a Lions game... who aren't even Lions fans. Because there are none. I think these guys might just be waiting for the game next week when their team plays there.
Green Bay Packers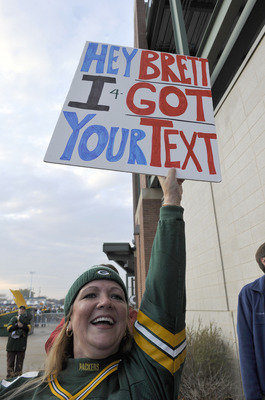 Jim Prisching/Getty Images
You 4-GOT his text? No, you didn't. You did not get any text from Favre. Have you seen Jenn Sterger? That's the type of person he sends texts and pics of his winky to.
Minnesota Vikings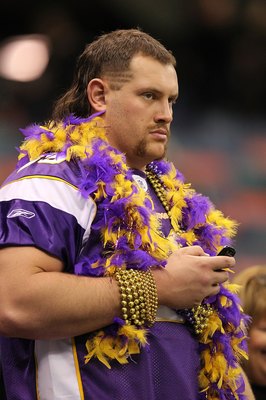 Ronald Martinez/Getty Images
Hulk Hogan's older, more feminine son, with a kick ass mullet, sliced sideburns, rockin' boa and go-phone to boot!
Houston Texans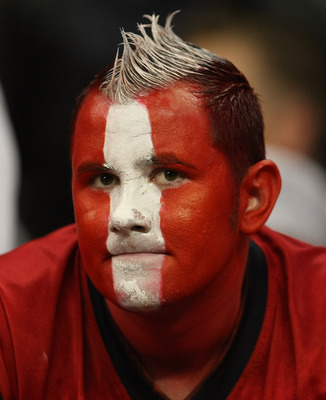 Stephen Dunn/Getty Images
Damn. I get out on work release from the jail, go to a game and get plastered all over tv. Just great.
Indianapolis Colts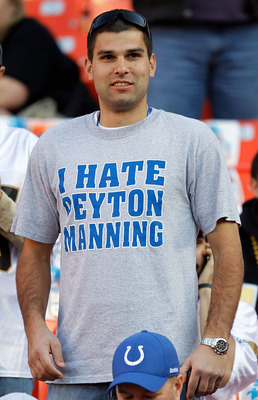 Jonathan Daniel/Getty Images
You are doing it wrong pal.
Jacksonville Jaguars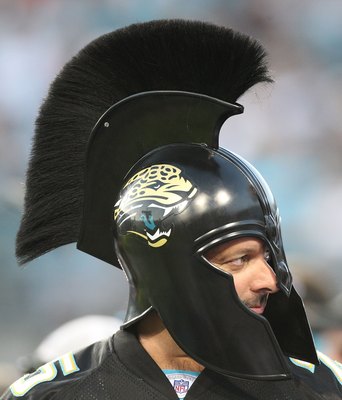 Sam Greenwood/Getty Images
Ahh...another Spartan. How are you supposed to eat anything with that giant face shield?
Tennessee Titans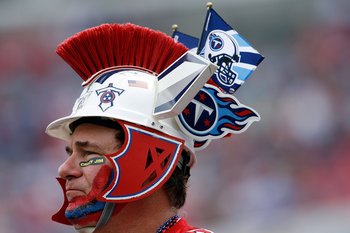 Andy Lyons/Getty Images
Some sort of a Trojan/rocket man uniform is what this guy has going on. Probably takes all the protrusions off of the hard hat to go back to work for the sanitation department.
Atlanta Falcons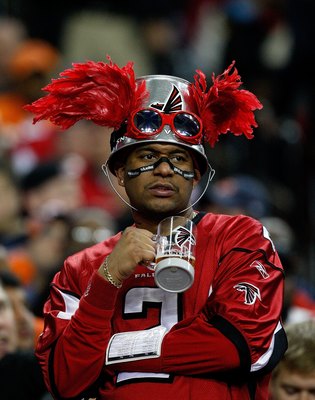 Kevin C. Cox/Getty Images
Ice bucket helmet, fake plays taped to wrist, pimp sunglasses, red feathers protruding from ice bucket helmet and an "oh no he di-int" attitude? Priceless.
Carolina Panthers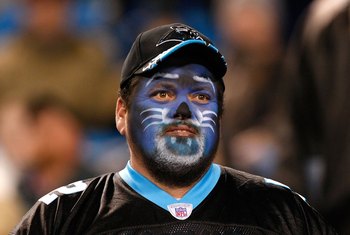 Kevin C. Cox/Getty Images
What is this? A KISS convention?
New Orleans Saints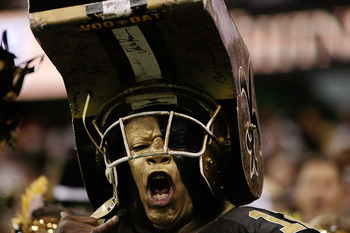 Matthew Sharpe/Getty Images
What the hell is on his head? Is that a giant whistle/helmet?
Tampa Bay Buccaneers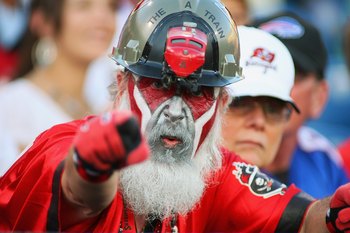 Rick Stewart/Getty Images
Dementia is a son of a bitch. Somebody needs to take gramps back to the home.
Buffalo Bills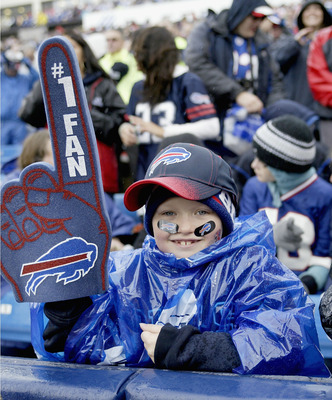 Rick Stewart/Getty Images
You are the only one buddy.
Miami Dolphins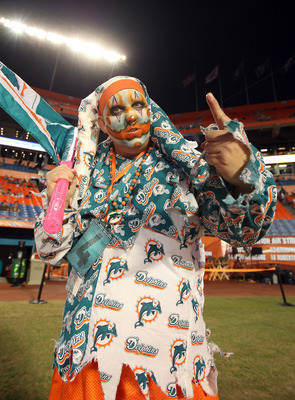 Scott Cunningham/Getty Images
Insane Clown Posse's eastern rival. Oooooh.
New England Patriots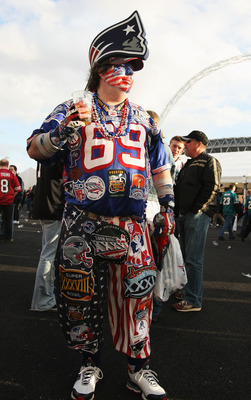 Elsa/Getty Images
Hey...y'all got a sticker for ma body? You can have a sip of ma beer for a sticker!
New York Jets
Chris Trotman/Getty Images
Looks like one of my old roommates. And when I say old, I mean she coughed dust.
Dallas Cowboys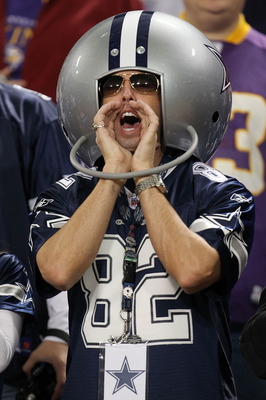 Chris McGrath/Getty Images
New York Giants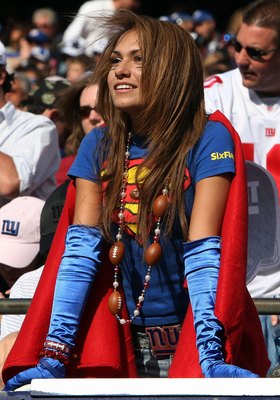 Jim McIsaac/Getty Images
Doesn't look crazy or anything. Possibly just got back from a rave and is still tripping on ecstasy.
Philadelphia Eagles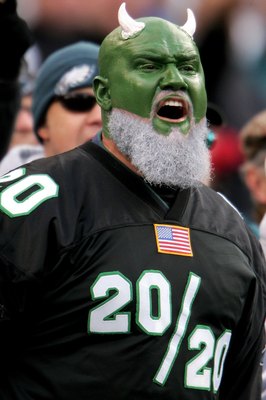 Chris McGrath/Getty Images
This guy has definitely had a little too much Mad Dog.
Washington Redskins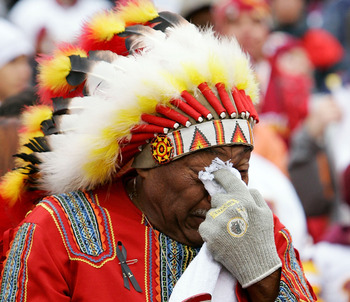 Jim McIsaac/Getty Images
If I were a Redskins fan, I'd be doing this too.
Denver Broncos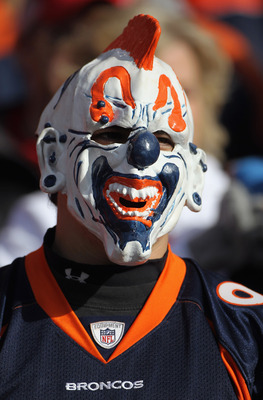 Doug Pensinger/Getty Images
No caption. Except for this caption because I have nothing to say about this picture.
Kansas City Chiefs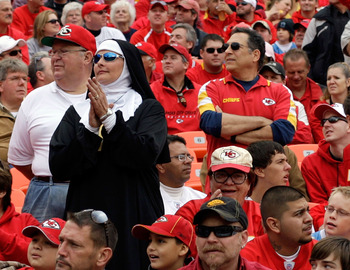 Jamie Squire/Getty Images
And thou shalt win thy games for thine is the one forever and ever. Amen.
Oakland Raiders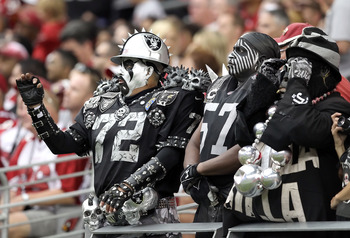 Christian Petersen/Getty Images
I would not suggest wearing colors other than Raiders colors to an Oakland game.
Oakland Raiders 2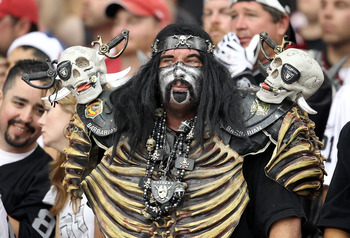 Christian Petersen/Getty Images
Another crazy Raiders fan. Most likely hangs out at truck stops and kills hookers.
San Diego Chargers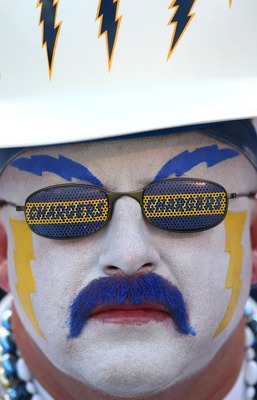 Donald Miralle/Getty Images
And now...entering the ring...Mr. Bolt! Beware his chub and face makeup.
But seriously, it looks like he actually shaved his eyebrows for this. Really?
Arizona Cardinals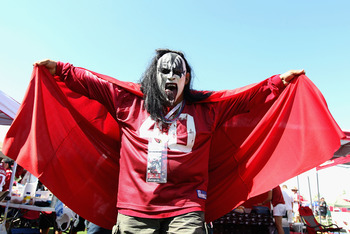 Christian Petersen/Getty Images
RAAAAH! I have emerged from my basement. My WoW is on hold! I am...KISS DRACULA!
San Francisco 49ers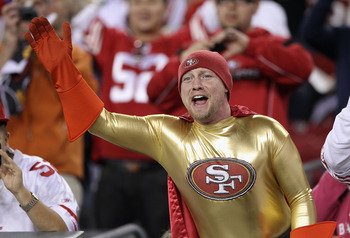 Christian Petersen/Getty Images
I'm pretty sure I saw several people dressed like this on Haight and Ashburty in San Fran. Seems appropriate.
Seattle Seahawks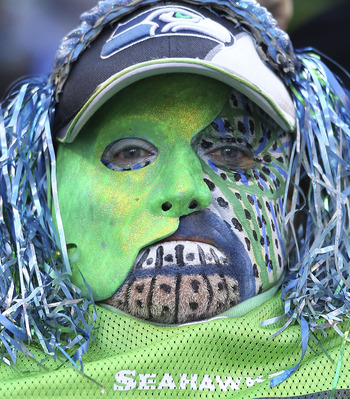 Otto Greule Jr/Getty Images
This will haunt my dreams.
St. Louis Rams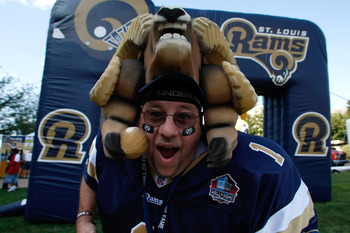 Scott Boehm/Getty Images
You shouldn't be so damn excited about your team.
Keep Reading