Mi Barrio: Top 16 Hispanic NBA Players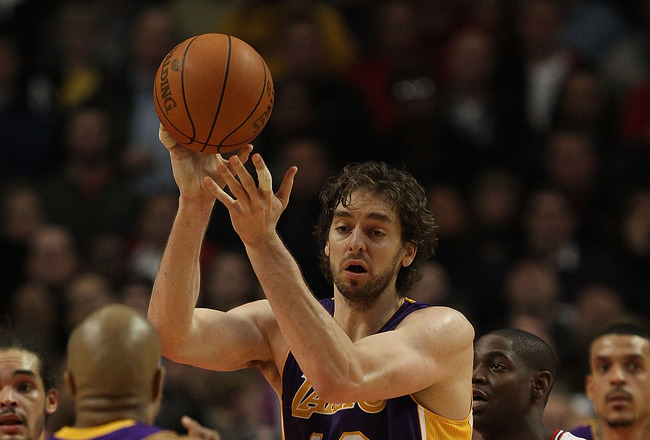 Jonathan Daniel/Getty Images
The definition of Hispanic is: of, relating to, or being a person of Latin American descent.
Hispanic is NOT a race! Hispanic is more of an ethnic identity that originally came from Spain. A Hispanic can be of any race, but most are racially white. Some are racially black and some are Oriental. It depends totally on whether they are from a Spanish community. That is all it takes to be Hispanic.
My family, the Montalbo family, came to what is now New Mexico in 1620 (same year as the Pilgrims hit Plymouth Rock), so I know what I am talking about.
The Spanish settlers from 1492 to 1620 did many bad things, like bringing tons of slaves from Africa to islands they took over by killing Indians. Some of these islands including Puerto Rico, Cuba and the Dominican Republic. Also, places like Mexico, Venezuela and Argentina were settled by the Spanish.
Latinos were never the greatest basketball players, especially since most are so short. I am 5'9" myself. But these are the guys that currently hold down the fort for us Spanish people in the NBA. These are my top 15 favorite. Mi Barrio homeboys!!! Y que buey?
Carlos Delfino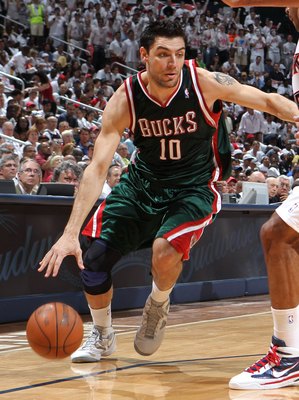 Mike Zarrilli/Getty Images
Q-Vole Homito!
This Latino is from Santa Fe, Argentina, and he has Italian heritage too, just like Cristobal Colon (Chris Columbus) who was born in Italy, but sailed for Spain. He is 6'6", 230. I need someone that big to have my back in my hood!
So far he is averaging 12.9 points, 3.9 rebounds and 1.6 steals per game for the Bucks in 2010-11.
Tiago Splitter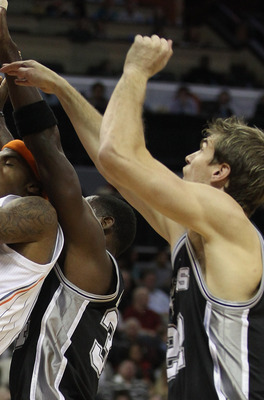 Streeter Lecka/Getty Images
At 6'11", 240, this is one huge beaner! He is Brazilian but he also holds Spanish citizenship and he speaks Spanish, Portuguese and English. He is helping the Spurs down low this year with 4.2 points and 2.2 rebounds per game.
Anderson Varejao
Elsa/Getty Images
Technically, Portuguese people are also Latino. The Portuguese people created Brazil, where Varejao was born. He speaks Spanish, as most Portuguese do, and he played for several Barcelona (Spain) teams before he entered the NBA.
The Cavs star is currently averaging 9.4 points, 9.6 rebounds and 1.2 blocks per game.
Brook Lopez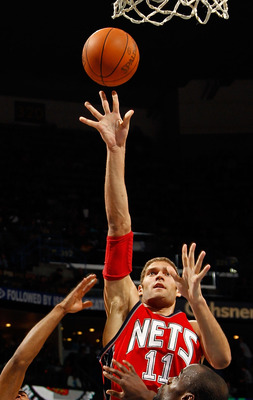 Chris Graythen/Getty Images
Lopez was born in North Hollywood, Calif. Califas es nuestra territorio tambien. Us Spanish settled California before any other European settlers even knew it existed. Ever heard of Los Angles, San Diego, San Francisco, San Jose? EXACTLY!!! ALL SPANISH!!! Read your California history fools.
Lopez's dad is actually Cuban, and Spain created Cuba!!!
The 7'0" Lopez is averaging 19.3 points, 6.2 rebounds and 1.5 blocks. Muy Bueno.
Robin Lopez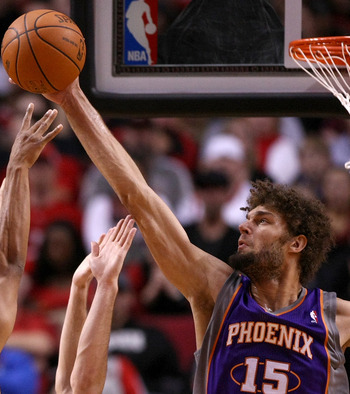 Jonathan Ferrey/Getty Images
He is the twin of Brook. Same size, different team, different stats. He is putting in 7.6 points and 4.8 rebounds.
Pau Gasol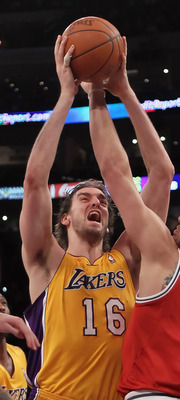 Jeff Gross/Getty Images
Pau Gasol is the best player on one of the better NBA teams in 2010-11. He is an all-around big man who was born in Barcelona, Spain.
The 7'0" player is averaging 19.6 points, 11.1 rebounds and 2 blocks per game. Should have been Finals MVP!!! He got robbed big time. Without him, they wouldn't even have been there the last two seasons.
Marc Gasol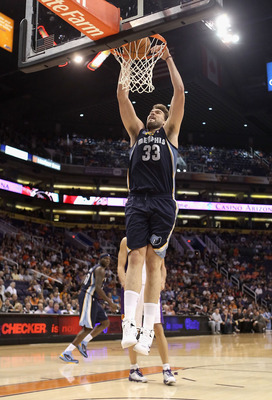 Christian Petersen/Getty Images
Another Latino brother combo are the Gasol's. Marc is almost as good as his bro and he is from the same place in Spain. Que grande este buey.
He is 7'0" and averaging 11.7 points and 7.5 rebounds so far this season.
Jose Calderon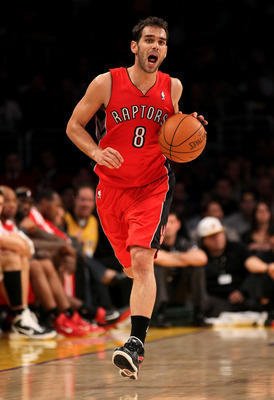 Stephen Dunn/Getty Images
Born in Villanueva de la Serena, Spain, Calderon is 6'3", which is small in the NBA but huge for a Latino!
He is averaging 10 points and 7 assists per game so far this season. Nice PG stats.
Carlos Arroyo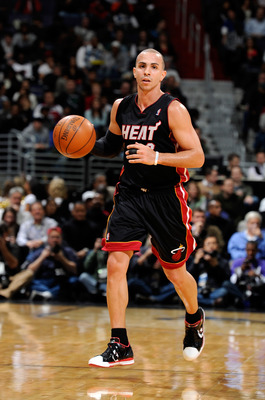 Greg Fiume/Getty Images
Arroyo is from Puerto Rico, which was an island inhabited by the Spanish right before the year 1500. Later, the Spanish brought slaves over to do the dirty work for them. To this day, there is racism toward blacks in Puerto Rico, and the US public has many misconceptions about this island and it's people. J-Lo and Ricky Martin are also from PR. Wow, Carlito, you are in good company! Ha Ha.
He is currently 6.7 points and 2.1 assists for the loaded Heat.
Greivis Vasquez Rodriguez
Christian Petersen/Getty Images
He is putting in 3.2 points and 2 assists per game for the Grizz and is from Venezuela, where Spanish is the main language, mostly because of the fact that Spain created the country.
Francisco Garcia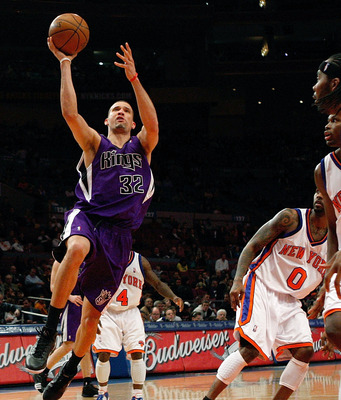 Nick Laham/Getty Images
The Dominican Republic is another misunderstood country, at least by Americans. Spain created it too and built it on African slavery.
Dominica has created some stars though, like Garcia, who is currently averaging 7.9 points for Sacramento (another city in California created by the Spanish. Sacramento means Sacrament in English, duh).
The Dominican Republic was reached by Cristobal Colon in 1492 and became the site of the first permanent European settlement in the Americas. In Santo Domingo stand, among other firsts in the Americas, the first university, cathedral, and castle. STUDY kids!
Jose Juan Barea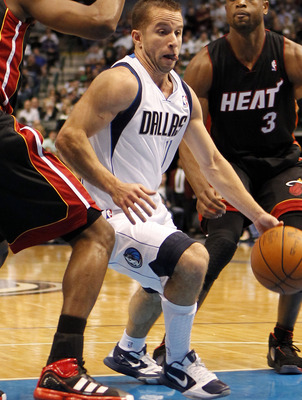 Layne Murdoch/Getty Images
This Puerto Rican is of Spanish roots, as are many Puerto Ricans. Many PR's are also of African roots, due to slavery.
Barea is adding depth to the Mavs this season. He is averaging 7.4 points and 3.6 assists.
Luis Scola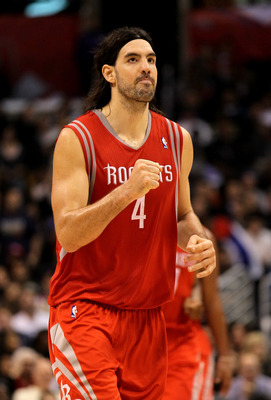 Stephen Dunn/Getty Images
Scola is now the best player on Houston. He is Argentinean, but is also officially a citizen of Spain. He is a dual citizen, who now lives in the US. The 6'9" player would stick out in my barrio, or in any barrio.
He is averaging 20.2 points and 8.9 rebounds.
Manu Ginobili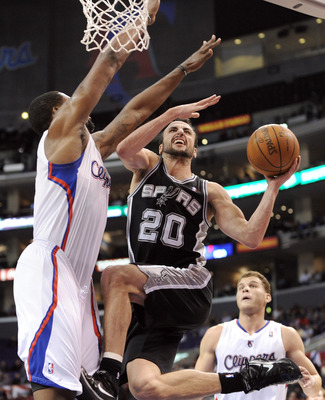 Harry How/Getty Images
Dude, Manu is SICK. He is an amazing player who represents the Spanish speaking world. He is from Bahia Blanca Argentina and is truly of Italian heritage. Italians are also a Latin people. Believe it or not.
He averages 19.7 points and 4.9 assists and the Spurs have the best record in the league; again. San Antonio was also founded by the Spanish, as was all of Texas, and El Paso and....well...learn your Texas history stupidos.
Rudy Fernandez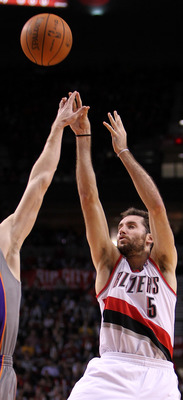 Jonathan Ferrey/Getty Images
Rudy gets tons of play from the women in Portland. That is how it is with us Latin lovers. It is all about our passionate love, and good looks. Rudy has un mejor passion del juego de basketbol tambien.
He was born in Palma de Mallorca Spain and is currently averaging 7.7 points and 2.1 assists.
Eduardo Najera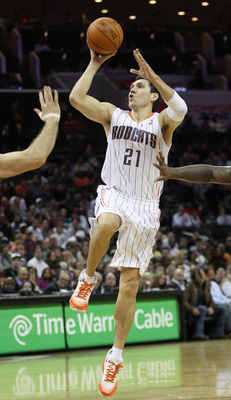 Streeter Lecka/Getty Images
Let's hear it for the straight up beaners in the house. A 6'9" Mexican is hard to come by, believe me. Now I need this guy to back me up in the streets of East Los Angeles, El Paso, Texas and Albuquerque, N.M.
He plays in Charlotte now. WTF? He is so far way from his country. Believe it or not, the early Spanish explorers made it to what is now North Carolina WAY back in the 1500s. They just explored the area but did not settle. Damn, we should have though, so there would be less haters of our people there.
He was born in Chihuahua - Aye Chihuahua!!!
This guy round out mi barrio, and hopefully the people out there who think we came LAST will now realize - WE CAME FIRST!!!
Keep Reading