Philadelphia Flyers Fans Should Thank The NHL For The Salary Cap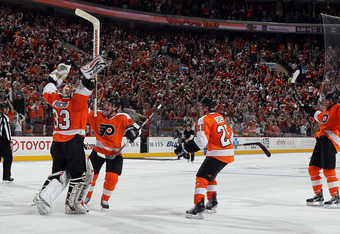 Jim McIsaac/Getty Images
With the exception of the occasional off-year, the Philadelphia Flyers have always been one of the NHL's more successful franchises since their inception 43 years ago. The club's .576 all-time winning percentage, second only to the Montreal Canadiens, is pure evidence of that.
Despite the team's regular season success, however, the team has only won two Stanley Cups and none since 1975. Although the team has made seven Cup Final appearances since then, there has always been something missing.
What that "something" has been is hard to put a finger on, especially since the Flyers and their owner/chairman Ed Snider have always tried their hardest to field—or is it ice?—a highly competitive team.
Therein lies the problem.
For too long, especially in the late 90s and earlier 2000s, the Flyers' attempts at winning the Stanley Cup have resulted in them acquiring other team's underachieving first-round picks—a tradition that more successfully continues today—as well as big name players well past their prime.
Until the Flyers' recent run of success, there were too many Jeremy Roenicks, Alexandre Daigles, Tony Amontes, Pat Falloons, and Peter Forsbergs, and not enough Claude Girouxs and Jeff Carters.
Rick Stewart/Getty Images
This method of building teams always resulted in the Flyers dominating the regular season but failing in the postseason at the hands of a team that was younger, quicker, and cagier (see: New Jersey Devils, Florida Panthers, Buffalo Sabres, Ottawa Senators).
The Flyers' rise to the top of the NHL as, many say, the league's deepest team is a by-product of drafting quality players, staying patient with those players, and making shrewd, yet prudent trades.
No longer do you see the Flyers trade away promising young players like Patrick Sharp or Justin Williams, who both went on to win Stanley Cups with their respective organizations.
Likewise, 10 years ago, you might have seen the Flyers sign a player like today's version of Mike Modano, a future Hall of Famer but also a 40-year-old has been.
While I believe that Flyers' GM Paul Holmgren understands this better than former GM Bobby Clarke did, I also believe that this new organizational philosophy was precipitated by the NHL's implementation of the salary cap.
Clarke never caught on. Holmgren did.
Instead of trying to build a team around a superstar, or a line of superstars, and instead of trying to assemble the best lineup of future Hall of Famers past their prime, what Holmgren—along with the help of head coach Peter Laviolette—has done is create an army of young, speedy, and skilled players.
Has the NHL's salary cap helped the Flyers become a better team
In the mid-to-late 90s, if the Legion of Doom (Eric Lindros, John LeClair, Mikael Renberg) was shut down, the Flyers were shut down. Now, if you shut down the Flyers' top line—wait, which is the Flyers' top line?
That is the problem opposing teams face when battling this squad.
One could argue that had there been no cap implemented, Holmgren would have eventually caught on.
That may be true but, if you're the Flyers, a team that came so close to winning the NHL's ultimate prize so many times, would you really have the motivation to drastically change the philosophy of the entire organization?
No.
Instead, it took a season like the dreadful 2006-07 season to finally spur a change.
As it was alluded to earlier, the Flyers still are not averse to trading for other teams' underachieving first-round picks. At the beginning of this franchise's turnaround, however, it was necessary.
If Holmgren was truly trying to put together a young, speedy, balanced team, than trades for players like Scottie Upshall and Ryan Parent and Braydon Coburn were necessary.
The difference this time around is that the Daigles and Falloons of the 90's and 00's were expected to be the final pieces of those respective puzzles. The Upshalls, Parents, Coburns, Meszaros's, and Carles were only expected to be role players for an eventual contender.
Jim McIsaac/Getty Images
Ironically, the NHL's cap has giveth and it has taketh from the Flyers.
The constraints of the cap forced the Flyers to trade away Upshall, who was popular with both fans and teammates, for Dan Carcillo, a player about whom Flyers fans have still not collectively made up their minds.
On the flip side, Detroit's cap issues basically shipped Ville Leino, who could end up being the Flyers' steal of the decade, to the Fly Guys for a bag of pucks—otherwise known as Ole-Kristian Tollefsen.
When necessary, however, the Flyers have not been afraid to open up their wallets, signing long-term, big money agreements with their homegrown talent—Mike Richards and Carter—as well as other team's top players—Danny Briere and Chris Pronger.
What has been truly different about those signings, as opposed to the ones the Flyers made in the past, is that Briere and Pronger supplement a young team while possessing skill that is still in its prime, in addition to veteran presence, and proven success in the postseason.
Goaltending, of course, continues to be the overriding "yeah, but" with the Flyers.
Astonishingly, instead of scrambling to find a steady goalie, as they've been known to do annually, the Flyers have an embarrassment of riches—Three goaltenders who have shown that they can be successful enough to lead the team to many victories.
Donald Miralle/Getty Images
There are only two reasons the Flyers find themselves in that position—the work of goaltending coach Jeff Reese, and the salary cap.
The old Flyers would surely have signed an older, overpriced goalie this past off-season—see, Evgeni Nabokov and Marty Turco. Instead, the Flyers followed the Chicago Blackhawks' formula of riding out the hot goalie and stuck with the duo of Michael Leighton and Brian Boucher while seeing promise in Calder Trophy candidate Sergei Bobrovsky.
Certainly, an enormous amount of credit must go to Holmgren, Laviolette, Reese and the Flyers' scouting staff for the club's current fortunes.
Along the same vein, an equal amount of credit must go to the NHL's salary cap for turning one of the NHL's biggest spenders into one of its wisest spenders.
This article is
What is the duplicate article?
Why is this article offensive?
Where is this article plagiarized from?
Why is this article poorly edited?

Philadelphia Flyers: Like this team?