2011 NFL Mock Draft: 5 Positions the Green Bay Packers Must Address on Draft Day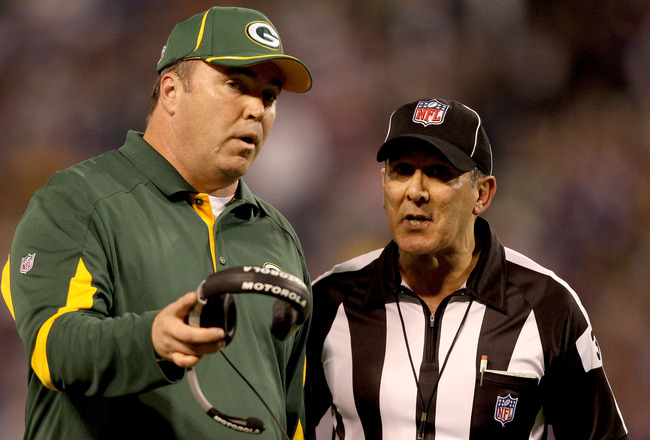 Matthew Stockman/Getty Images
As a popular Super Bowl pick for many across the country heading into the 2010 season, the Green Bay Packers set their expectations high. Perhaps a bit too high.
It should be no surprise to us by now the many speed-bumps Green Bay has endured this season.
A 2010 campaign without their star tight end, 1,000-yard rusher and even their MVP-caliber quarterback for a week proved to be a much taller order than previously thought.
With two games remaining in the season, there is certainly reason to look forward to that illustrious fourth weekend of April.
So, I thought it would be more than appropriate to take a look into the needs and desires of the Green Bay Packers moving forward into the offseason.
With that being said, let's take a look at some positions needed to be filled—as well as the potential players who can help the Packers along the way.
Here are five imperative positions Green Bay must solidify in the 2011 NFL Draft.
Offensive Tackle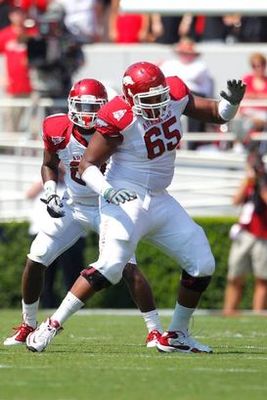 Current Depth Chart
Bryan Bulaga
Chad Clifton
Mark Tauscher (IR)
T.J. Lang
Diagnosis
With "iron-man" Mark Tauscher on injured reserve for a majority of the 2010 season, there is uncertainty about his future with the Packers.
Despite using their first-round pick on future star Bryan Bulaga in last year's draft, there is certainly room for a backup to be taken in this year's draft to serve as a backup for a year or two.
Should Tauscher call it quits in the next few years, the Packers will be in need of a prototypical offensive tackle to take over the reigns on the line for Aaron Rodgers.
Potential Draft Pick
Arkansas tackle DeMarcus Love is one of the best young linemen to come out in this year's draft. Including his 6'5'', 315-pound frame, Love could potentially be a great fit for the NFL.
Since his sophomore season, Love has been a starter for the Razorbacks—helping to keep quarterback Ryan Mallet protected throughout critical games. Love is a big reason why Mallet was such a success in 2009 and 2010.
Due to the offensive scheme run at Arkansas, Love has experience playing on both sides of the line and has played at every line position except center.
Love would be a great third-round pickup for the Packers in this year's draft.
Defensive Line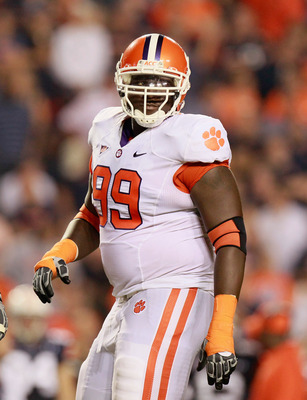 Kevin C. Cox/Getty Images
Current Depth Chart
Cullen Jenkins
B.J. Raji
Johnny Jolly (SUS)
Ryan Pickett
Diagnosis
In Dom Capers' highly touted 3-4 defensive scheme, linebackers Clay Matthews, A.J. Hawk and Nick Barnett have each made tremendous achievements so far in their respective careers.
However, as with every 3-4 defense in history, the defensive linemen are usually left to soak up blocks—limiting their action in getting a good look at the quarterback.
Green Bay has found a real gem in nose tackle Cullen Jenkins, and would severely benefit to another high-caliber defensive tackle alongside him.
Potential Draft Pick
Clemson's defensive beast Jarvis Jenkins is one of the best defensive linemen in this year's draft class, and is surely capable of becoming a difference maker at the NFL level.
Jenkins should be one of the top 10 defensive tackles in this class, but his stock could rise quickly once he gets to show his stuff at the NFL Combine.
Should the Packers take Jenkins, Green Bay could be looking at one of the scariest defenses in all of football, without question.
Wide Reciever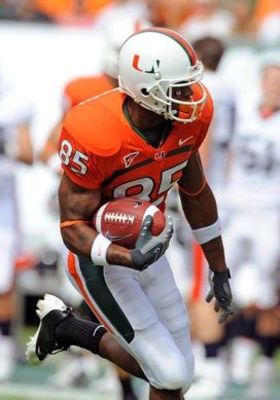 Current Depth Chart
Greg Jennings
James Jones
Donald Driver
Jordy Nelson
Brett Swain
Diagnosis
Although Green Bay has produced some of the most consistent, talented and highly regarded wide receivers in the league, there remains one thing that could bolster Aaron Rodgers' passing attack: a Calvin Johnson-like freak in opposing secondaries.
At 6'1'', 208 pounds, some say James Jones could eventually become that type of talent, but his performance thus far hasn't backed up that claim.
With tight end Jermichael Finley out for the season, the Packers' wide receivers have an average height of just under 6'1''—not bad, but could certainly use a boost.
Potential Draft Pick
Miami wide receiver Leonard Hankerson is a prototypical wide receiver worth a second- to third-round draft pick for Green Bay. With a 6'3'', 215-pound frame to boot, Hankerson could easily become a passing threat for Aaron Rodgers as early as next season.
Accumulating 2,089 yards and 21 touchdowns in four seasons at Miami is impressive in itself—not to mention his 12-touchdown season in 2010.
Running Back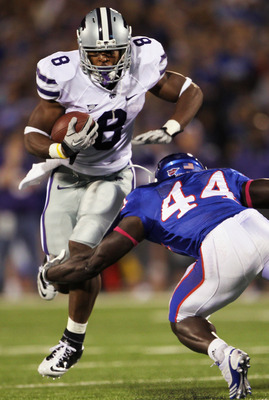 Jamie Squire/Getty Images
Current Depth Chart
Ryan Grant (IR)
Brandon Jackson
James Starks
Dimitri Nance
Diagnosis
After Packers' running back Ryan Grant's season-ending injury in a Week 1 battle with the Eagles, the Packers run-game couldn't quite rebound to decency.
Brandon Jackson showed signs of life seldom during the season, raising questions about his overall capabilities as an NFL running back.
Grant's return to the roster will certainly re-add the explosiveness and consistency that was lost due to his injury.
Potential Draft Pick
Kansas State running back Daniel Thomas is one of the most highly regarded tailbacks coming out in this year's draft. Thomas is a one-cut runner who shows tremendous ability in the open field once he reaches the second level, has great athleticism and attains a very physical style of running.
Thomas racked up 1,495 yards and 16 touchdowns in 2010, on a whopping 276 attempts for the Wild Cats—impressive stuff.
The Packers are in need of a one-cut runner like that of Ryan Grant, and with Brandon Jackson lacking that key ability, this is a great potential pickup for Green Bay.
Cornerback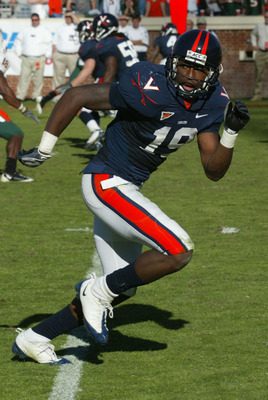 Current Depth Chart
Charles Woodson
Tramon Williams
Sam Schields
Jarrett Bush
Diagnosis
The Packers contain arguably the best one-two punch cornerback combos in Charles Woodson and Tramon Williams—who this year alone have combined for six interceptions and five forced fumbles.
Despite the fact Green Bay currently attains six cornerbacks on their depth chart, there is always room for another beast corner in title-town.
With Jarrett Bush, Pat Lee and Brandon Underwood still waiting in the wings for the Packers, drafting another cornerback may not seem like the logical idea. However, with Woodson's increasing age, there is never a time not to go for a potential perennial superstar at cornerback.
Potential Draft Pick
Virginia's stud cornerback Ras-I Dowling is the perfect fit for the Packers on the edge.
Dowling could have been a late first, early second-round pick in the 2010 draft, but he decided to return to Virginia for his senior year. He has great size and speed, and is still developing his ball skills. He also notably recorded 58 tackles, 2.5 for a loss, a sack and three interceptions is impressive, but a lagging hamstring injury sidelined Dowling for more than half of Virginia's season.
His 6'2'', 200-pound frame makes him a carbon copy of Charles Woodson. From sound tackling, to a vertical jump that bewilders all who witness—Dowling is a sure-fire star in the making.
Keep Reading

Green Bay Packers: Like this team?