The 30 Hottest Women in ESPN History
For 30 years, ESPN has been bringing us our sports. Over that time, they came to one enormously satisfying conclusion: It's even better when you have a hot piece of eye candy bringing us those sports.
From sideline reporters, to SportsCenter anchors, to poker hostesses, ESPN has got the formula down to a science. So to honor their anniversary, we're going with our own 30 for 30. The 30 Hottest Women in ESPN History.
So sit back and enjoy 30 babes you could...go...all...the...way with.
Begin Slideshow

»
Wendi Nix, you saucy little minx.
She's always been there, brightening our mornings since 2006 with her glasses and cute blond look, but when she debuted this picture earlier this year, it definitely made us all sit up and notice what we might have been taking for granted.
The debate is over. Wendi Nix is definitely hot.
ESPN3 is good for more than just catching up on your D-II football action on the weekends. It's led to way more slots for cute sideline reporters and anchors, including our very own Cassidy here.
So if you ever need a reason to stick around for the halftime report when your team is beating the crap out of some cupcake, here she is.
I've said it before and I'll say it again:
Any woman that's good enough for Broadway Joe Namath is good enough for me.
Sara Walsh has one of the least enviable jobs on the planet. She has to host SportsNation when Michelle Beadle is gone.
Not only does she have to replace Beadle, but she also has to deal with the troll that is Colin Cowherd. I think she's got the look to pull it off, though.
And we have our first real MILF of the list. At 46, Michelle Tafoya has been around for a while, but you can't deny that if you saw her at a bar you'd try and pick her up.
Whether she's looking hot in an awards show dress or bundled up down on the sidelines, we're always big fans.
And by the way, she's got one of the best sports anchor names on the planet. Michelle Tafoya. Pretend like that doesn't roll off the tongue nicely.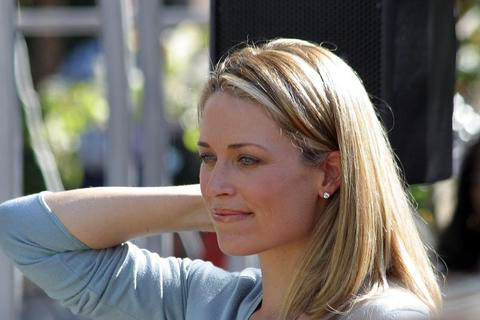 Now on the NFL Network, Flanagan worked as the ever-popular sideline reporter and SportsCenter correspondent for ESPN for five years.
I don't know what it is about those eyes, but they get me every time.
Sam enjoyed a short stint at ESPN in 2003.
Well, I don't really know if she enjoyed it. But I can definitely tell you that I enjoyed it. I was sorry to see her go.
Take one look at this picture and tell me that Colleen Dominguez is not a cougar. At 41 she may not be the oldest woman on our list, but something tells me that if I saw this SportsCenter anchor at a bar, she'd be the one seducing me.
Not that it would be a tough job or anything.
You may not know Laura Lane, but Vanessa Bryant sure does. Writing a story about Kobe, which included details about his wife and daughters, did not please Black Mamba's baby. She apparently was screaming at Laura and dropping F-bombs on her.
Any hot reporter that can stir up a catfight with one of the hottest WAGs in sports is okay in my book.
This ESPNews and First Take anchor looks like a younger, hotter Michelle Obama with that haircut.
She's not the kind of woman who would do a sexy photo shoot in her underwear, but I think she's hot enough dressed for success as she always is.
It's a blast from the past!
You might remember Kit Hoover as the overly perky host of Cold Pizza back when you were in college and actually eating cold pizza.
She has since moved on to host Access Hollywood Live (which is somehow different from regular Access Hollywood), but we'll always have fond memories of checking her out after finishing an all-nighter.
Stacey Dales is a hot mama. You know how some women just get even more attractive when they're angry? Just look at this picture. She looks like she's about ready to bite my head off and, I have to say, I'm looking forward to it.
She left ESPN in 2008 after being upset that she wasn't granted first-class flying privileges in her contract. Yeah, that picture definitely makes sense now.
If you've watched Monday Night Football, you no doubt remember Melissa Stark as one of the sexiest ladies ever to prowl that sideline.
She also worked for ESPN in the late '90s to early 2000s as a SportsCenter anchor. She definitely paved the way for the Erin Andrews' of the world.
Muy caliente!
Vanessa is one of the sexy anchors on ESPN Deportes. You might know her if you switch over from ESPN's regular broadcast after seeing Scott Van Pelt's mug for three hours and wanted to get your sports (although not as clearly) from someone a little more pleasing to the eyes.
Tony Kornheiser disapproves of that outfit, Hannah. Just letting you know.
The 48-year-old found herself in the headlines this year after fellow ESPNer Kornheiser made comments about her outfits, specifically those including short skirts and knee-high red boots.
I don't care how old you are or that you sometimes dress to sporting events like you're about to go clubbing. I say, keep up the good work, Hannah!
Tina isn't just another pretty face in the crowd of pretty-faced ESPN employs. She's also a former professional snowboarder with two X-Games gold medals to her name.
And she doesn't just report snowboard stuff either. She's a sideline reporter for ESPN's Friday Night Football. Not exactly the big time, but big enough that I'm a fan.
Elizabeth was the second ESPN reporter to make the news for some foul play involving a hotel room.
Some prankster called her room, told her there was a gas leak and that she needed to break her window with the toilet tank lid.
It was a shitty thing to do, but honestly I'd never heard of Ms. Moreau before that, so I have to give the guy a little credit for helping bring her to my attention.
There's something about women who know cars that men just love. Of course, we'd love Brienne even if she couldn't tell a carburetor from a carbohydrate.
She took over as ESPN's Indy Car pit babe for Jamie Little when she moved over to NASCAR, but hasn't been on TV for over a year.
Come back, Bri. Without you I've got no reason to watch Indy cars!
The original Andrews for ESPN, Thea co-hosted Cold Pizza and worked the red carpet for the most irrelevant awards show in sports history, The ESPYs.
This Canadian has alternated between shows here and shows "oot" there and will host Top Chef Canada when it premiers next year. Not bad work if you can get it.
Adriana is the hot chick from ESPN Deportes that everyone knows about. You'll be flipping channels and then quickly flip back to see the hottie that you just passed, only to realize you know absolutely nothing about what she's saying.
We need to steal her away for regular ESPN. They could use a little of her spiciness there.
Jamie Little is the queen of motorsports.
Originally she started with Indy Cars and then moved on to the ever-popular realm of NASCAR, where she immediately became the second-most desirable person in the sport, right after Dale Jr. of course.
A former recipient of Playboy's Hottest Sports Reporter award, Jill's time on ESPN was as brief as she was hot. She lasted just one year.
Still, one year is better than no year, and she gets to join Sam Ryan as our hottest one-and-dones at the Worldwide Leader.
The sexy former captain of Mexico's soccer team has thankfully joined the ranks of ESPN Deportes.
As far as I can tell though, you might have a hard time finding her on TV. I think she writes (okay) and does radio work (gigantic waste of talent).
The sooner she can get in front of a camera, the better.
Molly Qerim specializes in your fantasy. Fantasy football that is. But then again, a hot chick who knows fantasy football might be your actual fantasy.
She actually won an Emmy for her work there, which makes it even crazier that after she left ESPN she ended up working at Versus with such respected journalistic minds as Jenn Sterger.
Molly Qerim and Jenn Sterger talking sports? I don't even care that it was probably terrible (hence the cancellation), call ESPN and get them back together at the mother ship.
Sage Steele has become a staple of my morning, and I couldn't be happier. Not only is she an awesome SportsCenter anchor, she's also super hot.
If she did just one sexy photo shoot she would shoot to the very top of everyone's list. However, we just have to stick to using our imagination, which still works, because Sage just oozes sexiness no matter what she's wearing.
Our buddies at Tempe12 were the first ones on the Jenn Brown train, and we have them to thank for most of the modeling shots she took before she hit the big time.
Since joining ESPN last year, Jenn has come the closest to the mantle every female sports reporter gets of The Next Erin Andrews. She's quickly moved up in the company and has been working more high-profile games.
Aside from that, she's also done other things we wished Erin Andrews would do, such as get linked to a high-profile celeb (Kenny Chesney) and sign a sponsorship deal with a beer company (briefly).
Thank goodness for poker.
Without ESPN getting in on the "sport" heavily in the early 2000s, we might never have been able to claim the sexy Australian for this list.
Thankfully, she spent a nice chunk in the middle of the decade doing sideline reporting for poker, which is basically a glorified lotto girl.
"And the last card is...a six! I don't know what that means, but one of the smelly guys in sunglasses is jumping up and down so I'm assuming that's good for him!"
This former Broncos cheerleader and current actress and NFL Network field reporter spends most of her time on ESPN covering cars.
Not the kind that go around in circles on a track. Somehow, she found a way to cover something even more pointless: auctions. Yes, ESPN televised car auctions and they apparently needed somebody who looked even better than the cars to be the ringleader.
As much as I wish she was still on a network that I currently can watch, I'm glad Michelle has moved on to a more legit calling and I hope to see more of her very soon.
Michelle Beadle is my new dream girl.
She's beautiful, talented, funny and she knows the hell out of her sports. I mean, just check out her twitter page and you get an idea of what a unique personality she is.
Hell, even the fact that I put a bathing suit picture of her on here would probably embarrass her. That's not really who she is. She doesn't care about being a sex symbol or having an image.
She's already built up a cult following and once ESPN figures out that they need to market the hell out of her, there's no reason she shouldn't be a huge star.
Could it be anyone else?
For as long as she's been with ESPN, Erin Andrews has owned. Owned ESPN and owned the internet.
She's got some major competition from the likes of Beadle and others, but at this point in the game you'd be crazy in saying it was anyone other than EA. Just because she's overexposed (pun definitely not intended) doesn't mean that she's any less attractive.
The fact that Andrews has been mentioned already multiple times in this list just proves my point. All roads lead through Erin.
I know what you're thinking. You're wondering where Rachel Nichols is.
I'll be the first to admit that she has definitely been looking hotter than ever lately, but it's hard to find photographic evidence that shows she belongs on here. I need Rachel to step up her game and show me something on paper!
Sorry Rache, maybe next time.