Top 20 Hottest Divas In WWE History
Smart, sexy and powerful is their slogan, and above all, the divas are sexy. Very sexy.
So in this article, I take on the almost impossible task of trying to rank the top 20 hottest divas to ever grace us with their presence. This list is strictly WWE divas, and I'll probably do a top 20 TNA knockouts list later.
Now, without further ado, let's see which divas made the list of the top 20 hottest divas in WWE history!
Begin Slideshow

»
While the Season 3 winner of NXT may be a newcomer, she's a very hot newcomer. And in the current state of the divas division, that's all you need to be a big star... sad, but true.
Either way, Kaitlyn looks like she's going to have a promising future, and her feud with Vickie Guerrero has been pretty entertaining thus far.
Let me begin by saying this: Drew Mcintryre is a lucky man.
Just like the previous diva on this list, Tiffany was a newcomer, making her debut in 2008. Its almost a tragedy that we will never see Tiffany again on WWE programming, but damn was she hot.
Here's another diva that we will never ever see again on WWE programming.
Maria was one of the hottest divas in recent memory. One of the final divas to ever do Playboy, Maria was too hot. She may have not had the in-ring skills to back it up, but she sure was hot.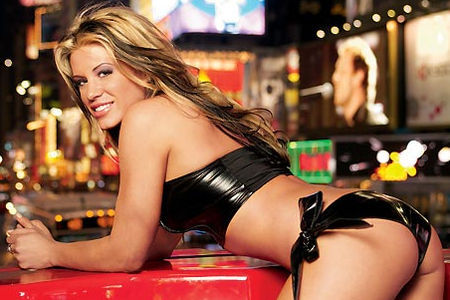 Yet another diva that is gone from the WWE roster, Ashley was an awesome rock star diva who unfortunately never got to win the women's championship.
Ashley was very hot, and I think this picture speaks 1,000 words.
Victoria, my personal favorite diva of all time, is pretty hot. Even though I rarely see her on lists ranking the hottest divas, I find her very hot.
On top of that, she's one hell of a wrestler. That steel-cage match she had against Mickie James on TNA Impact! was fantastic.
Finally, we get to a group of divas who are actually still employed with the WWE.
Even though the Bella Twins' "twin magic" act has already become tiresome, they're still among the hottest divas on the current roster.
How could one list the hottest divas and leave off the current Divas champion, Natalya.
Not only is Natalya one of the best in-ring wrestlers in the Divas division, but she's also one of the hottest. I think this picture speaks volumes.
Although most of us have already grown tired of the LayCool gimmick, I doubt any of us have grown tired of watching Layla.
She may not be the best in-ring worker the divas have ever seen, but she's certainly one of the hottest.
This has not been a good year for Melina.
She was injured for the majority of it, and when she finally returned she had a short, mediocre reign before dropping the title to LayCool. Regardless of this, she still remained hot which is what this list is based on.
It's odd to think that at the beginning of the year Eve was actually the Divas champion, and now she's stuck dancing with R-truth.
Nevertheless, Eve, the final winner of the WWE diva search, is too hot for words to describe. So hopefully this picture does her justice.
Such a perfect combination of beauty and strength is almost unheard of in the current WWE Divas division, but both Beth Phoenix and Natalya are one of a kind.
Even though Beth was out of action for most of the year due to a torn ACL, when she returned she was hotter than ever.
Oh, how I miss Torrie Wilson. Torrie accomplished virtually nothing during her time with the WWE aside from looking hot, but that's enough to land her at No. 10 on this list.
Similarly to Eve, it's kind of hard to believe that at one point Candice Michelle was the Women's champion. Like most of these divas, Candice Michelle may have lacked in-ring ability, but she made it all up in hotness.
As hot as she is overrated, Michelle McCool has to be on everyone's list of hottest divas.
Michelle has had one hell of a year, and has never been out of the Women's title picture. I know what you're all thinking right now, and I agree... the Undertaker is a lucky man.
Not only is Kelly Kelly the youngest diva to ever be employed with the WWE, but she's also one of the hottest.
Kelly hasn't had much success with the WWE yet, but her time will definitely come. Until then, she'll always know that I ranked her No. 7 on my list of hottest WWE divas.
"SHE'S GOT LEGS."
Who can forget this former WWE diva and now actress. Stacy was another one of those divas who were never fortunate enough to the win the Women's champion, with her crowning achievement in the WWE being named the 2004 "Babe of the Year."
Stacy Keibler will always be remembered as one of the hottest divas to ever live. Plus, those legs are just beautiful!
The self-proclaimed "sexiest of the sexy," Maryse is one of the hottest divas to ever enter the WWE. Not only is she a fellow Canadian, but she has also had a very successful career, becoming Divas champion twice.
Just look at this amazing picture, it's hard to believe that there are four more divas that are even hotter than Maryse!
Lita isn't only one of the greatest divas of all-time, but she's also one of the hottest divas of all-time. The best thing about Lita is that she's hot in a very unconventional way.
The reason I find her so hot is because of her "rock-star" like image. That may just be me, but either way, Lita is very, very, very hot.
First, I said that Drew McIntyre was a lucky man for being married to Tiffany. Then I said the Undertaker was a lucky man for being married to Michelle McCool. Now I must say that Brock Lesnar is the luckiest man in the world for being married to Sable.
Just look at that picture. Sable's hotness is almost unbelievable. In fact, it's so unbelievable that I could only think of two divas who are hotter than her.
Most people consider Trish Stratus the greatest diva of all-time.
While I may disagree, I will agree that she is one of the hottest divas in WWE history. Trish had one hell of a career in the WWE and was also named "Babe of the Year" three times in a row.
It was difficult, but I could only find one diva hotter than Trish Stratus.
"OH MICKIE YOU'RE SO FINE, YOU'RE SO FINE YOU BLOW MY MIND!"
As cheesy as that may have been, admit it, Mickie James' beauty does blow your mind. Out of all the divas who have ever entered the WWE, Mickie Jame's has got to be the hottest. She's one of a few girls who I consider perfect.
Continue on to view more pictures of this goddess.
Divas Still Employed With The WWE: 10
Divas Now Employed With TNA: 2
Divas Who Have Become Womens/Divas Champion: 13
Divas Who Have Become TNA Knockouts Champion: 1 (Victoria)
Divas Who Have Becomes both Womens/Divas champion and TNA Knockouts Champion: 1 (Victoria)