Philadelphia Eagles vs. New York Giants: Live Reaction To Game's Biggest Stories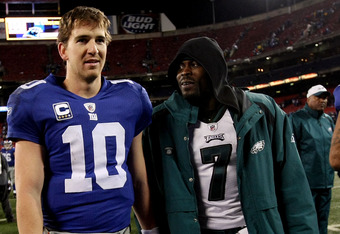 Nick Laham/Getty Images
The Eagles and Giants faceoff in a winner take all battle for the division Sunday afternoon, and this is the place you will come to see reactions to the game's most exciting headlines.
The Giants have the task of attempting to slow down Michael Vick for the second time, and a depleted front seven for the Eagles have the task of stopping the Giants running attack that has exploded for 197 and 213 yards the past two weeks.
Which task, if either, will be completed this weekend? I guess we'll have to wait and see. I hope you enjoy the game and feel free to leave comments below!
You can also find Jeff at NY Giants Central, a product of Rant Sports
Follow Jeff on Twitter @NYG_Central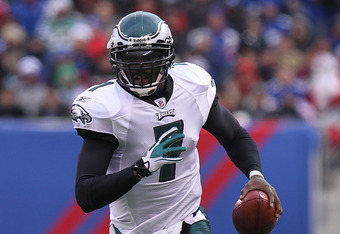 Well, the Giants just blew the biggest game of the year, so I won't be saying much because I want to jump through my TV screen and punch someone in the face. Someone deserves punishment for making me sit through the fourth quarter of one of the worst failures I've ever seen.
Possible the only other time I was more upset was the 49ers comeback against the Giants in the playoffs, because so much more was at stake, but I'm pretty livid.
The Giants scored with 8:17 to play to take a 21 point lead, and it all fell apart from there.
The Eagles scored in two plays to make it 31-17, then surprised only Tom Coughlin by going for an onside kick and scored on a Vick run to make it 31-24.
The Giants had the ball with 5:28 to play and a chance to drive down the field and run out the clock. They were only able to run off 2:27, and gave the ball back to the electric Michael Vick with 3:01.
The Giants had slowed him down all game because he stayed in the pocket, so he just turned in to the old Vick and ran it down their throats, breaking off runs of 33 and 22 leading to a game tying touchdown to Jeremy Maclin.
Giants get the ball back with 1:10 from their own 35 yard line and proceed to go incomplete, incomplete, sack and called a timeout with 12 seconds left to punt.
OK, so this is where the game goes into overtime because you kick the ball out of bounds away from DeSean Jackson right? Wrong. Matt Dodge punts it low and short and Jackson returns it 65 yards for a touchdown with no time left, and the meltdown was complete.
Dodge, you deserve to have the punter job stripped from you, but it's not like it was all your fault. This was a collective effort of failure in epic proportions. With everything on the line, the Giants collapsed and nearly ruined their playoff hopes.
I don't see how they recover, but I hope to God they do.
This article is
What is the duplicate article?
Why is this article offensive?
Where is this article plagiarized from?
Why is this article poorly edited?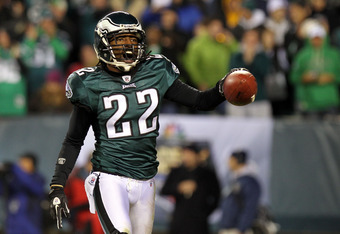 As expected, most of the players listed as questionable by both teams are active for today's contest.
Most importantly for the Eagles is Asante Samuel, who was limited in practice this week and his status was uncertain until this morning. Watch for the Giants to test his health early and often, especially by running the ball in his direction. Samuel has been known to shy away from stopping the run, and if he's not 100 percent that will be especially true.
DeSean Jackson is also active, but his status was pretty much determined already and he knew he was going to play.
The Giants have a surprise active player in Shawn Andrews, who will return to his limited role as the blocking tight end this week. Andrews had missed three straight games since the Eagles game on Nov. 21 and had only returned to practice this week on a limited basis.
Michael Boley, Shaun O'Hara and Mario Manningham are active as expected, and Devin Thomas is inactive, also as expected.
One thing the Giants should be able to take advantage of is Winston Justice being inactive today. The Eagles right tackle missed most of practice this week and backup Kyle Dunlap is to start in his place. Justin Tuck should be able to bring pressure from that side, while the Giants will most likely again blitz from the left making it a perfect storm of pressure.
Vick should have his hands full, but we all know he is capable of breaking loose. Hopefully the Giants can contain him.
This article is
What is the duplicate article?
Why is this article offensive?
Where is this article plagiarized from?
Why is this article poorly edited?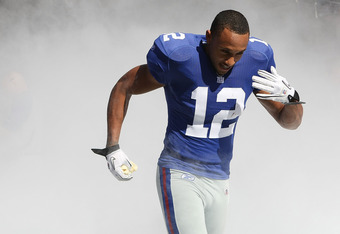 So far from what I can gather on the Eagles side of things, they have listed DB Asante Samuel, WR DeSean Jackson, and T Winston Justice as questionable. Of the three, the only one I don't see playing is Justice, both Jackson and Samuel have declared vehemently that they are playing this weekend.
The Eagles have already ruled out Stewart Bradley and Jamar Cheney will start in his place, the rookie out of Mississippi State.The Giants will look to exploit him early and often.
The Giants have OG Shawn Andrews, C Shaun O'Hara, WR/KR Devin Thomas, and LB Michael Boley listed as questionable. Again the only one I don't see playing is Shawn Andrews, who only just returned to practice on a limited basis this week.
O'Hara and Boley are both going to play and Thomas' status remains unclear, but he is expecting to get out there.
WR Mario Manningham and OG Chris Snee missed some practice this week but are listed as probable and are playing.
The Giants will be without Pro Bowl WR Steve Smith once again, who missed the first meeting between the two teams. Now the terms of his injury are a bit different as he is out for the season, but the remaining receivers will have to step up just the same.
This article is
What is the duplicate article?
Why is this article offensive?
Where is this article plagiarized from?
Why is this article poorly edited?
Think of this as a shortened game preview, just something to wrap your heads around before the game actually gets under way tomorrow.
The weather report for tomorrow is right around 35 degrees and windy, so the deep passing game that the Eagles love so much won't be as effective.
That's not to say they won't still get big plays, but I don't imagine DeSean Jackson having 52.5 yards per reception against one of the best defenses in the league.
The Giants contained Vick in the first contest, but Andy Reid is best known for making adjustments and being a great offensive mind. He will adjust to take away what the Giants did so much, which was blitz Vick from his left practically all night long.
I foresee a screen play to the left for a huge touchdown from the Eagles.
The Eagles have the most explosive offense in the league in my opinion, so as a defense you have to realize they are going to burn you at some point, you just have to limit the number of big plays they get.
The Giants defense is geared towards stopping those big plays with Perry Fewell's Cover 2 scheme and dominant pass rush. The ability of the front four to get to the quarterback is huge in not allowing the deep plays to develop.
However, the Eagles offensive line did a good job in the first meeting and their receivers were able to get open down field. Hopefully the Giants find a way to bring the pressure this weekend.
If they can cut down on the five turnovers they had in the last meeting and have a couple long sustained drives to keep Vick on the sidelines, I believe they can come away with the victory.
Prediction: Giants 20 - Eagles 17
This article is
What is the duplicate article?
Why is this article offensive?
Where is this article plagiarized from?
Why is this article poorly edited?

New York Giants: Like this team?