The 100 Hottest Women Of Wrestling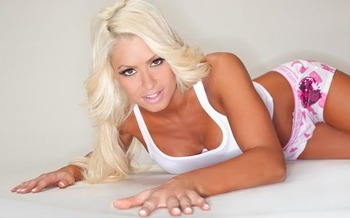 Wrestling is fake. This is a fact. There is no need to argue that it is real because it is not. It is a soap opera filled with many story lines and twists. It has the heroes, the villains, and, even, the hot women.
Ever since I can remember, professional wrestling has had beautiful women. Over the course of time, however, beautiful women in professional wrestling has grown by leaps and bounds. It started out as a way to grow viewers and it turned into a way to grow the company.
From Sunny to Maryse, it has been a good twenty years of beautiful women that have graced us with their presence. This list was compiled to feature as many of the sexy ones as I could squeeze into a list of 100. I hope you enjoy the show.
In the words of Michael Buffer, "Let's get ready to rumble!"
100. Chyna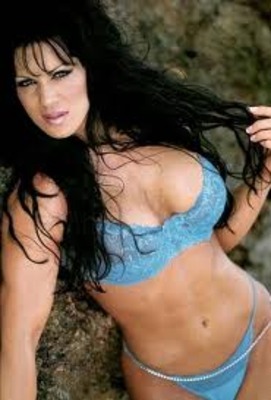 Although Chyna might have a bigger physique than most men, she still has three things that they do not have.
For Chyna, she should come with a sign that says, "Don't knock it till you try it."
99. Beth Phoenix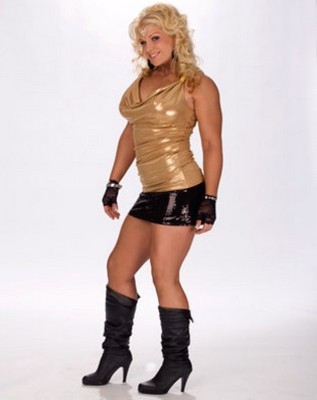 Beth Phoenix is a babe. She has an amazingly thick sexy body that makes any man melt.
Not only that but she could totally kick your ass.
98. Jacqueline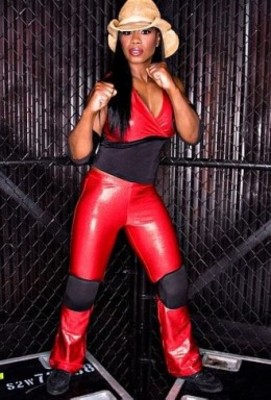 I have seen this woman in person and believe me when I say that she is so much hotter than they make her look like on television.
She has this amazing backside to level out an even better top side. My point is, she is smoking hot.
97. Madison Eagles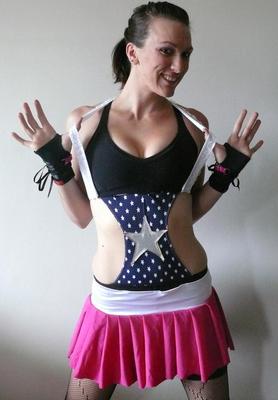 Who? What? Where?
It doesn't matter when you are a hottie.
96. Miss Elizabeth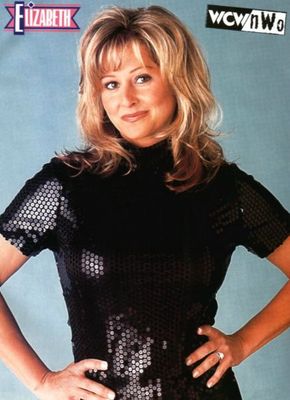 Miss Elizabeth was a fox. She was sexy and had the body that could make anyone melt. She will be missed by all fans of professional wrestling.
She unexpectedly died in 2003, she was 42.
95. Nidia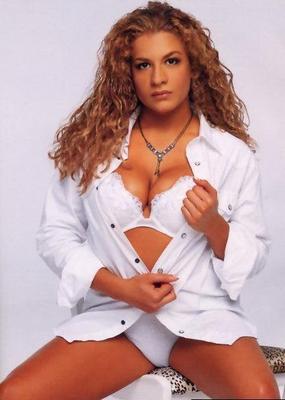 Nidia comes from a reality show called Tough Enough. That is where she got her big break into the WWE.
With a body like hers, it is no wonder she made it to the big time. She is another hottie from the wrestling world.
94. Miss Kitty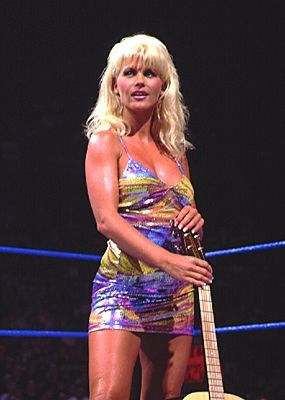 Does anyone recognize this beauty?
She was the first women in the WWE to intentionally flash her breasts during a live pay per view. That opened the door for so many more spots of nudity by other babse and for that we thank her.
93. Barbara "BB" Bush
This was another stone cold hottie. She was not with Stonecold, she is just a, two words, stone cold hottie.
She was not a big part of the show but when she popped up on the megatron, everyone knew what was up.
92. Marianna Komlos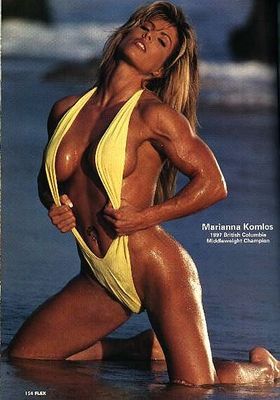 Marianna Komlos is stronger than 85 percent of the men in this world. She is ripped more than a book of shredded papers.
This photo is the hottest she owns, some of the others might be a little too muscular for anyone's liking.
91. Tina San Antonio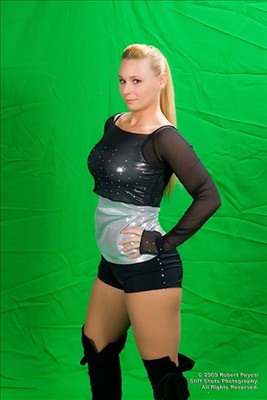 Do you think she is from San Antonio?
If she is, then that would be a clever name. If she wasn't, well, that would still be a clever name.
90. AC Jazz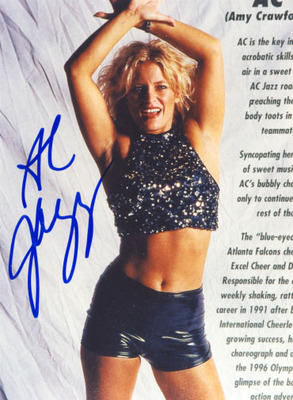 Ah, the Nitro Girls from World Championship Wrestling. They were the reason I was sitting in front my television set five minutes prior to the event. I did not want to miss their opening performance.
AC Jazz is the first of many that are featured in this list.
89. Cookie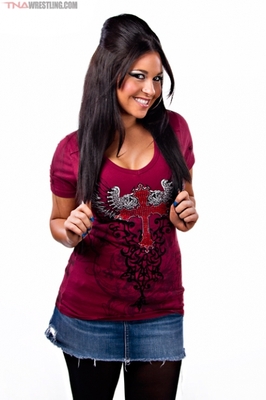 Do you want to touch her poof?
She might not let you but you can still fist pump it all the way out the door.
88. Cherry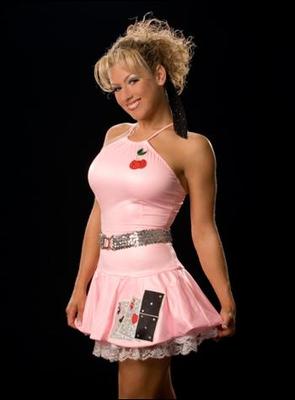 Seriously?
Whenever a girl that is as hot as this one, has a name like cherry, the sexual innuendos come pouring from the sky. It is too hard not to make a pun here but I shall try not to.
87. Ivory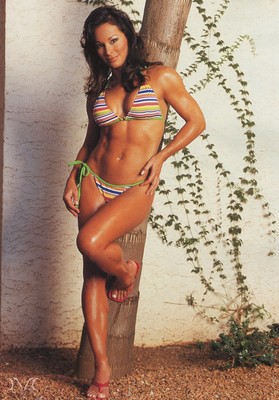 Ivory had a few things working for her during her tenure in professional wrestling.
One was her amazing body. You could cook an steak on her stomach.
The second is her amazingly underrated booty. Go look it up, it is a thing of wonder.
86. Molly Holly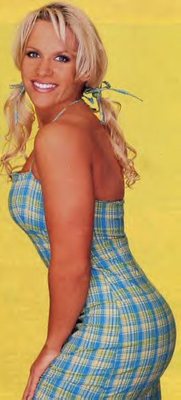 This beautiful blonde babe packs a punch. You should try saying that five times real fast without stopping.
She is small but she can take on any man she wants as evidence when she stole the Hardcore championship from The Hurricane in 2002.
85. Caryn Mower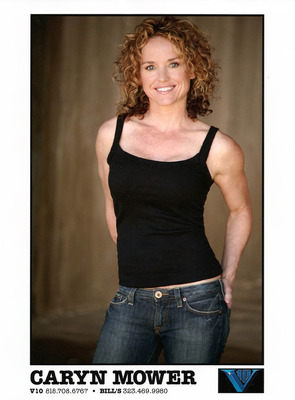 Of all the chicks on this list, Caryn Mower looks like a normal girl next door type.
That could be the reason why she is so hot.
84. Ryan Shamrock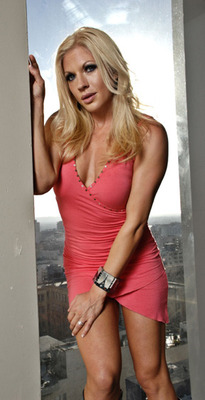 Ryan Shamrock was on WWE for about a year. She was there, she was hot, and then she was gone.
How great the life of a WWE babe can be!
83. Rhaka Khan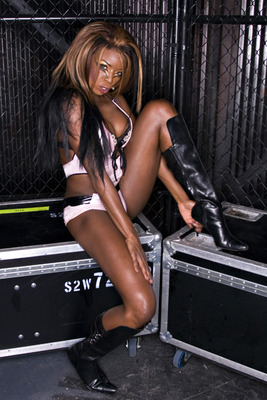 She might have a crazy look and an even crazier name but one thing is certain about this beauty, she will not put up with your bull crap.
82. Krissy Eubanks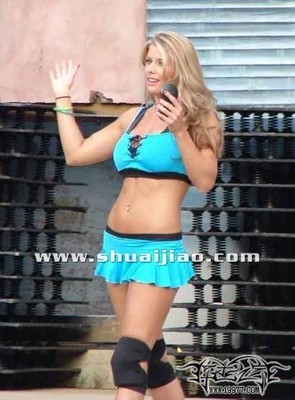 This is another hot blonde from the world of wrestling.
What are we doing here people? As you can see, the place to work is in professional wrestling. It is crawling with babes.
81. Whisper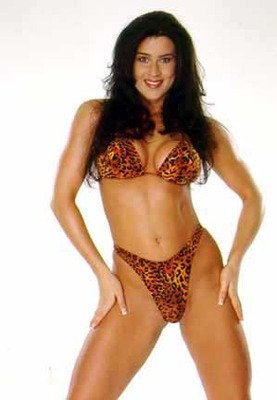 I think Whisper, one of the hottest Nitro Girls, is married to Shawn Michaels, one of the most famous wrestlers in history.
Too bad none of that information is relevant for this story. Who cares who she is married to? We just want to look at her body!
80. Serena Deeb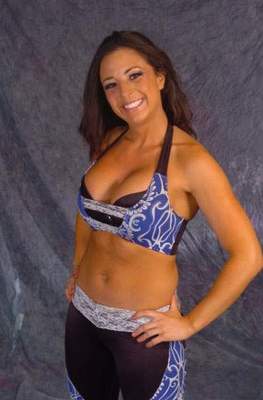 I am not going to lie, this woman is hot.
I think my point has been made and I have nothing left to say. It might also be because she is not too popular on the Google search engine too.
79. Lena Yada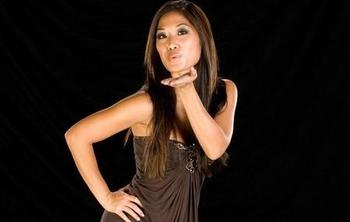 When you see Leda Yada, what is the first thought that comes to mind?
If it isn't, "wowweewow wow!" then you must not be paying attention.
78. Tygress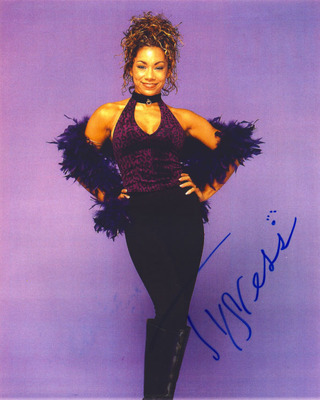 I love her name. She looks nothing like a tiger but she is claiming to be a female tiger.
She is still hot either way.
77. Traci Brooks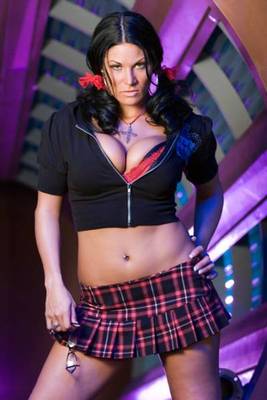 If the school girl look is still relevant, then Traci Brooks makes it work.
She is more than just a beautiful body, she is also a busty babe that could take care of business when it is needed.
76. Tori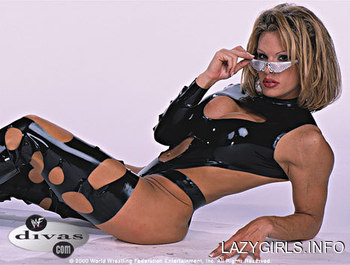 Tori has always been cooler than all the other women in wrestling.
In the words of Stuart Scott, "As cool as the other side of the pillow."
75. Maxine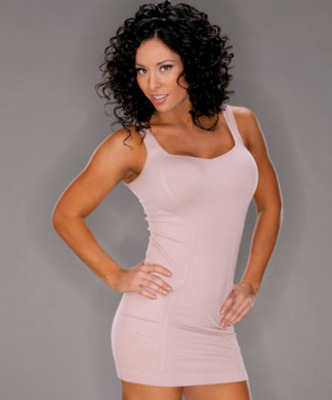 If we were on a date, I would have asked for the check two seconds after we walked into the restaurant.
Who wants to waste time with dinner when you have a beauty like Maxine sitting across the table?
74. Lauren Jones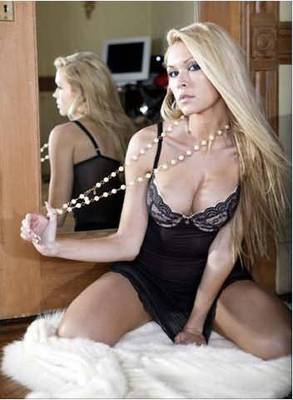 Every guy would react this same exact way if they met Lauren Jones.
73. Spice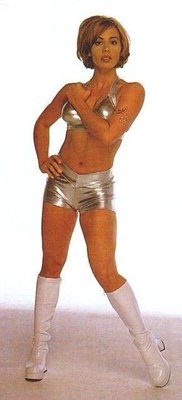 If you were looking for that nameless face from the Nitro Girls, here she is.
Spice was one of those females that people only remember as that hot women from the Nitro Girls. She know has a name and number. Except, I am not going to give you her number. Nice try fans.
72. Mickie James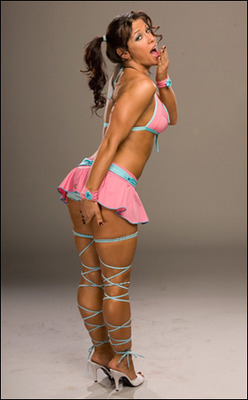 And who says something this cute can't be in wrestling?
71. Joy Giovanni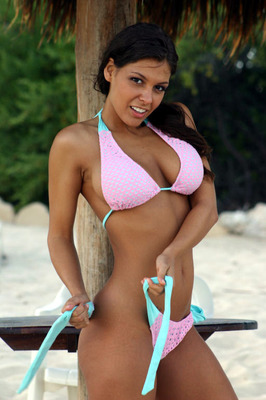 Sometimes, words can not give a person justice. So I have provided some extra evidence...
70. Beulah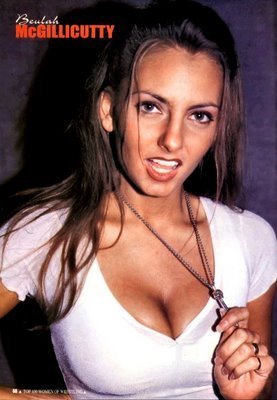 I remember Beulah as one of those women that every man was obsessed with but was too afraid to ask her out.
She might look a little rough around the edges but she cleaned up very nicely. Especially for those ECW events.
69. Baby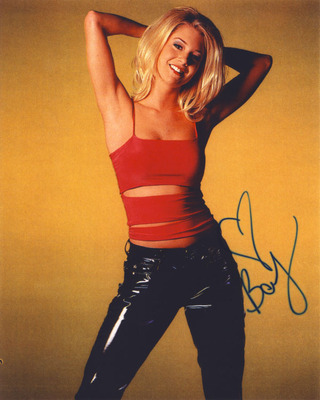 Baby was one of the WCW Nitro Girls. She might not have been on the cast long but she made a lasting impression with her sexy moves and beautiful blonde hair.
She even made a lasting impression on me, I would not have remembered her short lived career had I not remembered that beautiful beauty.
68. Brittany Beede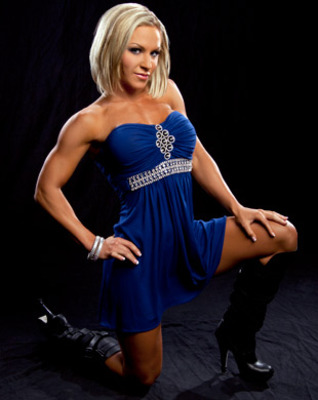 As there ever been a more deadly weapon than a tiny blonde with hidden muscles?
Brittany Beede is one of those silent assassins. She might not look like much but check her out when she is working out, she is huge.
67. Midajah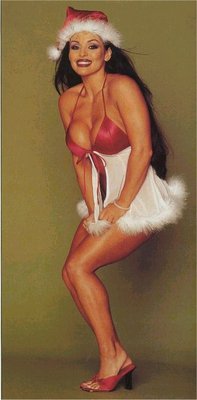 I am not certain how to say it. I am not at all sure what it means. I do not even know how to pronounce it.
Midajah is beautiful so let's just leave it at that for now.
66. Lauren Brooke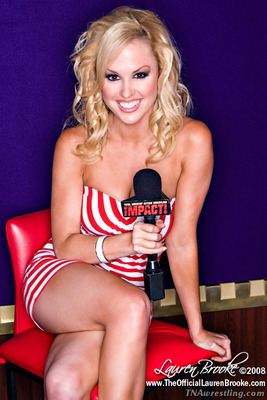 Lauren Brooke might not be much of a wrestler but she is hot enough to earn a job for TNA as an interviewer.
She is hot enough to earn a spot in the 100 hottest as well. Good work beautiful!
65. Debra Marshall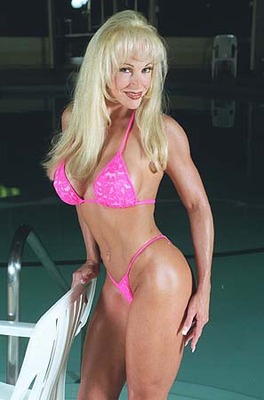 Debra, Debra, Debra!
She did not even begin her career in wrestling until she was 36 years of age. She is easily the hottest of the older women of wrestling.
I think she should be considered a WILF instead of a MILF.
64. Jillian Hall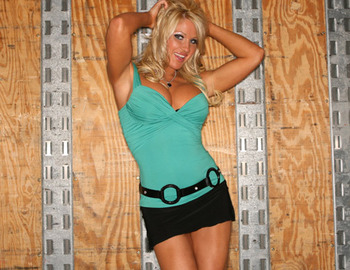 I was not too sure about this choice but when I noticed that she was in the back of a moving van, my hands were tied.
And by tied, I mean she is smoking hot.
63. Michelle McCool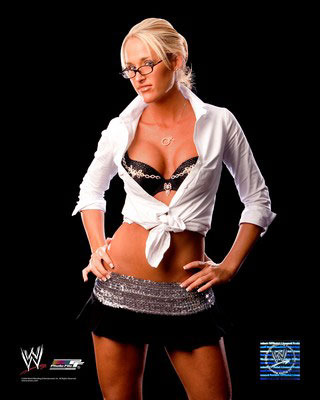 If there was ever a person in wrestling you should consider cool, why not someone with a name that has the word in it?
Who else thinks Michelle is wearing too much clothing in this photo?
62. Alicia Fox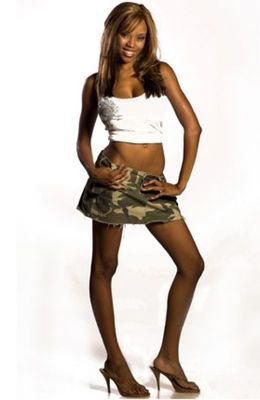 It is now the time of the show where I am pleased to introduce you to a babe named Alicia Fox.
Alicia Fox is a wrestler second but a model first. If you have not picked up on that, since most of these women are actually models, than you might want to drink a red bull and get back in the game player.
61. Chae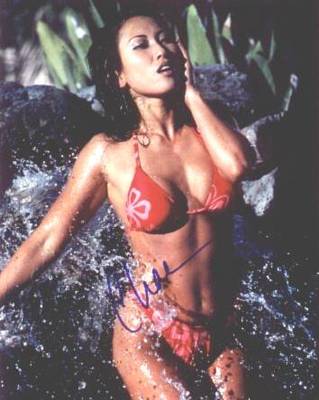 Chae is not just another Nitro Girl making a list of hot women.
Wait, she is a Nitro Girl and this is a list of hot women. I guess I was mistaken about that statement.
60. Lillian Garcia
Does she look familiar but you have no idea where you remember her from?
That is because she is the ring announcer for the past ten years for WWE Raw. That's right, that hottie that you have seen every now and then walking around the ring has a name. Oh yeah, and she is hot!
59. Dawn Marie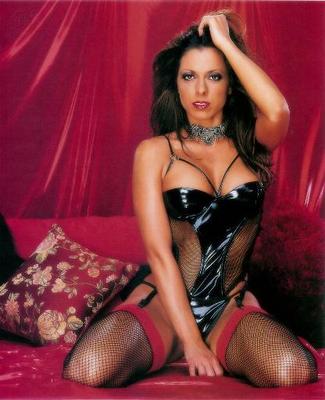 Nothing sexier than a women in fishnet and leather while sitting on a bed. I guess one could argue that a female in this position with no clothing on might be sexier.
Either way, having Dawn Marie in this outfit on your bed would be a victory.
58. Daffney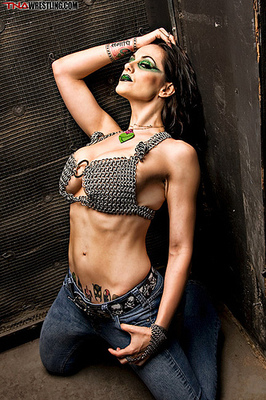 I think it is safe to say that not many of you know who this natural beauty is or where she came from.
The good news is that it does not really matter. She has an amazing body and a smoking set of twins, not much information is needed.
57. Crystal Louthan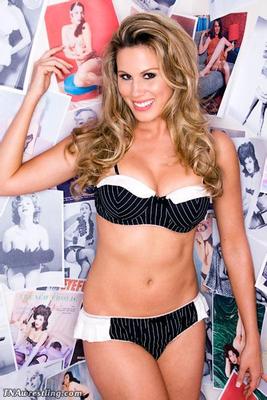 Crystal Louthan is hot. She is not well known but she does work for the TNA brand.
Just in case there were any questions regarding what TNA stood for, it means Total NonStop Action. It does not stand for what you thought it did.
56. Katarina Waters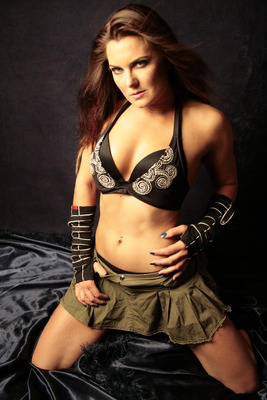 It is amazing how a short skirt can make a woman ten times hotter than usual.
In Katarina Waters case, she did not need the skirt.
55. Layla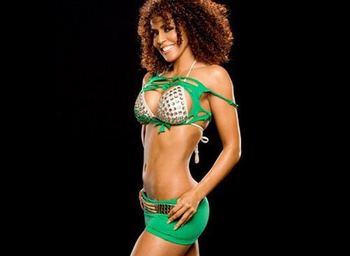 The worse part about Layla is her wardrobe. She has this top that seems to be ripping apart, yet she is all covered up underneath.
She gets ten points for being hot but minus three for teasing.
54. Terri Runnels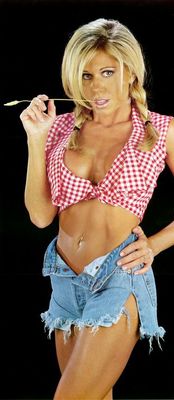 I am at a loss for words which is difficult for someone like me since I always have something to say.
Anyone want to watch Dukes of Hazzards right now?
53. Kristal Marshall
Dear Kristal,
Excuse me Miss Marshall, I need a favor from you. I would like your phone number and the address where I can pick you up tonight for our date.
It is alright with me if are not home, I can wait.
Thanks,
Every person that follows wrestling today
52. Trinity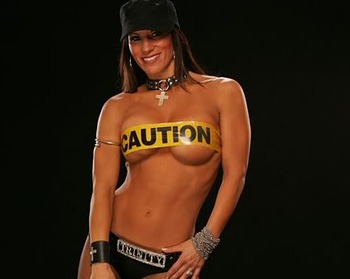 Do you find it humorous that she uses a caution sign to cover up the one place we would all love to look at?
Don't you worry folks, she will come out of that caution top one day.
51. Gorgeous George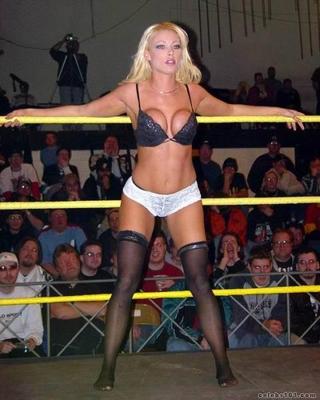 She is already sexy but what you did not know was that she can take some abuse from the Macho Man Randy Savage and keep on rolling...
<object width="480" height="385"><param name="movie" value="http://www.youtube.com/v/nk3nTWatIh4?fs=1&amp;hl=en_US"></param><param name="allowFullScreen" value="true"></param><param name="allowscriptaccess" value="always"></param><embed src="http://www.youtube.com/v/nk3nTWatIh4?fs=1&amp;hl=en_US" type="application/x-shockwave-flash" allowscriptaccess="always" allowfullscreen="true" width="480" height="385"></embed></object>
50. Stephanie McMahon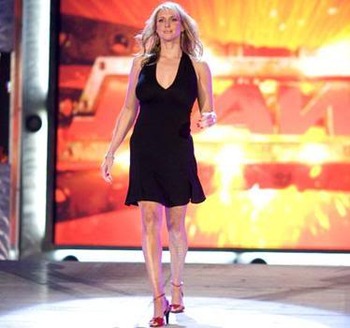 If Stephanie McMahon did not have the sexiest pair of twins on this side of the Mississippi River, she would probably not get as much press.
Then again, being the daughter of the owner of the WWE probably gives her the right to not care if anyone likes her.
49. Amy Zidian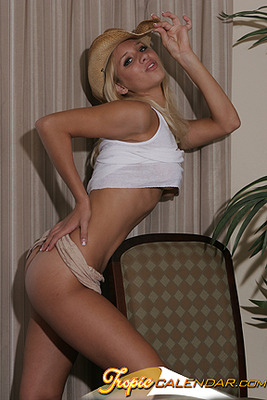 Amy Zidian, do not worry about the pronunciation of her last name, had the shortest career in wrestling of all the babes on this list and it was due to poor attitude.
Poor attitude? Really? She must have told someone, Vince McMahon, no and they did not agree.
48. Ariel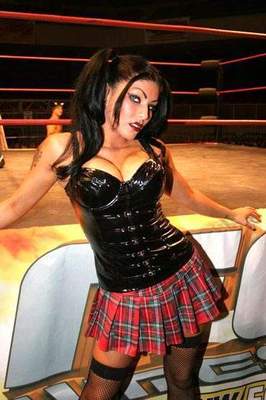 I am guessing you were expecting a mermaid and a couple of fish singing Disney songs?
Ariel is the opposite of Disney and is the exact right amount of sexy gothic wrestling babe.
47. Fyre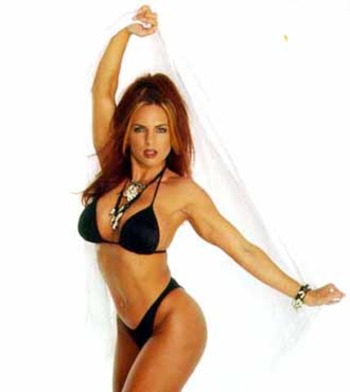 Fyre was the second hottest Spice Girl on WCW Nitro. The hottest will be revealed further into the list.
As far as redheads go, she dominates that category.
46. Chelsea
Chelsea uses her sex appeal to her advantage when Desmond Wolfe wrestles. She uses that amazing body to distract his opponents.
What an original idea by Chelsea because I can not think of any other beautiful women in wrestling that have used their looks to distract the opposition. My mind is blank right now. (Sarcasm)
45. AJ Lee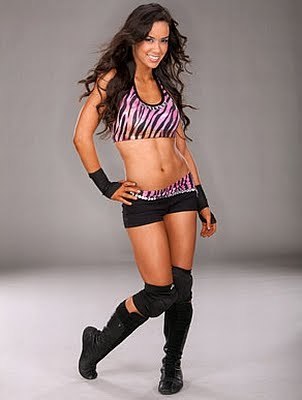 This is how I imagine a conversation at a bar with AJ Lee would go.
Guy: Hey baby, how you doing?
AJ: (walks away)
The End
44. Francine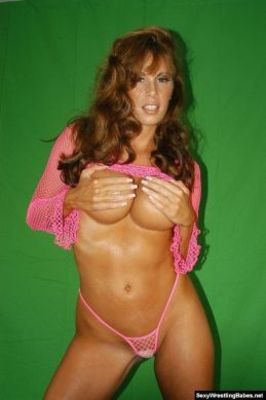 The line of the day: Francine is hot.
Proof at the 3:11 mark of the video...
43. Leyla Milani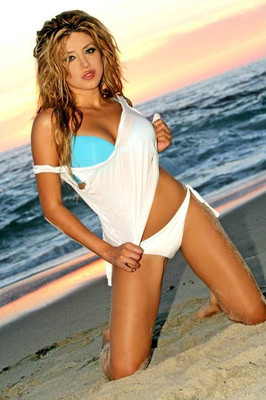 Does anyone else want to become a professional wrestler?
Come on folks! We can start our own brand. Then we can ask all the beautiful models, such as Leyla Milani, to join our team. It is a full proof system that can not fail.
42. Socal Val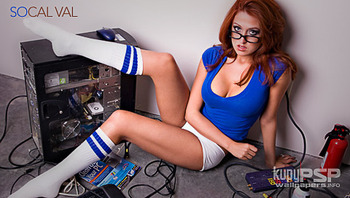 Val from SoCal is one of those hotties that every man thinks he can get. She looks normal and attainable.
Too bad she is one of the most unreachable of all the hotties. She won't even return my calls.
41. Gail Kim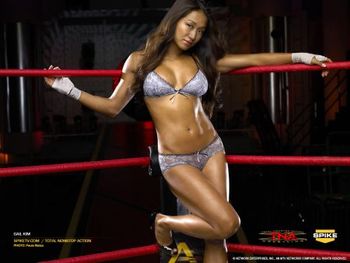 Gail Kim stands there just waiting for someone to say something stupid. She is just hoping you will say something to set her off.
I am glad she is doing this with her lingerie on.
40. Rebecca DiPietro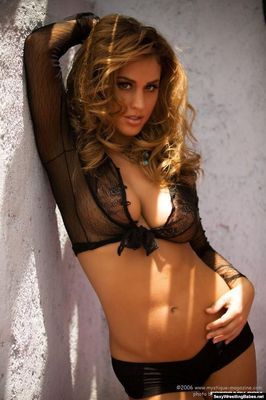 I think Rebecca is not wearing anything under that top.
No, I am certain she is not wearing anything under that top.
39. Sarita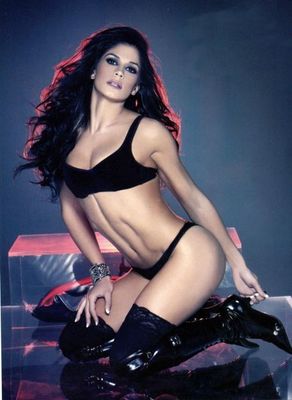 When I first came across Sarita's profile, I noticed one thing, I was thirsty for a Sangria.
I don't know why and I don't even drink Sangria's but...oh wait, I know why I thought of that drink. It is because Sarita is from Mexico and in Mexico they drink Marquita's which sounds like burrito and that is how I thought of Sangria's.
Wait, what?
38. Tylene Buck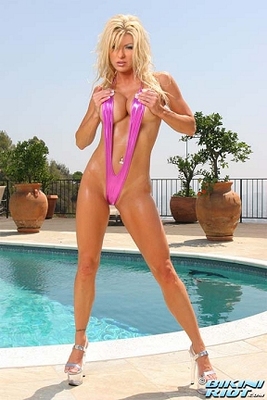 I think we need to vote for this bathing suit to be the only kind worn in the world by women.
The main reason is because when they take it off they can use it as shoelaces on their running shoes. I am just trying to help ladies.
37. Victoria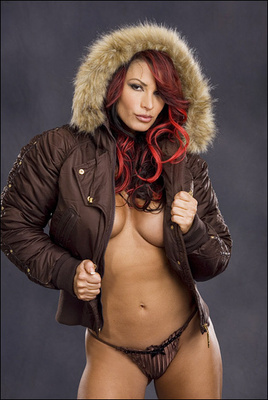 It has been my experience that when you have only one name in wrestling, you have to be hot.
Vicotria has one name and is most certainly a babe.
36. Velvet Sky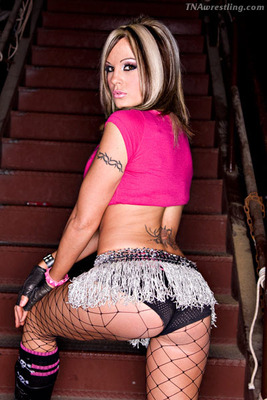 35. Taylor Wilde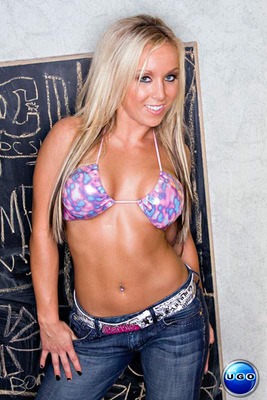 Taylor Wilde has an amazing backside.
Thanks to youtube and the person who made this short video.
34. Eve Torres
I always seem to forget about what is happening when a beauty like Eve Torres and her ridiculous booty pop up on my screen.
Does anyone else have memory issues right now?
33. Amy Weber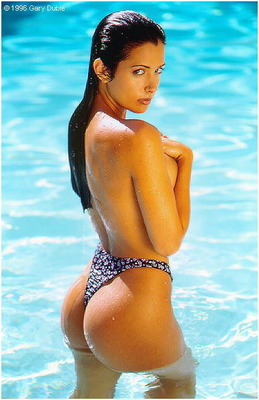 Does anyone know the number to a good back doctor? I just have been having this issues where it hurts and I don't know why.
Whoops, I got a little side tracked, back to the ass of the day, Amy Weber.
32. Melina Perez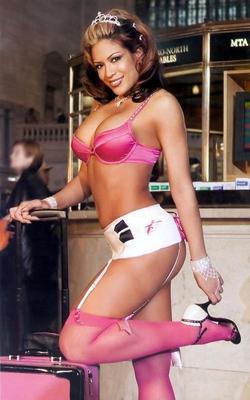 Melina Perez can pin me anyday.
I know that was a cheesy attempt at humor and a bad sexual innuendo but what else can I say about Melina? She is nice?
31. Sunny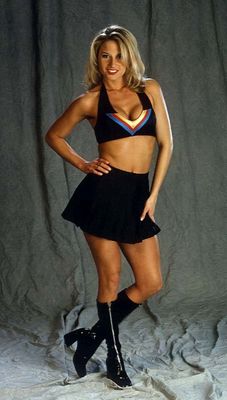 Sunny is the reason I began to watch wrestling as a child. I noticed her incredible body and I was hooked.
What else do you expect from a 12 year old boy? That is the time when we can not stop thinking about women. Wait, is there a time when we stop?
<object width="480" height="385"><param name="movie" value="http://www.youtube.com/v/2nOhhS33UDE?fs=1&amp;hl=en_US"></param><param name="allowFullScreen" value="true"></param><param name="allowscriptaccess" value="always"></param><embed src="http://www.youtube.com/v/2nOhhS33UDE?fs=1&amp;hl=en_US" type="application/x-shockwave-flash" allowscriptaccess="always" allowfullscreen="true" width="480" height="385"></embed></object>
30. Kaitlyn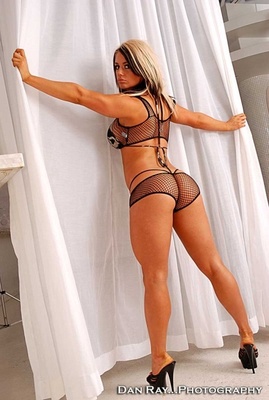 With a booty like that, she deserves to be given a free meal anywhere she goes.
She also deserves a statue made of gold displayed in a museum but we will just stick to the meals for now.
29. Karen McDougal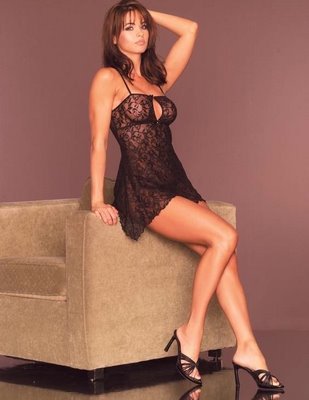 Karen McDougal was hardly on the wrestling circuit. She almost won a Raw Diva talent contest.
She was in it long enough to be considered one of the hottest women in wrestling, the end.
28. Madison Rayne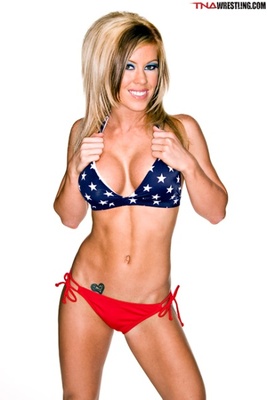 How sexy is a tattoo on a woman?
As long as it looks good and isn't smeared across her forehead, tattoos are hot. Madison Rayne has a sexy tat on her lower stomach, right above her, well, you can see for yourself.
27. Rochelle Nicole Loewen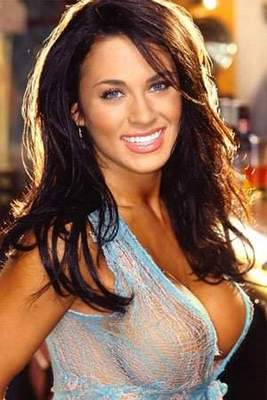 Who is she? She is a Canadian bombshell and WWE Diva.
I am almost certain that she is the hottest thing out of Canada since cheap prescription meds.
26. Ashley Valence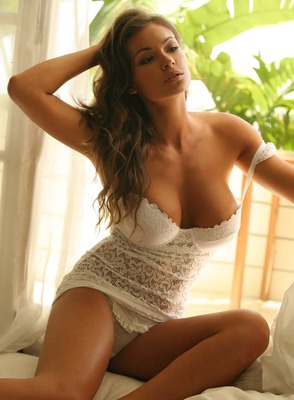 The only thing between us and that naked body right now is a left arm.
So if anyone knows how to do an arm bar or something that would be great, thanks.
25. Karen Angle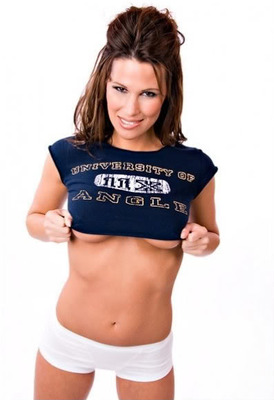 If you thought Kurt sucks, what do you think of his wife, Karen Angle?
I wonder if he chants the infamous, "You Suck" chant to his wife at home?
24. Brooke Hogan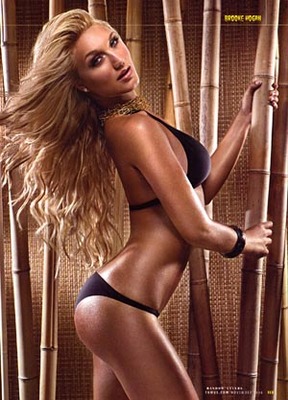 You did not honestly think you would see a wrestling hotties list and not see the beautiful Brooke Hogan, right?
She is only the daughter of the most famous professional wrestler of all time.
23. Brooke Adams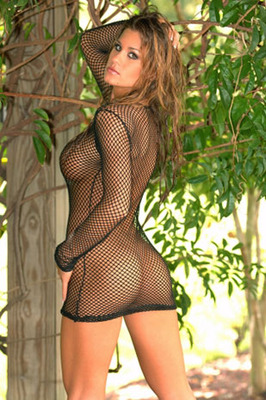 I feel the need to use one word and one word only...DAMN!
22. Jennifer Tinney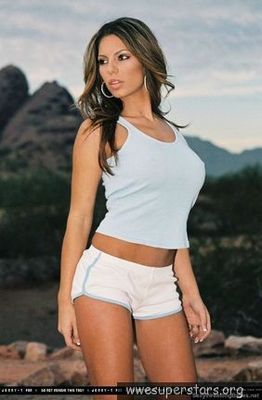 She looks lost in this photo. Did she get lost? Do you think she needs help? Why am I still here typing on my computer instead of on the boat, searching for this beautiful babe?
She might be in Hawaii but she could also be in the Bahamas. We need to find her now!
21. Maria Kanellis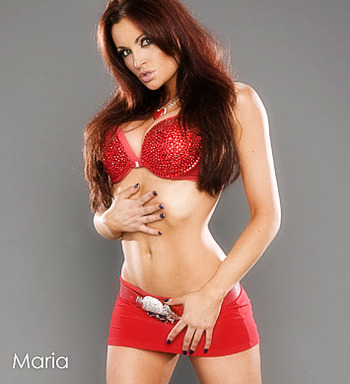 I have to admit that the video I am attaching is not what you think. The title of it, however, made me laugh.
20. Jenna Jameson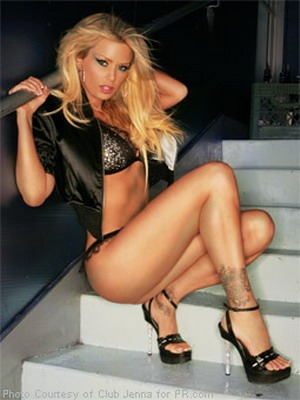 She was in the world of wrestling...
19. Lacey Von Erich
If that skirt were any shorter, I would sell my house and car to move in with her!
Or I would just sell those things to buy a plane ticket to be in the same city as her.
18. Kelly Kelly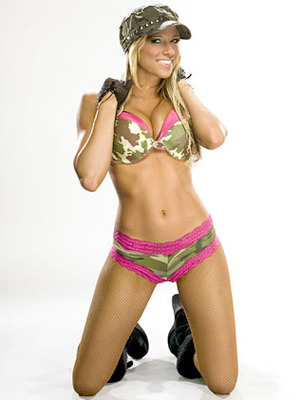 This chick is so hot that she had to name herself twice.
Just to make sure we remember that beautiful chicks name.
17. Savannah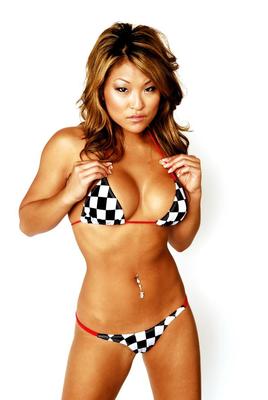 It looks to me that the Asian sensation known as Savannah has a pretty banging body.
She might have a few words to share if you knock her.
16. Rosa Mendes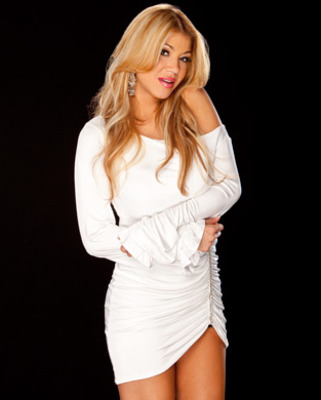 How adorable is Rosa Mendes?
She makes Beyonce, no offence, look bad. She has one of those bodies that even a gay man would say, "Damn!"
15. Angelina Love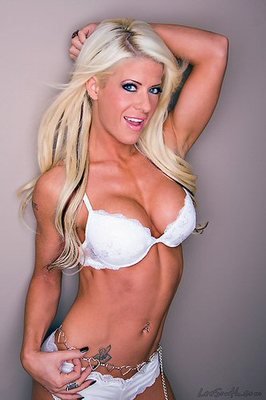 What a great last name for someone, Love. How can you not feel that way about this gorgeous blonde bombshell?
She has everything a man wants in a woman. She has looks, boobs, booty, body, beautiful smile, and someone told me she was really "smart". I think they are referring to her twins but I am not sure.
14. Bella Twins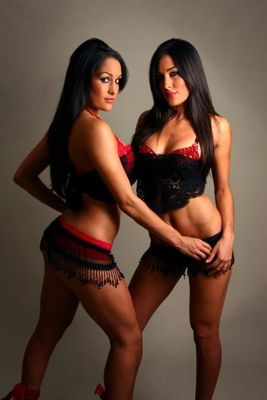 Twins!
Everyone loves a nice set of twins. They are even better when they stand next to each other wearing skimpy clothing and posing for photos.
13. Aksana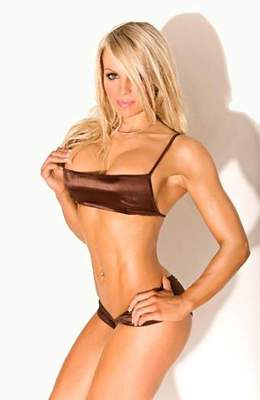 I want to move to Lithuania tomorrow.
12. Lana Takaya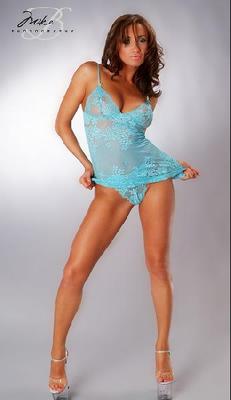 LEGS!
LEGS!
All I can think about right now are legs. Why is that?
11. Kimberly Page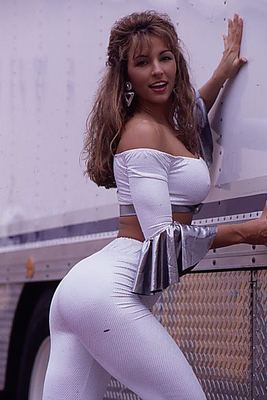 If you don't remember the hottest Nitro Girl and former wife of Diamond Dallas Page, then maybe you should not be looking at wrestling photos.
Kimberly Page is one of those beauties that has made a living out of being the hottest chick in the room. Thanks Kim.
10. Candice Michelle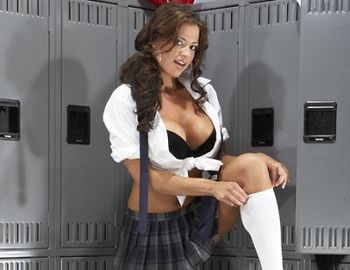 If you have not seen the GoDaddy.com commercials featuring the lovely Candice Michelle than I most point you towards You Tube right now.
Head over there and watch them now! You will not be disappointed.
9. Christy Hemme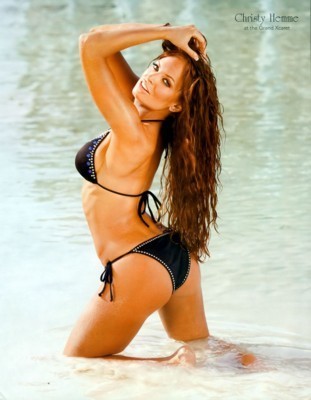 Christy Hemme is one of those wonderfully beautiful babes that we would all like to thank Vince McMahon for bringing her into the WWE.
We would also like to thank her parents, since they made her too.
8. Carmella Decesare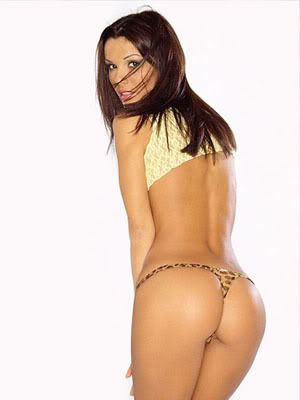 Does anyone else hate Jeff Garcia?
If you didn't hate him already, you probably will now that you know he is married to this goddess.
7. Lita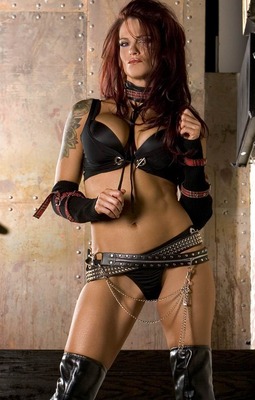 Have you ever met someone and thought that they just might be crazy but you still could not stop thinking about how incredibly hot they were?
Lita would be the number one babe in that category. There is something about her that no one else can explain, she is just hot in every way.
6. Ashley Massaro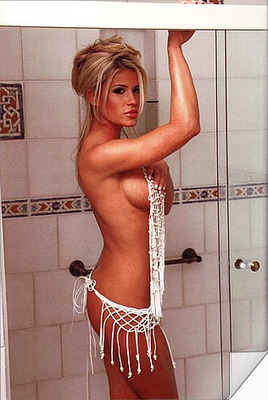 How many times do I have to beg Ashely Massaro for her number?
I am dying over here Ashley, I am your number one fan, I absolutely ado...whoops, sorry folks, I forgot what I was writing about. Let's just pretend you didn't see that first part, ok?
5. Stacy Keibler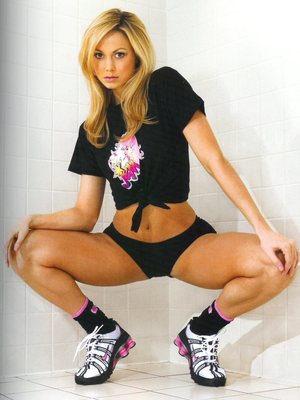 Stacy Keibler brought sexy back. Before Justin Timberlake even wrote the song, she was doing it.
All she did was wear tiny skirts that showed off those unbelievable legs. Whenever she shows up on television, there are no losers.
4. Maryse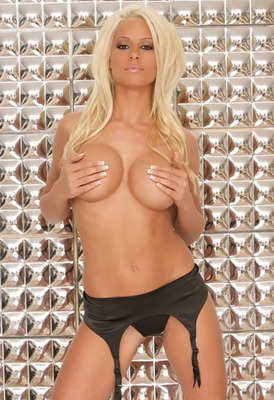 Have you ever seen anything sexier than her?
3. Torrie Wilson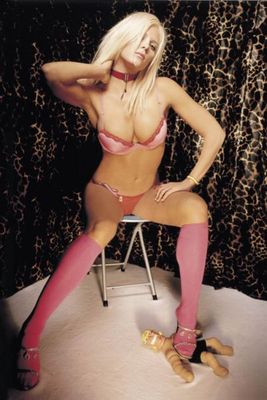 If there was ever a time to talk about the beautiful Torrie Wilson, now is that time.
She has one of the most perfect bodies in all of sports. I am talking sports and not just wrestling. She is perfectly toned and has an amazing set of twins to match that beautiful smile.
If anyone deserves to be in a top five list, Torrie should.
2. Trish Stratus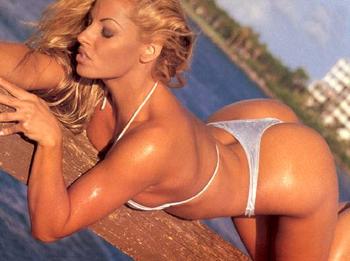 If she is not the number one hottest women in wrestling...
Then who?
1. Sable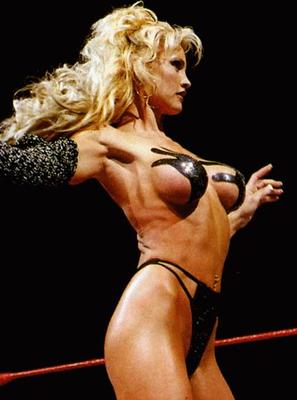 Keep Reading