Les Rosbifs Hall of Fame Finalist: Hamburger SV's Kevin Keegan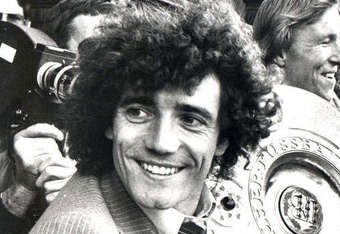 Kevin Keegan: Those were the days...

In order to understand the impact and influence of this man; one needs to understand the man himself—Kevin Keegan.
Keegan was born in Armthorpe, Doncaster, in 1951. He dreamed of playing for Doncaster Rovers; a dream that he never fulfilled but he went on becoming one of the truly great prospects ever to emerge from 'football motherland,' England.
Rejected by his youth club Scunthorpe United after being dubbed 'too short' in his teenage years, he trained even harder to claim the place in first team. Apparently, Bill Shankly was working on his 'Liverpool revolution' in those days and all he needed was hard-workers. He brought in Kevin Keegan to Liverpool in 1971 and since then this boy's life was never going to be the same.
He moved to Germany in 1977 to play for Bundesliga side Hamburger SV. What he had left behind by that time was 'a legend' at Liverpool, a legacy; the foundation to Bill Shankly's revolution; a 'Batman and Robin' partnership with John Toshack; an intimidating swagger for his opponents to deal with on the pitch; careless hairstyles that became the trend in Merseyside; mazy runs on the pitch; and exactly 100 goals for Liverpool.
What he had ahead was another 'mountain job' at HSV, in Germany.
The challenge was a mission to lift HSV by dusting off its presence in the football world, to delight in bringing back the joy and smiles to the people of 'Freie und Hansestadt Hamburg'. It wasn't easy as his first season saw him struggling to adapt to the new culture and the new team.
Keegan (R) with Paul Breitner (L) in his Bundesliga days...
But Kevin Keegan didn't give up. Keegan weathered the storm of sky-high expectations and pressure. He gathered himself up and finished the season scoring 10 goals as HSV finished 10th in the league. He won 'European Player of the Year' that year, however.
It was his second season that made him in Germany, and made him what he is still regarded as there—"Mighty Mouse". It was in this season that HSV lifted the Bundesliga title—their first in two decades. A mediocre club turned in to Bundesliga giants for years to come after that. Kevin Keegan was proclaimed 'European Player of the Year' for the second year in a row.
Driven with the 'madness' of Kevin Keegan, HSV went on to garner success in Europe as they marched towards the final of the European Cup in his third year there. They met Nottingham Forest in the final, led by Brian Clough. HSV went on to lose the final.
Keegan, just as when he struggled at Scunthorpe in the days when he was dubbed as being 'too short;' just as he left Liverpool on a 'cliff-edge' when the club were about to rise, left HSV in 1980. HSV finished runners-up in the Bundesliga that year. He scored 32 goals in 90 appearances made for HSV.
It just didn't stop for HSV there as for five successive years they didn't finish below the second spot in the league, finishing as league champions on two occasions in the process. They went on to win the European Cup (Champions League) in 1983.
As we said at the start, it's always important to understand the man himself before understanding the influence and impact he had. Kevin Keegan only played three years overseas, but the legacy he left there is still alive and breathing after three decades.
This post was first published on Les Rosbifs; a grand site that covers the fortunes of English footballers in foreign lands. The post is initially a 'two-profile' work—one written by Stefan Horvath and another written by Vampy Archer. Stefan Horvath can be followed on twitter here @stefhorvath.
The original post at Les Rosbifs—containing profiles from both writers—can be read here.

The selection panel of Les Rosbifs Hall of Fame includes some illustrious names like Brian Glanville, Gavin Hamilton, and others. The whole list can be found here.
To get the whole list of finalists for Les Rosbifs Hall of Fame, click here.
You can read more from Vampy on his blog Football Stryder, where he mainly writes on Bundesliga, or can be followed on Twitter @VampyArcher.
This article is
What is the duplicate article?
Why is this article offensive?
Where is this article plagiarized from?
Why is this article poorly edited?