Best Body Paint Pics in Sports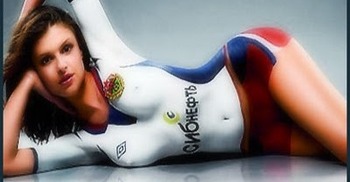 Body painting has been around for a long time.
It has gotten quite popular, especially when it combines hot women and sports for all us sports fanatics (and hot women fanatics).
Russian website Total Football as well as SI.com have just come out with some body paint pics of beautiful women representing soccer teams and soccer player WAGs to commemorate this growing fad.
We at Bleacher Report have also included a few more WAGs out there and athletes that have joined in on the fun.
So let's all have a ball and have a party, and admire these women that graced us with their body-painted presence.
Enjoy.
FC Spartak From Moscow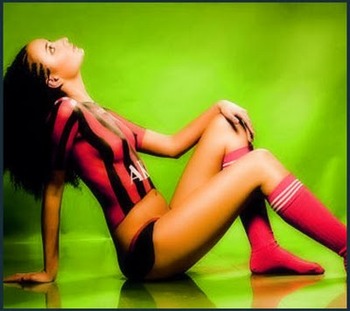 I love you FC Spartak from Moscow, I love you.
FC Spartak From Moscow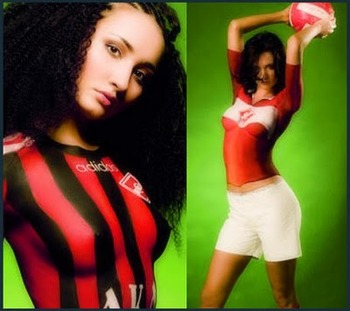 If this isn't a great way to market Adidas, I don't know what is.
FC Zenit Saint Petersburg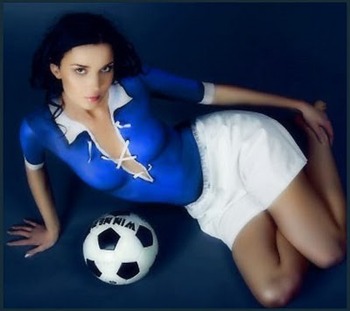 That shirt would be sexy even if it wasn't body paint.
But it's body paint.
So it's more sexy.
FC Zenit Saint Petersburg
Oh... my... God.
I officially declare these to be the new uniforms for FC Zenit Saint Petersburg, as head of the Man's Committee.
FC Zenit Saint Petersburg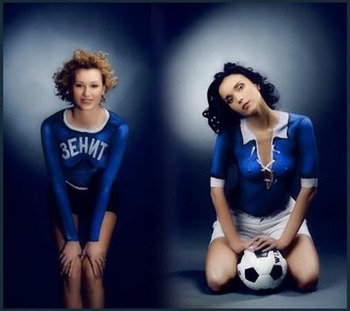 Yep, these are officially the new uniforms.
Under one condition though: They have to stop play every few minutes and do sexy poses in unison like this.
FC Krylia Sovetov Samara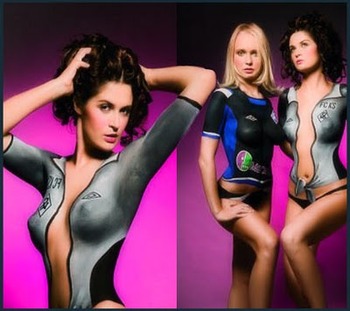 These women don't belong on this earth.
They belong in an alternate universe where hot women who represent soccer teams wear body paint.
Oh wait, they DO live in this universe?!
FC Krylia Sovetov Samara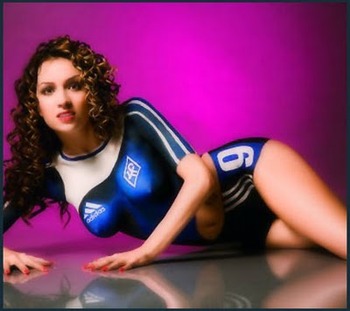 This has got to be one of my faves.
No. 9 is my new favorite number.
And Adidas in my new favorite company.
Russian and English Teams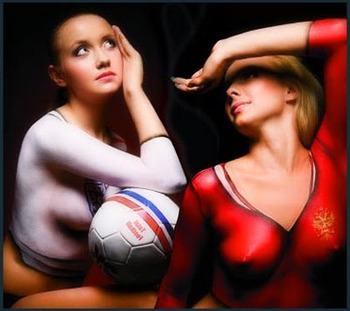 Russia and England united.
Put away your petty little differences.
If this isn't a cry for peace, I don't know what is.
Kuban Krasnodar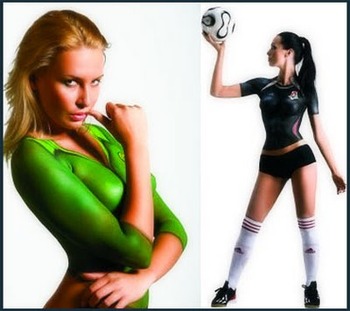 Kuban Krasnodar, you're our only hope.
I don't know, that name sounds like it's from Star Wars.
And this photo gives me hope.
FC Lokomotiv Moscow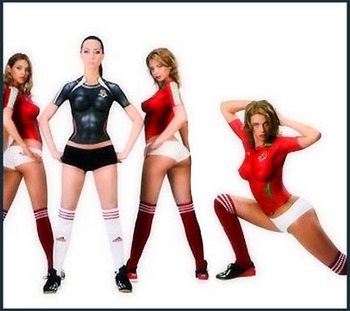 I don't know much Russian, but I think this team is called "Locomotive."
My gears are all revved up like a locomotive, too.
Teams from Germany, Brazil and Netherlands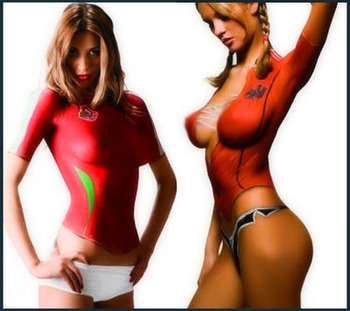 You clump enough hot girls representing different soccer teams together, you get photos like this.
Teams from Germany, Brazil and Netherlands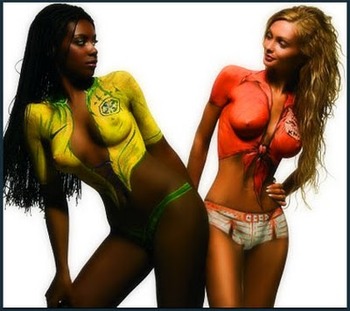 The one on the left seems to have a bit of an attitude, but I think they're warming up to each other.
Come now, girls, resolve your differences.
Argentina
It's funny where these Adidas emblems are placed on these girls.
Now that's ingenious marketing.
Marisa Miller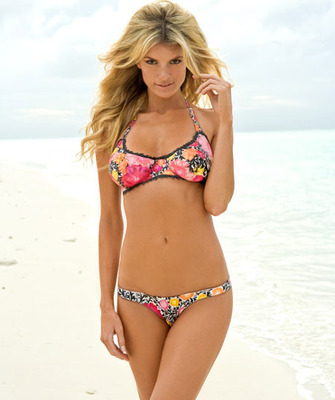 Marisa Miller is Dale Earnhardt's former girlfriend.
I'm betting he's lost a little speed after losing her.
Jessica White
Jessica White is currently dating Terrell Owens.
I'm guessing he doesn't care she is wearing Miami Dolphins body paint.
Hell, she could wear Cincinnati Bengals body paint and it STILL wouldn't bother him.
Dinamo Moscow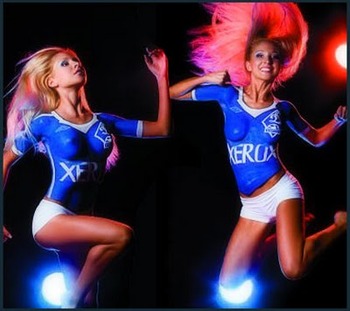 Dinamo Moscow is dyno-mite!
That is all.
Dinamo Moscow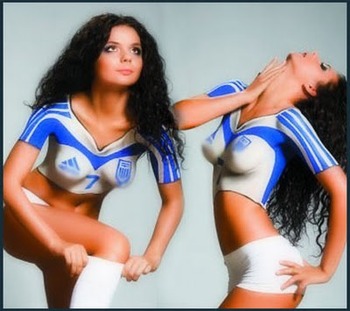 Yep, adjust your socks, it's time to get out there on the field.
Oh ya, and throw your head back all sexy-like before you go out there.
PFC CSKA Moscow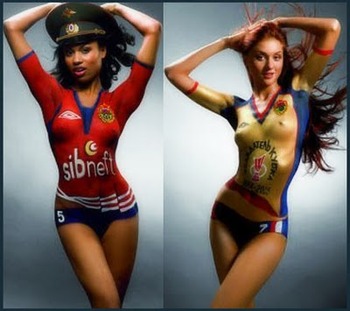 Notice these girls are No. 5 and No. 7 and there's a space between them.
I'd like to be No. 6 to complete the numerical order.
PFC CSKA Moscow
Oh... Jeebus.
For those of you who don't know me well, I say "Oh Jeebus" (Oh Jesus) when I can't talk.
This girl indeed leaves me blabbering.
PFC CSKA Moscow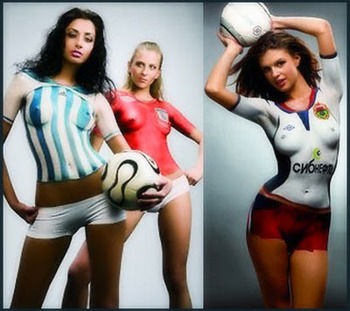 You see, the two girls in the front want me, it's obvious.
The girl in the back is jealous of that girl in front of her.
The girl in the back wants me, too.
Amy Acuff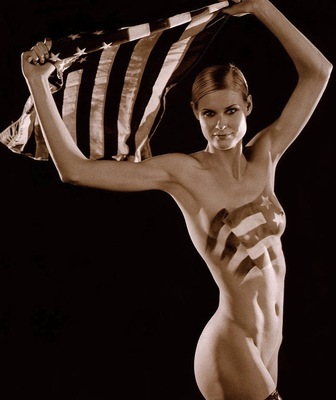 Here's an athlete for you.
U.S. track and field star Amy Acuff has participated in the last four Summer Olympics.
I'm guessing this is the "outfit" she wears when she heads out onto the track.
Sarah Brandner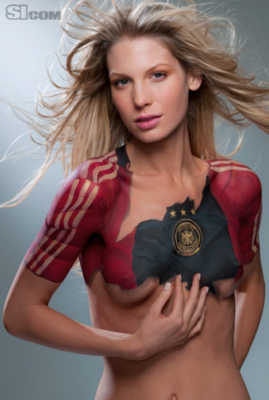 Sarah Brandner is the girlfriend of German midfielder Bastian Schweinsteiger.
His name might as well be Bastian Schwarzenegger with a girl like this.
Sarah Brandner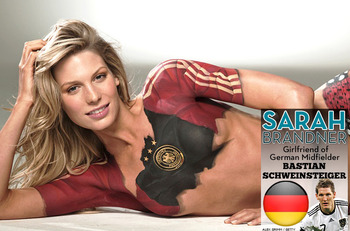 Hey Bastian, get out of the way!
I'm trying to see something!
Sarah Brandner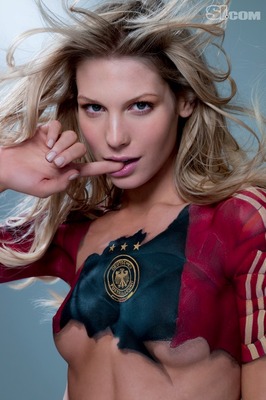 Oh my good Lord.
Bastian is one lucky man.
Abbey Clancy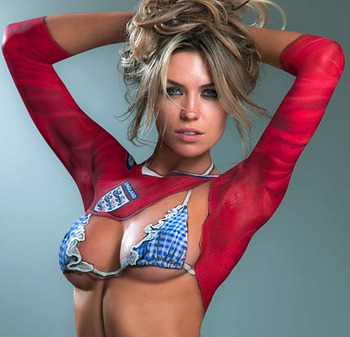 Abbey Clancy is the fiance of English striker Peter Crouch.
That's it, I'm packing up my suitcase and moving to England.
How I'll steal Abbey away from Peter once I get there is another story.
Abbey Clancy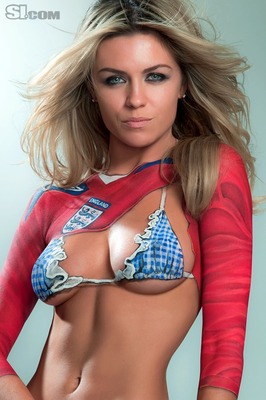 My dream is that Abbey and I will walk down Abbey Road one day, hand in hand.
But... I dream.
Bethany Dempsey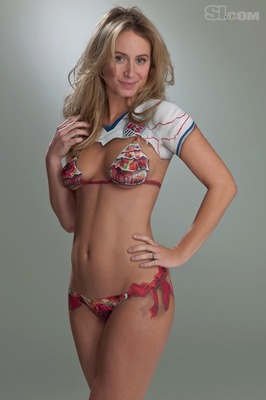 Bethany is the wife of U.S. midfielder Clint Dempsey.
Well, I don't have to pack up my suitcase to find her.
Except, she's married.
Well, that puts a damper on things, doesn't it?
Bethany Dempsey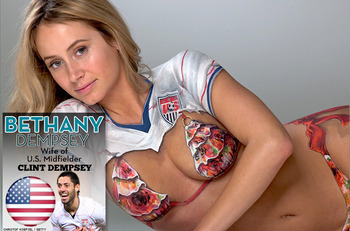 Look at how happy Clint Dempsey is in this picture.
Ya, I'd be that happy too with Bethany by my side.
Bethany Dempsey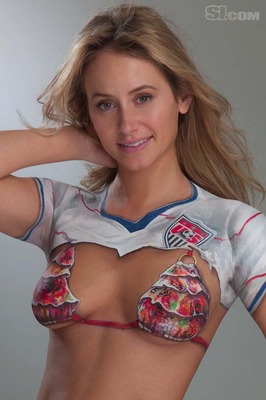 Beth, your "shirt" is torn, just thought I should let you know that.
Melissa Satta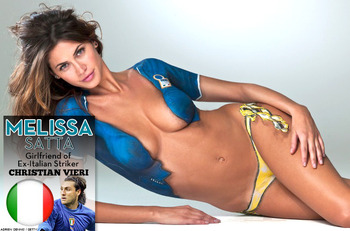 Melissa Satta is the girlfriend of ex-Italian striker Christian Vieri.
Luckily for him, it's not the other way around.
Melissa Satta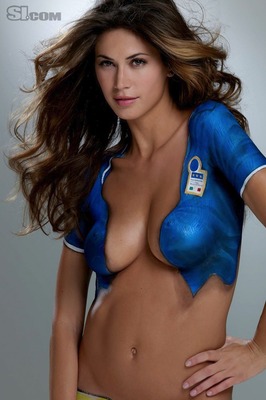 Wow, this girl is absolutely amazing.
Why didn't I become a professional soccer player?
Oh ya, because I'm not good at soccer.
Melissa Satta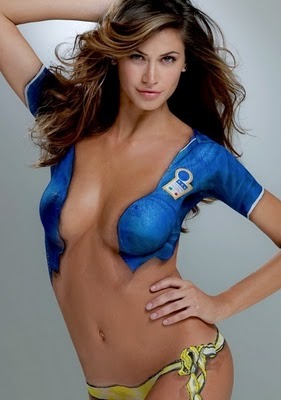 Just remember, fellas, if she's not married, she's single.
But just don't challenge Christian to a soccer match to win her over.
It will probably end horribly for you.
Spartak Moscow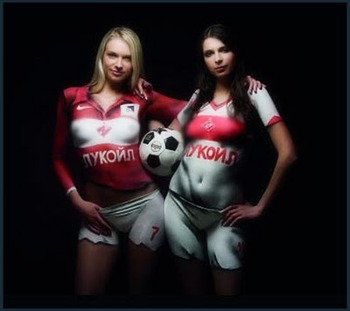 These girls got some attitude.
I like that.
Spartak Moscow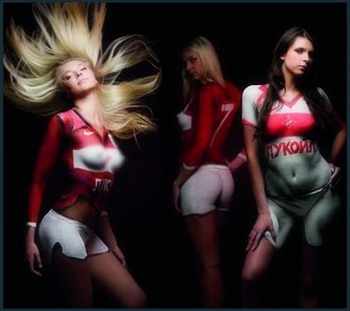 "Spartak, tonight, we dine in Hell!"
That was a reference to the movie 300 if you were wondering.
Yep, I just scared those girls away with that statement.
FC Liverpool England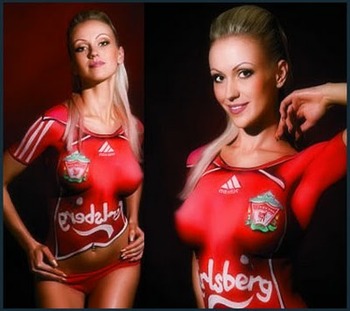 More like Loverpool.
More like it.
Ugh, that sounded kinda gross.
Keep Reading