Guardians of the Glass: The Top Five Rebounding NBA Players at Each Position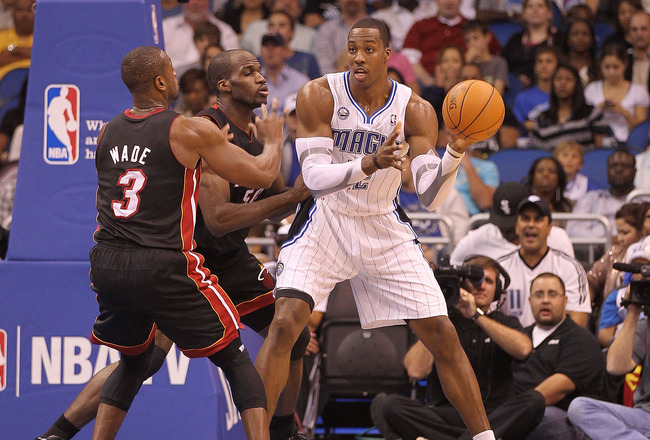 Mike Ehrmann/Getty Images
One of the things that has stood out most to me about the beginning of the 2010-2011 NBA season is the number of players who have made drastic improvements to their rebounding abilities. A year ago, there was little doubt that Dwight Howard was the NBA's top rebounder. But now, with so many outstanding rebounders emerging, it is no longer so easy to say.
I recently wrote an article power ranking the NBA's top five foreign players at each position, and decided to do the same for the NBA's top rebounders.
Big men are frequently ranked on their rebounding abilities, but high-rebounding guards rarely get the credit they deserve. As a result, I will be ranking not only the top rebounding power forwards and centers, but also the top guards and small forwards. Enjoy!
The Top Five Rebounding Point Guards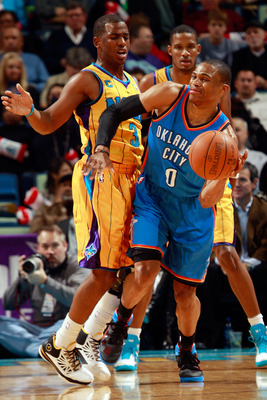 Chris Graythen/Getty Images
1. Russell Westbrook, Oklahoma City Thunder
Russell Westbrook is one of the most versatile players in the NBA, and arguably the most valuable player on the OKC Thunder. Westbrook is currently averaging 22.8 points, 8.4 assists and 5 rebounds per game. Few players are capable of pulling in five rebounds per contest at the point guard position, but Westbrook is one of those few.
Although his rebounding has, for some reason or another, plummeted in recent games, Westbrook still leads all point guards in rebounding, and fans should expect to see at least one triple double from him before the season is over.
2. Rajon Rondo, Boston Celtics
Remember when Rondo nearly averaged a triple double through 14 games in the playoffs? At 6'1?
Rondo is a player who really doesn't need to rebound as much as he does. But he's a smart, tenacious player who knows where to be when the ball comes off the rim, and these traits allow him to snag 4.6 rebounds per game.
Imagine a 6'10 Rajon Rondo...
3. Jason Kidd, Dallas Mavericks
Jason Kidd, the 6'4 point guard, once averaged 8.2 rebounds per game for a whole season.
Are you kidding me?
Jason Kidd's glory days are past, but he is still a rare triple-double threat, and still one of the best passers in the game. As impressive as Kidd's court vision is, his rebounding ability is even more impressive. A case could be made for Kidd being the NBA's best rebounding point guard ever.
4. Tyreke Evans, Sacramento Kings
Oh come on man, Tyreke Evans is a shooting guard, everybody knows that...
It's up for debate, so just let me put Evans where I will.
Evans is experiencing an awful sophomore slump this season, with his scoring and percentages far down from his rookie season when he won rookie of the year. However, Evans is still rebounding pretty well, averaging 4.8 boards per game, with 21 rebounds in his last three games.
Evans' rebounding hasn't helped the Kings much, as they are currently the worst team in the league, but it helps his stat line look a little less pathetic compared to his outstanding rookie season.
5. Chris Paul, New Orleans Hornets
Chris Paul, considered by many to be the best point guard in the NBA, is having a good, if not great, season while returning from injury. Paul's scoring and assists have dropped from past years, but he is still rebounding at an excellent rate for a guy barely over six feet.
Paul seems to be a mere shadow of the player he was in 2008, 22.8 points, 5.5 rebounds and 11 assists per game. However, he's still leading the Hornets to a respectable record and averaging 4.4 rebounds per contest.
The Top Five Rebounding Shooting Guards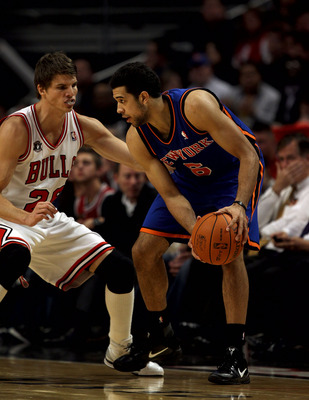 Jonathan Daniel/Getty Images
1. Landry Fields, New York Knicks
The steal of this year's draft rebounds better than most power forwards. A 6'7, 210 pound rookie out of Stanford, Landry is currently averaging 10.6 points and 7.4 rebounds per game from the shooting guard position. Fields has been one of the most efficient rookies this year (second to only Blake Griffin), shooting 51% from the field (near the top among guards) and 36% from the three-point line.
Fields is the ultimate effort player, and his desire, athleticism and high basketball I.Q. make him the top rebounding guard in the NBA.
2. Dwyane Wade, Miami Heat
Until fairly recently, Dwyane Wade was averaging more rebounds for the Heat than Chris Bosh. And, despite being four inches shorter, Wade is still averaging almost as many boards as fellow superstar LeBron James. Wade is currently averaging an impressive 6.4 rebounds per game (a career-high), and has had numerous games in which he has pulled in double-digit rebounding numbers.
Wade's smarts and athleticism enable him to be one of the best rebounding guards in NBA history.
3. Andre Iguodala, Philadelphia 76ers
Although it's hard to say whether Iguodala is a shooting guard or small forward, I'll put him with the guards out of respect for his rebounding prowess at 6'6. Iguodala hasn't let the constant trade rumors distract him this season, and is putting together a very solid year, averaging 14.7 points, 6.2 rebounds and 5.6 assists per game.
Iguodala plays with reckless abandon and it's hardly surprising that such an incredible dunker would also be one of the NBA's most productive rebounding wings.
4. Terrence Williams, Houston Rockets
In the case of Terrence Williams, it's a true shame to see such an incredible talent consistently sitting on the bench. Williams was recently traded to the Houston Rockets in a three-team deal, and will have the opportunity to fight for playing time with fellow young bench studs Courtney Lee and Chase Budinger.
Williams, when given starter's minutes, is a legitimate triple-double threat, as he proved in his rookie season with a 27 points, 13 rebounds and 10 assist performance against the Chicago Bulls on April 9th. The sophomore out of Louisville averaged 4.5 rebounds in just 22.6 minutes per game in his rookie season, and during a brief stint with the Springfield Armor of the D-League this season Williams averaged a triple-double through three games. An outstanding leaper with excellent court vision and tons of potential, Williams has star potential and is undoubtedly a potent rebounder.
5. Evan Turner, Philadelphia 76ers
Evan Turner has been extremely disappointing through the first 27 games of his NBA career, averaging just 6.3 points per game while playing with infuriating inconsistency and zero assertiveness.
However, he's been rebounding very well at the two-guard position.
Turner is averaging 4.3 rebound in 23 minutes per game, and has managed to carry over at least one aspect of his college success to the NBA.
Please don't be a bust, Evan.
The Top Five Rebounding Small Forwards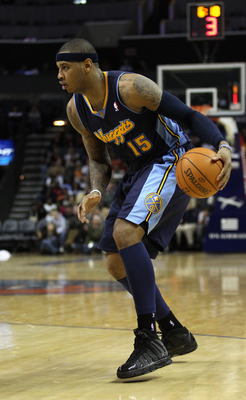 Streeter Lecka/Getty Images
1. Carmelo Anthony, Denver Nuggets
Drama queen? Yes. Pain in the ass? Certainly. Best rebounding small forward in basketball? Right again.
With Kenyon Martin out, Anthony has had to step up his rebounding in order to compensate. Although his scoring and field goal percentage have dipped compared to last season, Anthony is averaging a career-high 8.3 boards per game. It's hardly surprising that Anthony is such a solid rebounder considering his fantastic low-post game.
Anthony may not be a Nugget for much longer, but you can count on him to continue to rebound at an excellent rate for a small forward.
2. Gerald Wallace, Charlotte Bobcats
Wallace experienced a breakout year last season, averaging 18.2 points and 10 rebounds per game while drastically improving his three-point shooting and efficiency. Wallace made his first all-star team and was named to the All-Defensive First Team, and was the only small forward in the league to average a double-double.
Wallace, nicknamed "Crash", is absolutely fearless when pursuing rebounds, and helps to make up for the rebounding woes of Boris Diaw and Nazr Mohammed, the Bobcats' starting big men.
Wallace is currently averaging 8.1 rebounds per game, leading the Bobcats.
3. Shawn Marion, Dallas Mavericks
Shawn Marion's glory days are long gone, but he is experiencing a mini-resurgence in Dallas this year as one of the Mavericks' two sixth men. Marion is averaging 10.6 points and 5.9 rebounds per game this year and has found a way to be a very solid contributor.
Marion has proven his fantastic rebounding prowess throughout his career, and while he's no longer averaging a double-double, he is certainly one of basketball's top rebounding small forwards.
4. Matt Barnes, Los Angeles Lakers
Guess which Los Angeles Lakers small forward has been more productive this year?
Well, it's not Ron Artest.
Matt Barnes is playing six minutes per game less than Artest, yet still averaging more points and rebounds while shooting much better percentages. Barnes and Artest are both lockdown defenders from the wing position, but Barnes has been far more efficient for the Lakers. Barnes is averaging 8 points and 5.1 rebounds in just 21 minutes per game and 11.5 rebounds per 48 minutes.
5. LeBron James, Miami Heat
Although his rebounding is down a bit from last season, LeBron James is still rebounding at a pretty solid rate. The NBA's reigning MVP is averaging 6.5 boards per game and has been steadily improving his rebounding after starting the season rebounding less than Dwyane Wade.
While Wade and Chris Bosh have lifted some of the rebounding load off of LeBron, he is doing his share, pulling in 28 boards in the last three games.
The Top Five Rebounding Power Forwards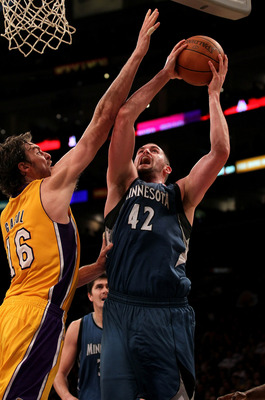 Stephen Dunn/Getty Images
1. Kevin Love, Minnesota Timberwolves
In recent weeks, I think it's become fairly clear who the NBA's top rebounder is. His name is Kevin Love, and he is the definition of a glass eater. Despite being just an average athlete, Love gobbles up rebounds at a ridiculous rate. His basketball I.Q., strength and never back down mentality allow him to grab every board he could possibly retrieve.
While getting starter's minutes for the first time in his career, Love has solidified himself as the face of the Minnesota Timberwolves franchise and is putting up ridiculous numbers, averaging over 20 points and 15 rebounds per game, plus 20.9 rebounds per 48 minutes. Not only is Love the NBA's best rebounder, but he is also an incredibly versatile player, with excellent range and an uncanny ability to deliver pinpoint outlet baseball passes.
With his 30-30 game earlier in the season, Love game us all a glimpse of how much of a beast he can be, and I look forward to seeing him reach his full potential.
2. Reggie Evans, Toronto Raptors
Reggie Evans doesn't do much else, but he rebounds like crazy. With regards to rebounds per 48 minutes, Evans is the best rebounder in the league, with 21.4 rebounds per 48 minutes (just 0.2 behind Kevin Love). Evans is a vital player to the Raptors, who need a dirty work player inside to make up for the defensive woes of Andrea Bargnani.
Although he only scores four points per game, Evans averages 12.1 rebounds in just 27 minutes per game. Although he'll never be an all-star, he's the type of player every team wants to have.
3. Blake Griffin, Los Angeles Clippers
Here's a fun question: Is Blake Griffin better at rebounding or dunking?
I'm going to have to go with dunking, but he's one hell of a rebounder as well. Thus far in the season Blake Griffin has blown by John Wall and any other competition he may have had in the rookie of the year race. Griffin is putting up absolutely ridiculous numbers, averaging 20.3 points and 12.2 rebounds per game as a rookie.
Griffin is the definition of a human highlight reel and gives his all every night on the court. His combination of strength, leaping ability and desire have already made him a top five rebounder in his first season. He has also shown outstanding versatility, dishing out three assists per game and using his ball handling and footwork to get past defenders. The way Griffin has been playing, he seems like a lock for the rookie of the year award, barring injury.
4. Kris Humphries, New Jersey Nets
Just here me out on this one. Humphries isn't a big name like Love, Gasol or Griffin, but he does what he does very well. And what he does is rebound. Humphries is averaging 9.3 rebounds in under 26 minutes per game for the Nets, and is out-rebounding center Brook Lopez by a considerable margin. Humphries' rebounding ability and defensive tenacity have allowed him to push fellow New Jersey power forwards Troy Murphy and Derrick Favors to the bench, and his 17.7 rebounds per 48 minutes is one of the best in the league.
5. Zach Randolph, Memphis Grizzlies
Z-Bo may not be particularly tall or athletic, but he is an excellent rebounder. Randolph uses his big body to box out his opponents and snag 12.4 rebounds per game. Randolph is one of the league's top offensive rebounders, as he collects four offensive boards per game. Randolph is never afraid of getting blocked, and is willing to get sent back five times as long as he makes the bucket.
Randolph has become a vital part of the Grizzlies' playoff hopes, and along with Marc Gasol, forms one of the league's toughest front court combos.
The Top Five Rebounding Centers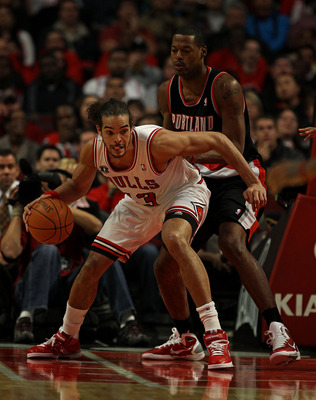 Jonathan Daniel/Getty Images
1. Marcus Camby, Portland Trailblazers
Marcus Camby?
Correct, Marcus Camby.
Although Dwight Howard has consistently been called the NBA's top rebounding center for the past few seasons, Camby is actually a more efficient rebounder. Camby is currently averaging 10.8 rebounds in 28.2 minutes per game. To put this in perspective, the slim, 36-year-old center is averaging just 2.4 less rebounds per game than Dwight Howard, while playing 7.6 fewer minutes per game.
Not too shabby.
Camby is joined on the Trailblazers' front line by LaMarcus Aldridge, who averages 8.5 rebounds per game, Even with greater competition, Camby is still a more productive rebounder than Howard and is averaging 18.4 boards per 48 minutes.
2. Dwight Howard, Orlando Magic
Although not as efficient of a rebounder as Camby, Howard is still one of the league's best. His size, athleticism and crushing strength allow him to grab 13.2 rebounds per game and absolutely dominate opposing centers on a consistent basis.
Although Howard's rebounds aren't as good as they once were, he is still the NBA's best center and an incredible rebounder, and with numerous 20 rebound performances in the last few days, he looks on track to challenge Kevin Love for the rebounding title.
3. Andrew Bogut, Milwaukee Bucks
Andrew Bogut, a 7'0 center out of Australia, has finally started to live up to the hype that led to him being drafted first overall in the 2005 NBA draft.
While recovering from a brutal arm injury at the end of the 2009-2010 season, Bogut is currently averaging 11.3 rebounds per game (over 3.5 of them on the offensive glass) and has had several dominant performances thus far in the season. Bogut is sixth in the league in rebounds per game, and is also first in blocks per game, as he has averaged over three stuffs a contest through the first 18 games of his sixth season.
4. Joakim Noah, Chicago Bulls
Joakim Noah is putting up career-highs in points and rebounds this season, averaging 14 points and 11.7 boards per game. Although his rebounding has dipped slightly with the return of Carlos Boozer, Noah is still rebounding at an outstanding rate. Or at least he was, before injuring his hand.
Noah will miss the next eight or so weeks while recovering, and the Bulls will certainly miss his rebounding and defensive presence. Noah is fifth in the league in rebounding and is a vital piece of Chicago's playoff hopes.
5. Samuel Dalembert, Sacramento Kings
Currently serving as a backup to DeMarcus Cousins, Dalembert is averaging just over 20 minutes per game this season.
Regardless, he is still averaging seven rebounds per game. Talk about efficient rebounding.
The Haitian shot-blocker is averaging 16.6 rebounds per 48 minutes but isn't playing much of a role on the rebuilding Kings. Most of Dalembert's value lies in his expiring contract, but he could be a valuable pickup for the Orlando Magic, who are in need of a new backup to Dwight Howard.
Thanks For Reading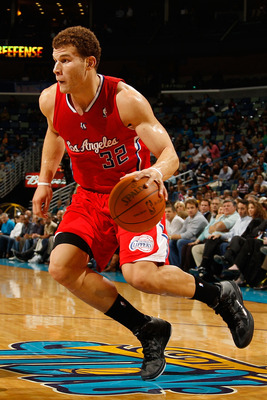 Chris Graythen/Getty Images
Thanks for reading, I hope you enjoyed my article! Please feel free to comment any thoughts, compliments or disagreements you have.
Keep Reading