New Big Ten Logo: Did League Make Right Choice With It's Division Names?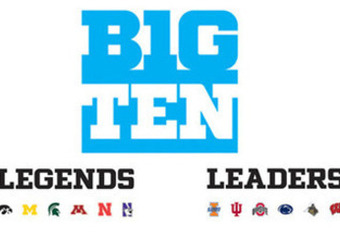 The New Big Ten logo was revealed Monday, and the conference has chosen to make some; interesting choices in it's division names.
The two divisions will not be known as the east and west; rather, we get the Legends and Leaders divisions. Because, you know, naming them the Paterno and Osborne divisions, or Hayes and Schembechler divisions would be honoring the great coaches of the past, and not nearly generic enough. If you think writers are calling the divisions Leaders and Legends, you're kidding yourself.
I know, we've already talked about the divisions, but how about the trophy? It was now designed to be named for the legendary coaches of Michigan and Ohio State (or even Michigan and Penn State, for pete's sake), but why would you name the trophy after the legendary coach of a school that's not even in your conference anymore, and hasn't been since 1939?
Sure, Alonzo Stagg is a legend, but so is Bo Schembechler, so is Tom Osborne (he was a senator!).
In short, while the divisions themselves aren't terrible, the divisional names are ridiculous, and the fact that the title trophy is named for the coach of a school that no longer has a football program is bordering on absurd when there's so much coaching depth in the conference's annals.
For more college football news, check out Cam Newton: Ten Letterman Top 10s We'd Really Like To Hear from Big Cam.
Most recent updates:
This article is
What is the duplicate article?
Why is this article offensive?
Where is this article plagiarized from?
Why is this article poorly edited?