Brock Lesnar and 10 Other Fighters MMA Fans Are Sick Of Hearing About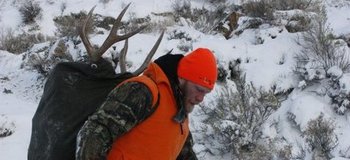 Brock Lesnar went hunting. Brock Lesnar may go back to the WWE. Brock Lesnar is the best ever, the worst ever, good for the sport, bad for the sport...and it goes on and on and on.
To say that Lesnar is overexposed would be akin to saying Bill Gates has some money.
There is no denying that Lesnar has helped grow the fan base of mixed martial arts. There is also no denying the fact that for the level he competes at he does not deserve the attention he gets, especially when he is far removed from the fight game.
Honestly, is it news that Lesnar carried a deer carcass out of the woods?
The following is a list of 10 other fighters/wanna be fighters beside Lesnar who have reached some level of intolerability as of late.
Jason "Mayhem" Miller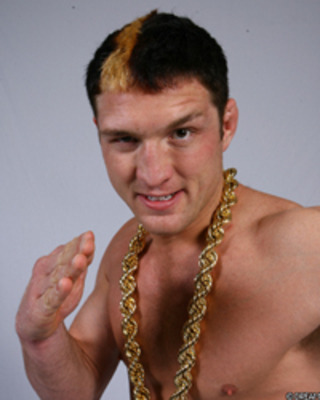 For a brief moment it seemed as if some MMA fans were on his side in the Nick Diaz drama. After all, Diaz and his cronies did jump Miller in the cage in Nashville.
It also seemed as if Diaz was a bit reluctant to fight Miller when Miller called him out after the incident.
Then last week it was revealed that Miller was unwilling to cut to below 183 to fight Diaz. Diaz's camp said they would offer up the fight at 178, a fair middle ground between Diaz's normal fight weight of 170 and Miller's 185. Miller said no thanks and that's where things should have died.
Yet Miller continues to talk and talk and talk.
Strikeforce has announced that it is looking for someone else to fight Diaz at its January event and yet Miller carries on like a stalker or a jilted lover.
Some advice to "Mayhem," shut up and move on homie.
Fedor Emelianenko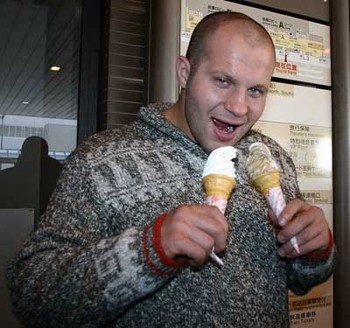 Will he sign with the UFC, will he sign with Strikeforce, will M-1 get off its high horse in regard to Fedor?
The answers to these questions are no, yes and never.
M1, Fedor's management team, played hardball in negotiations with the UFC, so Dana White said thanks, but uh, get the hell out of here with those demands. Strikeforce on the other hand seems willing to drag negotiations on for months and months on a fighter that is frankly past his prime and has never really been that great of a draw in the United States.
If Fedor wants to fight he should fight. If he wants to be a politician, be a politician. But he and his team need to pick one or the other because their shtick is getting old and tiresome.
Chael Sonnen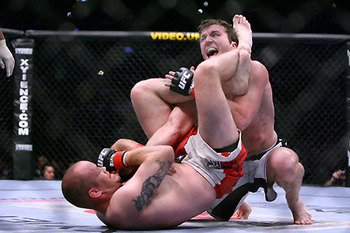 Remember when Sonnen went silent right after the positive drug test results were made public a few months ago? Yeah, those were some good times.
When Sonnen "broke his silence" about his positive test to Inside MMA, the interview was so formulated to make Sonnen appear in a positive light that it came across as an infomercial for the "Chael Sonnen" brand.
Every word that comes out of this man's mouth seems contrived and thought about before hand. It's as if he sits home and writes down these one-liners to get the maximum reaction.
In and of itself, there's nothing wrong with that, but when your sole purpose is to promote yourself and all that you do, it comes across as contrived and a little sad.
Josh Koscheck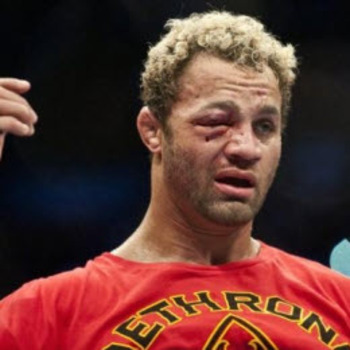 Speaking of contrived, next up is Josh Koscheck.
His recent taunts and hyperbole leading up to his fight with Georges St. Pierre at UFC 124 were pure WWE theatrics.
He attempted to get under the skin of St. Pierre and put him off his game. Instead, he accomplished just the opposite. St. Pierre was never more ready for a fight and he made Koscheck look like an unskilled sparring partner.
After the fight, Koscheck went all humble and thanked the Montreal crowd and his opponent.
Koscheck attempted to go from heel to babyface inside the Octagon in Montreal and it was a pathetic display to see.
Which Koscheck is the real Josh Koscheck—the blustering big mouth or the humbled "aw shucks" kid? Does he even know?
James Toney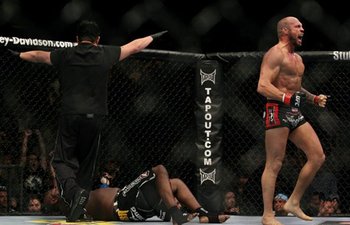 James Toney is not a mixed martial arts competitor you say? Exactly why he is on this list.
He harassed Dana White so much that White capitulated and gave him an undeserved fight against Randy Couture. Couture easily dismantled Toney, submitting him in the first round. The boxing champion never even threw a punch.
He did, however, cash a $500,000 check for his "efforts" in the Octagon.
Now Toney is calling out Quinton "Rampage" Jackson, calling him "Uncle Tom" and a "black redneck." It's an obvious ploy to get another quick and easy paycheck from White and the UFC.
Toney, like a sore tooth, just won't go away.
Alistair Overeem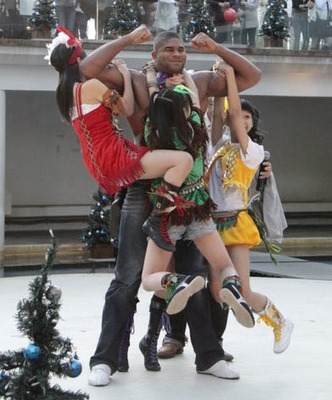 Overeem is the Strikeforce heavyweight champion, and has been since he defeated Paul Buentello on November 16, 2007.
Since that time, he has defended his title a grand total of once, defeating Brett Rogers via TKO in one round in May of this year.
He recently won the K-1 World Grand Prix for 2010 and that's a huge achievement in the world of kickboxing.
Granted, he has competed for other mixed martial arts promotions since winning the Strikeforce title, but for the most part he has been focused on kickboxing as of late.
If he has no plans to defend his title he needs to be stripped of the belt.
Right now Overeem is a kickboxer, not an MMA fighter.
Tito Ortiz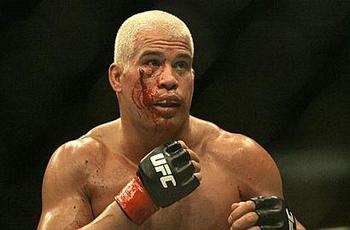 We all understand that Tito is an MMA legend and his UFC career goes back to UFC 13. We also understand that time marches on and things change over time.
Time has passed Ortiz by and yet there he is clinging to his career like a remora clings to a shark.
He has not won a fight since 2006 when he beat an aging Ken Shamrock. Since that time he has gone 0-4 with one draw.
Ortiz is still a big draw, but he's getting dangerously close to becoming a shell of his past self.
Tito needs to take a look at Ken Shamrock. Does he want to become that fighter? It's time to step away with some dignity.
Frank Shamrock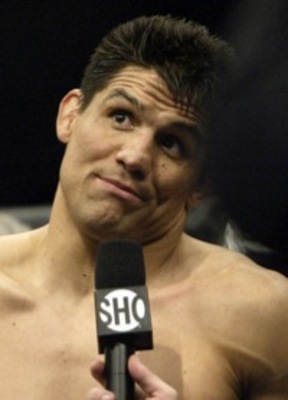 Frank Shamrock claims Dana White is not a martial artist. Shamrock says Dana White is a bully.
Shamrock works in New York to get MMA legalized there because he thinks Dana White is bad for the effort.
Shamrock speaks out on bullying after White cyber bullies him.
We get it Frank, you are obsessed with White...now please shut up and go away.
Randy Couture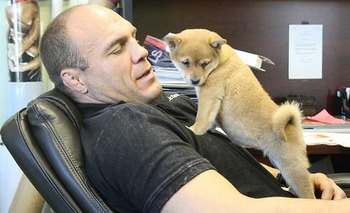 This one was a struggle, but he needs to be here. No disrespect to Couture because he was a hell of a fighter and continues to be an ambassador for MMA, but he needs to move on and we need to stop talking about him as if he is a contender.
Couture has voiced his opinion that he isn't sure what he is going to do going forward with the UFC. His last fight was a gimme against James Toney and as of now he does not seem all that interested in fighting again.
We need to let him go and film movies and do UFC appearances and sell the sport as a positive. I don't blame Randy for vacillating since the fans and pundits are the ones that are in his ear claiming he is still a viable UFC fighter, but do you want a passable Couture or the Couture of the past?
So fans and writers, stop egging "The Natural" on. Let him retire with grace now and not as a sad shell of what he once was.
Dana White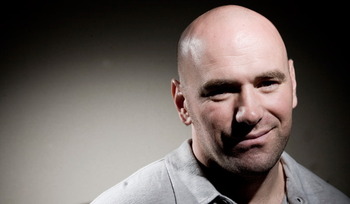 He's not a fighter. 100% correct, so why is he the face of the Ultimate Fighting Championship?
Think of every major sport and then name their president. Now, think of how many times you hear about them or see them at an event.
White's mug is always in the forefront of every event the UFC holds. He is always front and center at every press conference. If you see a UFC logo there's a good chance that Dana White is close by.
By comparison, how often do hear from White's bosses, the Fertitta brothers?
Let the fighters who bring in the millions of dollars have some of the glory. Every casual MMA fan knows who White is, but can they name the champions in the UFC?
It's time for the president to take a step or two back and let the fighters have the spotlight.
Keep Reading