The Top 20 Premier League Free Kick Takers: Bale, Drogba and Lampard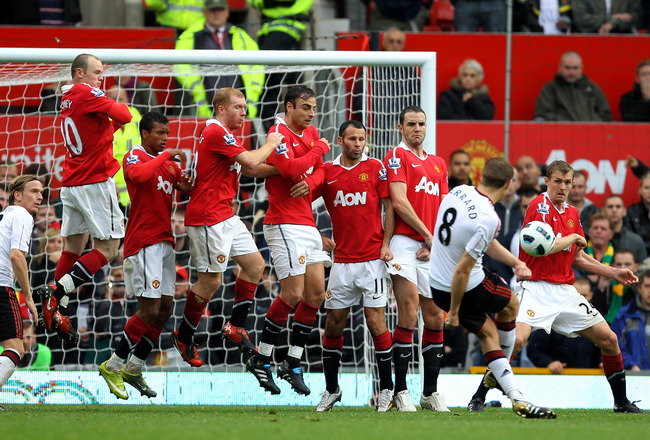 Alex Livesey/Getty Images
Every team needs a good free-kick taker.
Without one, teams won't feel threatened when they concede free-kicks and, therefore, won't be too worried about committing fouls that can break up a good passage of play and relieve pressure.
Furthermore, a good free-kick taker allows a side to make the most of what is, essentially, a free shot on goal or a free cross.
Some teams are lucky enough to have more than one player capable of taking good set pieces, others have none. This means that while this is a top 20, not every team is represented.
20. Niko Kranjcar
Niko Kranjcar may be out of favour at Tottenham, but he is still a great free-kick taker.
He hasn't many chances to take free-kicks since moving to Tottenham, but his free-kicks while at Portsmouth make him worthy of a spot on this list. He is able to score from either close in or from range, an ability which ensures that conceding a free-kick from most ranges could well prove costly for oppositions.
A possible move to Everton could give the Croatian a chance to shine once more.
19. Ashley Young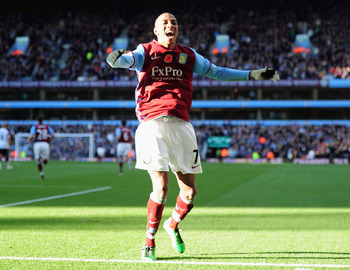 Shaun Botterill/Getty Images
Ashley Young is Aston Villa's primary free-kick taker, and will need to keep scoring from his set pieces if he's to help Aston Villa climb up the table after a poor first half of the season that has left Gerrard Houllier's side in 14th place.
He is a reliable crosser form dead ball situations and will create plenty of chances for Aston Villa, something that could prove invaluable if Villa are to avoid becoming embroiled in a relegation battle.
18. Sebastian Larsson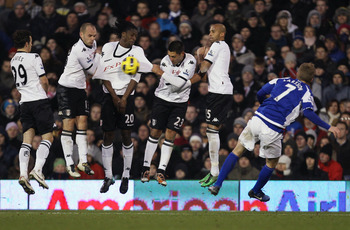 Ian Walton/Getty Images
Birmingham's Seb Larsson is a talented free-kick taker and was even ranked as the most accurate direct free-taker for the 2007-8 season Premier League season.
Larsson is in charge of pretty much all of Birmingham's set pieces, be they direct or indirect free-kicks, or even corners.
17. Mario Balotelli
Balotteli showed enough promise at Inter Milan for Manchester City to be willing to splash out £24 million on the Italian striker.
With his free-kick taking ability, it is easy to see why. He isn't the finished product, and certainly has problems with his temper, but he could be a huge asset for Man City for years to come, both as a striker and as a set piece taker.
16. Owen Hargreaves
Manchester United don't have an out and out free-kick specialist, but when Hargreaves plays, if he's ever fit, he is bound to be a contender to take free-kicks.
Hargreaves can hit free-kicks from a very short run up and gets great dip which could help him take over free-kick duties full time when he comes back from his latest injury.
15. Nani
Nani has been improving constantly in almost all aspects of his game since the departure of Cristiano Ronaldo. Ronaldo leaving has even given Nani a chance to take some free-kicks, something he's proved to be pretty decent at.
Nani is a talented attacking player, who will create and score plenty of goals, often pretty impressive ones from open play, and even the odd free-kick.
14. Morten Gamst Pederson
Morten Gamst Pedersen has been plying his trade at Blackburn Rovers for six years, in which time he has scored some memorable free-kicks.
His classical curling free-kicks, usually aimed at the top corner, are always a threat, while his indirect free-kicks have helped contribute plenty of assists for both Blackburn and Norway.
13. Carlos Tevez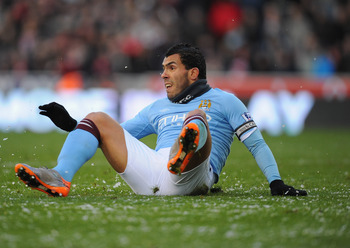 Clive Mason/Getty Images
Carlos Tevez may be on his way out of Manchester City after handing in a transfer request, but he is still a good free-kick taker for City.
In addition to free-kicks, Tevez is a prolific striker who has already scored 10 goals this season, a tally he may well add to with his free-kicks.
Of course, he will only do so if he is picked, something that may not happen due to his transfer request.
12. Chris Brunt
West Brom's Chris Brunt has been part of a West Brom side that has shown that just because you are a small club doesn't mean you can't be successful in the Premier League. West Brom have played well this season, beating Arsenal and drawing with Manchester United.
This free-kick is about as good as any that the likes of Ronaldo can score and is a part of the reason why West Brom have been as successful as they have this season.
11. Leighton Baines
Leighton Baines doesn't take all that many free-kicks, and as a result has only scored four goals in 133 matches for Everton.
However, considering the free-kick in the video, Baines may begin to take more of Everton's free-kicks even after Everton's first choice set piece taker comes back into the side.
10. Ryan Giggs
The Manchester United legend is another of the several contenders to take free-kicks for his club now that Ronaldo is no longer around.
Giggs staked his own claim to the job last season, scoring three free-kicks in the Premier League as he kept up his run of having scored in every Premier League season.
The free-kick in the video might not be the most challenging free-kick to score, but being good at set pieces is partly about making the most of every opportunity, whenever it might occur.
9. Cesc Fabregas
Arsenal's captain has been a brilliant performer for Arsenal, not least when it comes to free-kicks.
Flat, powerful, curling free-kicks off a short run up make Cesc Fabregas a dangerous man to be facing at set pieces.
8. Van Der Vaart
Since moving to Tottenham, Rafael Van der Vaart has been in great form, scoring six goals in 11 appearances so far this season.
Long before then, though, Van der Vaart has been taking impressive free-kicks, both direct and indirect.
7. Mikel Arteta
As the commentator says of this particular Mikel Arteta free-kick, "Pace," "Venom," and "Swerve," make his free-kick's a sight to see.
Arteta can hit free-kicks with the side of his boot as well as with his laces, giving him more than one angle to hit his free-kicks, and making it harder for goalkeepers to position both themselves and their walls.
6. Robin Van Persie
Robin Van Persie may be injury prone, but when he is on the pitch, he's always a threat from set pieces.
Van Persie's free-kicks tend to be curling shots going either over or around the wall before slamming into the top corner. His free-kicks are not only accurate, but also powerful, giving goalkeepers little chance.
Being left footed, RVP provides Arsenal with an angle on free-kick's that right footed players can't always get, helping to ensure his team are always in with a chance of scoring from set pieces.
5. Alex
Alex doesn't always take free-kick's for Chelsea, but when he does, they can be truly special.
The Brazilian centre-back has an incredibly powerful shot that is deadly from set pieces. He hits the ball very hard with the outside of his boot, getting the ball to curl away from the goalkeeper, making a shot that is already hard to stop, even harder.
Alex is more suited to taking long-range free-kicks, an incredibly useful attribute as it allows Chelsea to be a threat even from long range set piece situations.
4. Didier Drogba
Chelsea's powerful forward is just as dangerous from dead ball situations as he is from open play.
He can hit the ball with great accuracy, usually with the side of his foot, which makes the power he gets all the more impressive. Although he can curl the ball well, he doesn't always need to, often simply lifting the ball over the wall, blind-siding the goalkeeper.
3. Gareth Bale
Gareth Bale has shot to prominence this year after putting in some more than impressive displays on the left side of midfield.
He's not a bad free-kick taker either. His left-footed curling shots are a great weapon to have, both for direct and indirect free kicks, where his crossing creates plenty of scoring opportunities. He gets good dip on his free-kicks, enabling him to get the ball over the wall and down again in time to find the goal.
2. Frank Lampard
Chelsea and England vice-captain Frank Lampard is regarded as one of the Premier League's best players. His free-kick taking has certainly played a role in getting him to such a position.
Lampard's free-kicks are hard to stop as they are hit hard and, usually, stay close to the ground, going under or through the wall. This gives the goalkeeper little time to see the ball and forces him to make a difficult diving save. It also creates the possibility of a deflection, wrong-footing the 'keeper.
1. Steven Gerrard
Liverpool's captain is an impressive free-kick taker, both for Liverpool and England.
Gerrard's free-kicks, like his other long range shots, are all about power. He has a fearsome right foot and regularly beats goalkeepers due to the speed of his free-kicks. Gerrard does also place his set pieces, often finding the corner of the net.
Gerrard likes to have the ball rolled to him before he strikes it, which helps him get extra power, out think the goalkeeper and avoid hitting the wall.
Keep Reading

Liverpool: Like this team?