Heisman Trophy 2010: If Newton Wins, What Does That Mean for Reggie Bush, USC?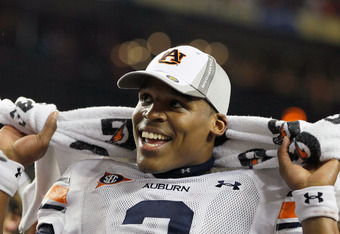 The Heisman Trophy 2010 is expected to be given to Auburn quarterback Cam Newton in a landslide.
Given all the allegations about pay-for-play schemes, a cheating scandal, and Newton's involvement with stolen goods while at the University of Florida, this would be pretty significant.
And if you were to believe Bill Dwyre of the Los Angeles Times, it would also be a slap to the face to the USC Trojans.
Writes Dwyre, "The same NCAA that slapped the Trojans over Reggie Bush extended a helping hand to Auburn's Cam Newton."
As you may recall, Bush won the Heisman Trophy in 2005 while with the Trojans. But public pressure over various NCAA violations forced Bush to give the Trophy back in September of this year.
So if Newton is awarded college football's most prestigious trophy after he and his father Cecil Newton were also accused of violating NCAA rules, Dwyre thinks it becomes obvious that USC was the victim of a witch hunt.
"The NCAA hated the wide-open practices," he writes, "the Hollywood scene along the sidelines at every home game, the Snoop-Dog-is-a-Trojan imagery.... Their perception was that [Pete] Carroll played loose and, worse, had fun. The NCAA is many things, but certainly not a yuk-it-up group."
Sour grapes? Certainly sounds like it. But he also has a point.
If you'd rather look forward to bowl season than deal with all this nonsense, check out Bleacher Report's Projections for the BCS Title Game and All 35 Bowls.
Most recent updates:
This article is
What is the duplicate article?
Why is this article offensive?
Where is this article plagiarized from?
Why is this article poorly edited?