Bowl Schedule 2010-11: 10 Coaches Whose Jobs Are on the Line During Bowl Season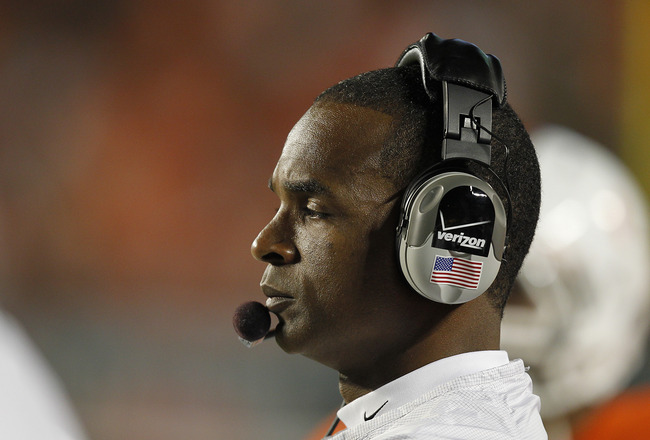 Randy Shannon is already out as Miami Coach. Who else will be gone from their coaching positions when bowl season is gone?
Joel Auerbach/Getty Images
Bowl Season is upon us, but for many coaches it may not be a Happy Holiday. Their jobs are on the line and they will be fighting for them. Many coaches are coming off disappointing seasons and will need a win to save their jobs. Several coaches have already gone down, most notably Miami Hurricanes coach Randy Shannon. Who else will fall? Let's take a closer look.
Washington Huskies: Steve Sarkisian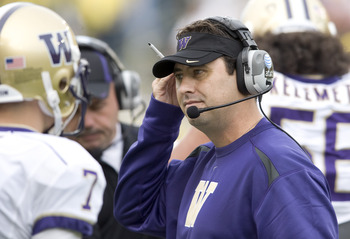 After just two years at the University of Washington, is Steve Sarkisian on the hot seat?
Steve Dykes/Getty Images
Last year Steve Sarkisian went 5-7 at Washington. This year, he went 6-6 and managed to secure a berth in the Holiday Bowl. For a team with Jake Locker at quarterback, this is simply not good enough. Locker was thought to be a possible No. 1 overall draft pick in the NFL Draft this April. To manage a 13-15 record in two seasons with him is not what the Huskies were looking for. It will get worse next year when Locker is gone. And even if Sarkisian isn't fired after this year, he surely will be on the hot seat next season and he won't have a star quarterback to help him out.
BYU Cougars: Bronco Mendenhall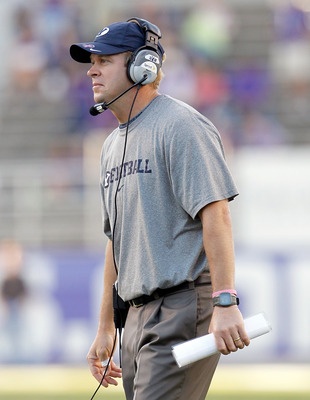 Coming off the school's worst season in five years, is Mendenhall's job in danger? Quite possibly.
Tom Pennington/Getty Images
For the last few years, BYU has looked stellar. The Cougars wound up finishing No. 12 in the AP Poll last season after posting an 11-2 record and a win in the Maaco Bowl Las Vegas. But this year, the Cougars only managed a 6-6 record and a berth in the New Mexico Bowl, where they will face UTEP. Mendenhall is in his fifth season as head coach in Provo, and although he has had some good years, one bad one may be enough to sink him.
Arizona Wildcats: Mike Stoops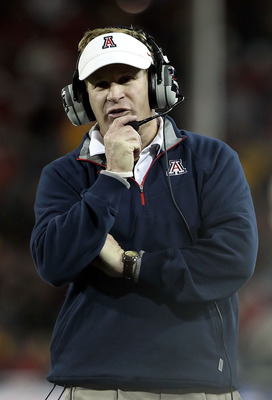 Stoops has done wonders for this program, but will that be enough?
Christian Petersen/Getty Images
Since joining the team in 2004, Stoops has brought the Wildcats from perennial Pac-10 cellar dwellers to a perennial bowl team. However, many think he should be doing better. This team started 7-1 this year before losing four straight to finish 7-5. Last year, they were 6-2 and ranked No. 18 in the country before losses to Cal and Oregon in consecutive weeks doomed them to the Holiday Bowl.
Should Stoops and the Wildcats lose to Oklahoma State in the Alamo Bowl, it would cap off a disappointing finish to what started out as a promising season. Stoops needs to be able to take the next step at this program or his job could be in jeopardy.
UNC Tarheels: Butch Davis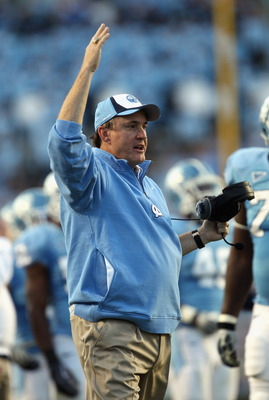 Davis' job may be in jeopardy not as much due to on-field issues as off-field ones.
Streeter Lecka/Getty Images
Butch Davis' job may not be in jeopardy due to on-field problems as much as off-field ones. The NCAA is currently investigating the UNC football program due to various issues including fraud, cheating and agent involvement with players. It is unclear how the NCAA probe will effect Davis' future as head coach, but it is possible that it will lead to him being dismissed after the Music City Bowl.
Georgia Buldogs: Mark Richt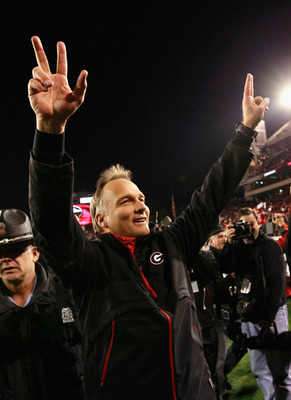 It's been a disappointing year for the Bulldogs. How will it end for head coach Mark Richt?
Kevin C. Cox/Getty Images
This has been a disappointing year for the Bulldogs to say the least. A 6-6 record just isn't going to cut it for a program that had 10 or more wins six of seven years from 2002-2008. But it's been hard times in Athens since then.
An 8-5 year capped off by a win in the Independence Bowl last year didn't seem very good, and this year Georgia only managed a 6-6 record and will play in the Liberty Bowl. For such a prestigious program, this is simply not good enough. Look for Richt's job to be in danger, especially if the Bulldogs don't beat Central Florida.
Northwestern Wildcats: Pat Fitzgerald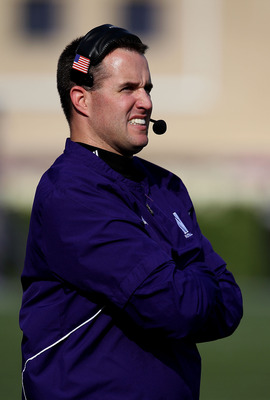 Pat Fitzgerald struggled this year at Northwestern despite a promising start, and his job is on the hot seat.
Jonathan Daniel/Getty Images
Northwestern started 5-0 and was ranked No. 25 in the country heading into a matchup with Purdue earlier this year. But the Boilermakers won that game 20-17 and it was all downhill from there for the Wildcats, losing five of their last seven games. Fitzgerald is going to have to do better than that if he wants to keep his job. A loss to Texas Tech in the TicketCity Bowl could potentially spell doom for the fifth-year coach.
Iowa Hawkeyes: Kirk Ferentz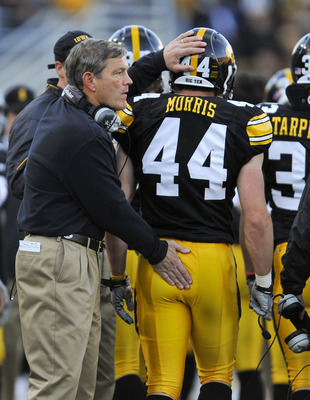 After a Major Collapse, is Ferentz in trouble at Iowa?
David Purdy/Getty Images
After a win over Indiana on November 6th, Iowa was 7-2 and had the potential to go to the Rose Bowl if they won out. But heartbreaking losses to Northwestern and Ohio State, capped off by a humiliating loss to 2-9 Minnesota, doomed the Hawkeyes to a 7-5 season. Ferentz and the team take on Missouri in the Insight Bowl. Yet another loss there would put an end to a disappointing finish to the season, and possibly to Ferentz's career.
Illinois Fighting Illini: Ron Zook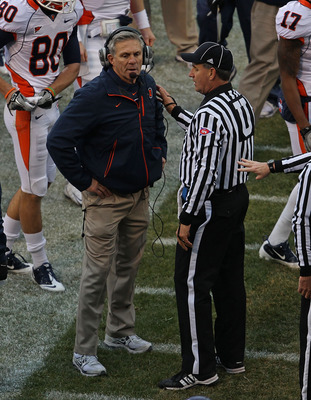 Zook has struggled as head coach of Illinois. Will this be the final chapter?
Jonathan Daniel/Getty Images
Ron Zook has struggled since coming to Illinois. He went 9-4 and made the Rose Bowl in the 2007 season, but other than that, he did not have a bowl-eligible team in six seasons until this year. Though, 6-6 still isn't exactly a great year. With a loss to Baylor in the Texas Bowl, the Illini will have their sixth losing season under Zook. And that could doom him. He needs to win to keep his job. 27-45 simply isn't good enough.
Michigan Wolverines: Rich Rodriguez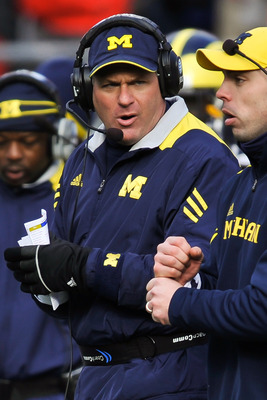 Rodriguez has struggled since coming to Michigan, and this bowl game may decide his fate
Jamie Sabau/Getty Images
Finally, Rodriguez has a bowl-eligible team at Michigan, in his third season at the helm. But 7-5 still probably isn't good enough for the U of M fans and boosters. With a win in the Gator Bowl, Rodriguez will help his chances of sticking around, but a loss could mark his end. The only thing helping him is the massive amount of money he is still owed. However, you know the Michigan Athletic Department is regretting that contract right now.
Kansas State Wildcats: Bill Snyder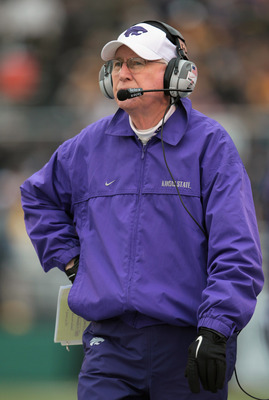 Snyder has struggled since coming out of retirement
Jamie Squire/Getty Images
Before the 2008 season, legendary Kansas State coach Bill Snyder came out of retirement to try to lead the team to glory. Last year, they went 6-6 but since two of those wins came against FCS teams, they were not bowl eligible. This year, they went 7-5, but could have done better. Perhaps Snyder's time at KSU is through and he should just retire again. It would probably be better for all involved, since neither side wants to see the legendary coach get fired.
Keep Reading