Barbara Walters 10 Most Fascinating People: Who Deserves LeBron James' Spot?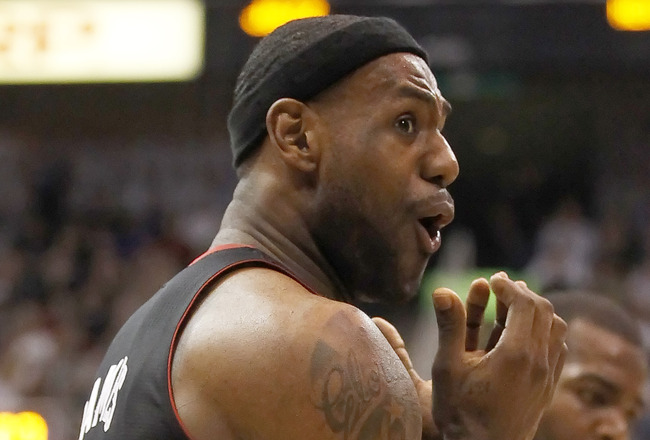 George Frey/Getty Images
Barbara Walters' 10 Most Fascinating People had exactly one athlete on it, which was none other than Miami Heat star LeBron James.
Really, Barbara? LeBron James is the only athlete you find fascinating?
Indeed, for many of us true sports fans, LeBron isn't all that fascinating. If it was a list of controversial people, maybe. But fascinating? Heck, the sports world can do better than King James.
In fact, here are 10 contemporary sports figures who are more fascinating than LeBron James.
10. Curt Schilling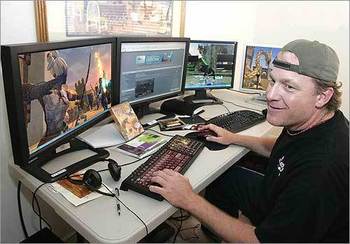 True enough, Schilling retired after the 2007 season, so his status as a "contemporary" sports figure is very much subject to debate.
Nevertheless, most baseball players tend to stick around the game in some capacity or another after hanging up their spikes. Not Schilling. Instead, he went and founded his own video game company, 38 Studios. And he's shown he's not messing around either, as he's hired all sorts of talent from just about every corner of the video game industry.
The company's first game is due out in the fall of 2011.
9. Michael Vick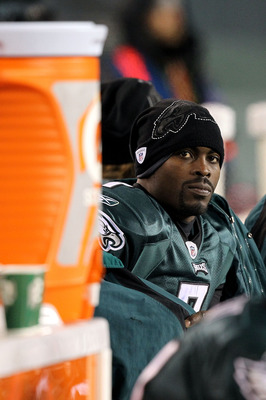 Al Bello/Getty Images
If this was 2007, I suspect I wouldn't be able to get away with suggesting that Michael Vick should be on a list of "fascinating" people.
But in 2010, Vick represents one of the most profound redemption stories in recent memory, in sports or anywhere else.
Indeed, it's not too often that somebody who was incarcerated and publicly vilified for killing dogs transmogrifies into a beloved figure and an NFL MVP candidate. And Vick has done just that in 2010.
Meanwhile, LeBron has made the opposite transformation, as he's gone from being a national sports hero to a living, breathing scumbag in just a few short months.
8. Ray Lewis
First of all, the reason I decided to attach Ray Lewis' Old Spice commercial is because I think it might just be the funniest thing I've ever seen. But that's not the reason why I think he's a fascinating individual.
If ever you wanted a textbook case of a guy with a chip on his shoulder, it would be Ray Lewis. Lewis was arrested for murder in 2000, a charge that he escaped by agreeing to testify against two of his companions. He was sentenced to a year of probation, and fined $250,000 by the NFL.
Since then, Lewis has been one of the most dominant and fearsome forces in the NFL, and has anchored a Ravens defense that has been one of the best in football for more a decade now.
7. John Henry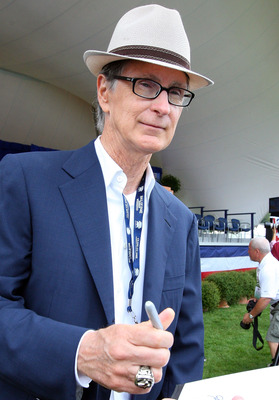 Jim McIsaac/Getty Images
If ever there was a man who understands the relationship between sports and business better than anyone, it's John Henry.
Henry (along with his partner Tom Werner) bought the Boston Red Sox in 2002, and swiftly turned the franchise into the envy of every other club in Major League Baseball. The Red Sox have also won two World Series in the last decade, and have a great chance to win another in 2011.
In 2007, Henry got into NASCAR by purchasing a share of Roush Racing, and extended his baseball influence to the team by renaming it "Roush Fenway Racing." Most recently, he purchased the Liverpool Football Club from Tom Hicks, who used to own the Texas Rangers.
So if you think you can find a more fascinating sports businessman than this guy, I wish you good luck.
6. Jon Gruden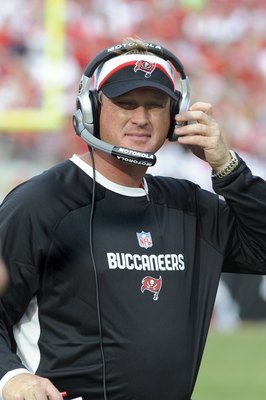 Al Messerschmidt/Getty Images
I've been enamored with Gruden ever since he was the head coach of my beloved Oakland Raiders, and I didn't stop digging his style when he went to the Tampa Bay Buccaneers, even while they were grinding my Raiders into dust in the Super Bowl.
More recently, picking up Gruden to be an analyst for Monday Night Football is quite possibly the best decision ESPN has ever made. He doesn't mess around, and it's almost scary how he always knows exactly what's going on at any given moment.
The man is just undeniably charismatic, and you just get the sense that he could handle any job.
I suppose this is where we start making jokes about Miami.
5. Brian Wilson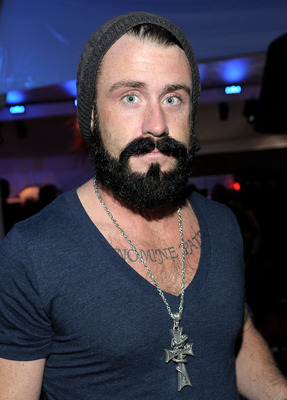 Charley Gallay/Getty Images
Not everybody is a fan of Brian Wilson, the closer for the World Champion San Francisco Giants. There are some who find his antics do be overly weird, and my own brother described him as an "intolerable douchebag."
Well, I disagree. As far as I'm concerned, anybody who looks like King Leonidas and is funnier than 95 percent of the comedians in the world is pretty darn fascinating. And that doesn't even take into account that he's also a very good relief pitcher. He did, after all, lead the league in saves in 2010.
Besides, anybody who can go on national television and talk about being allergic to "Himalayan Yeti fur" with a mysterious, leather-bound man known only as "The Machine" in tow is pretty interesting.
4. Phil Jackson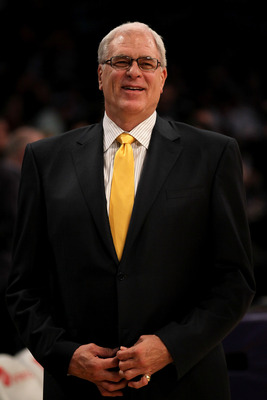 Stephen Dunn/Getty Images
Jackson's reputation as "the Zen Master" has become something of a novelty after all these years, true enough. But he's still one of the best coaches in American sports history, and quite possibly the smartest son of a gun out of all of them.
I mean, come on, anybody that can preach a system of teamwork based on Buddhist and Native American philosophy is pretty cool.
3. Tom Brady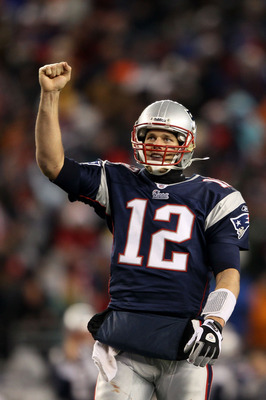 Elsa/Getty Images
There are very few people in this day and age that are on par with Tom Brady in terms of natural charisma.
He is, in a sense, a sort of modern Mickey Mantle: a real man's man that is also the object of affection for women everywhere.
He is also a brilliant football player. He's the quarterback for the best team in football, and he leads the NFL in both passer rating and touchdowns.
He is also married to one of the most beautiful women in the world in Gisele Bündchen, and before her he had the pleasure of dating Bridget Moynahan.
Oh, and he also made Forbes' list of the best-dressed athletes.
So yes, I will gladly admit that I have a powerful man crush on Tom Brady. But I'm sorry... he's just so... he's just so... fascinating...
2. Josh Hamilton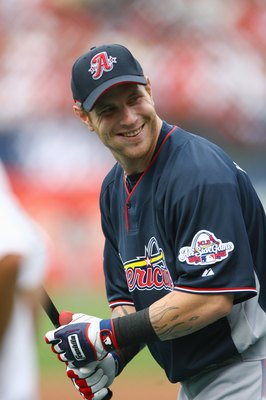 Jamie Squire/Getty Images
This list is probably getting a little heavy with redemption stories, but I honestly don't see how I could leave Josh Hamilton off this list.
Hamilton was selected number one overall by the Tampa Bay Rays in 1999, and was generally considered to be the most talented prospect to come along in years.
But as we all know, his early career didn't go so well. He fell into drug and alcohol addiction in 2001, and was out of baseball from 2004 to 2006.
But he made a comeback with the Cincinnati Reds in 2007, and has at long last blossomed into quite possibly the best all around player in baseball in his three seasons with the Texas Rangers. He also took them all the way to the World Series in 2010, and was awarded his first MVP award.
1. Manny Pacquiao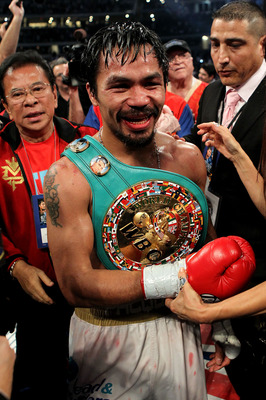 Nick Laham/Getty Images
What can we say about Manny Pacquiao?
Let's see, he's the best boxer in the world, accomplished as both an actor and a singer, and a congressman in his native Philippines, where he is also a national hero.
On balance, I just don't see how anybody could argue that Pacman is not fascinating.
And that's exactly why he's number one on this list.
Keep Reading