The 2010 Washington Redskins: Steps and Missteps In a Rocky, Rebuilding Season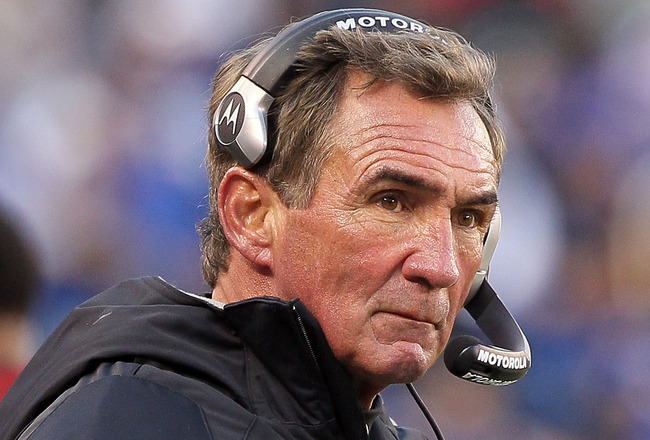 Jim McIsaac/Getty Images
No one wants to admit the Redskins are rebuilding. Not the coaching staff, not the players, not the fans and not the media.
The real trouble started when Mike Shanahan claimed he had every intention of keeping the team "competitive". If he had just said "we are rebuilding", a lot of the team's problems likely could've been chalked up to that. The growing pains of a team in transition would look better. Sure, the Redskins would be under scrutiny, but they would seem to be moving towards a bigger and better goal.
Instead, by claiming to try and be competitive, he essentially set himself up for failure.
Whether you want to believe it or not, the Redskins have made positive steps to more productive seasons. Shanahan will be given time to build his team in his image, and despite the team's dubious record and play, they are more likely to be a competitive team next year than they are this year.
However, this season has not been perfect by any stretch of the imagination.
So let's take a look at the positive steps and the negative missteps the Redskins have made this season.
POSITIVE STEP--The Signing Of Donovan McNabb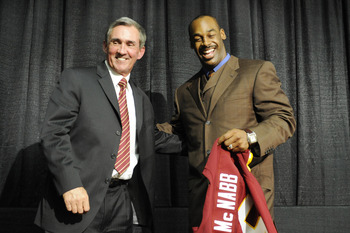 Mitchell Layton/Getty Images
It's hard to pass up a quarterback whose name is mentioned as a person who may have a bust in Canton one day.
When the Philadelphia Eagles looked to shop Donovan McNabb, the last place anyone thought he'd end up was in the division. But alas, he ended up in Washington, D.C. (by way of Ashburn, Virginia), standing with new head coach Mike Shanahan, and a new day dawned at Redskins Park.
When people talk about why this was a bad signing, they don't often mention the positives. Donovan McNabb was and has always been a class act and a locker room leader. He's not the most accurate quarterback, but (before this season) he had the lowest touchdown-to-interception ratio of any quarterback in the National Football League not named Tom Brady.
His playmaking ability has made him legendary, as he had to play behind some bad offensive lines in his career, and the Redskins line is certainly bad. His mobility made him invaluable in the same offense that John Elway (another mobile quarterback) won two Super Bowl's with.
For years, the Redskins locker room had been a chaotic mess. The team had some leaders, but not many. McNabb instantly added a veteran presence that took on the same no nonsense mentality as their head coach.
The signing has been and will be maligned by some as just another dumb move made by Dan Snyder to build his ultimate fantasy team. Those people are 1.) stupid and 2.) missing the point. McNabb added much needed stability at the quarterback position after years upon years of uncertainty.
At the time, the signing was a smart choice for a variety of reasons, though no one will ever be willing to admit that after this season.
MISSTEP--The Signing (and Extention) Of Donovan McNabb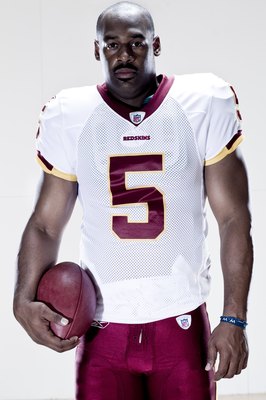 Chris McGrath/Getty Images
It was always going to be a stretch to take a quarterback who had flourished in one system for eleven years and have him flourish in another different system. But for all the intangibles that McNabb bought to the table, he bought his fair share of negatives.
In his twelve seasons in the National Football League, his completion percentage has only reached over 60 percent four times. For a man who constantly flirts with the title of being an elite quarterback, he has never thrown for over 4,000 yards, a feat that Matt Schaub accomplished in the pass happy Texans offense that Kyle Shanahan ran in Houston and now runs for the Redskins (Schaub's career completion percentage is 64.0, and McNabb's is 58.9).
For all the talk of McNabb making plays with his legs, those times came mainly early in McNabb's career. As his career in Philly progressed, Andy Reid tried harder and harder to mold him into a pure pocket passer, who could occasionally make plays with his legs. This training is obvious to anyone who has seen McNabb stand in the pocket for what seems like forever when his receivers can't get open and take a sack, when he could just as easily run for the first down.
McNabb's work ethic has never been questioned, and he has been a great teacher to both Kevin Kolb and Michael Vick. His conditioning has--McNabb was rather heavy his last couple years in Philly. There's the infamous "he puked in the huddle" rumor from the Super Bowl a while ago, and his cardiovascular conditioning has yet again been called into question, by the head coach no less.
McNabb can certainly throw the deep ball, but his accuracy leaves a lot to be desired; many times this season we've seen surefire touchdown passes either sail over his intended receivers or land in the dirt.
McNabb's best qualities are what a great person he is, but his quarterbacking has left something to be desired. You can blame the lack of weapons around him, but name me anyone McNabb has to work with besides Terrell Owens, DeSean Jackson, Jeremy Maclin and Brent Celek (And remember, the latter three are all fairly recent additions).
The only guy I can think of is Hank Baskett, and that's because of his girlfriend.
But what's even worse is the crazy contract extension the Redskins gave him. Though he won't likely see all of his money, it was still weird to see him given a big time deal.
MISSTEP--Trading Away Jason Campbell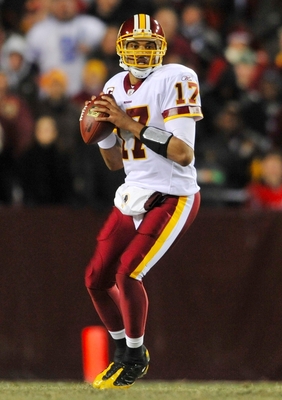 Larry French/Getty Images
Ask yourself a question--it's the final two minutes of the Lions game. Donovan McNabb has not been performing well at all, and has just thrown an interception that costs the team the game. The coach decides to bench McNabb and put in the backup quarterback.
Who would you rather have as the backup QB in this scenario: Jason Campbell or Rex Grossman?
Jason Campbell is one of the most wrongfully maligned figures in recent Redskins history. Despite having no receiving core, no running game, no offensive line, four offensive coordinators and two head coaches, Campbell was regularly blasted for all of the problems the Washington Redskins had. Ask some people now and they will still claim it was Campbell's fault the Redskins had so many down seasons.
This despite the fact that his completion percentage was at or above 60 percent for most of his Redskins career, despite his quarterback rating being above average, despite the fact that the whole damn team was crumbling around him, it was always Campbell's fault.
Campbell was always given a raw deal by the fans for reasons that are still unclear to yours truly. Well, that batch of fans got their wish this season, as McNabb was bought in, and Jason Campbell was shipped off to the Raiders.
The Raiders, if you don't know, are 4-0 in their division (which includes the always hot Chargers and the rejuvenated Kansas City Chiefs), and are at 6-6 on the season. Tom Cable and the rest of the Black Hole seem to have the same issues with Campbell that the Redskins Nation and Shanahan did--he wasn't "fiery" and leader-y enough. Campbell has been benched a few times this season for perennial backup QB Bruce Gradkowski for reasons that elude and escape me.
Campbell may not have been the most well spoken quarterback in the league, but his play on the field (despite people saying otherwise) was more than enough for him to be given a chance.
I believe, given some time, that Jason Campbell could've flourished in this system. He offered more consistency over time than McNabb did, and had already grown accustomed to switching offenses. He was a QB worth developing and a guy that deserved a fair chance to continue playing for the Redskins.
Unfortunately, Campbell was traded away, and now, the worst case scenario would leave us with Rex Grossman as our backup.
Please let Donovan McNabb stay healthy for this next few games...
POSITIVE STEP--Promoting Anthony Armstrong From The Practice Squad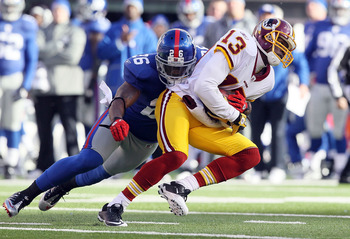 Jim McIsaac/Getty Images
When Mike Shanahan turned on the film of Anthony Armstrong, he was immediately impressed with how fast he was and how well he ran routes. Earlier this season, Santana Moss said that he couldn't believe Armstrong didn't make it to the Redskins last year.
It's hard for me to believe as well, as Marko Mitchell and Antwaan Randle El were both not great receivers, and Malcolm Kelly and Devin Thomas were both draft busts. The Redskins needed all the help they could get at the position yet Armstrong stayed on the practice squad.
Armstrong got his chance to show his stuff in the 2010 preseason, and boy did he. He caught several deep passes from his new quarterback, scored touchdowns and was very productive. He was rewarded by being allowed to sit on the sideline in the fourth preseason game in his jersey, more or less assuring he'd make the roster.
He did not begin the season as starter, however. He still sat behind Joey Galloway on the depth chart. However, his ability to get deep in a hurry, his route running (while still iffy at times) and his playmaking ability vaulted him past the veteran receiver, a feat that Devin Thomas could not accomplish.
He (as of now) has 31 receptions, 642 receiving yards and two touchdowns. He represents everything you want in a player--he's not an overconfident, diva receiver. He's a guy who understands that you have to earn your shots, and that nothing is given to you. He came from humble beginnings to make it to the big dance. And in recent weeks, when No. 1 receiver Moss has struggled, he's stepped up and helped things get going.
He's a pretty incredible story in an otherwise bleak season, and for that, I salute number 13.
MISSTEP--Not Demoting/Releasing Joey Galloway Sooner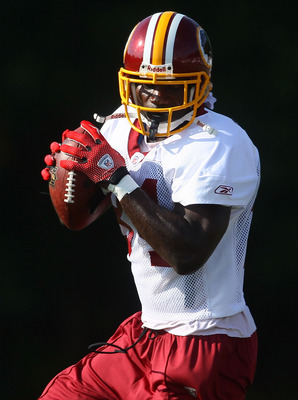 Win McNamee/Getty Images
At one point, Joey Galloway was amongst the best, most explosive players in the NFL. His speed allowed him to get deep fast, and he had several great seasons in Tampa Bay, before he was released and signed with the Pats and Steelers. He didn't catch on with either team, not even as a depth receiver.
The signing of Galloway made sense. Shanahan needed not only a veteran presence who he thought he could count on, but also a guy that would push the younger wide receivers to work harder to overtake him. Joey Galloway made it to the team's roster as a starter.
Short of one long completion in a pass heavy game against the Texans, Galloway's days as a Redskin were more or less futile. He couldn't get open with any kind of consistency. He only had two games in which he had more than one catch (His most is three). His lack of knowledge of the offense caused several interceptions.
He lost his starting job to Anthony Armstrong, and probably should've been released and replaced with practice squad wide receiver Terrence Austin much sooner. However, Galloway lingered for a long time until, oddly enough, he was released after having a relatively good day (for him) versus the Titans.
I don't have much problem with Galloway being signed, but one wishes he had gone a little sooner. As it stands, Roydell Williams is still ahead of the depth chart instead of Austin. Time that was given to Galloway to finally get it could've been given to the younger guy to help him adjust and learn the offense.
POSITIVE STEP--Signing Ryan Torain, Keiland Williams and James Davis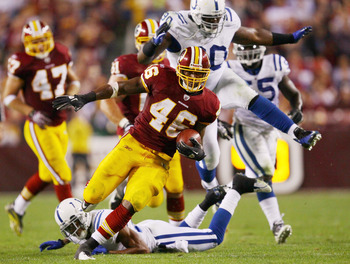 Win McNamee/Getty Images
A lot of people thought Mike Shanahan was insane when he and the Redskins signed veteran running backs Larry Johnson and "Fast" (ish) Willie Parker to the roster during the offseason.
Little did anyone know that Shanahan had a backup plan. His hand picked running back Ryan Torain had missed a year of football after injuries and a coaching change derailed his career in Denver. Shanahan bought him in and gave him an opportunity to make the team.
Meanwhile, the Redskins also signed an undrafted running back out of LSU, Keiland Williams, and gave him to make the team as well. Both Torain and Williams performed well in their action in preseason. In fact, they both seemed to do better than Larry Johnson and Willie Parker, even if they could not unseat Clinton Portis for the starting job.
However, on opening day (despite his production during preseason), Torain was on the practice squad, not on the field, and Williams was the third down running back behind Johnson on the depth chart. The running game struggled and sputtered in those first two games.
Acknowledging what we all knew, Johnson was released by the football team, and Torain was promoted. He made an immediate impact, even in the Redskins losing effort versus the Rams. He rectified this situation by running for seventy yards and a touchdown, in which he flattened an Eagles linebacker on his way to the end zone. He became the team's first back to back 100 yard rusher since Portis had achieved the feat in October of 2008, and made the most of his playing time.
During the game against the Lions, Torain pulled a hamstring, meaning the unsigned rookie out of LSU had to step up and play. Though they seemed to have less faith in Keiland Williams running, he was nonetheless efficient as he started the game versus the Eagles and finished with 89 yards rushing, 50 yards receiving and three touchdowns. The next week he would keep the offense moving against the Titans, finishing with 63 yards rushing and 27 yards receiving, becoming a viable receiving threat out of the backfield.
When Chad Simpson went on IR, that opened the door for former Browns running back James Davis to make the team. Though he had a slow start, he gained 40 yards on nine carries against a stout Giants run defense, and may earn himself a spot above Keiland on the depth chart.
If there's one thing Shanahan knows, it's running backs. With Clinton Portis' career in question, it's nice to know that he may have found three that can produce for the Redskins for years to come.
MISSTEP--Larry Johnson Making The Opening Day Roster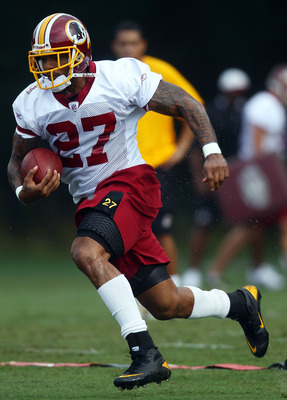 Win McNamee/Getty Images
Signing Parker really made no sense, especially considering Shanahan had cut two running backs who were exactly like him.
Rocky Cartwright and Ladell Betts were both "run between the tackles, up the gut" running backs that didn't fit in the Zone Blocking Scheme. Johnson was a power runner, also known for running up the gut, and Shanahan likely knew this, as he had to become familiar with Johnson's work when he was in Denver and Johnson was playing for Kansas City.
The move brought unnecessary scrutiny, and Johnson amounted to nothing. He didn't endear himself to fans during preseason where, after a prolonged period of nothingness, Johnson ran a touchdown in against the Jets No. 3 "we're not making the team" squad and dunked the ball over the goal post. He produced a big goose egg in the game versus Dallas (short of knocking out DeMarcus Ware for a couple snaps) and sealed his fate in the burgundy and gold.
While some will blame Galloway and Graham Gano for losing that game, one play drives me absolute nuts and is the real reason we lost. In the Redskins own territory, the ball was handed off to Larry Johnson. Unable to find a hole, instead of pressing forward and trying to get some kind of gain and back to the line of scrimmage, Johnson ran backwards and was sacked in the backfield for a big loss. The next play was called back by a penalty. The play after that went incomplete and Trent Williams was hurt.
Thank God that after that, Johnson was released.
POSITIVE STEP--Brandon Banks. 'Nuff Said

Wow

Wow. That's all I could say when I saw Brandon Banks return that punt in the preseason.
My immediate reaction upon seeing Banks was to tweet "They took the turbo button out of Madden and gave it to Brandon Banks". And despite my every effort to give him the name "The Turbo Button", Banks has provided a much needed spark to a team that has struggled to move the ball. He has provided the team with excellent field position, and is a threat to run it back for a touchdown anytime he touches the ball.
In fact, he's actually scored several touchdowns this season. Unfortunately, many of them have have been called back for boneheaded penalties--he only has one touchdown on the season, even though he should have four.
Banks actually started the season on the practice squad, much like fellow teammate Ryan Torain. He showed explosiveness, but he muffed several punts and kickoffs in preseason. A week after Torain was called up, Banks was promoted to the active roster.
This is his first run back in the regular season.
Banks has showed toughness and grit, as he only recently got knee surgery and is still on the field, often with the same explosiveness. Teams have now started to scheme for him and have actually taken to kicking the ball away from him, which pretty much assures that Brandon Banks has officially made it.
On offense, the Redskins have started trying to get him involved. He had a crucial third down catch in the overtime win versus the Titans, and ran the Wildcat during the loss to the Vikings.
Banks is a dynamic player who should have a lot of good years in the burgundy and gold, and he is further proof that you don't always need to draft a guy to find solid talent.
MISSTEP--Devin Thomas Wasn't Given a Real Chance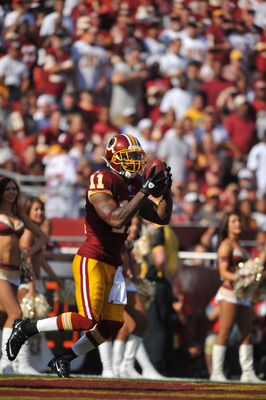 Larry French/Getty Images
I am no Devin Thomas apologist. In fact, I think it's fair (and right) to call him a draft bust, as he never produced at any meaningful level as a member of the team. The best game of Devin's career came as the New Orleans Saints were resting their starting corners and members of their defense in preparation for their eventual Super Bowl run.
This is a guy who, despite running back kicks for almost year, jumped up on a kick off and muffed it like he didn't know what he was doing in preseason. A guy who found it more important to do photoshoots with Adrienne Ballon and videos and reality TV shoots with American Idol Fantasia than study and work on his route running. A guy who expected to be given a job on the starting roster instead of working on it.
Thomas constantly whined to the press that he didn't understand why the coaching staff wouldn't play him. The answer was clear, and has been clear from jump--if you practice well during the week, and make the most of your opportunities when you get playing time, you will work your way to be a starter (See; Armstrong, Williams, Torain, Banks...).
However, I will say that, perhaps, Devin Thomas should've gotten more than one snap on offense. It says a lot that he couldn't even beat out Roydell Williams on the depth chart, but Thomas still has the tangible qualities of being a good receiver. But perhaps, if given something simple, he could've proven to be a viable end zone threat with his size and his hands.
Also, I wouldn't have to hear people complain about Thomas not being given a fair shake.
Thomas has been with the Panthers and the Giants now, but still hasn't managed to work himself into the starting offense. It's a shame, he seemed to have all the tools it would take to be a good receiver in the league.
All those tools, except for the work ethic it would seem.
POSITIVE STEP--Drafting Trent Williams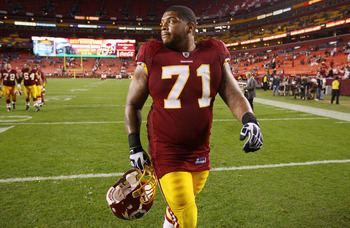 Win McNamee/Getty Images
Most people pegged the Redskins for taking Russell Okung with their first pick in the 2010 NFL Draft.
Instead, the Redskins selected Trent Williams to become the beginning of what (I hope and pray) will develop into a solid offensive line, and Trent Williams has looked worth the first round pick at every turn.
While he still makes the occasional rookie mistake, he has protected Donovan McNabb well, despite the trial by fire he's had in his first season--he's had to contend with DeMarcus Ware, Mario Williams, Dwight Freeney, Julius Peppers, Kyle Van Bosch, Trent Cole and Justin Tuck. In his first season. I would be having nightmares if I were Williams, but he holds it down and anchors the left side of the line, much like long time Redskins Chris Samuels had done before he retired.
I've seen Williams block a guy twenty yards downfield for Chris Cooley. I've seen Trent Williams very nearly catch a guy heading towards the end zone. His athleticism is great, and his fiery nature is, dare I say, "Hog like".
Williams is the definition of a team player. When he feels someone has been mistreated by the defense, he's the first one in someone's face. When a huge scuffle broke out in the Monday Night Massacre, it was Trent Williams that was the first one there to defend his team.
Williams will be a Redskin for years to come, and just one of what I pray will become a series of great investments for the Redskins.
MISSTEP--Stephon Heyer Hasn't Been Released Yet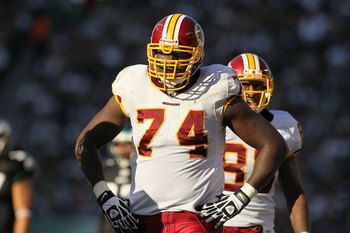 Al Bello/Getty Images
Everything Trent Williams is, Stephon Heyer isn't. He's not a good NFL player at all, yet he has (and likely will) make it through the whole season while still remaining on the Redskins roster.
Why?
At the very worst, if the Redskins called up Selvish Capers, he'd be as bad as Stephon Heyer. He can't be worse, because Heyer might be the worst tackle I've ever seen. He can't work the left side or the right side of the line. While most of the offensive line problems come from the inside, when Heyer is in the game, the entire damn line falls apart and McNabb ends up on his butt.
In fact, Heyer seemed to perform far better at right guard than he ever has at tackle. But rather than try him out in that position, he is still the Redskins' backup tackle despite how much he sucks.
I will cry if he is still on the roster next year. He can't open holes, he can't pass protect and his greatest contribution has been to give me a giant headache on Sundays.
Come on, Coach Shanahan. Let's wish Heyer well in his future endeavors and get on with our lives. Please?
MISSTEP--The Switch To The 3-4 Defense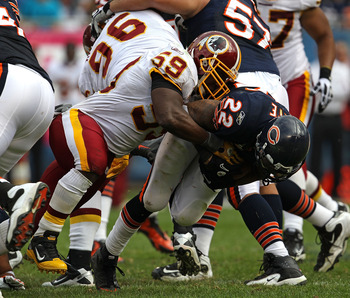 Jonathan Daniel/Getty Images
This is not to say that I do not think the 3-4 defense can be successful. I still believe that the Redskins old 4-3 defense had been overrated for two seasons, as it fell apart once Gregg Williams left the team and was good for a lot of sacks and not much else.
However, it stands to reason that the switch to the 3-4 has done more harm than good. While the 3-4 was solid (if not a bit shaky) in the beginning and middle of the season, at the end it's become a big time liability. It illustrated the lack of depth the Redskins have--with Carlos Rodgers and LaRon Landry dealing with issues, and the team's never ending tackling problems, the switch took what could be a tiny, tiny positive from last year and turned it into a negative.
The switch isn't hard to understand, given the success of other teams with 3-4 defenses. However, I'd be lying if I said that the Redskins shouldn't at least consider returning to the 4-3 defense next season, as it will take several drafts for it to become as formidable as the Steelers and Ravens defenses that Washington wants to emulate.
I'm not saying the switch was all bad. Nor do I think it has more to with Shanahan's ego than it does the well being of the team (Mike Shanahan ran 4-3 defenses in Denver his whole tenure there, and some of those defenses were really good, so this ego stuff can stop).
But the Redskins owe it to themselves to evaluate next season with the personnel they have, and the kind of draft picks they can get (with key pieces needed on the offense as well). A switch back to the 4-3 (and perhaps a better 4-3 defensive coordinator) would be better than not switching at all.
MISSTEP--The Handling Of Haynesworth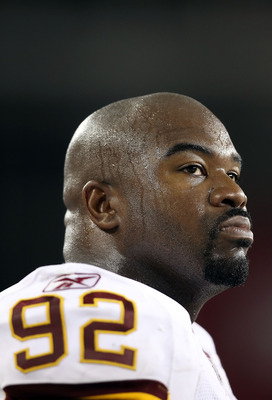 Christian Petersen/Getty Images
I agree with almost everything Mike Shanahan did.
I agree with Albert Haynesworth being made to take a conditioning test. I agree with him having to play in the fourth preseason game while the rest of the starters were sitting on the bench. I agree with him not being a starter. I agree with him being inactive for games, I agree that Haynesworth was a giant pain in the friggin' butt for the coach, owners, his teammates and fans.
Albert was given every chance to succeed. To hear Albert Haynesworth say it, being a nose tackle would've ruined his career. He wouldn't be allowed to get his stats or to be as dominant as was in Tennessee because he couldn't just rush the passer.
Bullpucky.
Tell that to the best damn defensive lineman in the NFL, Haloti Ngata. Ngata does not and will not have a $100 million dollar contract from the Ravens. He's still playing on his rookie contract. But he shows up to play on Sundays and he plays like a beast. He has five and a half sacks and fifty four tackles. Ngata is the definition of team player and the definition of dominant, instead of being a selfish jerk like Fat Albert.
The only thing I disagree with was how long the Redskins allowed this to linger. I don't doubt that Mike Shanahan wanted to make it work. Again, most people will talk of his "ego" and how he wanted to impose his will on Haynesworth. Again, I say bullpucky. A coach wants his players to succeed, period.
But it was clear that Haynesworth wasn't a team player from the jump. And when that became clear, the Redskins owed it to themselves to trade him away while his value was still relatively high. Tennessee was rumored to have offered a 3rd or 4th round pick for the lineman. Those were picks the Redskins needed to replenish the team. He should've been gone, and he could've gone back to Jeff Fisher and his defensive coordinator that let him "do whatever he wanted".
Now, with this scenario playing out as it has, the 'Skins will be lucky to get a fourth rounder, if not a fifth rounder just to offload this...well...load.
The Redskins' main mistake wasn't how they handled Albert. Everyone else has grasped the Shanahan way of doing things, and No. 92 should've jumped in line. No, their mistake was not getting rid of this jerk when the bidding was high and the getting was good.
POSITIVE STEP--The Team Has Gotten Younger, and The Future Looks Bright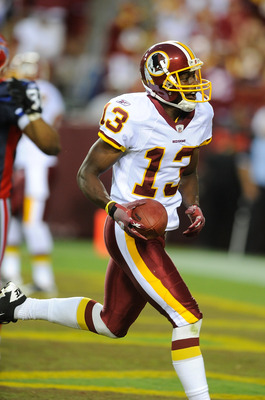 Greg Fiume/Getty Images
It annoyed me last week when NFL Network analyst Michael Lombardi claimed that the Redskins were trying to recreate the Over The Hill Gang this season. It goes to prove that people refuse to actually pay attention to what is happening on the field and instead will only believe what they choose to believe.
It is true the Redskins started the year with one of the oldest teams in the league. But the team has only gotten younger as the season has gone on.
Derrick Dockery and Artis Hicks have lost their starting jobs to Kory Lichtensteiger and Will Montgomery. Clinton Portis' injury means the Redskins back field consists of Ryan Torain, James Davis and Keiland Williams--all young and all eager to prove doubters wrong.
Anthony Armstrong may be 27, but he doesn't have years of guys pounding on him on his legs. Brandon Banks and Terrence Austin are both slowly working their way into the offense. Kevin Barnes may have overtaken Phillip Buchanon on the depth chart and Lorenzo Alexander overtook Andre Carter. Adam Carriker is on the d-line.
The team is filled with youth if you're willing to look for it.
The Redskins also have the advantage of actually having draft picks this year. Haynesworth could still fetch a fourth round pick, and it wouldn't be shocking to see others traded away for draft picks to fill out the draft.
Not to mention they have a much better, much younger free agency class to work with next season. It includes players like Mike Sims-Walker (26), Sidney Rice (24), Tim Hightower (24), Deuce Lutui (27), DeAngelo Williams (27) and the aforementioned Haloti Ngata (26).
This season was a rebuilding year, no matter how much no one wants to admit it. Next year, with a new system in check, and what looks to be a great upcoming draft and free agency period, I'm thinking the Redskins will be much better than than they are now.
POSITIVE STEP--The Culture Has Changed In Washington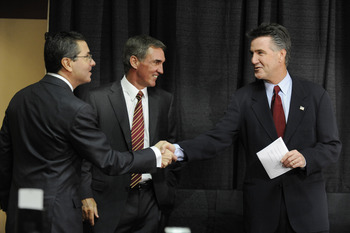 Mitchell Layton/Getty Images
When asked to comment on the Haynesworth situation, Dan Snyder kept his answer simple; "I believe Mike Shanahan speaks for all of us."
For a man who once stuck a quart of vanilla ice cream in his offensive coordinators refrigerator to send him a message, that is a huge improvement.
It's why it's so annoying and wrong headed when people claim that nothing about the Redskins has changed. Yes, they signed some veteran talent. Yes, they had a big time signing that involved trading away draft picks. No, they did not make the playoffs.
But things have changed. All you have to do is ask the players. Several of the players have stepped forward and said that before this season, they would come to practice, do their thing, and go home. Now they hang out, work out, study, and are a better team overall. Teams take on the personalities of the coaches, and what was once a catty locker room has mellowed out into the "coach doesn't like us talking about that kind of thing" kind of locker room.
The biggest proof of the change has been Clinton Portis. Portis has been much maligned for his antics over the years; his cushy relationship with the owner and his devotion to practicing have been been criticized. But suddenly, when Mike Shanahan was coming to town, Portis straightened up. He cut weight. He practiced. He worked hard all summer and retained his starting job.
They have some hard losses this season, but they never seem to quite fighting back. They don't stop working, don't try to make a bad situation better. They play hard. They have stopped blaming their failing on each other and turned the focus inward. "I didn't make that play. I didn't make that catch, or that tackle".
The Era of Accountability has officially begun. Many people want to comment on how old the team is. "Your team started Joey Galloway!" They'll laugh. No one seems to realize that, as the season has gone on, the team has gotten younger, not older. Younger guys are being asked to step up and make the most of their opportunities, and they have. Older vets are being challenged by the younger guys.
It may not be showing up on the field, but I truly believe that this is the best team we've had in some time. I don't think anyone lied to me about how this season was going to end up. I thought we'd got 7-9 at worst, 8-8 at best and 9-7 by a miracle. We're pretty much lined up right at that.
This team is being built to be a contender, and it will be a contender sooner than you think. You just have to believe and be patient a bit.
The culture of the team has changed. It might be time for the culture of the fans to change as well.
HTTR
Keep Reading

Washington Redskins: Like this team?