Sebastian Kehl and Simon Rolfes: Two Players, One Mirror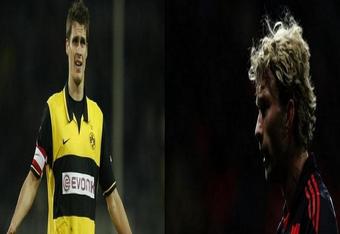 Sebastian Kehl and Simon Rolfes

"Time waits for none."
We can sit along and wonder on many football goings. Sometimes, we come out with "what could have been…" cases in our endless discussions of football. Mostly, in the last decade, we scratched our heads and bums on what if Mikel Arteta was born 10 years later or 10 years before his actual birth? Also, we were involved sharing "brutality" of fitness-level as one name always hit our minds like a hammer—Owen Hargreaves.
The run of talent which these two players had shown us in their "he has the potential…" days could never make us realize that they, actually, would end up in two blokes—Mikel Arteta and Owen Hargreaves—who never were given a chance to shine on the world stage due to those harsh realities of football world i.e. neglected due to swarming talent in Spanish midfield and career threatening injuries, respectively.
Of course, many may advocate ignorantly that: "Listen mate! With Xavi, Iniesta, Fabregas and Busquests holding Spain midfield…there was no way Arteta was going to be placed in that!"
But the reality stands that Arteta has never been capped for Spain which in my opinion is grim and harsh for the player like him. Then again, Spain has won Euro and World Cup without him, so who cares!
On the other side, the curious case of Owen Hargreaves is beyond comprehension. Owen was born in Calgary, Canada. His mother is Welsh, and his father is English. His brother Darren was born in Wales like his mother, and his other sibling Neil was born in England like his father.
But! Owen Hargreaves was born in Calgary, Canada. He was eligible to play for Canada, Wales and England due to this "diverse flux." He opted to play for England as the world should know. Yes, he really has played for England although that's another thing that we quite can't remember exactly when, ha!
How Bayern Munich spotted Owen Hargreaves playing for Calgary Foothills in Canada is anyone's guess! But since then, this boy's life was never going to be the same. He went on to win Bundesliga titles with Bayern Munich (like anyone else would do) and also starred in Champions League triumph of Bayern Munich in 2001 season being only the second English man to win Champions League crown with non-English club besides Steve McManaman.
And then he tore his thigh muscle, calf muscle and incurred "adductor' problems in a single season. Any sensible phsyio could tell that Owen is going to have lot of problems, and the problems are what waited for him in coming years as his "fitness-train" just derailed.
Besides his injury woes, he has been a top player whenever he has been on the pitch. He should be applauded for his determination and should be admired for his fight against this cancer of his low-fitness level. We all saw in some flashes that what Owen Hargreaves could do for England—evident in Euro 2004—only if injury-crisis didn't halt him.
Now, let's go back to the picture of this post; you would see Sebastian Kehl on left and Simon Rolfes on right. Kehl is half of Owen Hargreaves as far as injuries are concerned. Rolfes is another face of Mikel Arteta coin. All of these four players are "midfield generals." Rolfes has actually represented his national team, unlike Mikel Arteta, but has long been a victim of "Rise of the Germans." In fact, Kehl—despite the injuries—can be put into that "victimized-list" as of Rolfes, too.
Sebastian Kehl:
Sebastian Kehl is a decent defensive midfield player who "used to" harness and direct the midfield of Borussia Dortmund in his hay-days vigorously. He fell short and got the label of being injury-prone, but that didn't undermine his abilities just as in case of Owen Hargreaves.
Kehl is 30 now, and one would assume that his playing days are counted. Even if he returns to full-fitness, then it would be quite difficult to place him directly in to Borussia Dortmund squad whose midfield engine is spilling out with "mean-machine" parts consisting of Nuri Sahin, Shinji Kagawa, Mario Götze and Sven Bender. If that's not enough then take another name—Florin Kringe.
How one aged man can be placed among those young ambitious lads unless Jürgen Klopp considers him important for experience-factor and for tutoring purpose? Some might thwart the idea with a new banter that current Dortmund squad needs none at the moment which, to great extent, is true.
However, I personally think that Borussia Dortmund squad has done great by extending lead of points to that margin in Bundesliga table but guys like Sebastian Kehl could prove vital when you go in to dog-fight where difference of points is minimal — the fight which guys like Mark van Bommel, Bastian Schweinsteiger, Philip Lahm, and Arjen Robben will win for you as seen in last season when the title went end to end between Bayern Munich and Schalke 04.
I also think that if Dortmund is given a five to seven-point lead ahead of Bayern, Schalke, or Werder in the second half of the league then that young squad will start faltering. Leverkusen has a squad which boosts of youthful individuals as well, and despite their freakish unbeaten run last season, they just couldn't handle the pressure of being in face-to-face fights amidst the burden of being favorites to lift the league title and couldn't carve out the wins.
This is the main reason that Bayern Munich—despite being that low and that behind in Bundesliga league table—are still being considered as title contenders because those players have gone in those battles of coming from behind and taking the lead on top of the league years in and years out.
That's where you need a stick that you can lean on for support as in young age we all need advises of our old people. Sebastian Kehl comes in as a constant in that equation if the situation arises.
Again, the question mark will be on Kehl's fitness. Would he be fully fit when he returns from injury lay-off after winter? That is a big if; will he be drafted in to Dortmund midfield with ease? All is yet to be seen.
What would have been if this player didn't have set-back of injuries? Same question can be put for Owen Hargreaves.
Simon Rolfes:
Simon Rolfes is hero. The lads who watch Bundesliga and are fans of midfield play would hold Rolfes in high regards. A top bloke. A top player.
His story is that of "rags to riches" which can be read while listening to Ludwig Beethoven's Symphony No. 5.
His rise to prominence is somewhat "late coming." He was put into youth set-up at Werder Bremen in 1999, and since then, he largely played for Werder Bremen II (take it as Werder reserves) but never made a cut in to senior squad.
Later, transferred to Alemannia Aachen in 2004 (the team played in Bundesliga 2. that year) where he spent one season.
Rolfes—an ordinary player with gracious personality—looked like he would never get to feel what it's like to be a football player. But then, there came a glimmer of hope at the end of the tunnel. He was transferred to Bayer Leverkusen in 2005 under management of Bundesliga veteran Klaus Augenthaler and sporting director Rudi Völler. Klaus left the club that year in midseason September, but it couldn't stop Rolfes initiating his berth in his first team.
Michael Skibbe came in as the manager, and he mentored Rolfes to the midfield general role and Rolfes was born.
In an age where footballers make name and fame in their teenage years here, there was Simon Rolfes making his world and building his new world at the age of 23!
He has become an integral part of Bayer Levekusen—becoming the captain and the fan favorite right from the start.
He debuted for the German national team at the age of 25.
He starred in Euro 2008 for Germany and played in the quarterfinals and semifinals as well. He was bound to feature in Germany World Cup team in South Africa, but he was unfortunate as he suffered a long-term knee injury, and there came Sami Khedira.
Since then "German Brigade" has stormed out led by Mesut Özil, Sami Khedira, Mario Götze, Sidney Sam, Bender Bros., Lewis Holtby and the list ain't just stopping there.
However, at Leverkusen when he is fit, he wears the captain armband and runs the midfield along with Arturo Vidal. After coming back from long-term injury, he played his first match against Wolfsburg this season. Wolfsburg were leading 2-0, Rolfes came in as a substitute in the second half and scored two goals while Vidal scored a penalty in the dying moments to win the match 3-2. Influence!
Again the same fiasco—like we had in Kehl case above but here on the international scene—that's where you would put Simon Rolfes in Germany amongst those names, nowhere. Even the retirement of Frings and last days of Ballack doesn't help here.
What could have been if this gem was discovered little earlier? This question goes for Mikel Arteta as well.
"Time is what prevents everything from happening at once." John Archibald Wheeler, an American physicist who coined the term "Black Hole."
Both players, Kehl and Rolfes, are undisputed captains of their respective teams whenever on pitch. Kehl, a poor lad went down with injuries. Rolfes, a true gent bulldozed by future prospects.
If Thomas Hitzlsperger can represent Germany 50 times, then Simon Rolfes is not that bad. If Klopp ever needs an experienced player in midfield, then Kehl is the guy to go for.
Here we end this story of four "unsung heroes."
Life of footballers can be brutal…sometimes!
This post was first published on personal blog of the writer Football Stryder and can be read here.
This article is
What is the duplicate article?
Why is this article offensive?
Where is this article plagiarized from?
Why is this article poorly edited?