Calling All Arizona Cardinal Scribes!
September 4, 2008
Ever since its inception, Bleacher Report has enjoyed a steady rise in popularity.
Driven by a talented community of amateur sportswriters and editors, this website has drawn in hordes of readers—readers that are seeking fresh sports reporting and editorials.
To those who seek an alternative to bland articles and team-fed propaganda, this is the place to read and to be read. And who better to deliver cutting-edge viewpoints than a community of actual fans?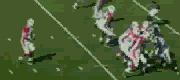 Kurt Warner connects with Anquan Boldin for a touchdown versus the Ravens in 2007.

And for the writers and editors of Bleacher Report, the rewards are numerous and gratifying. The articles are typically headlined on the major news search engines, such as Google and Yahoo—attracting sports fans from across the country and even across the globe.
Furthermore, with its built-in mechanism for reader/author interaction, Bleacher Report has planted a seed from which a true sporting-enthusiast community was born.
But the continued success of this website is dependent upon a rich and continuous supply of articles, delivered by interested and talented fans.
And so with that goal in mind—and speaking as the Community Leader of Bleacher Report's Arizona Cardinal Section—I am putting out a call across the Internet for all the top amateur Arizona Cardinal writers... Compelling scribes with wide followings, such as George Boone, MadRussianFan, Korbo, Mike Furrette, Legend of Kurt, Damtoni, pg13, Fan43, FastCashAz, NyYankees2001, moklerman, kong_3, scienceguy, Cards_Campos, kjbad, redbird242, Stuart Garrison, and many, many others.
Kurt Warner connects with Larry Fitzgerald for a touchdown versus the Rams in 2007.

Come join us here at Bleacher Report this season!
With the Cardinals poised to make a run at the Super Bowl this year, we're going to have nothing less than a blast sharing our opinions with a growing community of NFL fans!