Power Ranking the Cheerleaders of the Final BCS Top 25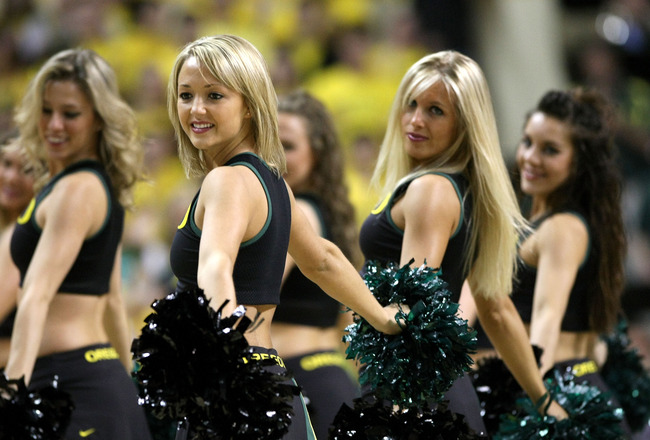 Jonathan Ferrey/Getty Images
Now that we have the final BCS rankings before the bowl games, it's time for hard hitting questions: Which team in the Top 25 has the hottest cheerleaders?
Without Florida, Texas or USC in the Top 25, which group steps into the lead?
Take a look at this list and let us know what you think.
25. West Virginia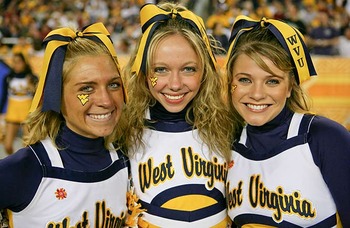 West Virginia may be a lovely state, and I have never been there, but their cheerleaders aren't that lovely.
Too much going on with the bows in the hair. It's distracting.
25. West Virginia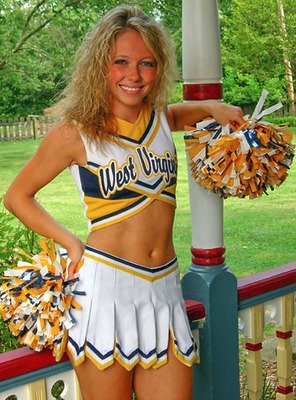 Now that the ribbons aren't there, she looks better, but still not that hot.
24. Wisconsin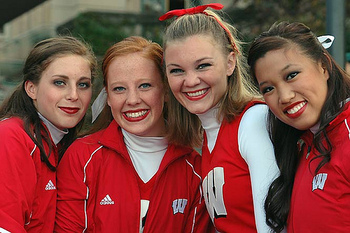 Okay Wisconsin, I am starting to come around on your football team, but your cheerleaders?
Nope.
The word homely comes to mind.
24. Wisconsin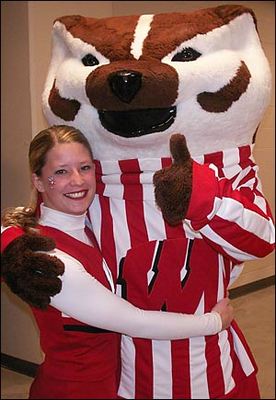 I expect more from Big 10 country.
Sports and cheerleaders are supposed to mean more in that part of the country.
So Wisconsin, you are disappointing.
23. Hawaii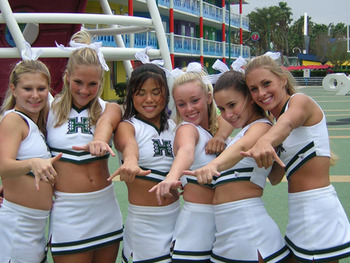 It's shocking to me that somewhere like Hawaii doesn't have the hottest cheerleaders in the country.
But then again, it is a vacation spot so all the hot girls vacate the state every week.
23. Hawaii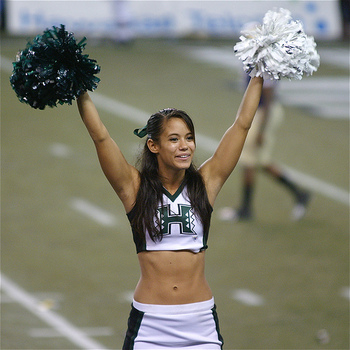 I would be interested to see how many of the Hawaii cheerleaders are hula dancers on the side.
That could help their rankings.
22. Stanford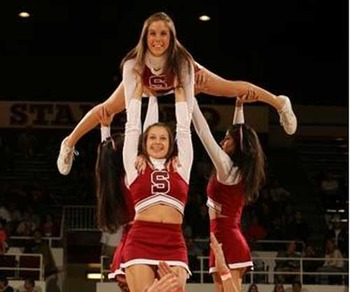 Stanford isn't known for having hot cheerleaders and there is good reason for that.
The Cardinal are all about academics over anything else.
22. Stanford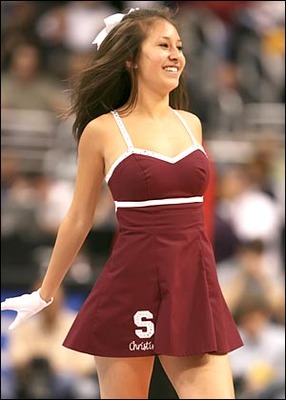 The Stanford cheerleaders have gotten better over recent years, but they still have a ways to go.
21. Virginia Tech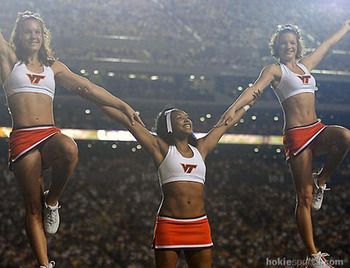 I feel bad for picking on the Virginia's, both West and Tech, but someone needs to say it.
Virginia Tech needs some help getting hotter girls for cheerleading.
21. Virginia Tech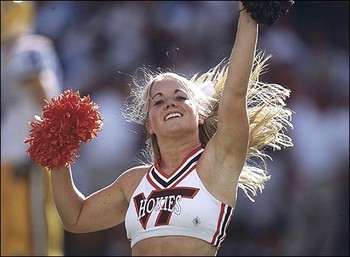 It's a good thing Virginia Tech has such a good football team to distract from the cheerleaders.
20. UCF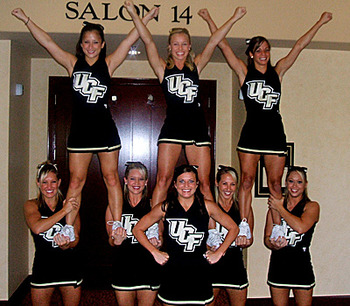 UCF is another disappointment. I guess Miami, Florida and Florida State not only poach the best football players in the state, but the best looking cheerleaders too.
I mean they aren't terrible, but they are nothing special.
20. UCF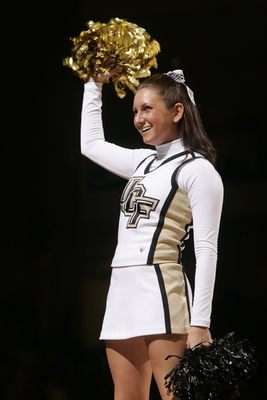 I'm sure the UCF cheerleaders are lovely people, but that's not what I was hoping for from them.
19. Alabama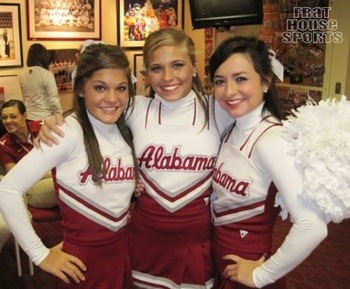 The SEC might be the best conference in college football, but its cheerleaders leave something to be desired.
They aren't bad looking, but I expect more from such a historically good football school.
19. Alabama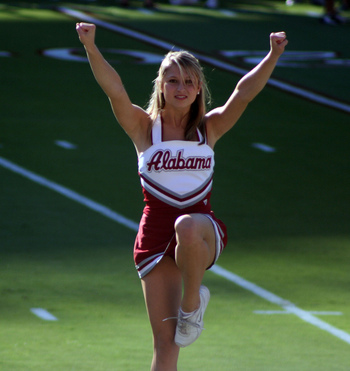 Poor effort Alabama. I expected something along the lines of Florida's cheerleaders, I was wrong.
18. South Carolina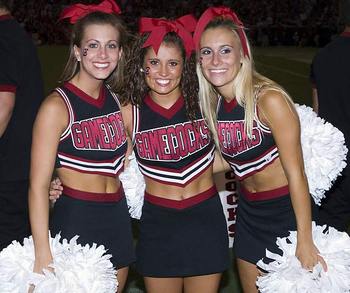 What is it with the big bows in the hair?
Distracting!
But then again, maybe they are distracting from the fact that their cheerleaders are not cute.
18. South Carolina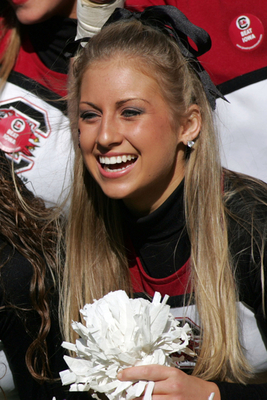 Attention cheerleaders: Stop with the bows. Please.
17. Auburn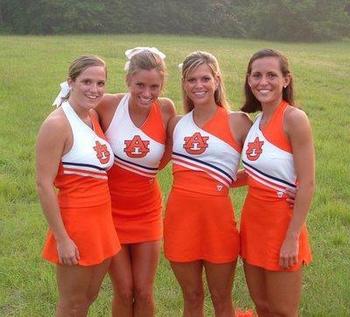 Okay now we are talking.
With the teams in the BCS, the cheerleaders fell into two groups: hot and not.
We are now entering into the hot portion of the list.
17. Auburn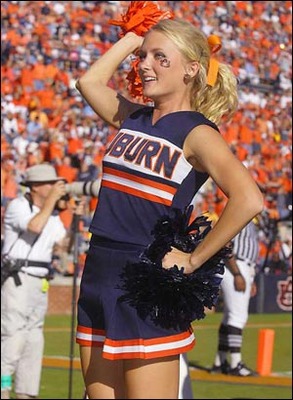 The cheerleaders' outfits at Auburn are not flattering at all, but that doesn't change the fact that the Auburn cheerleaders are hot.
16. LSU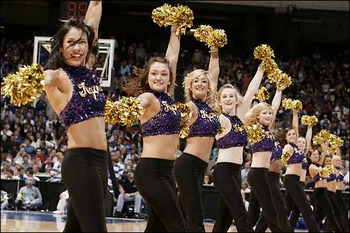 Another good looking bunch with bad outfits.
The sequins are not doing any favors.
16. LSU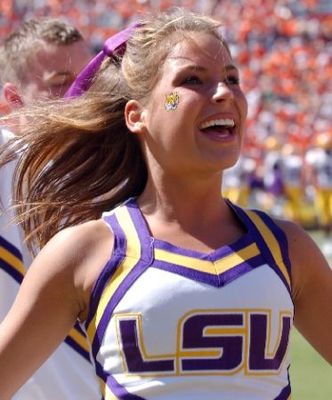 These outfits are a little better but the best part is that she is hot.
15. Oklahoma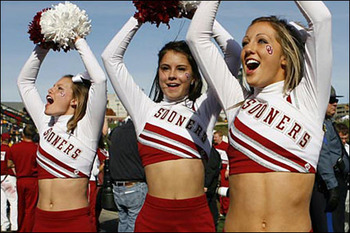 Wouldn't you much rather listen to these girls than the ones towards the bottom of the list?
Nice Midwestern accent to go with pretty faces.
15. Oklahoma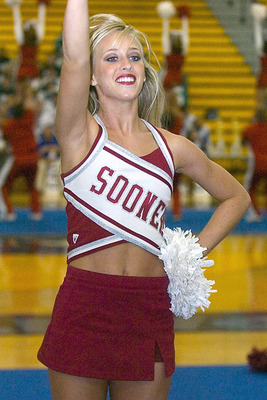 Any group of cheerleaders that competes with Texas belongs high on this list.
14. Texas A&M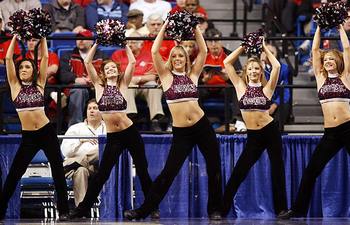 Texas looks like the state with the most pretty girls.
A&M is a little bit forgotten as far as football is concerned, but their cheerleaders deserve a little more camera time.
14. Texas A&M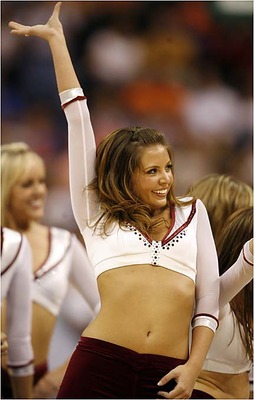 The Aggies cheerleaders would be a lot higher on this list if they had better outfits but hey, what do you expect from an agriculture school?
13. Nebraska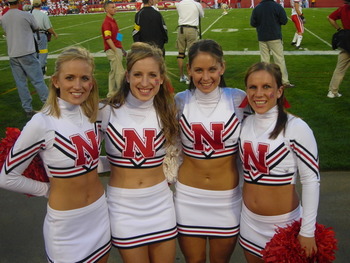 Nebraska will be bringing more than just a good football team to the Big 10 next year.
They are also upping the cheerleading.
13. Nebraska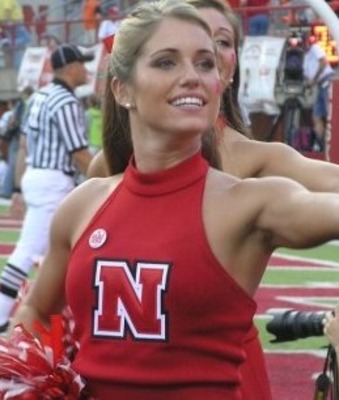 It is surprising that such a landlocked state, known more for corn than anything else, can have such good looking cheerleaders.
12. Michigan State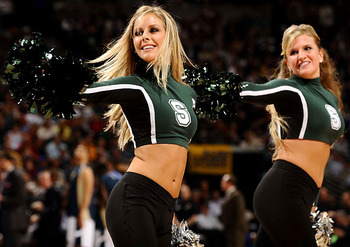 How about those Spartans?
Their cheerleaders are just another reason why it is a real shame that Michigan State was left out of the BCS. I would much rather look at their cheerleaders than those dressed in Wisconsin red.
12. Michigan State
It is a real shame that the Spartans are not playing in a BCS Bowl.
I may have to watch the Capitol One Bowl just for the cheerleaders.
11. Nevada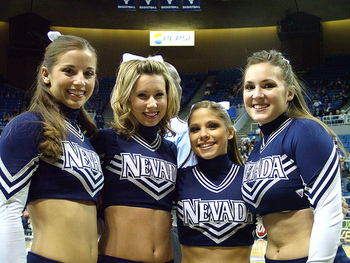 Nevada isn't just the surprise of the college football season, they are also the surprise in the battle of cheerleaders.
There are some real cute girls at Nevada.
11. Nevada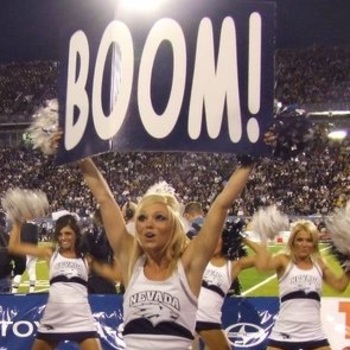 Boom is right.
Not quite good enough for the top 10, but still pretty great.
10. Oklahoma State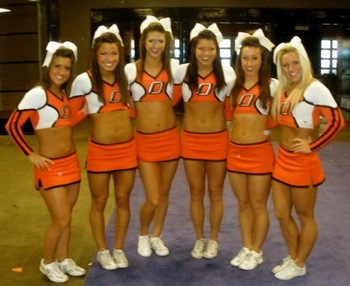 Enough of the giant bows already. The Oklahoma State cheerleaders would be a top five group if it weren't for those ridiculously large monstrosities on their heads.
10. Oklahoma State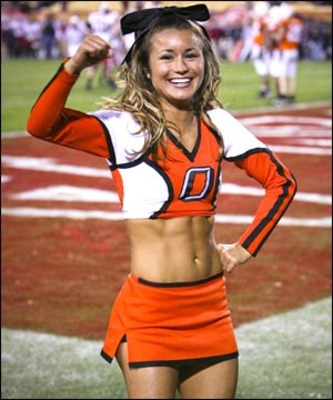 This group might also be the most likely to be on steroids.
Look at those abs. She looks like the female Situation.
9. Utah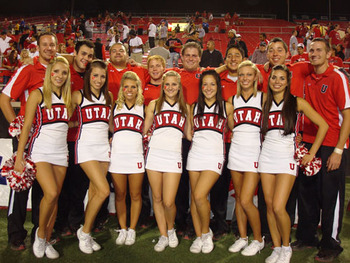 The news that makes this group more desirable is the fact that Utah isn't the LDS institute that BYU is.
9. Utah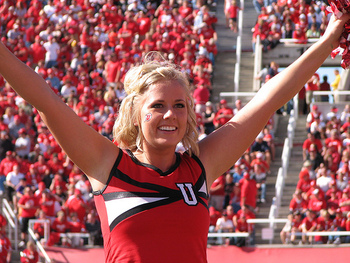 Utah also has some surprisingly good looking girls on their cheerleading squad.
Well done Utah, welcome to the PAC-10. You will fit in nicely.
8. Ohio State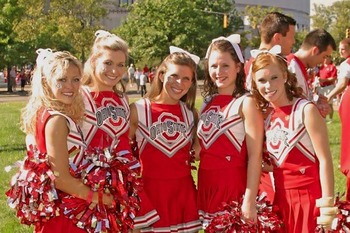 Again with the bows?
Despite the dreaded bows, the Buckeyes have some really good looking cheerleaders.
8. Ohio State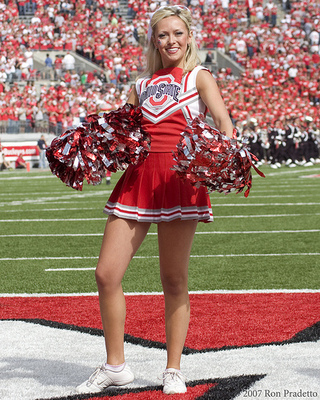 Classy uniforms, pretty faces.
Well done Ohio State, you are the class of the Big 10 no matter what the standings say.
7. TCU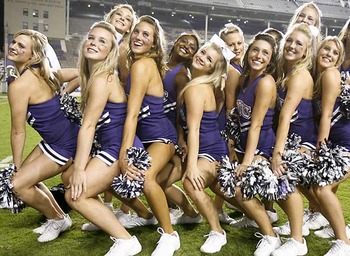 It shouldn't be a surprise that TCU has pretty cheerleaders.
They are from Texas! That place breeds pretty girls.
7. TCU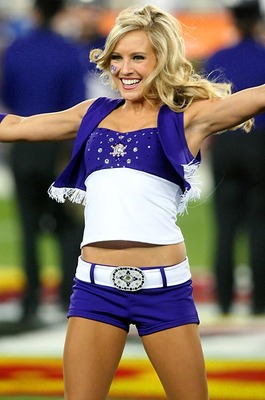 The uniforms leave something to be desired, but that's alright.
As someone who goes to the Rose Parade every year, the TCU cheerleaders will be the highlight of the parade for me.
6. Missouri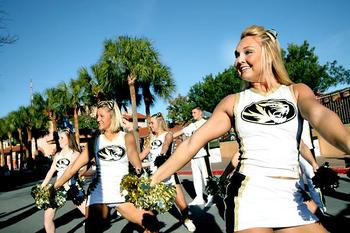 Who knew Missouri had such pretty cheerleaders?
Learn something new everyday.
6. Missouri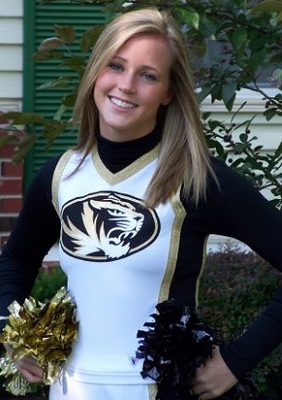 I am one for the "girl next door" look so this girl really gets me.
Way to go Missouri, best of the Big 12 in this countdown (mainly because Texas isn't in it).
5. Arkansas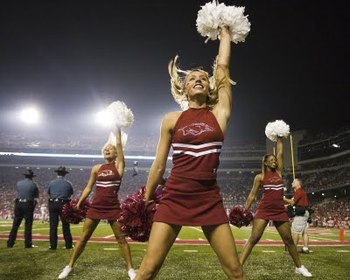 Woo Pig Sooie!
For a school that's mascot is nothing more than an ugly pig, the Razorbacks cheerleaders are anything but ugly or pigs.
5. Arkansas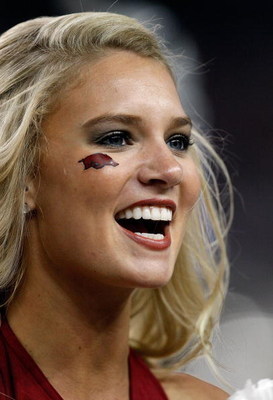 Looks like I have to add Arkansas to the schools that I would like to visit someday.
4. Mississippi State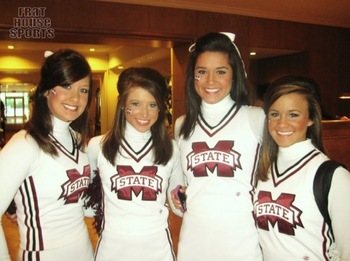 Wow, just wow.
Of the four girls in this picture, all four of them are gorgeous.
4. Mississippi State
Mississippi State might actually give Florida a run for its money.
Yeah I said it.
3. Boise State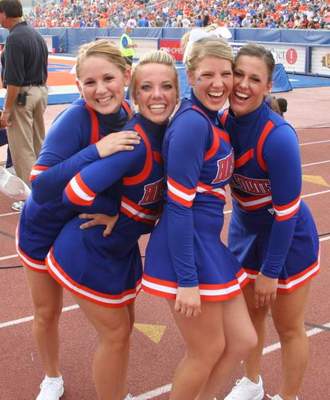 Congrats Boise State, you are officially a big time football program.
You win games and you have hot cheerleaders.
3. Boise State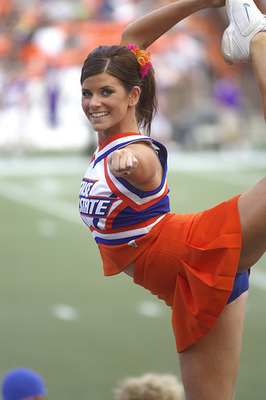 Whatever BCS conference finally breaks down and adds Boise State will be adding a group of hot cheerleaders too.
2. Oregon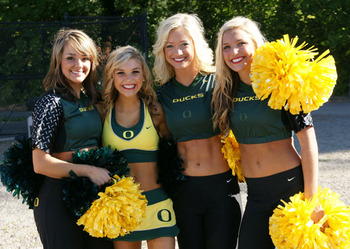 Lots of people think that Oregon has the hottest cheerleaders in the country. I actually disagree with that, but I am partial.
This group however is a top five group in the country. Lots of talent for a team headed to the BCS Championship.
2. Oregon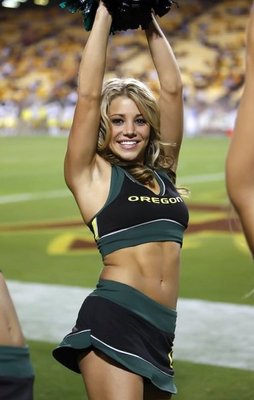 This girl in particular makes it tough to put the Ducks at two.
1. Florida State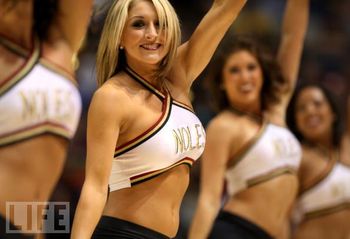 Because Florida isn't in the BCS, Florida State runs away with this list.
The Seminoles cheerleaders are among the hottest in the country.
1. Florida State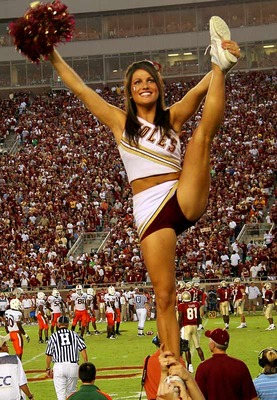 Congrats Florida State, I am officially jealous that I haven't been to a football game in Tallahassee yet.
Keep Reading