Tim Duncan: 7 Reasons Why He's a Major Force in Helping Spurs to Playoffs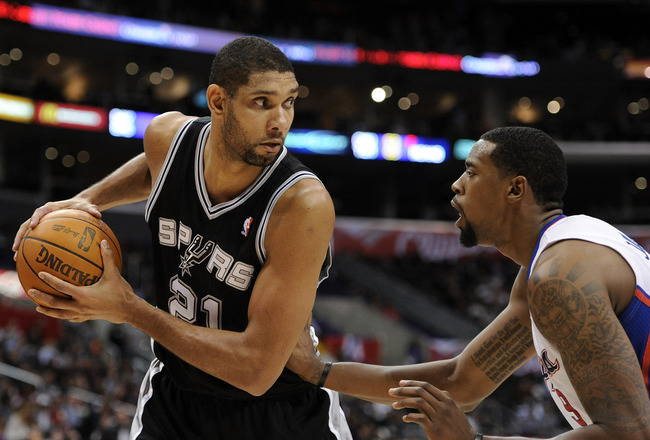 Harry How/Getty Images
For the last two games, San Antonio Spurs' center Tim Duncan has played for a shocking total of less than 20 minutes per game.
His time on the court is far from being the only thing slipping in numbers—his stats are also reported to be lower than usual, as well.
Although Duncan's stats and court time have fallen, there are still several reasons why he is still a major force and threat in the NBA.
With Age Comes Wisdom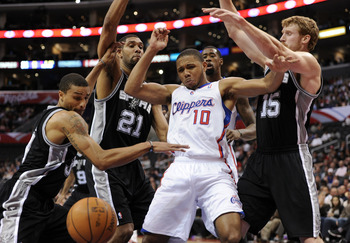 Harry How/Getty Images
It's no secret; Duncan is the oldest guy on the Spurs team as a 34-year-old.
With age comes experience though—and Duncan certainly has that on his side.
With 13 years as a pro, the Spurs should keep Duncan around if not for his talent, then for his wisdom on the court—especially since the Spurs have so many new guys that should prevail soon with the right guidance.
A Big Man In a League Where Few Big Men Exist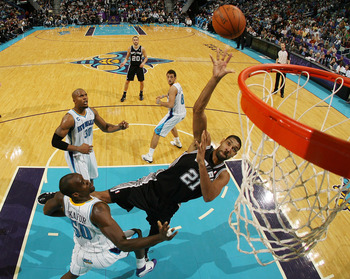 Chris Graythen/Getty Images
Let's be honest—big players are getting harder and harder to find.
At 6'11", 255 pounds, Duncan is on a short list as one of the biggest.
With size comes numerous things, from being a power forward to a strong center. Duncan has the points, rebounds and blocks to keep him on top of things.
He Has the Points and Rebounds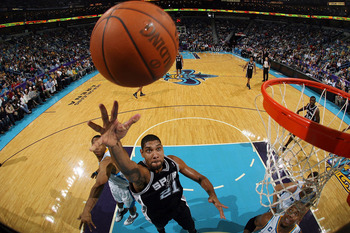 Chris Graythen/Getty Images
Yes, his stats are low in comparison to his previous years—and in comparison to some other guys on the team.
Regardless, he's still managing to average 10+ PPG and 9+ RPG.
Blocking Is In Tact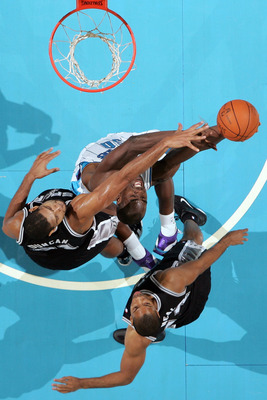 Chris Graythen/Getty Images
Duncan is still among the best shot-blockers in the league, despite the stats and future of his career.
He is blocking nearly two shots per game and as we know, the defensive side of the NBA is weak, to say the least.
It's a Marathon To The Playoffs and He's Trying to Stay Fresh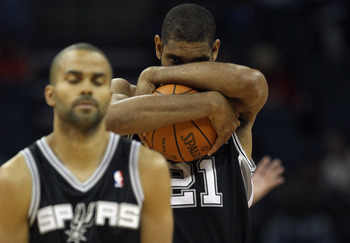 Streeter Lecka/Getty Images
His age may help in some areas, but as they stand 18-3 and on top of the Mavericks in the Southwest, they are bound for a shot at the playoffs.
That said, Duncan knows his road could be nearing a dead end soon and he needs to make the most of it.
Less Play Time Makes For Less out Of Duncan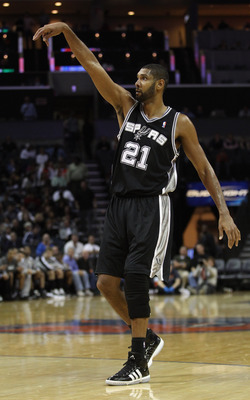 Streeter Lecka/Getty Images
For the last two games, Duncan has played for a shocking total of less than 20 minutes per game.
Although it comes off as Coach Gregg Popovich's plan, it leaves fans with a sense of fear—fear that one of their big three won't be with them anymore.
So despite the claims that he's losing his touch because of low stats, it's just not true; his stats are low because he is hardly getting court time.
Still At The Top of The List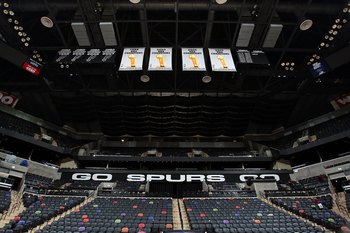 Ronald Martinez/Getty Images
Duncan remains one of the best big men passers, fourth among PFs, F/C and Cs.
Given his age, contract talk and low stats and game time, one thing remains the same—his title as fourth in one of the best.
He knows what it takes and he still has it.
Don't count him out of the mix yet. It might just be Papovich's master plan to sneaking back into the playoffs.
Keep Reading

San Antonio Spurs: Like this team?