San Antonio Spurs: The Most Underrated Factors in Their Early Season Success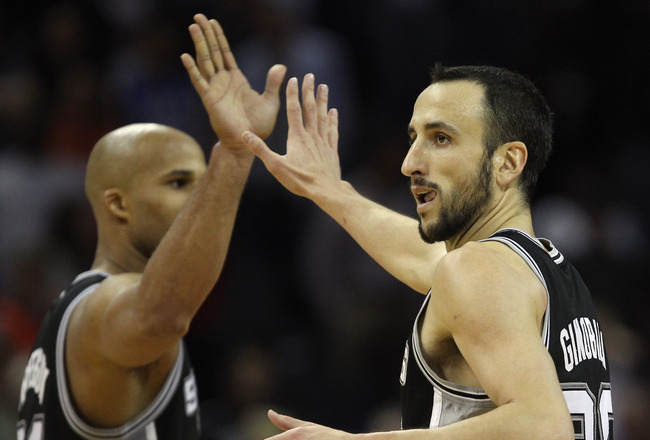 Streeter Lecka/Getty Images
Twenty-one games into the 2010-2011 regular season, the San Antonio Spurs have accomplished the almost unimaginable, or at least to those rooting against them. They have started the season with a franchise and league-best record of 18-3; second-best in NBA history only to the '95-'96 Chicago Bulls and '08-'09 Boston Celtics, who each carried a 19-2 record at this point in the season.
Outsiders who do not have the honor of watching the Spurs on a nightly basis rely heavily on box scores and stat sheets to study them. The automatic assumption to their early success would most likely be that they are scoring more than usual.
Going from 101.4 points per game last year to 106.9 this year is definitely no laughing matter, but there are reasons for this accomplishment that tend to be overlooked. Here are the most underrated reasons why the Spurs are enjoying so much success early on and why that success will continue assuming they stay healthy.
Richard Jefferson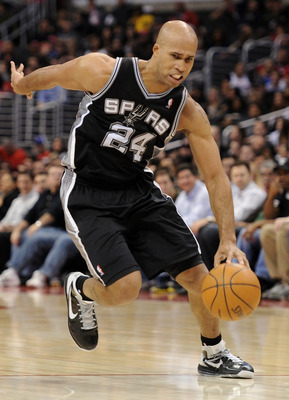 Harry How/Getty Images
On paper, Richard Jefferson's scoring numbers are not that much different than they were during last year's disappointing season. An increase from 12.3 to 14.6 ppg may not seem like much and is still below what he averaged as the first scoring option on previous teams, but he has played so much better and has made a huge impact.
To begin with, RJ's percentages are way up. His leap from 46.7 percent to 48.8 percent field goal shooting supports the fact that he is driving to the basket more and taking better shot selections. This has led to more free throws at a better percentage. Last year, RJ shot an average of 3.54 FTs per game at 73.5 percent, while this year he is averaging just over four FTs per game and is hitting a higher percentage of them at 77.6 percent.
Add on his impressive improvement from three-point range from 31.6 percent to 45.2 percent, and he is almost as big of a force on offense as Tony Parker and Manu Ginobili: the only players scoring more.
With his rediscovered confidence and new understanding of the Spurs system, RJ has turned into the player that his team had hoped for when they traded for him. The cringe that fans had when he had the ball last year has been passed to the players having to defend him. While he may be just an average Spur to the outsiders, he's a force to be reckoned with for his team.
Spreading the Wealth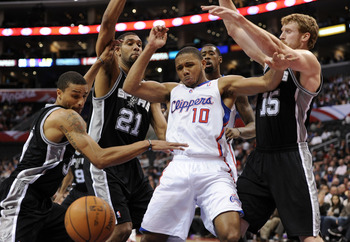 Harry How/Getty Images
Before the start of the season, many believed the Spurs all revolved around Tim Duncan and sometimes Parker and/or Ginobili. With all three having a not-so-hot season last year due to various injuries, most had written them off.
However, their league-best start despite career lows in minutes and points from Duncan (28.9 minutes and 13.7 ppg) suggests that this team no longer depends on just the Big Three. With five players averaging in double figures and six more above five ppg, everyone on this selfless team is contributing and can be relied on at any time.
The Spurs are second best in the league with 24 assists per game. Add in over 38 made FGs per game, and they have 12 assists for every 19 field goals. Such numbers are not very common on teams that play fast paced and like to get out in transition. Talk about sharing the ball.
Three-Point Shooting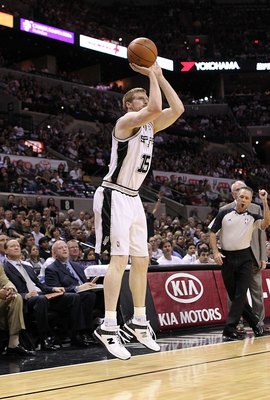 Ronald Martinez/Getty Images
It has always been a given that a way to stack up points is to hit a lot of three-pointers. The Spurs have always been known as a decent to good three-point shooting team, but they've never shot the ball like this.
With so many outside threats like Ginobili, Jefferson, Matt Bonner, George Hill, Gary Neal and James Anderson (when he returns), the Spurs currently sit as the best three-point shooting team in the league at 40.7 percent and hit the second-most at 8.9 makes per game.
Such numbers make it very difficult for players to double team or play zone defense, and when they do they usually regret it. Of the players listed above, none have been known to be huge threats behind the arc with maybe Bonner being the only exception (and that's a big fat maybe).
With Bonner, Ginobili and Jefferson shooting way above their averages and unheralded players like Hill, Neal and Anderson being left wide open, the Spurs are murdering teams with their outside shooting, and yet they still allow them to do it.
Free-Throw Percentage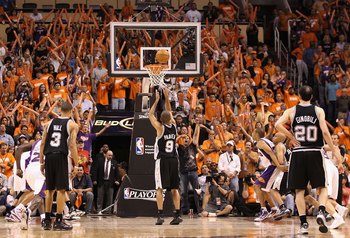 Christian Petersen/Getty Images
If there is one thing the Spurs have always been bad or below average at, it's free-throw shooting. Now, for some unexplainable reason, they are sixth best in the league at 79.6 percent and 26 attempts per game. That is way up from last year's 74 percent.
Of the eight returning players from last year's team, only Tim Duncan is shooting at a lower percentage, and even then it's above his average at a respectable 71 percent, and his stroke looks much better than previous years. (Basically he doesn't hold the ball as long and think about it too much.)
The best FT shooter is Ginobili at 91 percent for fifth best in the league. To make it even better, he has shot by far the most FTs on the team with 122 attempts in 21 games (next highest is Jefferson at 85 attempts). Five players in the regular rotation are shooting better than 80 percent, and Parker is just a make or two away from joining that club.
Free -throw shooting is no longer a liability that has caused close losses for the Spurs, but rather a reliable threat that has been factored into many close wins. As long as they keep making their free throws, they will continue to score at a high amount.
Defense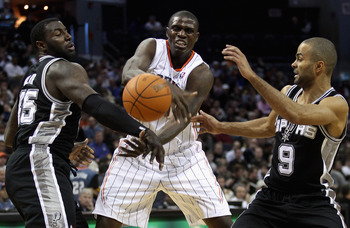 Streeter Lecka/Getty Images
Defense has always been the staple of success for the Spurs, so it might seem unusual to include it on a list of underrated factors. However the fact that the offense has been the story of the season so far could possibly make defense a second thought, which is why it is on the list.
While the Spurs have not been at their best in that category this season, they will never take a good-offense-makes-up-for-poor-defense attitude. They still are intimidating to other teams with their abundance of big men and shot blockers.
Despite their middle-of-the pack average of allowing 97.6 points per game, their overall scoring average makes them the most dominant team in the league by averaging a league-high of 9.3 more points per game than their opponents.
Defense has also played a key role in their four wins that included coming back from 15-plus-point deficits to win games, something they rarely accomplished last year. While many see the key to that success being uncanny scoring, they still have to shut down the other team to be able to make it all the way back.
As long as the defense keeps improving as the season goes on, the Spurs will be fine come playoff time.
Don't Mess with the Pop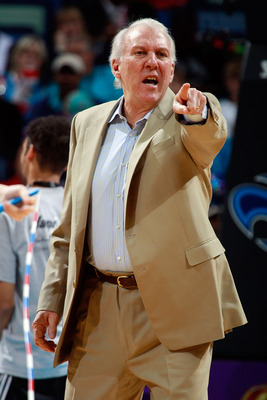 Chris Graythen/Getty Images
Whether he likes it or not, coach Gregg Popovich has already won the Coach of the Month award and is an early favorite to win Coach of the Year. He has often been labeled the best when it comes to drawing up plays out of timeouts and coming out of the locker room.
Pop has always been known to throw a little attitude into his bag of tricks, although it has simmered down compared to a decade ago. Despite this, he still garners more respect from his players than just about any other coach. Even his star player Duncan can handle being yelled at and then comes back harder, setting a prime example for the youngsters.
Jefferson probably put it the best: "Around the league, that's something I know a lot of coaches are envious of—to be able to get on your star player like that, and have him receive it constructively." I know one Miami coach named Eric Spoelstra who wishes he could do the same with his "king" and not receive public scrutiny for it.
Pop will do whatever it takes to fire up his team, even if it means getting himself ejected or benching his star players as punishment for making mistakes. Coaching is also an underrated factor when it comes to making big comebacks like the Spurs have done.
To continue RJ's quote, "That's one of the most underrated things about the San Antonio Spurs."
Once Underratted, Always Underrated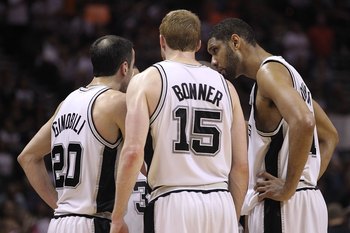 Ronald Martinez/Getty Images
The Spurs continue to be one of the most underrated and under-appreciated teams in the NBA, despite their year-in, year-out success and being a model franchise for a league that is having money and attitude problems.
They're fine with that. Teams and media will continue to disregard them, and they'll just continue to chug along and prove them wrong.
With all the early season success the Spurs have had, they're well on their way to competing for another championship if they can stay healthy and keep "surprising" those who underestimate them.
No team is deeper, better constructed or coached better than the Spurs, and they will continue to fly under the radar until playoff time, ready to deliver the final blow to all who doubted them.
Keep Reading

San Antonio Spurs: Like this team?