College Basketball's Top 15 Teams and a December Game They Could Lose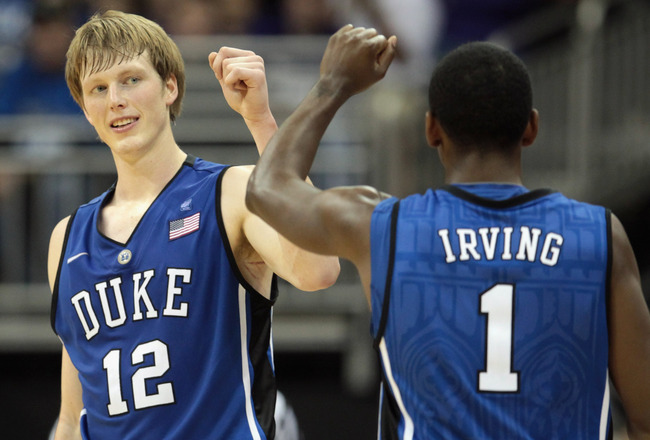 Jamie Squire/Getty Images
As we move past the month of November with the good teams getting past most of their cupcakes with just a few upsets here and there, the real basketball is beginning now.
December is the month where teams start to show the level they will be playing at through the regular season and really start to reveal their identities.
December could be perhaps the most important month in the college basketball season, save March, as teams get ready for conference play.
There are currently 19 undefeated teams in Division I right now, and many of them will fall in a loss at least once this month.
It's my job to figure out when that will be.
15. Missouri Tigers
Jamie Squire/Getty Images
For the No. 15 team in the country, they are faced with their biggest test on Dec. 22 against No. 16-ranked Illinois.
The Illini are led by senior guard Demetri McCamey, who is always very tough to stop.
Even though the game is at home for the Tigers, going up against an experienced senior guard can still cause problems when these two ranked teams meet up.
Missouri is currently 11th in the nation in scoring and were riding a good win streak until that very tough loss to Georgetown.
However, I like for Illinois to come out on top on this night in part because of their style of play, but also because of Mike Davis and Mike Tisdale starting to play well alongside McCamey.
14. San Diego State Aztecs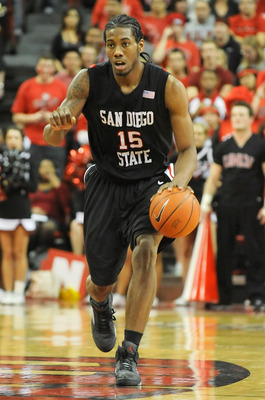 Ethan Miller/Getty Images
The Aztecs are currently led in scoring by forward Kawhi Leonard, who has stepped up in the big games for San Diego State.
They already have two quality wins in games at Gonzaga and against St. Mary's, but they face a tough test on Dec. 8 when they travel to face California.
If they get through that test, the Aztecs will be rolling into conference play with an undefeated record, because the rest of their non-conference schedule does not pose any threat to this team.
California is a tough defensive team, ranked fourth in the Pac-10 in opponents' PPG, but their offense has really struggled. Having this close game at home, though, should help them pull of this upset.
It is very hard to go into a place like Cal and get a win when they play defense like this.
13. Memphis Tigers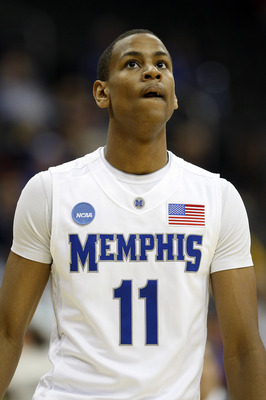 Jamie Squire/Getty Images
The 7-0 Memphis Tigers face their first huge test when they travel to Kansas on Dec. 7 to take on the Jayhawks.
When this inexperienced team goes on the road to face this Kansas team, it will definitely be something that a lot of these freshmen have never done before. There aren't a lot of home courts like the one that Kansas boasts.
In all, the really talented, fourth-ranked Kansas team should be able to stop the nation's eighth-ranked offense in the Tigers and come away with a win against an inexperienced team at home.
12. Villanova Wildcats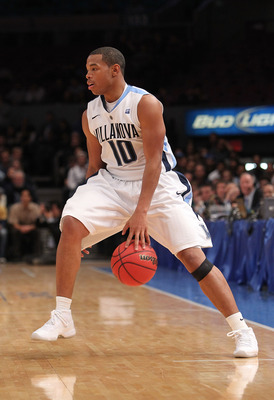 Nick Laham/Getty Images
The 6-1 Wildcats really avoided any tough competition in this winter month. They began their December play last Friday with a win over St. Joseph's before traveling to Penn to face them on Dec. 8.
They don't play any teams from the big conferences, with games like La Salle, Delaware and Monmouth. There should be no losses against those teams. It would be a huge disappointment for this team with high expectations.
Their schedule does pick up, though, in January, when they begin Big East play.
11. Tennessee Volunteers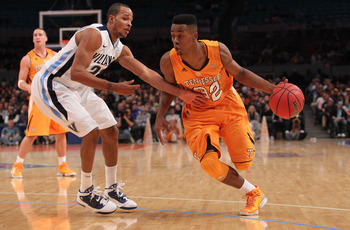 Nick Laham/Getty Images
After defeating No. 12 Villanova, the Volunteers have kept the ball rolling and sit at 6-0 right now. They do face a big test in front of them, though, when they travel to Pittsburgh to take on the Panthers.
The Panthers boast a 9-0 record which is not too shabby, either.
This should be a great game, but playing against a tough Pittsburgh team on the road will always pose a challenge.
I like the Panthers to come away with this game with another great team effort that everyone's gotten used to seeing.
10. Baylor Bears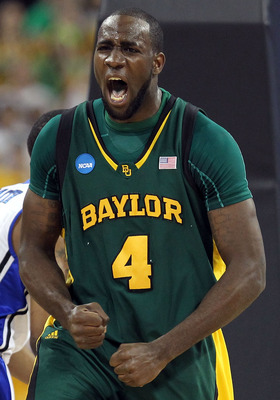 Ronald Martinez/Getty Images
This Baylor Bears team is another one of the current undefeated teams in college basketball, but haven't really faced a true test.
While they could be a contender to win the Big 12 when the time comes, they haven't really been tested yet this season. However, a game against Gonzaga on Dec. 18 will change that.
Gonzaga's style of play will always pose a threat to pull of an upset, and they will look to do the same against Baylor. For that to happen, though, the Zags will have to go through the sixth-best scoring defense in the country.
9. Georgetown Hoyas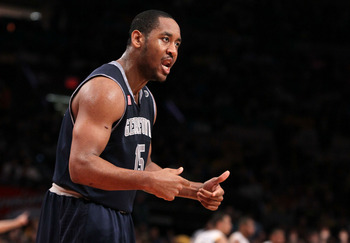 Jim McIsaac/Getty Images
The Hoyas pulled off the biggest jump in the rankings in this week's AP Poll, moving up to No. 9. This was well-deserved, too, after their win against No. 15 Missouri.
Still, they have one remaining road test left on their non-conference schedule when they travel to play at Memphis.
Like I mentioned earlier, the Tigers are a very inexperienced team, but teams like that generally play a lot better when they are on their home court. So, this should be a close game with Memphis having that advantage.
8. Syracuse Orange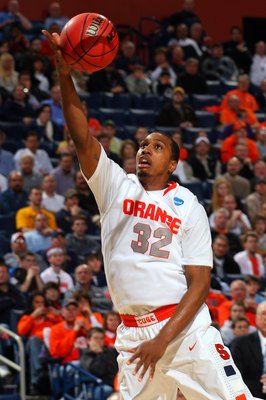 Rick Stewart/Getty Images
With close wins already over Michigan and Georgia Tech, the Orange have already played against teams in big conferences, but no one they have played yet will match the talent Michigan State will bring to the court this Tuesday, Dec. 7.
In what should be a competitive game, the Orange will bring an 8-0 record to play an experienced team in Michigan State, who now has a chip on their shoulder with two losses already in this young season.
Playing against Duke and UConn will help the Spartans out in this game and should be able to pull off a victory.
I really like seeing what Michigan State has done this year with their non-conference schedule by playing against top competition.
They can learn a lot from losses like those early in the season, and they should come away with a victory here.
7. Michigan State Spartans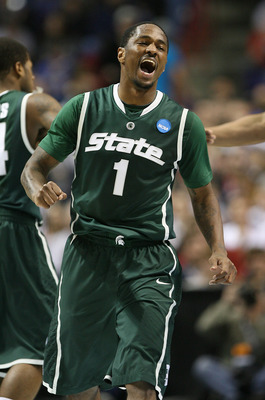 Otto Greule Jr/Getty Images
As I mentioned in the last slide, the Michigan State Spartans, currently ranked at No. 7, have taken it upon themselves to schedule a very tough non-conference schedule to help make this a championship team.
With losses to Duke and UConn already, the Spartans should be ready to prove to everyone watching that they can win a big game when they face the Orange of Syracuse on Dec. 7. However, they have yet another tough test against Texas on the 22nd.
If they can get through those games, though, they will be poised for another Big Ten championship. They definitely have the talent to do so.
6. Connecticut Huskies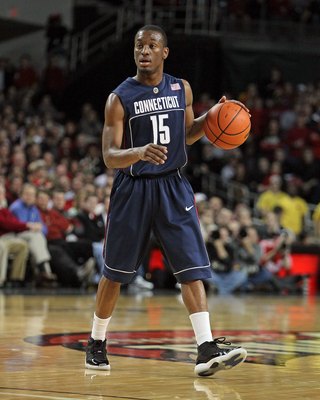 Andy Lyons/Getty Images
Kemba Walker has been a star so far this season, there's no doubting that. His performance in the Maui Invitational placed him among the elite in the country when he performed that well on the national stage.
However, the undefeated run by these Huskies will be put to the test when they open up Big East play on Dec. 27 at Pittsburgh.
As I've mentioned earlier, the Panthers are one of the best all-around teams in the country and will be a tough out for this inexperienced Huskies team.
5. Kansas State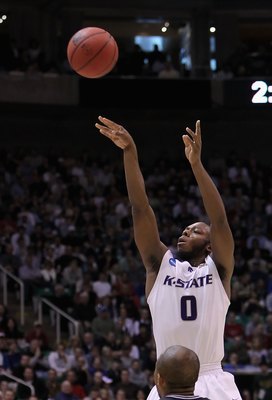 Christian Petersen/Getty Images
When the Wildcats travel to face a tough Florida Gators team on Dec. 18, they will be faced with the best team on their schedule since they lost to Duke earlier this season.
Jacob Pullen is still getting used to playing without his wing-man from last year in Denis Clemente. The game against Florida will give him another chance to show that on the national stage.
The Gators are obviously a very tough team and will recover from their upset loss earlier last week. Their offense will play much better and this will be a competitive game for both teams, and a chance to get a key win on their resumes.
4. Kansas Jayhawks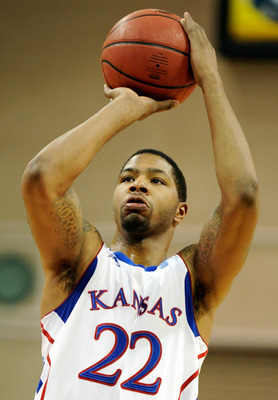 Ethan Miller/Getty Images
After a very close win over UCLA with a questionable call giving them free throws with under a second left in the game, Kansas was able to hold on to their undefeated mark.
However, like I've already mentioned in this piece, Kansas faces Memphis in what should be a competitive game at home, but one they will likely win.
The only other challenge left on their out-of-conference schedule will be traveling to Cal.
However, with the way Cal's offense has struggled, Kansas should not have a problem putting them away with their sixth-best scoring offense in the country, and first in the Big 12.
3. Pittsburgh Panthers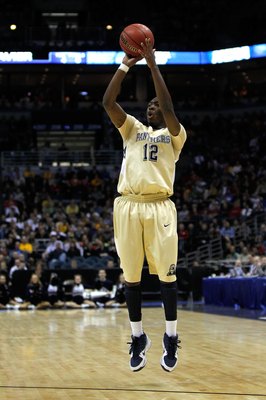 Jonathan Daniel/Getty Images
I've talked a lot about the Pittsburgh Panthers in this piece as well because of their games against the likes of Tennessee and Connecticut.
Those, as I've mentioned, are the only tests Pitt will face in the month of December. Obviously, playing the Big East will pose a lot of threats and a tough game day in and day out, but they only face those two teams as challenges this month.
2. Ohio State Buckeyes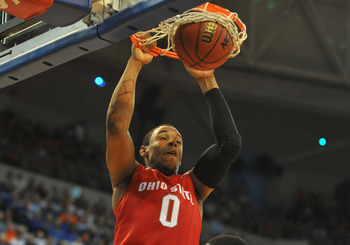 Al Messerschmidt/Getty Images
The Buckeyes already boast wins over tough teams on the road against Florida and Florida State, but those are their only tough out-of-conference games.
They will finish up their non-conference schedule this month by playing IUPUI, Western Carolina, Florida Gulf Coast, and I would go on, but you get the point.
Ohio State should not lose in December and should go into Big Ten play with an undefeated record.
1. Duke Blue Devils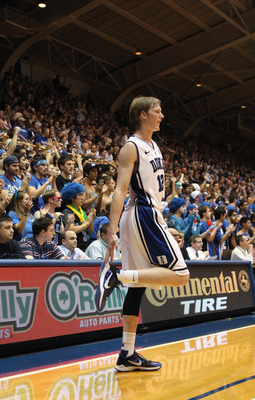 Streeter Lecka/Getty Images
Duke has already proven that they're the best team in the land with wins over Kansas State, Michigan State and Butler in a rematch of last year's national championship.
They only have three games remaining this month and all are against teams that they will handle easily.
They, like Ohio State, will be rolling into conference play undefeated and the Blue Devils will stay atop the rankings as the best team in the country.
Keep Reading