Football Manager 2011 Based Story: 'The Woodlands Chronicles' Episode Three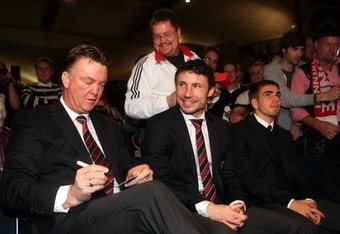 van Bommel! You play better in real life than in Football Manager...

Ladies and Gentleman, it's an honor to present Mr. Iain Macintosh here. Who is Iain Macintosh? Follow this link where you can read an old interview about him at the site where I represent Bundesliga, Back Page Football.
Iain Macintosh can be followed on twitter @IainMacintosh.
This is the third installment of Woodland Chronicles here on Bleacher Report.
Here, I would present his online story based on "Football Manager" experience as Iain himself starts the episodes with these lines:
What happens when one man takes a game of Football Manager 2011 too seriously? This happens, I'm afraid.
Tang Miao watched imperiously as his team-mates trudged back into the changing room. Suited, scrubbed and shaved, he caught the eye of centre-back Jiang Tao.
"What was the score?" he asked the exhausted defender.
"We lost it," panted Jiang. "Late goal. Didn't deserve that."
"Hardly a surprise though, is it?" smiled Tang smugly. "If you take off your best players, these things will happen."
"True enough," said Jiang, undoing his boots. "But I don't think that's the case here. After all, I stayed on until the end."
Tang snorted disdainfully and looked at his watch.
"Where is he then?"
"Who?" asked Jiang.
"The Englishman. What's he doing out there? I've got reservations at Saint Pierre in an hour."
Jiang shrugged.
"Interviews, I suppose. I heard him telling Gary Lim that we responded well after shipping an early goal and that there was nothing anyone could do ab…Here he comes."
The dressing room hubbub faded quickly as Iain Macintosh walked into the room. He took a cup of sweet tea from his coach Hatta Ali and sat on the physio's bench.
"Where's Tang Miao?" he barked.
"Here."
"You got changed quickly, Tang."
" I had a lot of time. You subbed me in the 53rd minute."
"Yes, I did, didn't I? Any idea why?"
"You have an aversion to victory? Winning brings you out in a rash?" He paused and gave an evil smile. "You don't like being sober?"
A nervous chuckle washed over the dressing room like a swell in a bathtub. Players glanced at each other in concern.
"Tang Miao, you're on the transfer list."
"What?!" he spluttered.
"You're on the transfer list. A few years ago, I'd have worked with you. I'd have tried to impress you and get you on my side. Frankly, I can't be arsed anymore. I don't mind crap players, I really don't. I used to manage Dieter Jarosch. What I mind, what really winds me up, are lazy footballers. While this lot were out there putting in a shift, you were ambling about like…like…like a grasshopper in the summer sun!"
"What does that even mean?" shouted Tang.
"I don't know!"
A change came over the room. As if they both knew the path they were taking, as if they were being presented with simple options of what to say.
"I really don't want to leave the club and I'm not happy at being forced out."
"I just don't see a future for you at the club," said Iain, wishing there was an option to be rather sterner.
"I don't agree with your reason and I can't let the matter drop," snapped Tang.
"Your behaviour is totally unprofessional," said Iain, "and I'm disappointed with the lack of respect you've shown me."
"There is absolutely no way I'm backing down here," shouted Tang at the top of his voice. "I honestly don't think I can work with you anymore after the way you've treated me!"
"Yeah, well…hang on. That's fine. I don't want to work with you anymore. That's, like, the whole point."
Tang Miao snatched up his kitbag and stormed to the door.
"I'm leaving now," he growled, "before I say something I regret."
The slam of the door echoed around the changing room.
Iain looked at his coach Hatta Ali and shrugged.
"Boss," whispered Hatta. "We haven't got any other right-backs."
"That's ok, Hatta. Just call up one of the reserves. Christ, we've got about 70 players here."
"That's what I mean, boss. None of them are right-backs."
"We've got 70 players and none of them are right-backs? One right-back and 69 others?"
"We've got Mohammed Adil Abu Bakar, boss."
"Well call him up then."
"He's 16, boss. He's got a lot of homework on at the moment."
Iain glared at Hatta.
"Then make it go away."
There was a long silence. The players were staring at them.
"How, boss?"
"I don't know, Hatta! Have a word with his teachers, have a word with his parents. Christ, man. Do his homework for him! Actually, on second thoughts, that's a bit unethical."
There was a sharp knock at the door, but before anyone could answer, it creaked open.
"Iain, could I have a word?" said an ashen-faced Michael Wee.
"Of course, Mr Chairman. Lads, you did alright today. Jiang, don't worry about the goal. It was a good clearance. If it hadn't have hit Jamie up the arse before bouncing directly into their number 10's path, it would have been fine. We were worth a draw, not a 1-2 defeat. Hasrin is going to take you through a few things. Defenders, try and mark attackers at set-pieces, eh? Midfielders, might be an idea to pass to people wearing the same coloured shirt, yeah? Strikers? Well, that's going to take a bit longer isn't it? Have good weekends, gentlemen. I'll see you on the training pitch on Monday."
He put down his tea and walked out of the dressing room.
"A bit early for the sack, isn't it, Mr Chairman?" grinned Iain through gritted teeth as a familiar gurgling feeling started up his gut.
"The sack?" laughed Michael as they walked up the tunnel. "Heavens, no! Not yet anyway. No, I came because I heard about Tang Miao."
"Ah," nodded Iain. "He's been to see you already, has he?"
"No, no," said Michael. "I bugged the dressing room a few seasons back."
"Oh," said Iain. "Well, do you back my decision?"
"Of course, of course. Not that it's my role to interfere with a manager's decisions."
"That's refreshing to hear, Mr Chairman."
"I just wondered if you'd gone far enough," said Michael, looking concerned.
"How do you mean, Mr Chairman?"
To read more in to what happened next in to this episode, Click Here.
All you Football Manager fanatics, watch this space for fourth episode coming tomorrow here on Bleacher Report. Till then, do share this third episode with people around you who love this game and do visit Iain Macintosh's site to know more about this episode.
This article is
What is the duplicate article?
Why is this article offensive?
Where is this article plagiarized from?
Why is this article poorly edited?

FC Bayern Munich: Like this team?