Football Manager 2011 Based Story: "The Woodlands Chronicles" Episode Two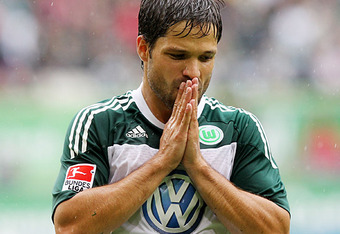 How come I score heck of goals in Football Manager, eh?

Football Manager 2011—a mere game created by humans but with such an impact that the producers of the game enlist it as "The biggest job on this earth."
It has taken the world in storm! The people who start playing this game don't even care about girlfriends or eating hours anymore. They have loved this game and have grown with it, literally. This game, I tell you, is the main culprit behind the break-ups and hiccups of young age. Many people have documented this game in their own style with marvelous stories. Here, I bring you one man who went berserk with Football Manager stories that you can seriously see some glimpses of English literature in his prose style with some sophisticated style.
Ladies and Gentleman, it's an honor to present Mr. Iain Macintosh here. Who is Iain Macintosh? Follow this link where you can read an old interview about him at the site where I represent Bundesliga, Back Page Football.
Iain Macintosh can be followed on twitter @IainMacintosh.
Here, I would present his online story based on "Football Manager" experience as Iain himself starts the episodes with these lines:
"What happens when one man takes a game of Football Manager 2011 too seriously? This happens, I'm afraid."
Michael Wee stood at his open office window, his hands clasped together behind his back.
"Look at them, Iain. Look at them scurrying around like ants."
Iain Macintosh pulled a yellow sweatshirt over his head, paused briefly to admire the "IM" stitched to the breast and stepped over to the window to look.
"Erm, they are ants, Mr Chairman. Particularly big ones at that."
"Hmm," grumbled Michael. "How unfortunate." With one sweep of his hand, he dispatched a long column of ants from the window ledge to an uncertain fate five floors down. "As I may have mentioned, we lack a caretaker. I shall have it seen to."
He reached over to his desk, made a small note, and then stepped back.
"No, Iain. I meant those 'ants'. The people out there, do you see?"
"Actually," said Iain with a frown, "I'm more concerned with the real ants. Should they have teeth? I swear one of them had actual teeth. And hair."
"Forget about the real ants, Iain," said Michael, beginning to lose his patience. "Look at that old man on the bicycle. Do you know what we call him?"
"Gary?" guessed Iain.
"No, I mean-"
"Dave?"
"No, not the indi-
"Graham?"
"NO!" shouted Michael suddenly. He glared at his new manager for a moment and then broke into a forced smile. "No, not the man himself. His kind. We call his kind 'Uncles'. They are the men you see in the bars and the bookies. The nice ones, the ones who chat and smile. Uncles. Do you know what I call them?"
Iain remained silent, not wanting to be shouted at again.
"I call them 'Dollars'. Ha ha! Every one of them is a stack of dollars. The uncles drink, they eat, they buy newspapers and they bet. They are the lubricant for the machine. And they can make us rich. Do you know how many people live in Singapore?"
Silence.
"Over five million. And football is one of the most popular sports on the island. Everywhere you go, you'll find bars and eateries screening English football, even in the small hours. We are addicted to your Premier League. We love the Serie A. We adore La Liga. We are confused by the Scottish Premier League. And yet our own league, the S League, is a barren wasteland."
"No-one watches it?" ventured Iain.
"Hardly anyone. Five years ago, we averaged 2,500 a game. Now it's as low as 2,100. Woodlands Wellington haven't finished in the top five since 2007. That's seven years of mediocrity. And yet now, for the first time, I remain convinced that one man can change our stars. I believe in the dynamism of the league. I believe that success for one club could be success for all. I want that team to be Woodlands Wellington. And I want you to lead us. You did this for Heidenheim, yes?
"Yes," said Iain too quickly. "Absolutely. That's exactly what I did."
"It must have been splendid out there in Germany. Did you meet any of the greats? Klinsmann? Mattheus? Jancker?"
"Actually, we did play against Jancker once."
"Ah, what a player he was. The dancing lamp-post. Of course, his threat was reasonably simple to negate, wasn't it? Just designate an equally powerful man-marker."
"Yeah, I thought that" muttered Iain grimly under his breath.
"I beg your pardon?"
"I said, 'he'd hate that,' Mr Chairman."
"Yes, he would. Now, back to matters in hand. I won't lie to you, it doesn't look good. If it wasn't for Niigata Unicorns and Beijing, who only pick their own national players and as such draw from a limited pool, we'd be in a lot of trouble. We're out of all the cups and there are only nine games left until the end of the season. I want you to use that time wisely, to judge the squad, to be ruthless in the winter and to build me a new team as quickly as possible. I must warn you, we have no money, there isn't much in the wage kitty and your coaches are morons."
"I beg your pardon?"
"Your coaches. They are morons. Seriously. You are aware that Jason McAteer was a coach, yes? Well he is Arsene Wenger compared to these two. They're in the changing room waiting for you, by the way."
"I should probably meet them, shouldn't I?"
"I admire your enthusiasm," said Michael, slapping him on the back.
Iain slinked out of the office and down the stairs. A lot had happened in the last 24 hours. He had been given a two year contract and a reasonable living wage. He had been moved into a better hotel in the centre of town. He had been lent the money to clean himself up and, of course, he had awoken from some strange kind of boozy chrysalis, unaware entirely of anything that had happened for the past five years. He pursed his lips. It wasn't so long ago that he'd been a lowly football writer, carving out a career from press boxes up and down the country, pausing occasionally to write effortlessly readable and engaging guides to sports. Then he'd been lured to Heidenheim and everything had gone wrong. Defeat, humiliation, an addiction to antibacterial mouthwash. But that was then. This was now.
He strode out of the stairwell and across the reception. This time he would be in control. He would make the big calls, he would be the big man. There would be nothing, NOTHING, that didn't fall under his control. He stopped walking.
"Excuse me," he called out to the receptionist. "Where are the changing rooms?"
The receptionist giggled.
"Down that corridor, Mr Macintosh. Down there and second on the right!"
Iain strode away, convincing himself that the humidity was the cause of his reddening cheeks. Down the corridor he strode, his pride growling all the way until he reached the door marked "Home". Taking a deep breath, he pushed it open and was immediately hit hard in the centre of the forehead by something small and brown. Without a word, he collapsed like a cheap tent.
"Oh no!" wailed a voice, echoing off the tiles.
"What have you done, Hatta?" screamed another.
"I've killed him!" Hatta howled in anguish. "I've killed the Ang Moh!"
Through thick clouds of pain, Iain was dimly aware of someone standing over him.
"You're right, Hatta. He's dead. What were you thinking? You must have aimed the cork directly at his soft spot!"
"I didn't want to kill him!" cried Hatta. "I only wanted to cover him in champagne!"
To read more in to what happened next in to this episode, Click Here.
All you Football Manager fanatics, watch this space for the third episode, coming tomorrow here on Bleacher Report. Till then, do share this second episode with people around you who love this game and do visit Iain Macintosh's site to know more about this episode.
This article is
What is the duplicate article?
Why is this article offensive?
Where is this article plagiarized from?
Why is this article poorly edited?