Wisconsin Badgers Football: A Brief Overview of The TCU Horned Frogs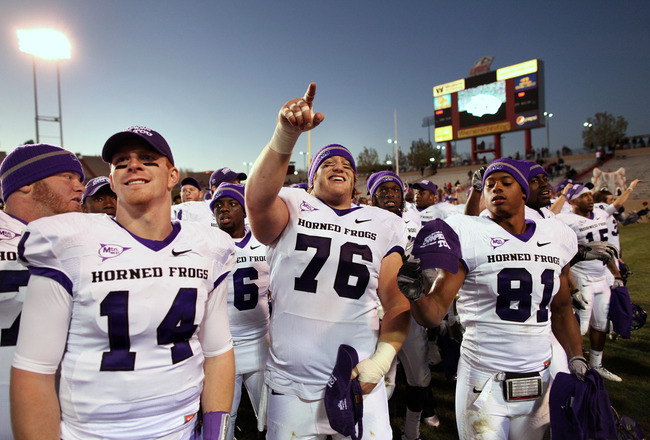 Eric Draper/Getty Images
One of the most disrespected teams to go undefeated in recent memory, the TCU Horned Frogs are (once again) out to prove it's critics wrong -- this time in the form of the Rose Bowl against the Wisconsin Badgers.
Led by highly touted quarterback Andy Dalton and head coach Gary Patterson, TCU has put themselves in the discussion as one of the most consistent non-automatic qualifying football programs in the entire nation.
With a complete football team directed by one of the most fearsome defenses in the country, there is certainly a few question marks for Bret Bielema's crew heading into action on New Year's day in Pasadena.
How will the Badgers perform in their first Rose Bowl in nearly a decade? For that, we'll just have to take a look inside the scouting report of the Horned Frogs.
Let's take a look at the high-points (and low-points) of the Badgers' next opponent.
Offense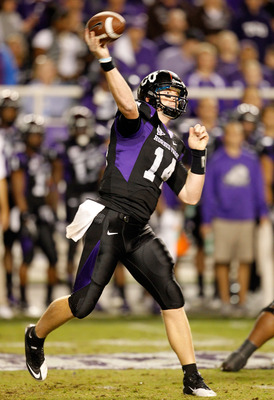 Tom Pennington/Getty Images
The statistical overview
Pass yards per game: 230.3
Rushing yards per game: 261.2
Points per game: 43.3
Keys to limitation
TCU's offensive game plan begins and ends on the consistent arm of Andy Dalton, who this year threw for 2,638 yards to go with a 167.02 passer rating.
The Badgers must key on the Horned Frogs' need to pass the football, for it will have major impact on the outcome of the game.
Sophomore running back Ed Wesley is also a threat to "hit the home run", rushing for 1,065 yards and 11 touchdowns in 2010 alone. TCU also manages to attain running back Matthew Tucker and Waymon James, who combined to rack up 1,183 yards and another 12 touchdowns on the ground. A very potent rushing game, indeed.
The Horned Frogs are currently ranked ninth in the country in yards per game, averaging an impressive 491.50 yards of total offense each and every contest.
Gary Patterson's crew attains only wide receiver with over 600 yards on the season (Josh Boyce with 602), and the Badgers' defensive backs will key on that fact.
However Andy Dalton has managed to distribute the ball to a multitude of different receivers, with four of which having at least 390 yards on the season.
Dalton has proved to favor WR Jeremy Kerley in the red-zone this season, with a team-high 10 touchdown receptions this year alone.
Defense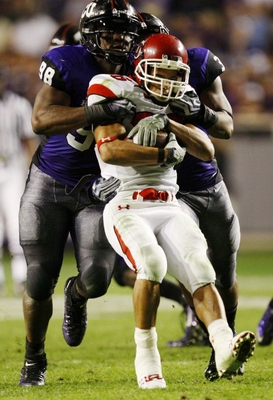 Ronald Martinez/Getty Images
Statistical Overview
Yards per game allowed: 215.42
Points per game allowed: 11.4
Team scoring defense: 1st in BCS
Keys to limitation
Gary Patterson's well-groomed, pro-style attacking defense is one of the most respected, well reguarded programs in the entire nation -- and will have significant effect on Bret Bielema's offensive attack.
The Horned Frogs have forced 11 interceptions this season, to go with 10 fumble recoveries. Clearly, Patterson's defense is well-coached.
Nevertheless, the Badgers are planing to run the ball -- and the Horned Frogs already know that fact. It's ultimately a matter of will and might to see who dominates who.
TCU owns the nation's 3rd-best rushing defense, allowing just 89.17 yards per game. Wisconsin -- led by the three-headed monster of John Clay, Montee Ball, and James White -- averages 247.7 yards per game on the ground. Something's got to give.
By the time January 1st roles around, Wisconsin junior running back phenom John Clay will be healthy and ready to roll against TCU.
Above all, the 2011 Rose Bowl game will come down to the match-up between Wisconsin's rushing attack, against TCU's number three ranked rushing defense.
Should be one of the premier bouts in any of this year's BCS games.
Special Teams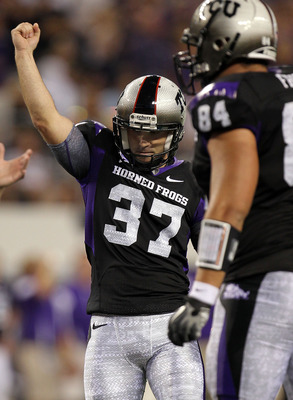 Ronald Martinez/Getty Images
Statistical Overview
FG%: 84.6%
Net punting: 36.79 yards/kick
Kickoff returns: 26.68 yards/return
Punt returns: 14.81 yards/return
Keys to limitation
The Horned Frogs even manage to crack the top-ten in several special-teams categories in 2010, most noticeably their team kickoff returns (26.68), which ranks 5th-best in the country.
TCU Junior kicker Ross Evans (left) has only attempted 13 field goals the entire season, knocking down 11 of them. Evans has also managed to post a solid extra-point percentage of 92.9% in 2010.
Evans' presence and contributions have been overlooked by many, especially in TCU's close encounter with that of San Diego State.The game was also evidently the only contest in 2010 in which the Horned Frogs were victorious by ten points or less.
The final score was 40-35, with Evans hitting two crucial field goals making all the difference for TCU's hopes of staying undefeated.
Although special-teams play may seem inconsequential to the Badgers' hopes of a Rose Bowl title, the need to limit Ross Evans and TCU is considerably relevant.
Gary Patterson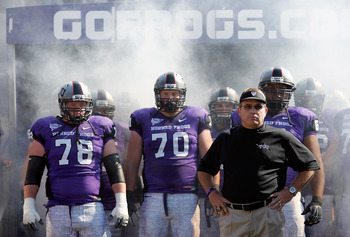 Tom Pennington/Getty Images
Statistical Overview
Career Record: 97-28, .776 winning %
Bowl Record: 9 Bowls, 5-4 record
Schools Coached: TCU
Keys to limitation
In the last three seasons, Gary Patterson has managed to put Texas Christian University on the college football map. In fact, TCU has gone 35-3, including an appearance in the Tostitos Fiesta Bowl last season.
He has managed to coach and develop three Consensus All-America Selections in his tenure with TCU (Nick Browne, Jerry Hughes, and LaDanian Tomlinson), and will continue to recuite five-star players heading into the Horned Frogs' 2012 move to the Big East Conference.
Patterson has twice been the Mountain West Conference coach of the year (2005, 2009), and the AP coach of the year once in his career (2009).
With that being said, Patterson's players know what is at stake coming into this year's Rose Bowl against Bret Bielema and the Badgers; and rest assured they will play their hearts out.
Look for Patterson's coaching staff to call deep to intermediate passing plays consistently throughout the game, as their confidence in quarterback Andy Dalton is extremely high.
Conclusion and Prediction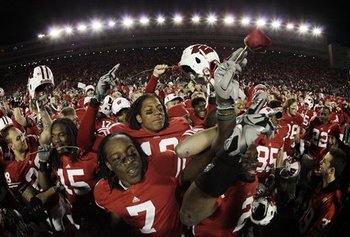 Whatever the outcome of this game, both teams have to have a serious sense of confidence, and achievement moving forward into their respective 2011 seasons.
With two heavily matched teams going mano a mano, there is sure to be an ample amount of excitement, and should make for great television, nonetheless.
Comparing the numbers of both teams only further tightens the overall contrast between both Wisconsin, and TCU.
Andy Dalton is an amazing talent, and will have a big game against the Badgers on new year's day. In addition, TCU's running back corps should also get their fair share of carries, more than likely leading TCU to a stellar performance against Wisconsin.
However, if you look at the opponents Bucky has had to defeat in order to get to this position, you will better understand the magnitude of opportunity for Bret Bielema's crew in the Rose Bowl.
The Badgers have been here before, and have won. TCU has not, however.
Along with the experience factor, this Badgers team is on a proverbial mission this season. That is the difference in this game.
Wisconsin goes bowling in a big way, setting up another big season in 2011.
Prediction: TCU 34, Wisconsin 37
Keep Reading

Wisconsin Badgers Football: Like this team?