Blockbuster Trade Live Blog: Padres, Red Sox Could Be Close to a Big Trade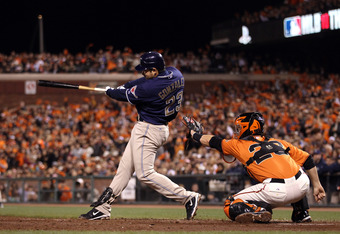 Ezra Shaw/Getty Images
With the winter meetings just a few days away, the San Diego Padres and Boston Red Sox are apparently not waiting to get their trade talks going.
According to ESPN's Buster Olney, via Twitter, the Red Sox and Padres are apparently in trade talks that would send not only closer Heath Bell to Boston but also All-Star first baseman Adrian Gonzalez. There's no indication on what the Padres would require in return, but if Boston wants two all-stars, they're going to have to put up a good package to get the deal done.
There are names that are going to be thrown around, and we'll keep you updated as we get more news on this deal.
This isn't the first time these two teams have talked about Gonzalez. They were deep in trade talks this time last year but couldn't come to an agreement.
However, with Gonzalez, due to test free agency at the end of the 2011 season, the Padres are going to try and get what they can for him now.
I don't blame them one bit. They can't afford to re-sign him to the kind of money he's going to require, so why not get what you can when his value is at its highest point.
Again, we'll keep this updated as much as possible and get you every update we can as the news comes in.
The Adrian Gonzalez is "very close" according to Dan Hayes of the North County Times. Still no indication of the players involved but we could know shortly.
This is outside the trade rumors but could come into play if Heath Bell is traded. ESPN's Buster Olney believes the Padres could bring former closer Trevor Hoffman back to San Diego.
Though, it seems it could be for nothing more than a public relations move.
Jorge Arangure from ESPN the Magazine hits the Adrian Gonzalez trade talks right on the head with this tweet.
"Gonzalez trade will make or break Padres franchise for years to come. Big decision for Jed Hoyer."
Dan Hayes of the San Diego North County Times has his story up on the Gonzalez trade talks.
There may not be much going on tonight but we'll keep it updated throughout the day tomorrow and break any news that comes up.
Forgot to mention that Ken Rosenthal mentions the Rangers, Blue Jays, Orioles, Nationals and Rays also interested in the All-Star first baseman.
Dan Hayes of the North County Times basically confirms with SI.com's Jon Heyman and Fox Sports' Ken Rosenthal have said most of the night.
Trade talks for Adrian Gonzalez have been with the Cubs and Red Sox.
Ken Rosenthal of Fox Sports has a full story up on the Adrian Gonzalez sweepstakes.
He says multiple teams are in on trade talks but the Padres have not decided for sure to trade their first baseman away.
The Red Sox seem to be the lead candidate, but watch for the Chicago Cubs to get involved.
Jon Heyman updates again, reporting that the Padres are in very serious talks about trading Adrian Gonzalez but says while Boston could be the favorites, the Cubs are also said to be interested as well.
Another update, this time from SI.com's Jon Heyman. If Adrian Gonzalez is traded by San Diego, he's hoping it is to Boston because of their ability to win and be able to sign him long term after next season
Couple of updates that are coming in via Twitter, so let's get to them.
First, Ken Rosenthal of Fox Sports is reporting that the Red Sox aren't the only ones that are in on Adrian Gonzalez.
Next, Dan Hayes of the North County Times says the only thing he's heard on the Adrian Gonzalez rumors is the Padres would get top minor league talent in return.
Top minor league talent? If that's all they're getting in return, Boston is about to get away with All-Star theft.
As I said in the opening, there's no indication what players will be involved.
However, there was talk that the Red Sox were wanting to unload Jonathan Papelbon if they had landed Mariano Rivera. That would lead me to believe that, if Heath Bell is involved, they might want ti still unload the young closer.
Another name that has been mentioned by Padre fans is Jacoby Ellsbury.
This article is
What is the duplicate article?
Why is this article offensive?
Where is this article plagiarized from?
Why is this article poorly edited?

San Diego Padres: Like this team?