Iowa Football: What Went Wrong and Can Anything Be Done to Fix It? Part 3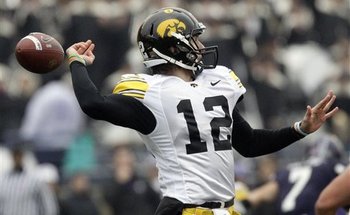 Kirk Ferentz's philosophy can and does work, but it hinges on three things:
Firstly, a stout defense that forces turnovers, is all but impenetrable in the red zone and under no circumstances lets up big plays.
Secondly, an offense that takes advantage of short fields, doesn't have backwards plays and under no circumstances turns the ball over.
Finally, extremely strong special teams that don't leave points on the field and essentially fortify the field position game that the offense and defense are intent on winning.
The defense depends on the offense to not put it in bad situations. The offense depends on the defense to give them short fields. Both squads depend on the special teams for the same reasons.
If one of those tenets of the system is off, the entire system is going to be off.
It's easy to blame the problems that the Iowa Hawkeyes have on an under-producing offense, but you have to consider the entire team dynamic. Ferentz will occasionally sacrifice points to make sure his defense isn't put on a short field.
The numbers the defense has put up over the past 10 years probably would not have been as impressive if the offense had been more aggressive.
Some people have problems with that philosophy. I respect their viewpoint, but I don't think I can convince those people otherwise, so I won't try.
In effect, any comments or criticisms I have of Ferentz will be strictly within the realm of the system he does run, as opposed to a system he will never run.
Special Teams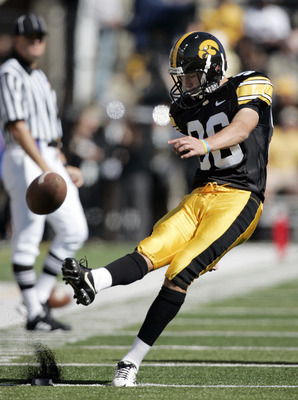 We've been over the offense and defense, but consider the Iowa special teams. The glory years of 2001-2004 were built on strong special teams. On the other hand, Hawkeye special teams really haven't been so special since 2005.
They haven't been bad, but they have been mediocre. Mediocre special teams are not good enough for a Ferentz-coached Iowa team to be successful (depending, of course, upon your measure of success). Consider the equation I mentioned on the first slide. There is no mention of "mediocre special teams." The special teams have to be exceptional.
If they're not, Ferentz-coached teams—or any conservative-minded team without exceptional talent—will probably regularly lose by a field goal or so, unless it's an anomalous year like 2002 where the offense is littered with future NFL players, all of whom are in their junior or senior year.
Remember that statistic in the second part of this series? Iowa needs about 28 points to win with acceptable regularity. Over the last five years, the offense has averaged 24.98 points per game. Over the first five years of the decade, the Hawks averaged 30.81 points per game.
The 2001-2005 teams went 6-4 in games decided by three points or less. 2006-2010 has gone 5-11, and four of those wins were in one somewhat fluky and magical year (2009).
Here is something else that Iowa has been missing since 2005: a field goal kicking game that made over 80 percent of its field goals. Iowa's kickers made over 80 percent of their field goals every season between 2002-2005.
Couple that with what has generally been mediocre kick and punt coverage and return units over the past five years, and the Hawks are leaving points on the field, as well as giving up field position.
In effect, I will say once again, Ferentz-coached teams absolutely cannot afford to do that. They cannot afford to have anything less than exceptional special teams play.
That is something that was glaring this season, but it is something that has been missing for a while.
Strength and Conditioning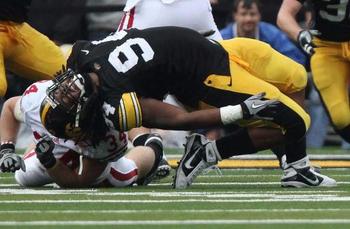 Some have pointed to strength and conditioning as the problem this year.
They have pointed to Iowa's fourth-quarter defensive meltdowns. Even more specifically, they pointed to the unarguable fact that the defensive line was absolutely gassed on Northwestern's second fourth quarter touchdown drive.
Personally, I don't buy it. As with the defense, there is 10 years worth of evidence to prove the contrary.
Yes, Iowa had multiple fourth quarter meltdowns this season. Yes, the defensive line was gassed against Northwestern. Of course, that followed NU drives of 11 and then 13 plays, in between which Iowa's offense held possession of the ball for all of two minutes.
In the end, strength and conditioning coach Chris Doyle has been with Ferentz since he became head coach, and Doyle's record is virtually unimpeachable.
He has developed 230-pound tight ends into 310-pound All-American linemen. He has helped turn multiple walk-on safeties into career NFLers. He turned a high school swimmer into a 280-pound Big Ten defensive tackle.
Iowa has always played without many substitutions, and they've almost always flourished.
In short, Doyle has more than proven his worth. That doesn't make him and his program above complacency, but until a lot more contrary evidence comes in, count me as decidedly pro-Doyle.
Expectations, Emotional Highs and Subsequent Crashes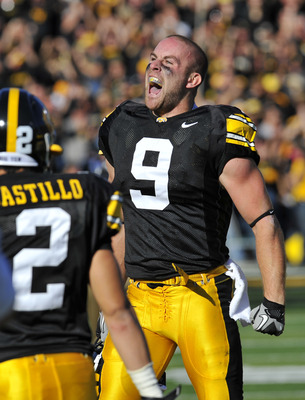 David Purdy/Getty Images
Another regular argument I have heard is that Ferentz is stoic, aloof, unemotional and encourages, even demands, the same from his team. In other words, he acts more like an NFL coach than a college football coach.
In this respect, it is difficult for me to comment, as I don't know what Ferentz is like behind closed doors.
I will say that the advantage to this sort of approach should be a degree of consistency. Iowa should be without the high highs and low lows of a team that is led by a much more emotional coach. Yet, this season definitely had its peaks and troughs.
More notably, anybody that attended the Northwestern or Minnesota games must have noticed one thing missing from this team:
They weren't having fun.
Did Ferentz crumble under the weight of increased expectations and did that transfer to his team? Because despite what Ferentz may say to the contrary, he expected big things from the 2010 team.
Senior Leadership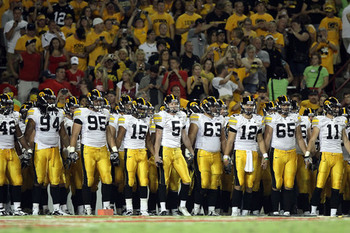 Was the largest class in Ferentz's tenure short in senior leadership? Maybe there were just too many seniors?
I don't know, but again, I have some trouble buying it.
After all, Ricky Stanzi has been the leader of this offense since last season. It's not as though he's all of a sudden going to relinquish that.
And yes, last year's defensive leader—Pat Angerer—has moved on. I just find it hard to believe that between Adrian Clayborn, Christian Ballard, Karl Klug, Jeremiah Hunter and Brett Greenwood, nobody stepped up.
Think about what they've been through together.
The fifth-year seniors were in Iowa City during the "fat cats" season of 2006. All of the seniors were in I.C. when the Hawks lost to Western Michigan to end the 2007 season.
They went through the resurgence of 2008, and the roller coaster ride of 2009. They know what it's like to get dirt kicked in their faces and they know what it takes to win.
Ultimately, this is a behind-the-scenes thing about which I couldn't comment with any certainty. However, you would have a hard time convincing me that nobody in this group stepped up.
Adjustments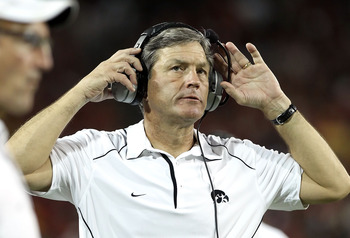 Christian Petersen/Getty Images
In this respect, I have a big problem with the way Ferentz coached this season.
Early in this season, I felt like this team sort of resembled the 2005 squad.
That year, unlike this year, I think a lot of the expectations that surrounded the program were a bit unrealistic.
However, this much was certain and akin to 2005: The offense was strong enough to carry the defense. Ferentz refused to recognize that and alter his game plan to allow that to happen.
Again, I go back to the OCD I mentioned earlier. Whether I am right or not, Ferentz does have the tendency to be inflexible, and that has cost his team some wins.
I understand that Ferentz has his overall philosophy, of which I consider myself an adherent. Nevertheless, he has to be able to look at his personnel and adjust accordingly.
In effect, if the defense doesn't look to be able to get it done but the offense is able to generate points, then yes, Ferentz simply has to be more aggressive when the situation calls for it.
If he refuses to do that, then it is probable that Iowa could continue to make a lot of future games closer than need be. Moreover, close games are often decided by a lucky bounce or a bad call.
In short, win by two scores and a lucky bounce is not going be the arbiter of your fate.
Conclusion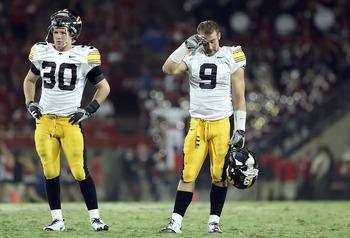 Christian Petersen/Getty Images
I expect my final synopsis as to what is wrong with the Hawks and what needs to be fixed will not be enough for the more radical Iowa fans.
Nevertheless, as I said earlier, Ferentz has a system and that system is not going to change. If people want something else, then I suggest they switch their allegiance to Oregon or TCU, Their other option would be to hibernate until what they must consider to be the Kirk Ferentz nightmare is over.
That said, my opinion is that the following must be corrected to point the program in the right direction and to avoid repeating 2010 (in order of priority):
1. The special teams have to be cleaned up. I don't know if this means firing somebody, specifically designating a full-time special teams coach, or simply readjusting the way the team prepares. However, a Ferentz-coached team without exceptional special teams will never consistently be an exceptional team.
2. Norm Parker should not be a member of the Iowa coaching staff in 2011. Furthermore, if he is gone, Ferentz has to seriously consider whether it is in the program's best interest to promote from within or hire from outside.
3. With Parker gone, Iowa would have a positional coach position open up (Parker doesn't handle positional duties as he used to, while an incoming defensive coordinator probably would). Should they dedicate that position to the quarterback? Special teams?
4. Ken O'Keefe and the offense have got to figure out a way to handle situational playcalling better. I don't know how they should do that, but there has to be a commitment to improve significantly.
5. Ferentz has to reassess how he handles players, playcalling and in-game adjustments. His inflexibility, in my opinion, has become an impediment to his and his program's success.
6. Iowa needs contingency plans in every area of the game. This goes along with No. 5, but too often, Iowa does not work with what they have, preferring to try to force a square peg into a round hole. I think that was the biggest issue with the defense this year, and has often been the problem with the offense in past years.
What Went Wrong and Can Anything Be Done to Fix It, Part One
What Went Wrong and Can Anything Be Done to Fix It, Part Two
Keep Reading

Iowa Hawkeyes Football: Like this team?