The Hottest Action Shots from the Lingerie Football League
Lingerie Football League is an addicting sport for obvious reasons.
Not only do we get to watch football played, we also get to enjoy half-naked women in lingerie running around while playing the game.
There are plenty of hottie calendars and photo shoots of these sexy ladies wearing lingerie.
But action shots are even better. Just to warn you, these women are pulling, tugging, pushing and bending over all around the football field.
So let's get started. Here are the hottest Lingerie Football League action photos.
Begin Slideshow

»
Filling out the rosters of the 10 teams in the league isn't that easy.
It's always a tough thing to evaluate both beauty and talent.
There needs to be some serious scouting involved.
These ladies can't just be hot.
They also need to know how to play the game.
Most importantly, these ladies need to know how to play as part of a team.
Don't you just love being a part of this huddle?
Meet Angelica Bridges, former Baywatch hottie and wife of NHLer Sheldon Souray.
Even she has love for running with the rock.
There are two conferences in this league, five teams each.
From the Western Conference are the Chicago Bliss, Los Angeles Temptation, San Diego Seduction, Dallas Desire and Seattle Mist.
Playing out of the Eastern Conference are the Tampa Breeze, Philadelphia Passion, Miami Caliente, Baltimore Charm and Orlando Fantasy.
In case you were wondering:
No, they don't always practice in lingerie.
But tight clothing is still a suitable alternative.
She needs to practice her snapping skills.
Anyone want to volunteer?
And this blonde beauty needs someone to throw to.
I'm not too sure about that throwing motion.
But that outfit looks great.
Alright, enough practice.
It's time for some action shots during real games.
Let's begin!
Just because these are ladies wearing underwear doesn't mean they don't tackle.
There's proof right here.
Look at that sense of determination in this running back's eyes.
Three pink defenders can't stop her.
That's right. She ran right by all of them.
No wonder she's so happy. Hey, where did the ball go?
Oh yes, in this league:
No-huddle offenses are frowned upon.
Well, look at that.
That's a whole lot of people in the audience.
And who thought no one would come watch girls playing football.
Ooh. Whoa.
Those are some wicked pink blockers digging in hard.
They can block for me anytime.
Psst. Miss quarterback.
If you need a hand, I'm right over here.
Speaking of quarterbacks, this Philadelphia Passion quarterback is looking quite sexy from this angle.
Of course, I like women petite, and she's looking pretty tiny compared to her bigger pass protectors.
Here we are on the Miami sidelines.
Don't you just love the way the blonde is all fired up. That's sexy!
Ooh. Maybe that's why the sideline was fired up.
Her teammate just got laid out.
That's right, protect the ball.
Keep it as far away from the defender as possible and go ahead and don't be afraid to give her a stiff arm.
Hello, No. 13, looking good on the sidelines over there.
Nice work. Big gains.
Well done.
Now for Chicago's turn on offense.
Ah, yes. What a great-looking handoff.
Well executed.
She must have taken that handoff pretty far.
Now she's posing for the cameras.
There's my favorite sideline cheerleader once again, No. 13.
What a good showing of sportsmanship here at the end of the game.
Here's the highlight of the game.
Talk about effort, this Miami defender couldn't take down this Chicago player, but she still tries to grab on to her undies in order to slow her down.
Check out this Los Angeles defender giving chase.
Nice, strong pressure.
Intense.
That's a great way to describe this player.
Nice pigtails.
Here's a rear-view look of the Philadelphia offense.
Man, it must be tough to referee these games.
What do we have here?
She's running into a wall of defenders.
That's going to be one painful collision. Poor girl.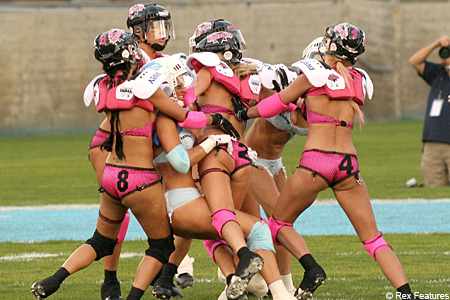 Oh, what's this?
There's just a lot of half-naked bodies flying around.
This is what you watch the game for; at least, that's what I watch it for.
This one is a favorite.
If you can't stop her, jump on her!
Check out No. 12 get some big air.
That's maximum effort right there.
They call this team the Los Angeles Temptation.
No explanation needed.
Poor thing, she's on her way to getting gang-tackled.
One defender takes her from the bottom, the other from the top.
Hm, that's kind of sexy.
Ooh, this one here is called the booby grab.
That's not tackling!
And this one is the booty grab.
Look out, she looks angry.
Sometimes, these players are easy to appreciate when they are just standing around.
Don't you think?
So what does it take to be a camera man in this league?
I wonder if they're still taking applications.
I've mentioned this before. But it never gets old.
I love huddles.
This here is one bruised-up runner.
Check out those boobs. Those are battle wounds.
Every now and then, wedgies do occur.
It's alright, go ahead and adjust. No one minds.
What's better than huddles?
Watching a quarterback take the snap from the rear.
Great looking goal-line drive right here.
Check out No. 4 and her crazy abs.
In this football league, we get to see girls on top of one another quite often.
Meet the San Diego Seduction.
They love to have fun.
Nice stance.
I wonder if she can actually pass rush.
Just a warning, we're only going to be doing booty shots from now on.
This is No. 18 of the Seduction; she just made this Dallas defender cry.
Dallas must be worried.
Their panties are getting all bunched up.
Check out this team's form.
They're surely intimidating.
Meet No. 4.
Like me, she likes huddles.
She gets to chat with No. 6, and they can talk about their plan.
And she's the center.
She's definitely blessed with one of the best rear ends in the squad.
Hope you enjoyed meeting the key San Diego players and seeing some of the best action shots from the Lingerie Football League.