Kansas Jayhawks vs. UCLA Bruins: Player Breakdowns and Analysis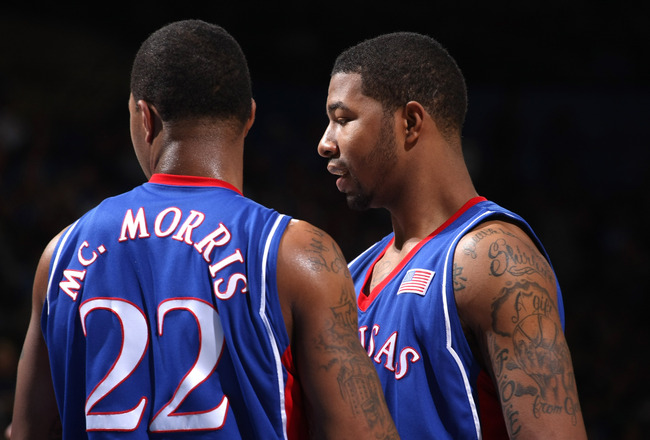 Stephen Dunn/Getty Images
The Kansas Jayhawks play their annual game in the Big 12/Pac 10 Hardwood Challenge this Thursday.
In this edition of the series, KU welcomes the UCLA Bruins to Allen Fieldhouse for a rematch of last year's contest at Pauley Pavilion. Though the faces are different for Kansas this season, based on ranking, talent and experience, most expect a similar result.
Though UCLA boasts a starting five heavy on high school All-Americans, the Bruins are very young and have struggled recently, losing their last two games. Still, they have enough size and athletes to be easily considered as KU's toughest home test to date.
That said, expect nothing different than the norm, as Kansas extends the nation's longest home court win streak with a win over UCLA on Thursday night.
Following are player breakdowns and analysis of Thursday's matchup between the Jayhawks and Bruins.
Starting Backcourts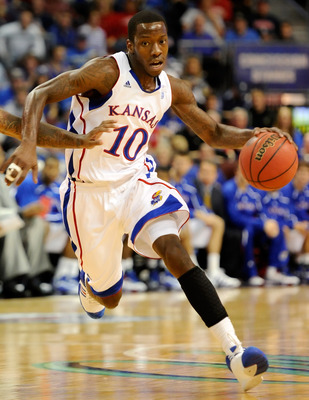 Ethan Miller/Getty Images
UCLA
6'0'' G Lazeric Jones is a first-year junior college transfer who is the first such player to suit up for the Bruins since the 1986-87 season. Though he doesn't do all of the ball-handling, Jones looks like the closest thing to the team's PG this season. He's been impressive thus far in 2010, averaging 12.8 points and four assists per game while shooting solid percentages from the field and three-point range. Jones has emerged as the leader of UCLA's backcourt just several games into his Division I career, and is a very solid and surprising player for coach Ben Howland.

In junior G Malcolm Lee, Coach Howland has a player who's been on the NBA radar screen for years. He's underachieved since arriving at UCLA, though, and is very inconsistent. He's got great size for a playmaker at 6'4'' and is very athletic, but is a middling shooter who utilizes poor shot selection. Lee averages just under 12 points a game this season but is shooting just 41.7 percent from the field. Still, he's a handful for any backcourt to deal with at both ends of the floor.
KU
Junior G Tyshawn Taylor has been a popular whipping boy for Kansas fans since a poor sophomore season and a couple off-the-floor incidents but has had a great start to the 2010-11 season. A great athlete, he's dramatically improved his shot selection this year and shown a newfound ability to make plays for others under control. He does most of the ball-handling for KU, is best suited playing on the ball and is a potential game-changing player on defense.
Coach Bill Self is known for valuing experience and fundamental play, and he gets it from senior sharpshooter Tyrel Reed. Though he's struggled with his shot from deep early this year, Reed is clearly an elite spot-up option, and has even demonstrated a knack to finish in the paint in 2010. He's a strong on-ball defender as well and presents a steadying influence on both ends of the floor for KU.
Brady Morningstar, the third "small" in Self's backcourt, creates more heated arguments and discussions among KU faithful than any player in recent memory. A senior, he's been a staple of the rotation for years despite his limited numbers in the box score. Morningstar is a great ball-mover and sometimes playmaker on offense and is capable of hitting open three-pointers. He's a consistent pest defensively, though is sometimes hurt by his lack of size.
Analysis
The matchup between Lee and Taylor should be a good one, as the two are clearly NBA athletes who need to hone their skill levels before jumping to the next level. Their college careers mirror one another in many ways, though Taylor has clearly gotten off to a better start than Lee this year.
Jones and Reed are fairly similar players, spark plugs who bring a lot of energy. Though Jones has put up better numbers, one wonders how well Reed would do if he had similar freedom and was as aggressive offensively.
Morningstar, clearly a guard, should have his hands full defending UCLA F Tyler Honeycutt. He'll be giving up several inches and loads of athleticism to Honeycutt, and his minutes could suffer in this game as a result.
Starting Frontcourts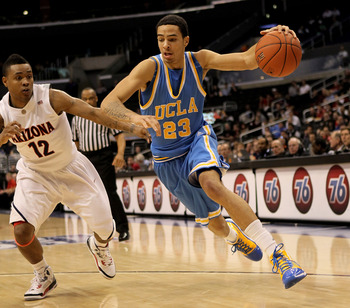 Stephen Dunn/Getty Images
UCLA
In F Tyler Honeycutt, UCLA has a player who few in the nation can match up with. At 6'8'', he is a very smooth and very versatile wing, capable of knocking down threes and being an influential offensive rebounder. Though Honeycutt must tighten his handle, he has a quick first step and length to make up for his relatively sloppy skills in that area. He averages 14.6 points and eight rebounds per game in 2010, though he's been very turnover-prone, posting an astonishing 4.8 per contest.
Defensively, Honeycutt can wreak havoc. With his length and quickness, he is an outstanding rebounder and very disruptive blocking shots and deflecting passes. To put it bluntly, there just aren't many players in the country like him playing the wing, and not even the deep and talented Jayhawks have one.
Sophomore F Reeves Nelson is in many ways the antithesis of Honeycutt. He's undersized for the 4 at 6'7'', though is very burly and has relentless energy. He was awesome against Kansas in a reserve role last year and has carried that over to this season as he's emerged as the Bruins' best player. Nelson is one of the few players in the country averaging a double-double this year at 17.6 points and 10.4 rebounds, and is shooting an exceptional 62 percent from the field. Though his skill level hasn't quite caught up to his energy and enthusiasm, Nelson is clearly a candidate for postseason All-League honors.
Freshman C Josh Smith is a 5-star recruit and one of the biggest players in college basketball, standing 6'10'' and weighing 305 pounds. Though conditioning is obviously an issue for him, Smith has better touch and feel in the paint than one might imagine. He's playing just over 16 minutes per game this season but is still getting 7.4 points and 3.4 rebounds a contest. Smith's mere presence is effective on defense, though he's been very, very foul-prone, having amassed four fouls in every game this season.
KU
Marcus Morris is coming off his most successful week as a Jayhawk, one that saw him lead his team to a tournament title, win all-tournament honors and be named Big 12 player of the week. At 6'8'', he's fluid, strong and multifaceted on both ends of the floor. He's had a fantastic start to 2010, averaging 19 points and 6.3 rebounds per game while shooting a scintillating 67.7 percent from the floor. Morris is capable of beating you with his back to the basket, from deep or driving and converting at the rim. Quite simply, he's one of the nation's best players, and soon will be recognized universally as so.
KU's other twin, Markieff Morris, is certainly no slouch himself. A shade taller and heavier than Marcus, Morris is much closer to a traditional big man than his brother. He blocks shots, rebounds at a very high clip and scores easily with deft touch and strong finishes around the basket. Still, he too is very comfortable shooting from the outside. While Markieff doesn't receive the attention his brother does, he is easily one of the best big men in the Big 12 and is arguably the Jayhawks' second-best player.
Analysis
The matchups here are truly fascinating.
Obviously, Honeycutt presents a mismatch at both ends of the floor for Kansas. Morningstar is just too small to guard him, and he has the defensive ability to bother KU's starting wings while playing defense.
Marcus Morris is capable of guarding Honeycutt, though it remains to be seen just how comfortable Coach Self is with playing him on the perimeter offensively. In all likelihood, he'll stay in the post and defend Nelson and his peers in the paint.
Defending Honeycutt is where KU's deep bench will come into play.
Watching Nelson and the Morris Brothers battle all night in the paint will be great, as all three players play with unbridled energy and somewhat of a chip on their shoulder. Don't be surprised if there are more than a few elbows and shoves among them.
Smith is clearly an advantage for the Bruins on offense but is perhaps an even bigger hindrance at the other end. He just doesn't have the foot speed to contain Markieff offensively and doesn't want to leave the paint on either end of the floor. Even if he somehow manages to stay foul-free, his minutes could be limited.
Benches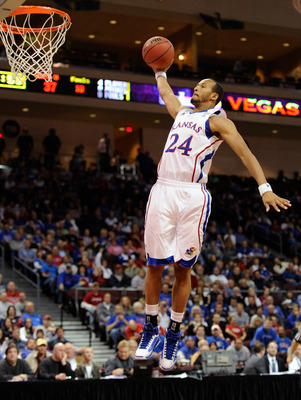 Ethan Miller/Getty Images
UCLA
The Bruins play an eight-man rotation, bringing F Brendan Lane and Gs Jerime Anderson and Tyler Lamb off the bench for consistent minutes.
Lane plays the most off the pine, playing nearly 25 minutes a game in large part due to the foul and conditioning issues of Smith. He's long and skinny at 6'9'', 208, and averages a modest 5.6 points and five rebounds per contest. Lane will have to toughen up against the Morris brothers, though, as they have underrated strength and a confident demeanor.
Lamb, a freshman, is next in line. He plays 20 minutes a night for Coach Howland, though he's been absolutely dismal on offense this season. Lamb shoots just 29 percent from the floor and 40 percent from the free-throw line. Clearly, he's brought in for his defense.
In need of ball-handling, Howland looks to Anderson. Like Lamb, he's struggled with his shot but is averaging 2.5 assists and nearly two steals a game in just 15.4 minutes.
KU
Coach Self usually plays nine consistent minutes, though he's yet to parse down his bench rotations this early in the season. Still, undoubtedly influential to the game's outcome will be G Travis Releford and F Thomas Robinson, KU's two best performers in the last game against Arizona.
Releford is 6'5'' and a very gifted athlete, possessing quick feet, long arms and great jumping ability. He thrives on the break and driving to the basket offensively, though he has shown to be an adept three-point shooter off kick-out passes. Still, his value to this matchup will be felt defensively, as he could get many more minutes with the presence of Honeycutt. Releford is very active on defense and is the type of long and pesky athlete who could give the 6'8'' Honeycutt fits.
The Jayhawks bring a similar player to UCLA's Reeves off the bench in Robinson, an undersized 4 who plays with relentless enthusiasm. An exceptional athlete with elite leaping ability and quickness, Robinson is developing on both ends of the floor and is a fantastic option off the bench for KU.
Sophomore Elijah Johnson will also be counted on, though his on-floor influence hasn't been felt as much this season as Releford's or Robinson's. Still, he plays like a true PG and has great athleticism but must make better decisions.
Analysis
Due to matchups and foul trouble, the two most influential bench players could be Lane and Releford. The former plays starter's minutes for UCLA, while the other offers length and defense that KU's starting "smalls" don't.
Whether or not Lane and Releford live up to that won't change that the Jayhawks boast a huge advantage here over the Bruins. Kansas boasts incredible depth and several players who would challenge for a starting spot at UCLA.
If the outcome is close and KU pulls out a narrow victory, expect the bench to play a major part.
Keep Reading

Kansas Jayhawks Basketball: Like this team?