MLB Rumors: 10 Shortstops Who Could Replace Yankees Icon Derek Jeter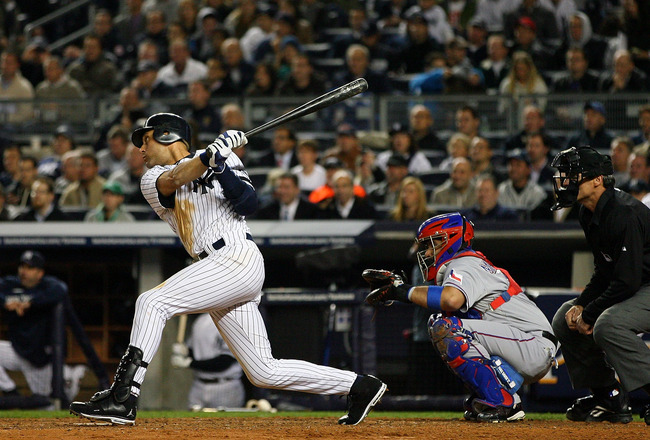 Andrew Burton/Getty Images
For the first time in his career, Derek Jeter is a free agent.
Jeter's ten year 189 million dollar contract is up, and while just weeks ago it seemed impossible that Jeter would sign anywhere else, negotiations between Jeter and the Yankees have turned ugly.
Jeter wants five or six years, and 120+ million dollars. He wants to be paid like Alex Rodriguez, and a Yankees into his early 40s. The Yankees have offered him three years, 45 million dollars. An overpayment for a 36 year old declining shortstop, but not what the captain is looking for.
Let's face it. Jeter is probably going to sign for a little over the 3/45 the Yankees offered him. He can't get more elsewhere, and the Yankees will give him a bit of a bump so that he can save face.
But what if talks really break down? What if Jeter ends up in Los Angeles, or Boston? The Yankees will have to find a replacement. Here are ten options, ranging from high unlikely to extremely obvious.
Eduardo Nunez, New York Yankees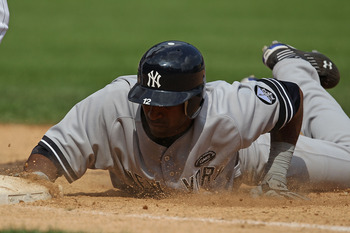 Jonathan Daniel/Getty Images
If Derek Jeter leaves, there's a pretty good chance Eduardo Nunez is your starting shortstop heading into spring training. Not good.
Nunez has been in the Yankees system for quite a few years, and followed up a breakout 2009 with a solid 2010 season in AAA and the big leagues.
Nunez's brings a solid batting average to the table. He doesn't strikeout too frequently, and he can steal bases pretty well. That's where the positives end though.
He might be a better defender than Derek Jeter, but that's not saying much. His glove is average at best, well bellow average at worst. He has no power and he can't take a walk.
Still, the Yankees seem to like him. They've been hesitant to move him in the past, and while I think he fits better as a utility player, they might see him as the future at the position.
Marco Scutaro, Boston Red Sox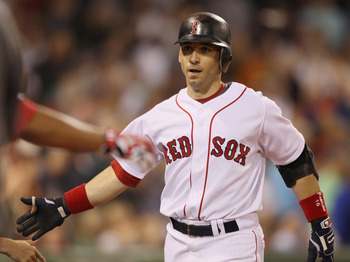 Elsa/Getty Images
Would the Red Sox really trade their starting shortstop to New York? Maybe.
If Derek Jeter signs elsewhere, the Yankees could very well be desperate to fill the position with an experienced player. While Scutaro is no superstar, he's a solid option, and the Red Sox seem willing to trade him and give Jed Lowrie another chance as an everyday player.
The Yankees have a strong farm system, and the Red Sox might be willing to move Scutaro for prospects. If that's the case, he'd be a legitimate option to replace Jeter.
Hanley Ramirez, Florida Marlins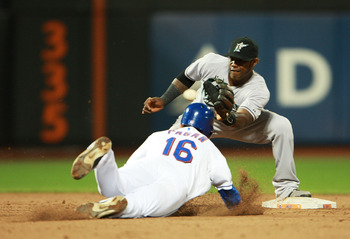 Andrew Burton/Getty Images
File this one under the long shot category, but the Yankees need a long term solution at the position, and there's no better shortstop in the league than Hanley Ramirez.
While the Marlins are likely gearing up to compete at the moment, the National League East is a tough division. The Marlins could easily find themselves out of things mid season, and we know they're willing to sell of their Major League pieces to try and compete in the future.
There are many reasons why Florida would not trade Ramirez. He's still pretty young, as he's yet to turn 27, and he's under contract for the next four seasons. He's also among the ten best players in baseball, and the Marlins are a competitive team right now.
But should the Marlins have a tough season, they might consider moving Ramirez for a boatload of prospects sometime next off-season, with Ramirez one year older and one year closer to Free Agency.
This probably isn't a solution in 2011, but come 2012, Ramirez could put a package together with stud rookie Jesus Montero, and several of their top minor league arms, to try and land Ramirez and solidify this position long term.
Jose Reyes, New York Mets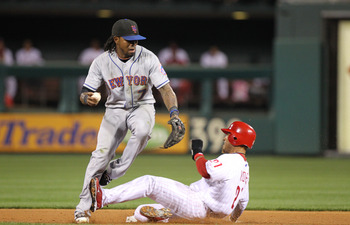 Hunter Martin/Getty Images
When Jose Reyes is running, and running well, he's an all-star. But over the past two seasons, this has not been the case, and Reyes' value is fairly low right now, with new Mets GM Sandy Alderson indicating he'd be willing to move the young shortstop.
The Mets are a talented team, but they lack the roster depth to compete right now, especially in the pitching department. Pitching depth is one of the Yankees organizational strengths, and something that makes this a potential fit.
I believe Reyes will be a Met next season, but if Jeter leaves, the Yankees might make a run at him, and they certainly have the pieces to get something done.
Stephen Drew, Arizona Diamondbacks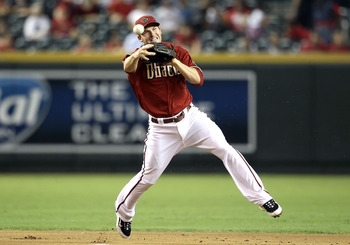 Christian Petersen/Getty Images
Drew, like Ramirez, would be a long term play for the Yankees.
Diamondbacks GM Kevin Towers seems to think he has the pieces in place to compete as soon as next season, and isn't likely to trade Drew at the moment as he's the best option they have at the position.
Still, the DBacks are one of the worst teams in baseball. Come mid-season, they'll likely be far out of the playoff hunt, and might go into full rebuild mode.
The Yankees have the pieces to make a move for Drew, as good a player as he is. If Jeter were to leave, it would free up Cashman to acquire a guy like Drew and plan for the future at the shortstop position.
Alex Rodriguez, New York Yankees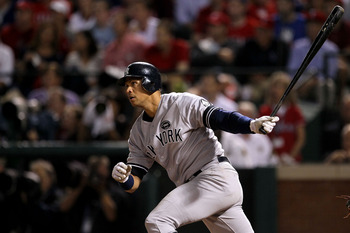 Stephen Dunn/Getty Images
Sure, this is a long shot. ARod hasn't played shortstop in seven years, and who knows if he still can. But really, why not?
ARod is still a very solid offensive player, and while his bat has declined, it would play very, very well at shortstop. He was a Gold Glove defender in his prime, and even if he's bellow average defensively, he's probably no worse than Jeter was anyway.
And what better way to stick it to the captain than to give ARod his old position? I'm sure ARod would like a chance to break the record for home runs as a shortstop, and welcome a move back to his old position.
While this move would open up a hole at third base, that hole would be much easier to fill. The team could take the money they were going to spend on Jeter and sign Adrian Beltre. They could also trade for a third baseman, a position that would generally cost a lot less prospect wise.
Jason Bartlett, Tampa Bay Rays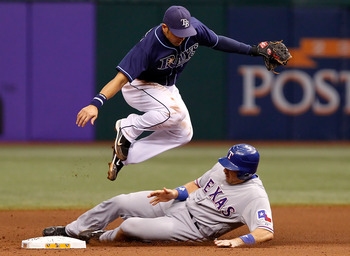 J. Meric/Getty Images
After what looked like a breakout season in 2009, Jason Bartlett went back to being Jason Bartlett in 2010, hitting just .254 in 135 games for Tampa.
Bartlett's value has plummeted and the Rays are looking to move him. While he's not the most attractive option, he's a solid player and his 2009 performance gives teams some hope he can help them out.
Jason Bartlett is no long term option, but he's a cheap, experience player, and the kind of guy the Yankees might want to bring in for 2011 if Jeter is to leave. He wouldn't cost them a top prospect and he while not Derek Jeter, he could be a solid player for them next season.
Miguel Tejada, Free Agent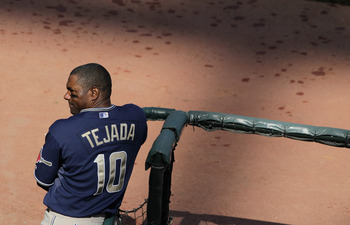 Justin Sullivan/Getty Images
If Jeter bolts and the Yankees decide not to make a big move, there are several options available in free agency to fill the void at short. One of these options is Miguel Tejada.
The Yankees like experienced players, and Tejada has experience. He's no longer an above average shortstop, let alone the superstar he was five years ago, but his .692 OPS last was just 18 points bellow that of Derek Jeter, and his glove was probably a bit better. In 2009, he OPS'd near .800.
Tejada should come pretty cheap, and the Yankees could likely sign him to a one year deal, bridging the gap to a bigger move in the future.
Jhonny Peralta, Free Agent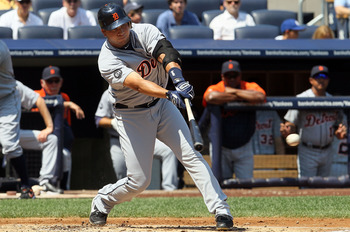 Jim McIsaac/Getty Images
If the Yankees did want to go the free agency route, another option would be former Indian and Tiger Johnny Peralta.
Peralta is 28 years old, no longer young but not old enough to think he can't rebound after two tough seasons. He hit just .249 last year, but he still has more pop than most shortstops, and his glove, which was once seen as his biggest weakness, is probably average to above average at this point, an improvement over Jeter.
Peralta is cheap, and he's potentially a solid option at shortstop should a Jeter deal fall through.
JJ Hardy, Minnesota Twins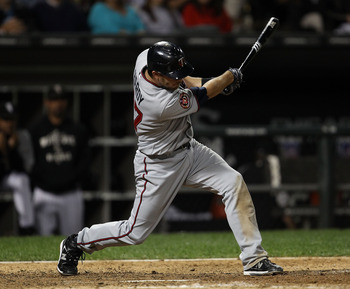 Jonathan Daniel/Getty Images
JJ Hardy was once one of the best shortstops in the league, a good defender with well above average pop leading a talented young Brewers infield.
At 28 years old, Hardy is no longer in the same class as a Stephen Drew. In what are generally considered a players breakout seasons, Hardy has OPS'd just .684 over the past two years, spending time with both Milwaukee and Minnesota.
The Twins considered non-tendering Hardy last week before offering him a contract. Still, they seem intent on trading him, and if the Yankees can't get something done with Jeter, he might be a fit. His bat is no worse than Jeter's was last season, and his glove is far better.
Keep Reading

New York Yankees: Like this team?