NFL Mock Draft 2011: Will Patrick Peterson Be the Top Defensive Player Chosen?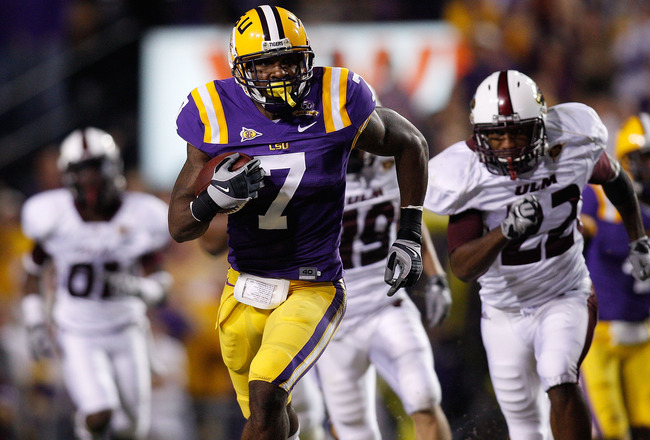 Chris Graythen/Getty Images
NFL mock draft mania is about to hit everywhere.
As the season comes to a close with the playoffs only weeks away, the NFL draft becomes a much bigger topic for teams out of contention.
Most teams draft for need, but there are always exceptions with teams going after talent instead.
As the college football season is nearing its end with bowl games on the horizon, teams will have a clearer picture of a prospect's draft stock.
No. 1, Carolina Panthers, Andrew Luck, Stanford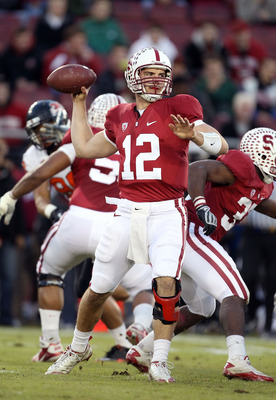 Ezra Shaw/Getty Images
Carolina is just plain awful this season.
The Panthers drafted Jimmy Clausen during the 2010 NFL draft in hopes of him becoming their franchise quarterback, but he has failed to impress in his rookie season.
Carolina will look to the success of the St. Louis Rams after drafting Sam Bradford, and hope Luck will do the same for its franchise.
Luck is simply too enticing as a quarterback prospect to pass up on. He's unquestionably the best quarterback in the draft and the Panthers need some stability behind center, as opposed to the carousel they have now.
No. 2, Cincinnati Bengals, Da'Quan Bowers, Clemson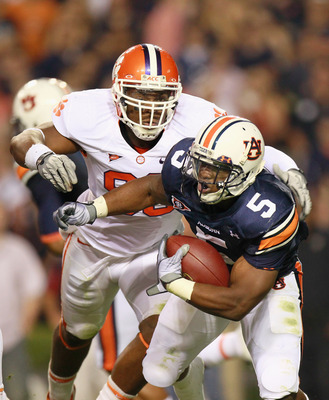 Kevin C. Cox/Getty Images
Cincinnati has failed to generate any pressure with its front four.
The majority of their sacks have come from outside of their defensive line. Their defense has been horrible this year, just a year removed from having one of the best last season.
Bowers is an enormous end with incredible athleticism for a player of his size. The exact type of player that the Bengals need to go after the likes of Big Ben and Joe Flacco.
Da'Quan has been a sack machine for Clemson and he gets into the backfield practically at will.
No. 3, Detroit Lions, Patrick Peterson, LSU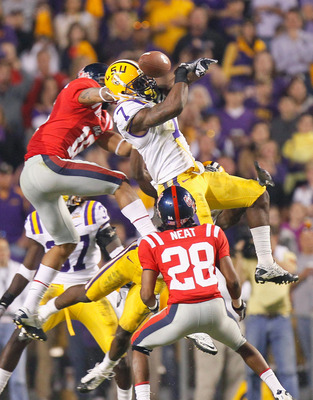 Kevin C. Cox/Getty Images
The Lions have made some strides on defense this year, but they're still a work in progress.
Detroit has been in dire need of a No. 1 cornerback for quite some time and Patrick Peterson is capable of stepping into the role from the very start.
The team's current No. 1 corner, Chris Houston, has been serviceable this season, but he's far from being a shutdown corner.
Peterson is a special talent and he'll pay huge dividends for a Detroit team trying to claw their way back to relevancy.
No. 4, Buffalo Bills, Marcell Dareus, Alabama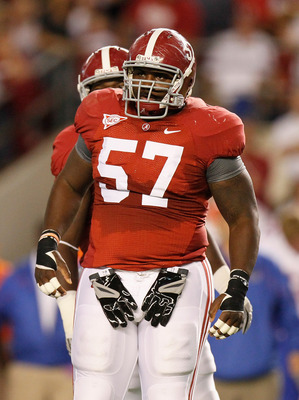 Kevin C. Cox/Getty Images
The Bills appear to have found a solid quarterback in Ryan Fitzpatrick, so going after a signal caller doesn't seem to be a top priority.
If they were drafting best available, they could go after A.J. Green, but Steve Johnson is in the midst of a breakout season so the Bills are probably happy in the receiving department.
Buffalo has long been known for its porous rush defense, and it needs a big body up front to fill that gap.
Marcell is a versatile player, capable of moving from defensive end to defensive tackle. He can generate pressure using sheer force as he's able to overpower even the strongest offensive lineman.
No. 5, Arizona Cardinals, Ryan Mallett, Arkansas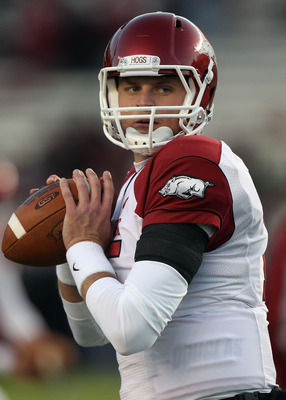 Streeter Lecka/Getty Images
This would be a no-brainer pick for the Cardinals.
Matt Leinart was a bust of a draft pick, and Derek Anderson and Max Hall will simply not get the job done.
The Cardinals have a great receiving core—headlined by Larry Fitzgerald—and they need a quarterback to help turn the franchise around.
Mallett is the next best quarterback available in the draft and he has a strong arm capable of throwing it downfield to Fitzgerald.
Ryan has a couple red flags, which could be of concern, but the Cardinals need to grab a quarterback.
No. 6, Denver Broncos, Nick Fairley, Auburn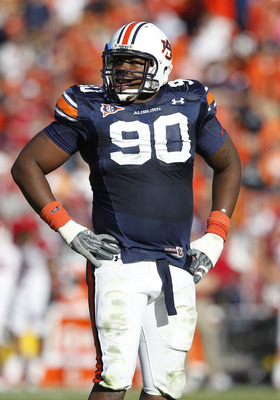 Mike Zarrilli/Getty Images
With the emergence of Kyle Orton and Brandon Lloyd, and Knowshown Moreno playing well as their running back, the team is set on offense.
Denver's defense is another story.
Champ Bailey is still playing at a high level, and they're somewhat respectable against the pass. However, when it comes to stopping the run, they're pretty much helpless.
At 6'5" and 300 lbs., Nick Fairley is an absolute beast. He's capable of overpowering through just about anybody. Fairley is a sack machine and could work well in Denver.
The Broncos have an abysmal defensive line, and Fairley could fit right into their scheme with his ability to move from end to tackle.
No. 7, San Francisco 49ers, Prince Amukamara, Nebraska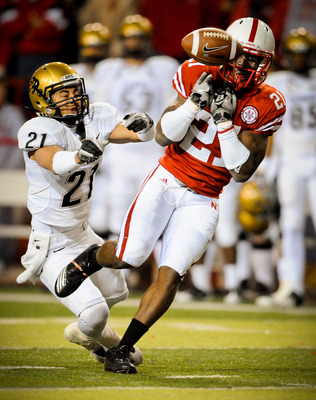 Eric Francis/Getty Images
Early in the year, Prince Amukamara was getting consideration as the top corner in the draft. However, with Patrick Peterson emerging as the best defensive back in the draft, Amukamara will have to take a backseat to him.
This isn't to say that Prince isn't a strong prospect. In fact, he's pretty close to Peterson in terms of potential, but just not No. 1.
San Francisco is strong against the run, but it's been terrible against the pass. Nate Clements has underperformed, and the team needs some help in the backfield.
The 49ers could go after a quarterback, with Jake Locker still on the board, but they seem content, at least to some extent, with Troy Smith right now.
No. 8, Dallas Cowboys, Allen Bailey, Miami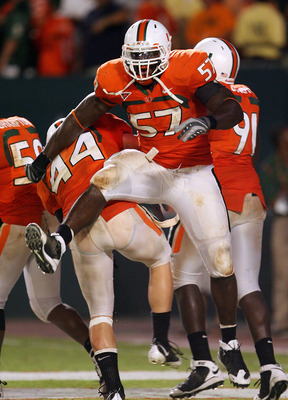 Doug Benc/Getty Images
Coming out of The U, Bailey should hopefully bring some of that Miami swagger to Dallas.
The Cowboys offense is set, but their defense is a work in progress.
Igor Olshansky has been useless for the Cowboys, and Bailey can come in and replace him. Pairing up Ware with Allen could help to form one of the more formidable pass rushes in the NFL.
Allen is one of the best players in the draft and with his incredible athleticism, he will be a force at defensive end for some time.
No. 9, Cleveland Browns, A.J. Green, Georgia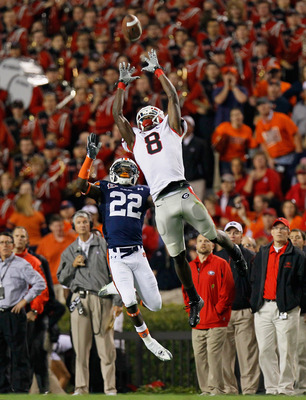 Kevin C. Cox/Getty Images
If teams were drafting solely on talent instead of need, A.J. Green would be a top three pick.
However, with most teams not in dire need of a wide receiver, the Browns will gladly take Green with the ninth pick. Most teams in this position would pick Green without even waiting for the allotted time to finish up.
Green is arguably one of the five greatest wide receiver prospects to come out of college in quite some time.
The Browns are in dire need of a playmaker to pair with Colt McCoy and their new running back, Peyton Hillis.
It wouldn't hurt A.J. to pack on some weight, as he looks a little frail, but he's been healthy throughout his college career, so it shouldn't be that great of a concern.
No. 10, Minnesota Vikings, Jake Locker, Washington
Christian Petersen/Getty Images
Brett Favre is set to retire—well, he most likely will, but you never know—and the team doesn't seem to have a whole lot of confidence in Tarvaris Jackson.
Prior to the start of the season, Locker was considered to be the best quarterback prospect in the draft. However, after struggling this season, he has dropped in the rankings.
Minnesota is in need of a solid defensive back, but quarterback is the priority. If the Vikings want to keep defenses from stacking the box on Adrian Peterson, they will need a quarterback to deliver the ball to Sidney Rice and Percy Harvin.
No. 11, New England Patriots, Robert Quinn, North Carolina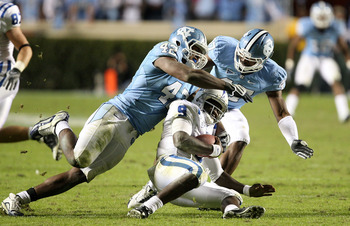 Streeter Lecka/Getty Images
This pick is courtesy of the crypt-keeper, Al Davis, and the Oakland Raiders.
The Patriots have had success with the law firm of BenJarvus-Green Ellis and running back-receiver hybrid Danny Woodhead. They may not be the long-term answer, but they're capable of filling the void.
With that being said, the Patriots have been awful on defense this year. They don't have a pass rusher capable of generating pressure quite like Quinn is capable of.
Character questions are of some concern, but if the team can curb Randy Moss, they should have no problems with Quinn.
No. 12, Seattle Seahawks, Mark Ingram, Alabama
Chris Graythen/Getty Images
Seattle is in need of a pass rusher to pair up with Chris Clemons, but it needs a running back just as well.
The trade for Marshawn Lynch was a colossal failure and Justin Forsett is not the answer.
Ingram is a proven winner with loads of talent. He may bring back some excitement and inject some life into a boring Seattle offense.
No. 13, Tennessee Titans, Adrian Clayborn, Iowa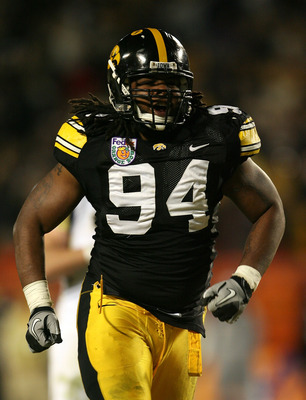 Doug Benc/Getty Images
With Vince Young's days in Tennessee numbered, it makes sense for the Titans to grab a quarterback. Especially since Rusty Smith looks terrible.
However, at this position, there are none that represent any true value.
The Titans made it no secret that they were interested in trading for Albert Haynesworth. They need to make an upgrade on their defensive line and Clayborn fits right in.
Adrian was considered to be a top-10 talent, but has since fallen due to character questions, something the Titans don't overly concern themselves with.
No. 14, Houston Texans, Janoris Jenkins, Florida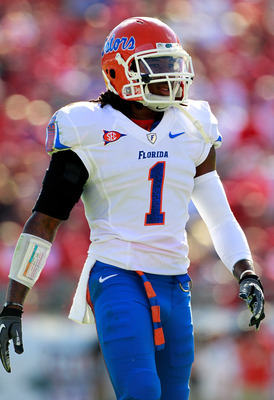 Sam Greenwood/Getty Images
This is about as easy as a pick as there is in the draft.
The Texans secondary is a joke, and with Peterson and Amakumara off the board, Jenkins is the next best corner in the draft.
Janoris can quickly rise to No. 1 on the depth chart, ahead of Kareem Jackson.
No. 15, Washington Redskins, Julio Jones, Alabama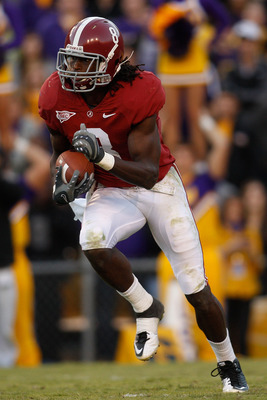 Chris Graythen/Getty Images
Behind A.J. Green, Julio Jones is the next best receiver on the board.
The team committed to Donovan McNabb, and if they want him to have any success, they'll need to add another weapon to complement Santana Moss.
At No. 15, Julio represents strong value. He could be that second playmaker that the Redskins have been looking to take the field opposite Moss.
No. 16, St. Louis Rams, Stephen Paea, Oregon State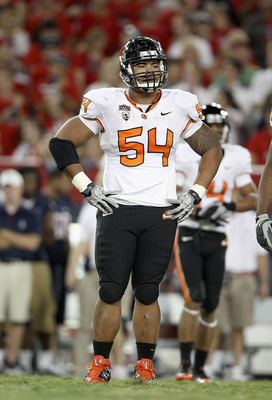 Christian Petersen/Getty Images
With Steve Spagnuolo coaching the team, you just know he's constantly looking to shore up their defense.
The Rams defense has made notable improvements this year, but they still can't generate any pressure as they have one of the lowest sack rates in the NFL.
St. Louis needs an imposing defensive lineman, and Paea can fill that gap.
No. 17, Miami Dolphins, Brandon Harris, Miami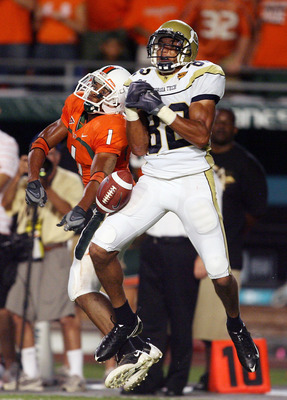 Doug Benc/Getty Images
Miami's secondary has been questionable all season long.
They've gotten torched on numerous occasions and Harris just happens to be the best available corner.
Harris has had a great season and represents a value pick in the mid-first round.
Brandon would surely love to play for the Dolphins, as he wouldn't have to leave Miami, where he currently plays.
No. 18, Jacksonville Jaguars, Ryan Kerrigan, Purdue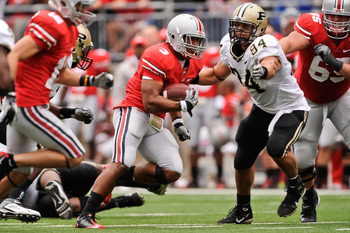 Jamie Sabau/Getty Images
The Jaguars have always been known for their poor defense. They need more help in the secondary, but with the best corners off the board, they have to look to address other areas of need.
The team has had little success in the pass rush, and they're not rated high in the sack department.
With Aaron Kampman having torn both of his ACL's, the Jaguars will have to find another defensive end should Kampman's career be in jeopardy, which it currently is.
No. 19, Tampa Bay Buccaneers, Anthony Castonzo, Boston College
Elsa/Getty Images
Tampa really needs to improve its defense, but with the emergence of Josh Freeman and LeGarrette Blount, Tampa Bay will need someone along the offensive line to help protect them and open up holes.
Anthony is the best offensive lineman on the board, and the Buccaneers would be wise to draft him.
Castonzo can play either tackle side, and he will surely help open up some lanes for Blount to run.
No. 20, Kansas City Chiefs, Von Miller, Texas A&M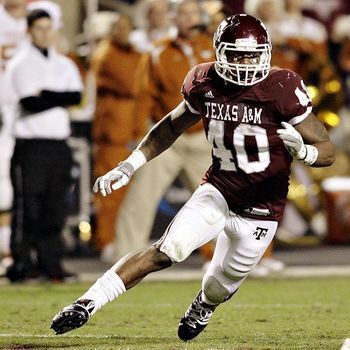 Kansas City's defense has taken some steps toward respectability, but they still need to make some improvements.
Tamba Hali is the team's only real pass rush threat, and Von Miller can complement him nicely.
Von Miller has had to work his way back from injury, but he looks like he's back to form and ready to terrorize quarterbacks in the NFL.
No. 21, Chicago Bears, Derek Sherrod, Mississippi State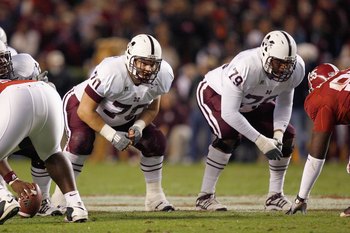 Kevin C. Cox/Getty Images
The Bears have to make this pick.
Chicago has a porous offensive line. They give up the most sacks and have trouble consistently opening up running lanes for Matt Forte.
With Jay Cutler behind center, the team needs to give him as much time as possible to avoid having him panic and go into interception throwing mode.
No. 22, Indianapolis Colts, Akeem Ayers, UCLA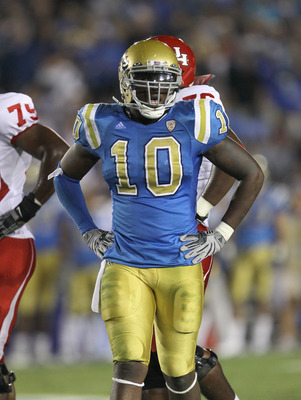 Stephen Dunn/Getty Images
The Colts have been bad against the run for quite some time. It's a known weakness of the team and they need to address it sooner rather than later if they want to compete in the AFC.
Ayers is a smart playmaking linebacker that could help the Colts stop the run.
After all, teams that run the ball eat up clock, and you always want to get Peyton the ball as much as possible.
No. 23, San Diego Chargers, Jonathan Baldwin, Pittsburgh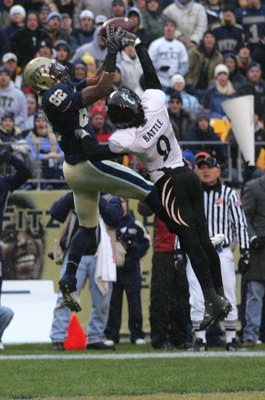 Jared Wickerham/Getty Images
San Diego has one of the top ranked defenses and appears set for next season.
With Rivers playing out of his mind this season, the Chargers will need another receiver to add some depth to a receiving core that was decimated by injuries this year.
Baldwin is the best available receiver at this position and he could make an immediate impact for the Chargers.
No. 24, New York Giants, Travis Lewis, Oklahoma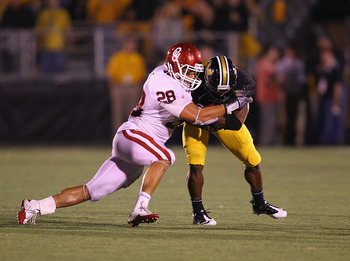 Dilip Vishwanat/Getty Images
Lewis is better suited for the outside linebacker position, and with Keith Bulluck only signing a one-year contract and backup Clint Sintim not playing up to his expected level, New York will need some fresh legs at the linebacker position.
Lewis would be the best pick.
No. 25, Philadelphia Eagles, Gabe Carimi, Wisconsin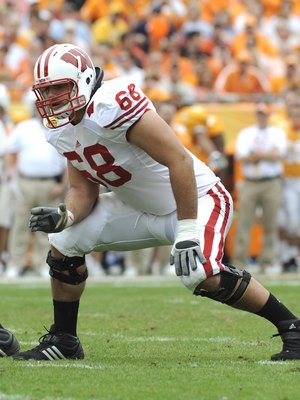 Al Messerschmidt/Getty Images
The Eagles offensive line needs an upgrade if they want to keep Mike Vick healthy, so they'll grab Gabe Carimi out of Wisconsin.
Gabe fits in perfectly with Andy Reid's West Coast offense and he should make a smooth transition into the NFL with the Eagles.
No. 26, New Orleans Saints, Justin Houston, Georgia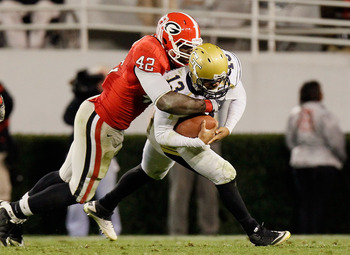 Kevin C. Cox/Getty Images
The Saints are set on offense, but they will have to address some obvious concerns in their defense.
Justin is a pass rush specialist and he's really come alive in his junior year.
After losing Scott Fujita in the offseason, the Saints have quickly realized how badly they need to improve their linebacking core.
No. 27, Baltimore Ravens, Aaron Williams, Texas
Ronald Martinez/Getty Images
Baltimore is going to lose some serious depth at the cornerback position next season, and it would be wise to address the issue in the draft.
The Ravens are a defensive team first and Williams could help bolster the teams soon to be decimated secondary.
Aaron has had a solid career at Texas and he should make for a solid corner in the NFL.
No. 28, Atlanta Falcons, Michael Floyd, Notre Dame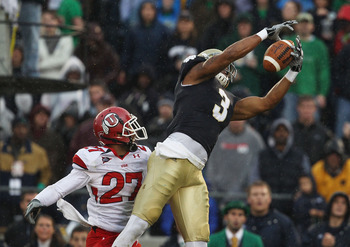 Jonathan Daniel/Getty Images
Matt Ryan has shaken out of his sophomore slump and is poised to terrorize opposing secondaries for years to come.
With Roddy White emerging as one of the best receivers in the league, he'll need someone oppposite him to take some pressure off.
Tony Gonzalez has not panned out at the tight end position and the Falcons really need another weapon for Matt to throw to.
No. 29, New York Jets, Cameron Jordan, California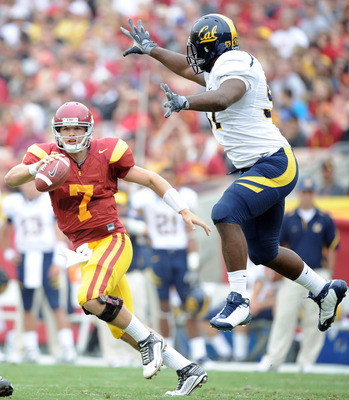 Harry How/Getty Images
New York made upgrades last summer at the receiver positions and it is set on offense.
However, the once fearsome Jets defense has taken a few steps back this year.
It's no secret that the Jets love to blitz. They need another end capable of generating pressure, and Jordan should be more than serviceable.
No. 30, Pittsburgh Steelers, Mike Pouncey, Florida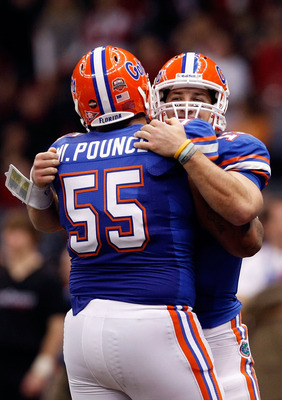 Kevin C. Cox/Getty Images
The Steelers offensive line has had trouble all season long.
Big Ben has to scramble a lot and make plays on his feet with all the penetration that comes his way.
The Steelers have a dire need for a Guard, and Pouncey would be a nice fit.
It doesn't hurt that his brother, Maurkice, is playing there too.
No. 31, Green Bay Packers, Brandon Burton, Utah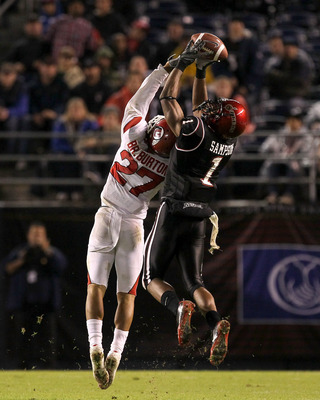 Stephen Dunn/Getty Images
Green Bay is in need of a running back, but there are none that are worth drafting this high.
It may seem peculiar at first to grab a corner with the Packers secondary playing so well, but Charles Woodson isn't getting any younger. Woodson could also help Burton's transition and development tremendously.
Brandon has the size that the Packers love to have on the outside and he would fit perfectly as a Cheesehead.
No. 32, New England Patriots, Stefen Wisniewski, Penn State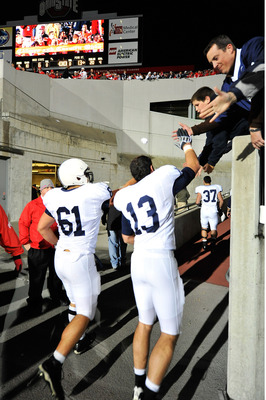 Jamie Sabau/Getty Images
If the Patriots want to protect Tom Brady, their most precious commodity, they will need to draft an offensive lineman.
Stefen is capable of playing at center or either guard position, and he should fill a void should Logan Mankins leave the team.
Also, with Stephen Neal announcing his last year before retirement coming up, New England would be smart to draft for that position now.
Keep Reading