Miami Heat: Five Reasons LeBron James and Dwyane Wade Have It Under Control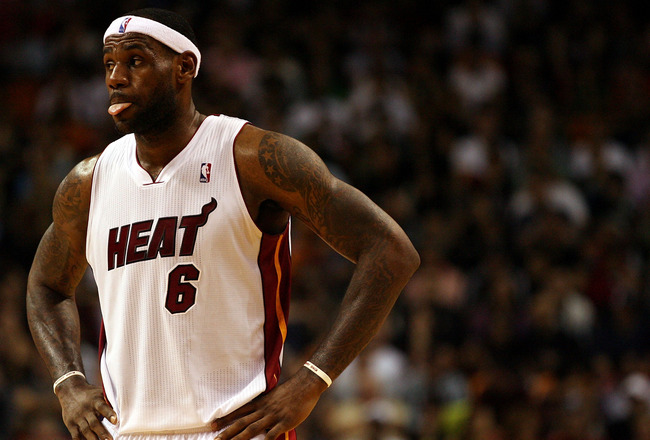 Marc Serota/Getty Images
Dwyane Wade loves that you think he lacks leadership. LeBron James loves that you think he's frustrated. The Miami Heat have you right where they want you, basketball world.
These guys are competitors, and they are not dogging it.
They are not sand-bagging.
The first fifth of the NBA season has been as tough as it has seemed for Miami. In another sense, though, it has not been so.
At all.
The Eastern Conference regularly sends two or more teams to the playoffs with 45 or fewer wins; the Heat are on pace for 46. This team, the one everyone is certain is coming apart at the seams, stands at 10-8 despite the absence of two key pieces of their team.
For a dozen reasons, for a hundred reasons, no one should be panicking over the slow start these Heat have endured. The best five of those reasons are right here. Enjoy.
5. Killer Instinct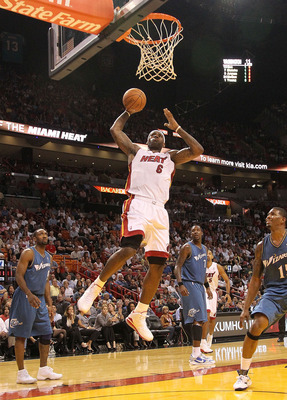 Mike Ehrmann/Getty Images
LeBron James has tried his damnedest to be the best teammate in town since signing with the Heat. He insists it's Wade's team; he defers to Wade and showers praise on Bosh.
James has never attempted as few as the 17.2 field goals per game he has tried so far this year. He has always imagined himself as more facilitator than scorer, and it has shown, but he has taken it to a new level this year.
When it comes down to it, though, LeBron is a hungry, competitive dude. He showed a glimpse of that when he took over in the wake of a private discussion with coach Erik Spoelstra on Monday, scoring 30 points and leading the way to a Heat victory.
He is not going to look for Wade with the game on the line as the season goes on: He is going to score, and score often. His scoring average stands at 23.7 points per game; it will be over 27 by season's end, and the Heat will be hot heading into the playoffs.
4. Help Is On The Way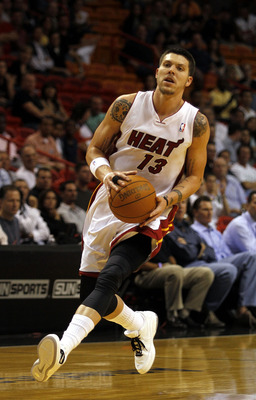 Marc Serota/Getty Images
One of the key ingredients missing from this team in the early going has been a three-point shooter who could stretch the defense and create space down low for Chris Bosh. James and Wade are each shooting under 30 percent from beyond the arc, numbers that will improve but that leave opponents unafraid for the time being.
When Mike Miller returns, everything will change.
Just by running the floor and finding room on the wing, Miller forces the defense to step forward and open cutting lanes for Wade and James. In turn, that gives Bosh more room around the free-throw line in which to operate, and more options if teams run a double-team his way. Miller's arrival should help shore up the Heat's offensive attack.
3. Super Mario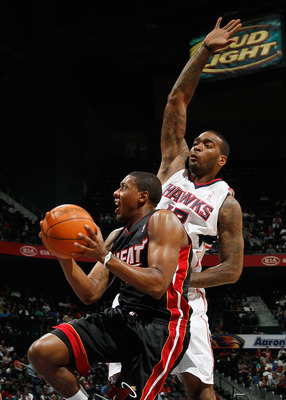 Kevin C. Cox/Getty Images
This is less a reason not to fret than a plea for Spoelstra not to make basketball fans fret, by simply using Mario Chalmers more often.
Carlos Arroyo, the current starting point guard, is a filler piece: He stands around, play modest defense, then gets out of the way when the Heat obtain possession. Chalmers, a point-two guard hybrid of sorts, has a much better feel for the game. He could occasionally step in and take the ball from James or Wade, making his own pace and leading the talented but sometimes stagnant stars in a more efficient offensive system.
Chalmers never turns the ball over and is a good passer, though the Heat need to move better without the basketball to make that valuable. Still, Spoelstra should open the game up a bit by starting Chalmers.
2. Sleeping Giants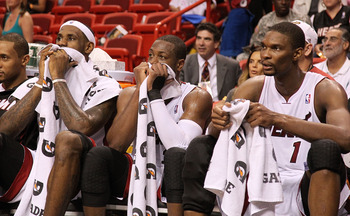 Mike Ehrmann/Getty Images
When did we all decide that what happened last in this game is destined to be what happens next?
Why on Earth is there this sense of panic, as though James, Wade and Chris Bosh have not the combined talent to overcome almost any degree of difficulty early in the season?
Bosh may need to fade into the background as the season progresses, and if Udonis Haslem returns any time soon, he may even take Bosh's starting gig. He was a system player all along, his great numbers the result of an offense built around him in Toronto. He is not a superstar.
For wade and James, though, the sky is the limit, and the two will learn to feed off each other in time. James insists he wants to be the distributor and Wade seems comfortable as the primary scorer, but those roles will reverse in time and the team will find its rhythm.
1. The Heat Of The Spotlight, The Cool Of The Shade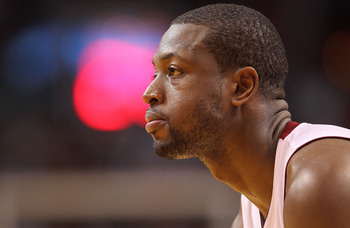 Mike Ehrmann/Getty Images
The toughest thing about being the Heat right now is the intense scrutiny of their struggles in the media. The team's every loss is magnified into national calamity by SportsCenter, it can be hard to maintain focus on each individual game.
With the MLB Winter Meetings and the NFL playoffs looming, though, there will be less and less air time available for "Day of Our Lives: Miami" on ESPN over the coming weeks.
That gives the team time to get back on track and regain the swagger with which they entered this season, and to forget about this small bump in their road to the Conference Finals.
Keep Reading

Miami Heat: Like this team?