College Football Rankings: Who Got Screwed in Week 14 Coaches' and AP Polls?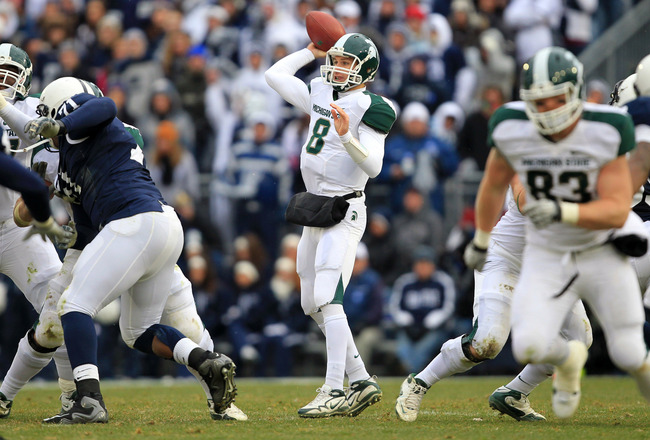 Hunter Martin/Getty Images
College Football Rankings: Who Got Screwed in Week 14 Coaches' and AP Polls?
Every week, teams have gripes when the Polls come out. With only one week remaining before the Bowls get set, this poll is the most important poll to date.
So who was let down when the rankings were released today? Who has legitimate issues? And who is undervalued?
Anyone we missed? Let us know.
10. TCU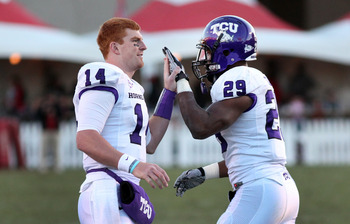 Eric Draper/Getty Images
AP Rank: 3

Coaches Rank: 3
I am not someone who is going to sit here and say that TCU is better than Auburn or Oregon, but the fact that they likely won't get a chance to show how good they are shows they got screwed in the polls this week.
If TCU finishes the season undefeated, it will be a travesty they won't get a chance to really test themselves against the best in the country.
9. Arizona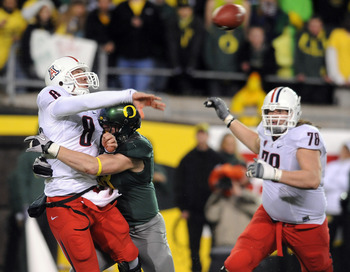 Steve Dykes/Getty Images
AP Rank: unranked

Coaches Rank: unranked
Arizona played just about as well as any team has against Oregon so far this season. However, as is usually the case when playing the Ducks, the Wildcats just ran out of gas in the second half.
The problem is that I think Arizona played the best they have this season yet because they played against the top team in the country, they get dropped out of the rankings.
The Cats will likely beat rival Arizona State next week and rejoin the rankings before heading to a bowl game. I think Arizona has been underrated for most of the season, and they will likely get a chance to prove that at some point before the end of the season.
8. West Virginia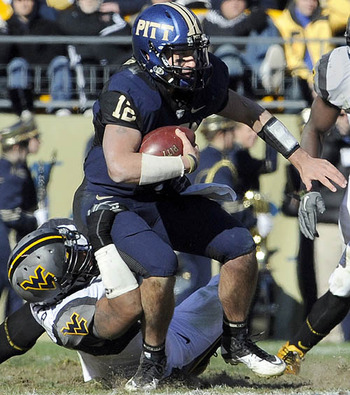 AP Rank: 23

Coaches Rank: 24
Not only did West Virginia knock off their bitter rival Pitt, but they also knocked them out of a likely BCS game. And how do they get rewarded? By looking up at Northern Illinois in the Coaches Poll.
Granted West Virginia has had some bad losses against Syracuse and UConn, but they also have won three in a row and have really hit their stride.
The Mountaineers are a team that I would not want to face in a bowl game.
7. South Carolina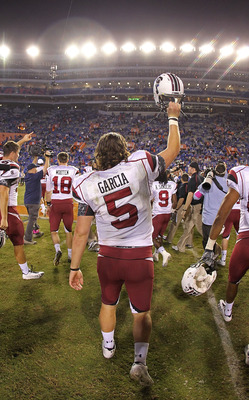 Mike Ehrmann/Getty Images
AP Rank: 18

Coaches Rank: 16
The Gamecocks finished their regular season by beating a decent Clemson team handily. How are they rewarded? By jumping one spot in the Coaches Poll and by standing pat in the AP poll.
A win against a bowl-eligible team deserves at least a jump of one spot AP voters, come on.
Either way, South Carolina has a chance to really make a difference in the season next week when they are all that stands between Auburn and a BCS Championship game appearance.
6. Texas A&M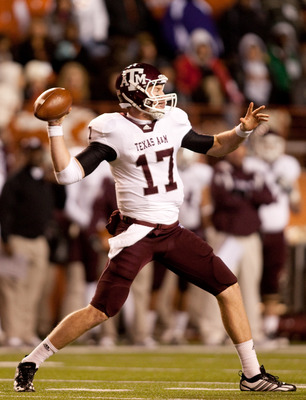 Darren Carroll/Getty Images
AP Rank: 19
Coaches Rank: 18
The Aggies have won six straight games after starting 3-3 including wins over Nebraska, Oklahoma, Baylor and Texas.
A&M's three losses have all come against quality opponents too. A three-point loss at Oklahoma State, a seven-point loss to Arkansas at Cowboys Stadium and a three-touchdown loss to Missouri.
It is possible that A&M could be one of the best 15 teams in the country but because they were dropped so far after three straight losses, they haven't been able to move back into the rankings very far.
5. Missouri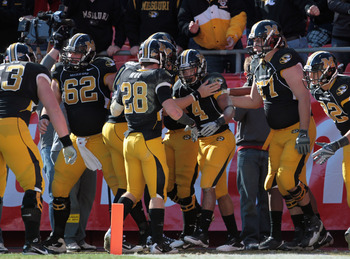 Jamie Squire/Getty Images
AP Rank: 15
Coaches Rank: 14
Missouri stayed at 15 this week in the AP and jumped from 16 to 14 in the coaches after beating up on Kansas and winning three in a row.
The Tigers had a chance to be a possible BCS team if they hadn't lost a close game to Texas Tech.
Mizzou is another one of those teams I wouldn't want to face in a bowl game.
4. Ohio State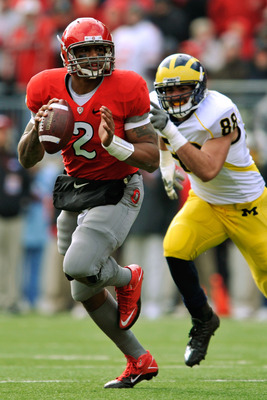 Jamie Sabau/Getty Images
AP Rank: 6

Coaches Rank: 6
Ohio State belongs on the list because they won't get into the Rose Bowl despite only one loss because they aren't ranked higher than Wisconsin. However, the Buckeyes will still likely get into a BCS game as an At Large team.
After dominating Michigan on Saturday, the Buckeyes look like a Rose Bowl-caliber team, but because they lost at Wisconsin, they fall behind the Badgers in both polls.
3. Nevada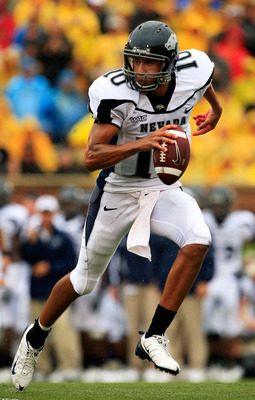 Jamie Squire/Getty Images
AP Rank: 14

Coaches Rank: 17
Congratulations Nevada, you just beat an undefeated fourth-ranked Boise State team that has only lost one game in the last three years. Your reward? Moving up five spots in the AP and just two spots in the coaches, where the team you beat is still ranked in the top 10.
I understand the Boise State kicker is the scapegoat in this one, but Nevada deserves more credit for fighting in this one after going down 24-7.
2. Michigan State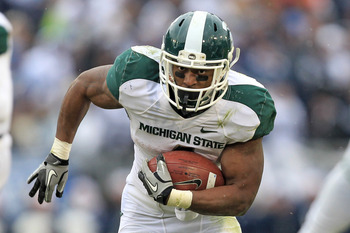 Hunter Martin/Getty Images
AP Rank: 7

Coaches Rank: 7
Michigan State hands Wisconsin its only loss all season, but loses to Iowa late in the season and because of that, they will get shut out of the BCS.
It's a shame a team like this that has been impressive all season doesn't get a chance to prove itself in a marquee bowl game.
1. Stanford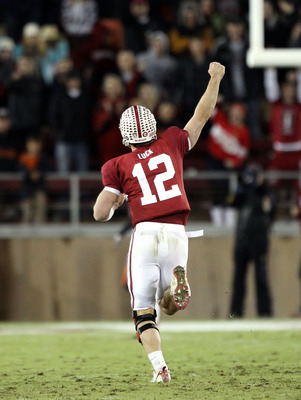 Ezra Shaw/Getty Images
AP Rank: 5

Coaches Rank: 5
I have been touting Stanford all season as the best one-loss team in the country. I am not jumping off that ship now. Stanford's only loss is on the road against Oregon in a game they led at halftime. Since that game, they have been great all year.
Ahead of them, Wisconsin has scored a lot of points this year, but they only beat a poor Arizona State team by one on a blocked extra point and only beat San Jose State by 13.
Throw in the fact that Wisconsin dodged Penn State and got to play Austin Peay instead.
Granted Stanford played Sacramento State, but the Cardinal also play a nine-game conference schedule in the Pac-10, so there is no dodging anyone.
The reason I think Stanford got screwed is purely from the point they could still get shut out of a BCS game if they get jumped in the BCS rankings. That would be an absolute joke if it does happen.
Keep Reading