The Hottest Hand Bras in Sports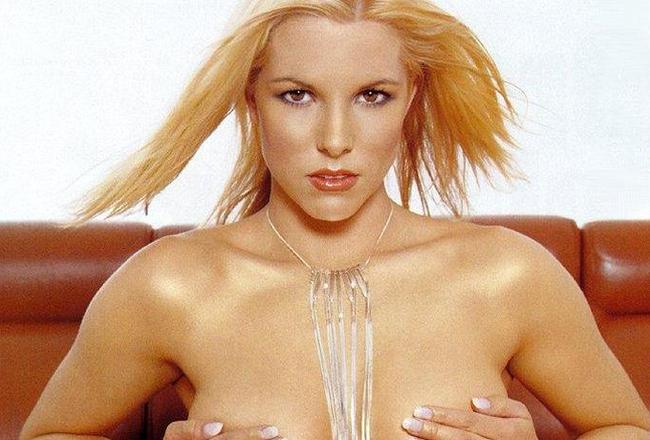 What's a hand bra? It's when hands are used in place of actual bras.
Women like to cover up their breasts even when they're topless, making their photos even sexier.
There are tons of hotties with hand bras all over the web.
But they're spread all over the place. That's why this slideshow was put together, to keep it all in one place.
What does this have to do with sports? All the hotties are involved in sports in one way or another.
So sit back, relax and enjoy the slideshow. Here are the hottest hand bras in sports!
Honorable Mention: Boxer Babe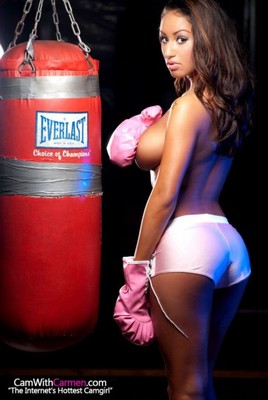 Who cares if she's not a real athlete.
She's got boxing gloves on, so that counts for something.
This photo is awesome.
30. Laure Manaudou, Swimmer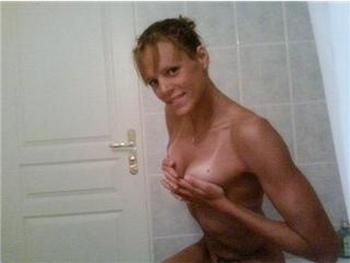 Ms. Manaudou is a French swimmer who has competed in multiple World Championships and the 2008 Olympics.
She also likes to pose in front of a camera while covering her boobs.
29. Diana Taurasi, Basketball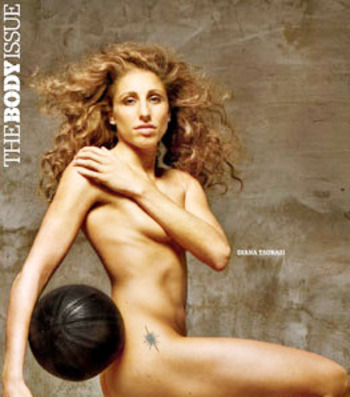 She may have sleepy eyes, but she's got plenty of game.
Taurasi plays for the Phoenix Mercury.
28. Serena Williams, Tennis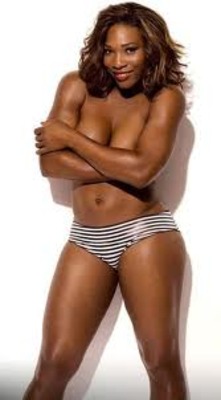 Here's the always-curvy Serena Williams.
Topless!
27. Mia St. John, Boxer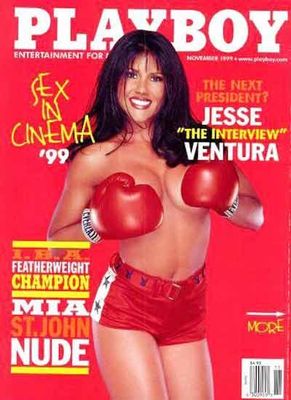 If you want a peek, she just may knock you out.
Watch out.
26. Lauren Jackson, Basketball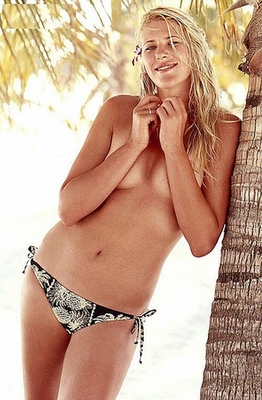 This tall, Australian blonde has a slender build and mad basketball skills.
She's a three-time WNBA MVP and two-time WNBA Champion.
25. Lindsey Vonn, Skiier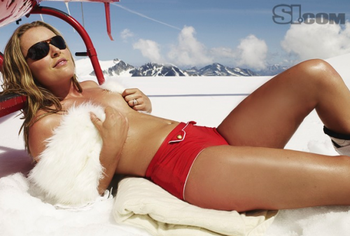 Meet one of the hottest skiers around, Lindsey Vonn.
Yes, it does get cold in the snow.
Don't complain.
24. Gabrielle Reece, Volleyball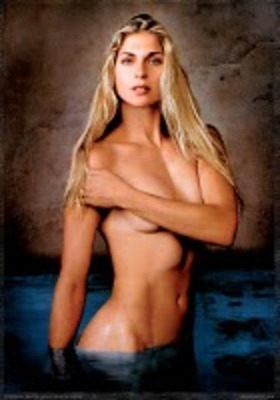 Gabby, a pro volleyball player, has graced the pages of Playboy magazine.
January 2001, in case you wanted to look for it.
23. Natalia Ragozina, Boxing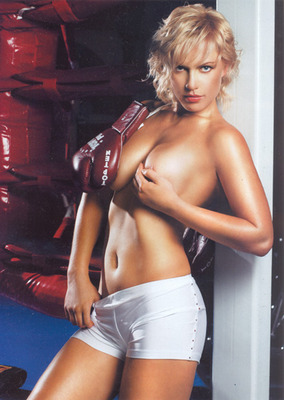 Another great use of boxing gloves.
She's just as hot as she is intimidating.
22. Eva Longoria, Former WAG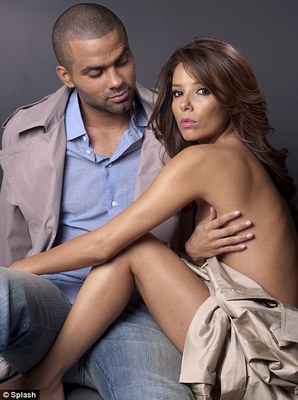 Here's Tony and Eva during better times.
The good news that came out of his cheating is—she's single again!
21. Carrie Prejean, WAG

Carrie was the former Miss California and recently married former NFL quarterback Kyle Boller.
She did get in trouble after winning her crown.
Why?
For that super-sexy picture you're looking at right now.
20. Jenn Sterger, Gameday Host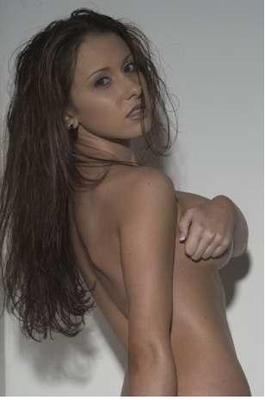 How can anyone not know Jenn?
She's the reason Brett Favre has been dodging questions regarding his privates all season long.
19. Katarina Witt, Ice Skating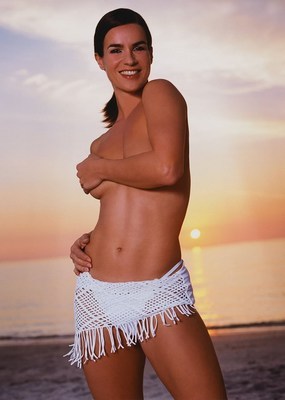 It's been said that Katarina Witt's Playboy issue sold the second-most copies in history.
Only Marilyn Monroe sold more.
18. Lisa Dergan, Sports Reporter and WAG
Dergan is the extremely hot sports reporter married to lucky Scott Podsednik.
She also speaks Japanese.
17. Malia Jones, Surfer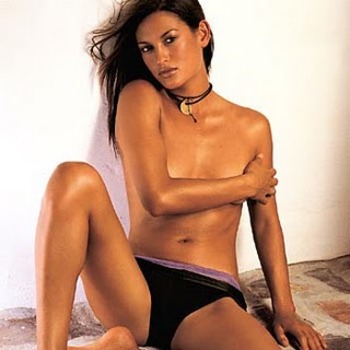 Jones is one sexy professional surfer.
She's so hot, she eventually became a model for Sports Illustrated.
16. Christy Cooley, WAG
Meet Christy Cooley, wife of Washington Redskins tight end Chris Cooley.
She loves to pose wearing nothing but hand bras.
16. Christy Cooley, WAG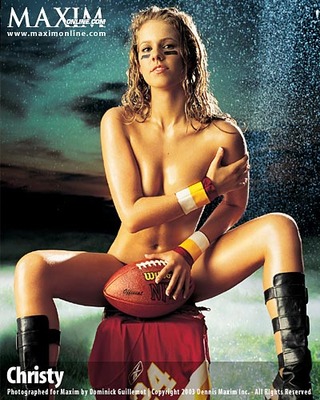 Here she is in team colors.
Chris and Christy first met when she was a Redskins cheerleader.
16. Christy Cooley, WAG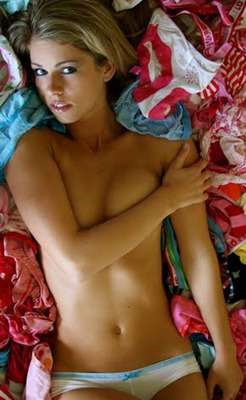 Then they got hitched after a brief courtship.
Can you blame Chris? She's hot!
15. Danica Patrick, Racing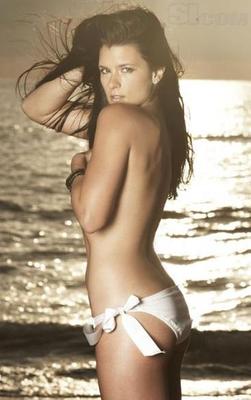 Gulp!
She's sexy when she races, and she's even hotter when she wears swimsuits.
And goes topless.
14. Fabiola Da Silva, Inline Skater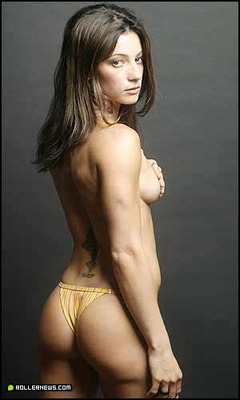 Watch out boys!
Fabby is a pro inline skater.
She can probably outskate any of you.
13. Ana Ivanovic, Tennis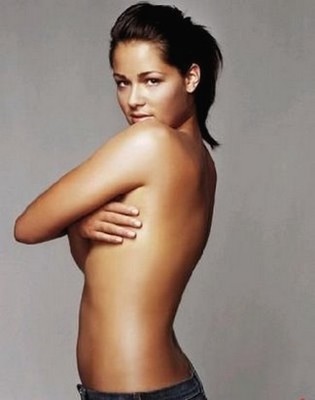 This beautiful Serbian hottie looks stunning without a bra.
But don't let that fool you, she can also swing a tennis racket pretty well.
12. Sina Schielke, Sprinter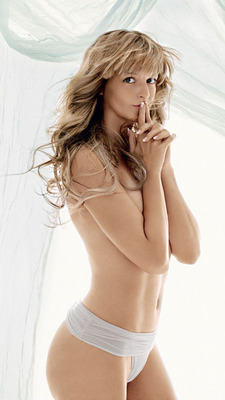 Shh!
Don't tell anyone about this sexy German sprinter.
Keep her all to yourself.
11. Amanda Beard, Swimmer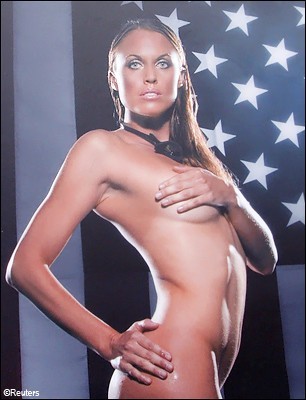 Ah, yes, Amanda is a legend.
For her swimming accomplishments, as well as her many hot pictorials.
10. Elin Nordegren, Former WAG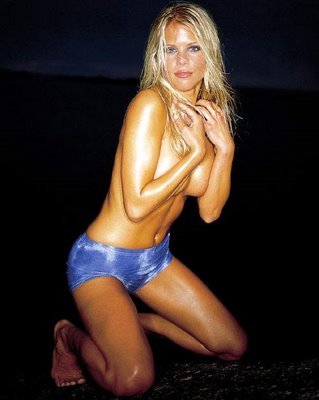 Take a look at Elin, and you can see that she's near perfection.
It's just too bad Tiger didn't realize that.
9. Gina Carano, MMA Fighter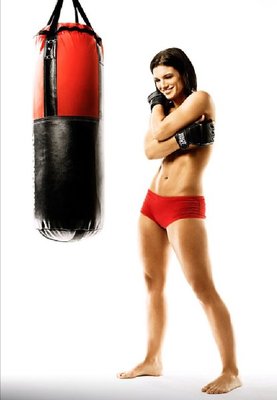 Gina can stun you with her looks, and she can also knock you out with her timely jabs.
9. Gina Carano, MMA Fighter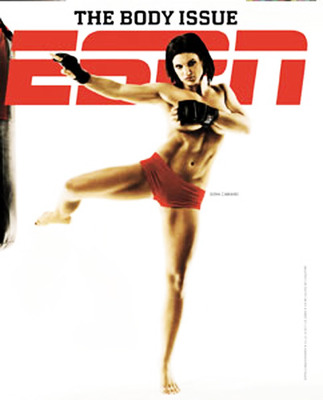 8. Amy Taylor. Soccer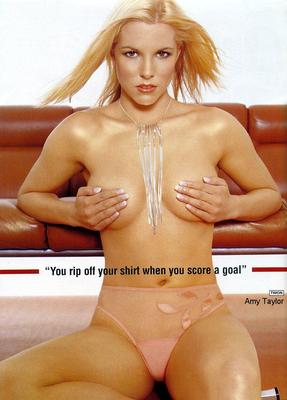 It's too bad Amy is now retired from soccer.
It would have been quite a thrill to see her score a goal.
7. Ana Paula Mancino, Volleyball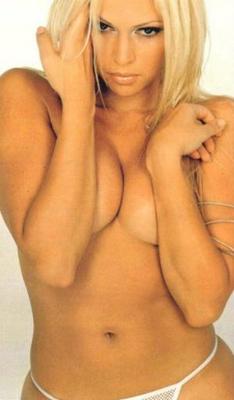 Looking at Ana, you probably wouldn't peg her for an athlete.
But she is!
7. Ana Paula Mancino, Volleyball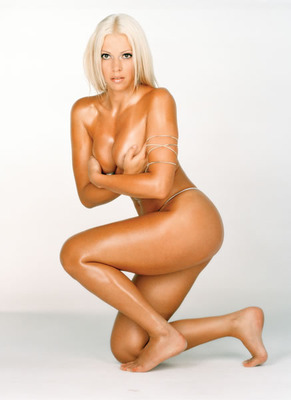 Volleyball is her sport.
And modeling is something she also does on the side.
She definitely has potential.
6. Brooklyn Decker, WAG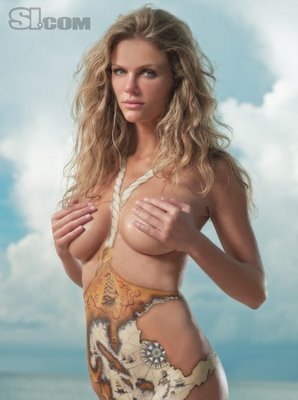 Andy Roddick is one lucky man.
For marrying this supermodel.
6. Brooklyn Decker, WAG
Yes. She doesn't like bras.
5. Irina Shayk, WAG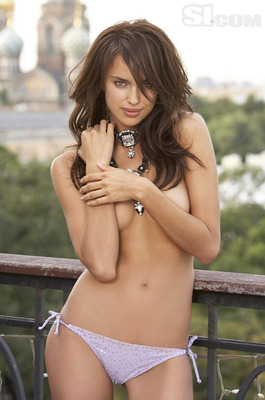 Just this past weekend, GQ Spain got in trouble for allegedly posting unapproved photos of Irina.
She alleges they Photoshopped her underwear away without her consent.
But she's posed without underwear before. Like in this Maxim photo.
You may also like:
4. Marisa Miller, NFL Spokesperson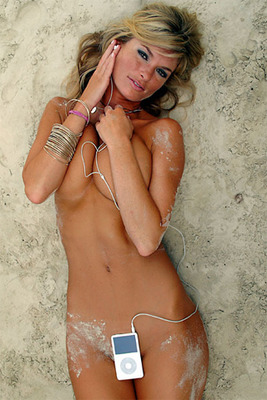 She's the NFL's model spokesperson.
Don't you just want to watch football games if she asks you to?
3. Tina Wallman, Poker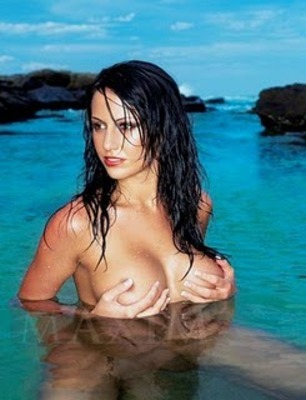 Wallman is a poker spokesperson.
If she tells you to go all in, do it!
And yes, poker is a sport because she says so.
2. Francesca Piccinini, Tennis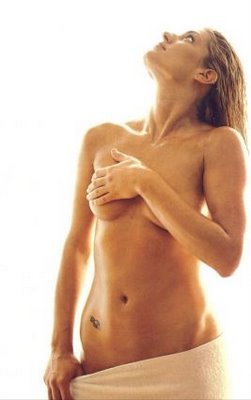 This beauty was known to play tennis in her younger days, before becoming a model.
2. Francesca Piccinini, Tennis
1. Arianny Celeste, MMA Girl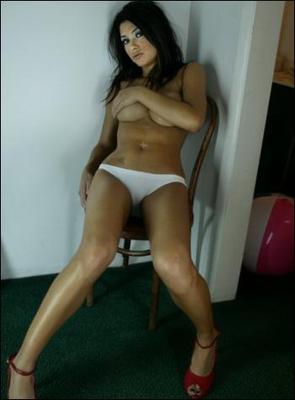 Our final hottie is Arianny Celeste.
Because no one ever gets tired of looking at this MMA ring girl.
No one.
Keep Reading