Tennessee Basketball: The Resilient Vols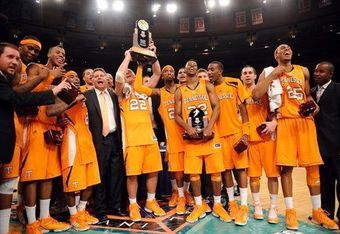 Bruce Pearl and his No. 24 Tennessee Volunteers celebrate after upending No. 7 Villanova 78-68 to win the NIT Season Tip-Off Tournament in Madison Square Garden (NY).

Most likely one of the smartest decisions Mike Hamilton, the University of Tennessee's Athletic Director, has ever made came in 2005 when he hired a young and eccentric 45-year old Bruce Pearl to take over as head coach for the Tennessee men's basketball program. Hamilton and company found it keen time to hire a coach that they thought could bring the type of intensity needed to the school's men's basketball program, and most importantly build up a great winning tradition similar to what Pat Summit has accomplished with her Lady Vols.
Since the beginning of the men's basketball program in 1911 up until 2005 eighteen coaches had passed through and compiled a record of 1345-871. Although the all-time record looks good on paper, with its .61 winning percentage, the program had no national championship to show for it and had never advanced further than the Sweet 16 in March Madness. All of Big Orange Nation knew that they needed something or someone to ignite their program and Bruce Pearl, to say the least, has been the exact spark plug the program had been looking for all those years.
In his first five years at the helm, Pearl who has been labeled as an "evangelist" by Hamilton has taken the UT men's basketball program to an all new level of play. Since putting on the brightly colored orange jacket, which has become his trademark look, he has compiled a record of 153-45 (77% winning percentage) and has taken the team to the NCAA Tournament every year. His winning percentage currently sits at the top spot over all the other 18 head coaches to pass through before him and his 153 wins currently puts him as the 4th winning-est coach, with Ray Mears 278 topping off the chart. Some of the many other notable accomplishments over the years for the Vols head coach are such as: logging a 30+ win season in '07-'08; the same year in which they knocked off in state rival and no. 1 ranked Memphis at the time to earn the school's first number one ranking ever, winning an outright SEC Championship, and making it to the programs first ever Elite Eight appearance in the '09-'10 season. Not to mention, the Vols have been a constant contender in the SEC year in and year out and have the leagues winning-est program over the last five years in a league which use to be labeled as Kentucky's stomping grounds. Most importantly the intensity that he has brought to the program has developed one of college basketball's top fan bases. A fan base that stands around 20,000 strong in Thompson Boling Arena for home basketball games and one that has played a major role in the Vols perfect 4-0 record against Top-five ranked opponents that have daringly stepped on their home court since Pearl took over. Over the last five years the wins have piled up in large numbers for the Tennessee Vols as never seen before and the program has changed seemingly overnight from a ho-hum type of team to a team which any opponent would fear playing. Bruce Pearl, the "Evangelist", along with a mix of very talented players such as Chris Lofton, Jajuan Smith, Wayne Chism, and up and coming phenom Tobias Harris have been the key factors playing into the programs emergence as one of the top elite teams in the country.
One would think by looking at the accomplishments over the past five seasons for the Tennessee men's basketball program that it has been smooth sailing for Pearl and his Vols, but that is entirely wrong. Well one could lobby that the first three years were as easy going as possible, but as any coach knows every season has its setbacks and challenges. However, not many teams have had to deal with the challenges that Bruce Pearl and his team have faced the past two seasons and are still currently facing.
Over the course of the last two seasons for Bruce Pearl and his Tennessee Volunteers they have had quite their share of ups and downs to say the least, actually that would be somewhat of an understatement for anyone who has followed the program closely. The 33-9 record ('09-'10: 28-9, '10-'11 present: 5-0) in no way shape of form indicates any signs of trouble, but ever since Jan. 1, 2010, New Years Day, the team has been confronted with some type of setback that was considered to seemingly hurt their play on the court by every sports media outlet known to man. After all, the team's top player in that of Tyler Smith was dismissed from the team and three other top players were suspended until everything was figured out about their run in with the law. This all occurred just before their match up with Kansas, the No. 1 ranked team in the country. Even before losing Smith the Vols were considered a 15-point underdog. When the incident reached all the media outlets many thought that the season would fall apart for Pearl and his team, but they were not taking into consideration how much heart was inside the players wearing the famous orange and white. However, the Vols showed up to play against the Jayhawks and were going to do everything in their power to give a 20,000 plus home crowd something to cheer about. They did just that as they upended the Jayhawks 76-68 on their home court.
The odds remained against the Volunteers the rest of the year, but they were on a mission and knew anything was possible if they put their heart into it. The "Resilient Vols" went on to knock off No. 2 Kentucky in Rocky Top and made their first Elite Eight appearance in program history in a season which was supposed to be one that Pearl and his team should wipe clean from their memory banks. As we all know, it did the exact opposite.
The same case has been made for the current 2010-2011 season for the Tennessee Volunteers so far, but this year dealing with very different circumstances. On Sept. 10, 2010 a media outlet broke the news that Bruce Pearl was found guilty of having inappropriate contact with recruits and that there would be a penalty for his actions. Just over a month later and already into the basketball season, it was announced that Bruce Pearl would be suspended from his team's first 8 SEC games.
Once again the news was released just days before the team was set to face a tough challenge, this year the test being the Championship Rounds of the NIT Season Tip-Off Championship and according to many the distractions facing the Vols would be too much to overcome. However, the "Resilient Vols" picked up right where they left off from last year, as the underdog, and fought their way to center podium in Madison Square Garden to hold the Championship trophy after upsetting the No. 7 ranked Villanova Wildcats 78-68. Not only was this a very notable out of conference win that will gleam out on paper come time for the NCAA Tournament, but most importantly it has the Tennessee Vols as close of a group as any in college basketball and not to mention shows they have the right mindset once again despite the turmoil surrounding the organization.
Every player on the team is behind their head coach and its best believed that they will do everything in their power to play great basketball for the time he is gone as well as in every game they play this year. It also helps that junior Scotty Hopson has assumed his star and leadership potential that many raved about when he entered his freshman year and that freshman Tobias Harris is one of the top talents in all of college basketball. But what will help the most it seems is that a large quantity of last year's players remains on the team and know how to deal with adversity. No matter how good of a head coach a team has it's about the players and how much they want to succeed that makes or breaks the team.
Yes, Bruce Pearl has accomplished above and beyond what was expected of him since taking over in 2005, but it is the players and the team that determines the big picture and Pearl just happens to be the leader. His players will know what he expects of him when he serves his eight game suspension, they all know what it means when they put on their jersey that reads Tennessee across the front.
This article is
What is the duplicate article?
Why is this article offensive?
Where is this article plagiarized from?
Why is this article poorly edited?

Tennessee Volunteers Basketball: Like this team?