BCS Rankings Week 14: Is It Time to Shift Big East BCS Bid to Mountain West?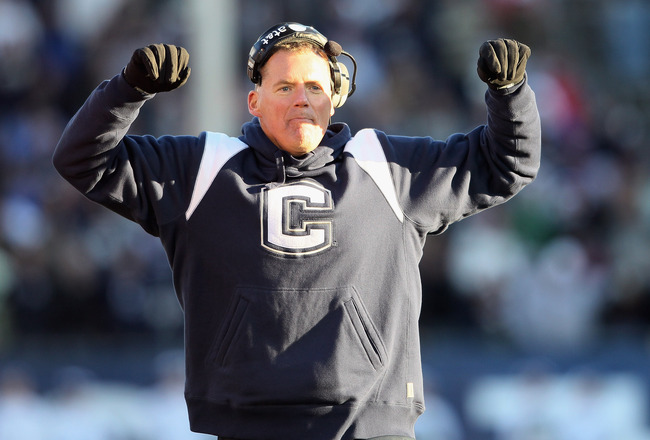 Elsa/Getty Images
The BCS rankings for Week 14 are due out on Sunday evening, and it's far from a foregone conclusion that a Big East team will be able to crack the top 25.
This is a huge dilemma, of course, as the Big East champion automatically earns a berth in a BCS bowl game.
For those of you who haven't been paying attention this year, the Big East is pretty mediocre, and one could make the sense that it really hasn't been the same since Miami left for the ACC in 2004.
In short, maybe it's time to experiment. As for possible replacements for the Big East's BCS bid, how about the Mountain West?
Here are five reasons it should happen and five reasons why it shouldn't.
Reason It Should No. 5: The Mountain West Is a Rising Power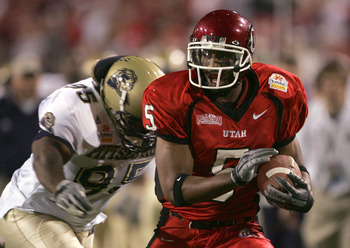 Jeff Gross/Getty Images
The Mountain West is home to the original BCS Buster, as the 2004 Utah Utes were the first non-BCS team to play in a BCS bowl game.
And they responded by pounding Pittsburgh, who shared in the Big East title that year, by a final score of 35-7.
Three years passed without a BCS bowl for a Mountain West team, but the Utes returned to power with an undefeated 2008 season and a win over Alabama in the Sugar Bowl.
Last year, TCU also went undefeated and finished the year as the No. 3 team in the nation before losing to Boise State in the Fiesta Bowl.
The point is this: the Mountain West is trending upwards.
Reason It Should Not No. 5: Utah Is Leaving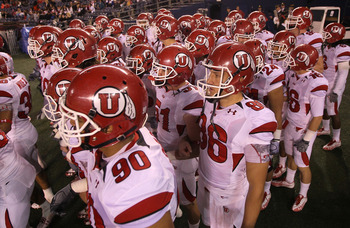 Stephen Dunn/Getty Images
Utah is one of the Mountain West's big powers. And like Miami in 2004, they're bolting for the greener fields of a bigger conference.
True, the Mountain West is soon to welcome Boise State, Nevada and Fresno State, but it should not be a given that these teams are going to enjoy the same kind of success in the Mountain West as they did in the Western Athletic Conference.
Had Utah stayed, then you might be looking at one of the stronger conferences in a few years. But they're not, so there's no guarantee that it will be.
Reason It Should No. 4: The Big East Is Lacking in Powerhouse Teams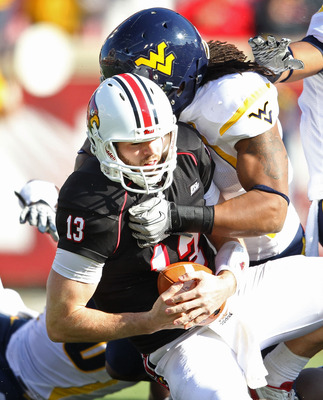 Andy Lyons/Getty Images
Ever since Miami left the Big East, the conference just hasn't produced any teams with a serious measure of "wow" power.
Cincinnati went undefeated in 2009. But they got their teeth kicked in by Florida in the Sugar Bowl. They also got beat soundly by Virginia Tech in the 2008 Orange Bowl.
West Virginia did upset Oklahoma in the Fiesta Bowl in 2007, and the 2005 Mountaineers were also a great team. Ditto the 2006 Cardinals.
But compared to those Miami teams in the early part of the 2000s, the Big East really hasn't produced anything even close to a powerhouse.
Reason It Should Not No. 4: The Mountain West Is Lacking in Powerhouse Teams Too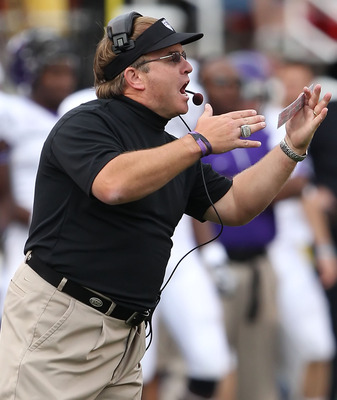 George Frey/Getty Images
The Mountain West may be a rising power. But whether or not any of its members have truly reached elite status is something that not many people are sure about, especially if you were to go asking around in the offices of the SEC or Big Ten.
For a second there, it looked like TCU might have been the best team in the land.
But then they faltered against San Diego State, and the only reason they're going to be able to hold on to their No. 3 ranking is because Boise State's kicker suddenly forgot how to kick the ball in a straight line.
And if they're not elite, then nobody in the Mountain West is.
Reason It Should No. 3: The Big East Is Trending Downward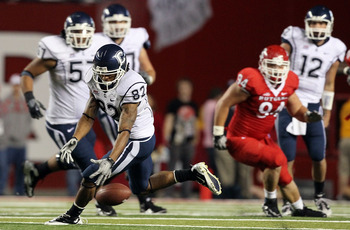 Jim McIsaac/Getty Images
Look at the Big East this year. For lack of a better word, it's an embarrassment.
Of all the major conferences, only the Big East boasts a current leader with fewer than 10 wins. And the only team that controls their own destiny right now is UConn, which can punch its ticket to a BCS bowl if the Huskies win next week.
It would also make them just 8-4, and it's not unlikely that they would be the only BCS participant with more than one conference loss.
That's not the kind of team you want to point to and argue is one of the best and most deserving teams in the country.
Reason It Should Not No. 3: There's Not Enough Competition in the Mountain West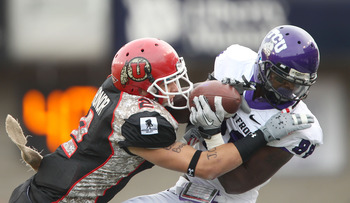 George Frey/Getty Images
Proponents of conferences like the SEC, Big Ten and Big 12 love to argue this point.
And generally speaking, they're right. And perhaps more right this year than any other.
Sure, it looked good for the Mountain West a few weeks ago. But then TCU destroyed No. 5 Utah, who then proceeded to get destroyed by Notre Dame, and TCU barely escaped with their lives against San Diego State.
In other words, that "Little Sisters of the Poor" comment sounded pretty legit when it came out.
Reason It Should No. 2: There Will Be Competition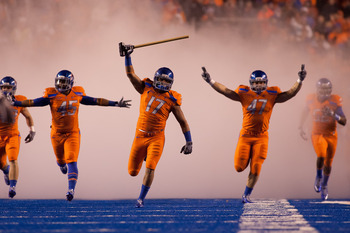 Otto Kitsinger III/Getty Images
Boise State will be part of the Mountain West in 2011, and Fresno State and Nevada are also joining in 2012.
These are arguably the three best teams in the WAC, and adding them to the Mountain West should up the level of competition by a considerable margin.
In other words, it's going to be hard to frown upon any team that can go undefeated with recent powerhouses like TCU, Boise and Nevada on their schedule.
Reason It Should Not No. 2: Tradition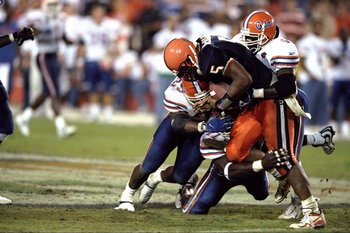 Harry How/Getty Images
Ever since the BCS first came into play in 1998, the Big East has been a BCS conference and has always produced a quality team for one of the BCS's precious few bowl games.
And it's not like the Big East has been habitually awful in BCS bowl games. Big East champs hold a 6-6 all-time record, and the 2001 Miami Hurricanes won the BCS National Championship.
So pulling the rug out from under the Big East's feet and saying, "Thanks for everything," just doesn't seem very fair.
Reason It Should No. 1: Because It Is Time For a Change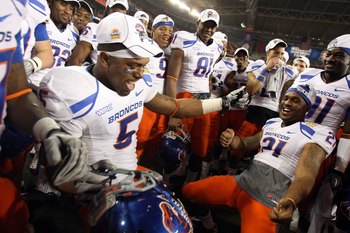 Jed Jacobsohn/Getty Images
Tradition is nice and all, but we may as well face the fact that the BCS has been one of the most consistently maddening institutions in contemporary sports.
So maybe it's time to make a few changes, especially considering the recent wise of non-automatic qualifiers, a group which is perfectly represented by TCU and Utah, as well as future Mountain West members Boise State and Nevada.
It wouldn't be the worst idea for the BCS brass to revisit things and reconsider their options once every decade. College football is an ever-changing landscape. The teams that were good last year won't be so great the next year.
Don't believe me? Look at Notre Dame.
Reason It Should Not No. 1: The Big East Might Be Great Again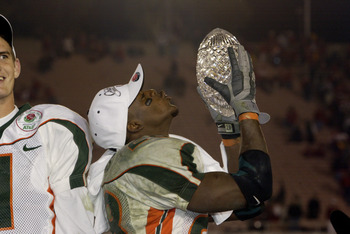 Brian Bahr/Getty Images
Indeed, the Big East may be lacking a true powerhouse team or teams right now, but that doesn't mean that the conference's credibility going forward is irreparably doomed.
After all, it's never a given which of the major conferences is going to be the top dog year in and year out.
In the infancy of the BCS, it was the ACC and the Big East that seemed like they were most often in the thick of things.
But then the Big 12 was represented in three consecutive BCS National Championship Games. And most recently, the SEC has produced four straight BCS champions.
One might say there's an ebb and flow to the whole thing, and that one rotten year like 2010 for the Big East does not equal a trend.
Conclusion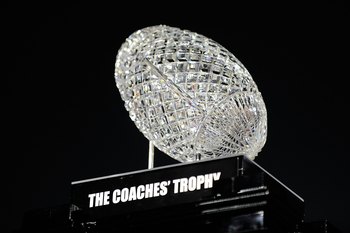 Kevork Djansezian/Getty Images
It almost seems silly to try and have this debate in the first place, as all those upstarts in places like the Mountain West and the WAC really haven't done all that much to prove that they should be allowed to tango with the big boys.
But I, for one, also think that's a foolish notion. Nobody ever likes a status quo, especially not one as frequently maddening as the BCS.
So I'm all for re-evaluating things every 10 years or so. After all, wasn't the BCS designed so we could finally have a system that could keep up with the times?
Indeed, last I checked, it's not 1998 anymore.
Keep Reading