The Top 40 Hottest NFL Fans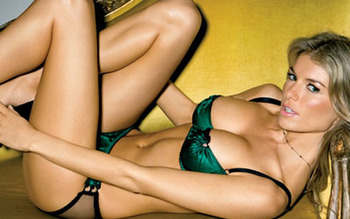 I have been watching the NFL since I was a baby. I know more about football than any other subject in life except for one thing—women.
I am not a woman magnet, unless you are talking about being the opposite side of a magnet, in that case I am your man. I am talking mostly about finding those sexy females that you have yet to see. I have the pleasure of doing all the hard work for you.
I wake up early to find these beautiful woman so that you only have to click one button and voila.
This article features some of the sexiest female fans of the NFL. Enjoy!
40. Jenn Sterger Wanna Be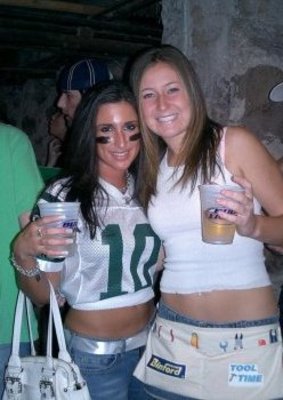 I will allow this hottie a chance to look like Jenn Sterger for two reasons.
1. Jenn Sterger is hot
2. That chick is hot.
39. Faith Hill Anyone?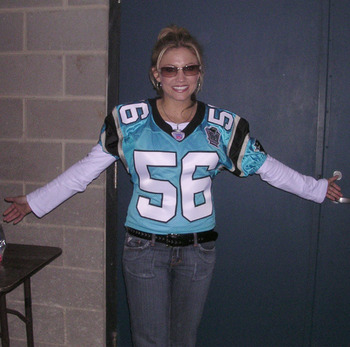 I love Faith Hill and you should too. Let me help convince you with a teaser...
38. Go Vikes!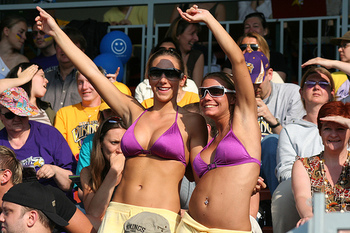 I guess there just is not enough entertainment happening on the field for these two fans to care about clothes anymore.
Brett Favre should act like their tops and just disappear already.
37. That Is How The Terrible Towel Should Be Used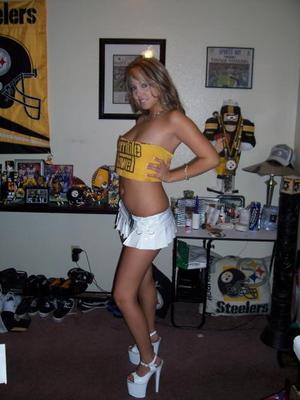 I always hated those terrible towels.
That is, until now.
36. Sorry But Tim Tebow Plays For Denver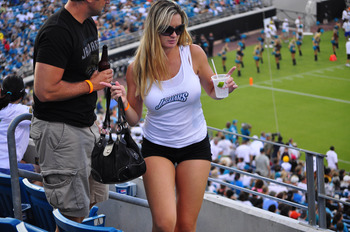 The caption says it all. She thought Tim Tebow was still playing in the Jacksonville area.
When she was told he wasn't, her departure was evident.
35. It Is Hot in Southern Florida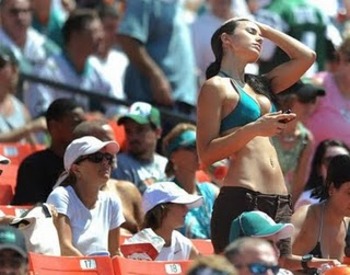 I am a Saints fan and we do not get many women in bikinis because we play in a dome.
Of course, that doesn't stop hotties from around the rest of the NFL from doing it.
34. She Is Heading to Church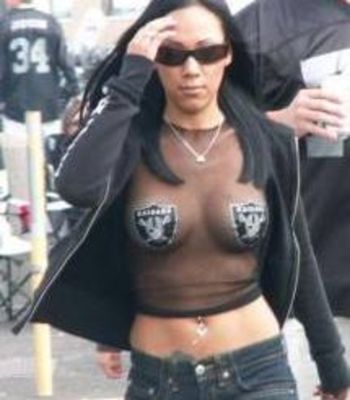 She is not heading to church, but she is heading somewhere and I need to know where that is people.
Find out and let me know.
33. She Is Hot But Her Team Stinks

Do the Buffalo Bills have something similar to the Steelers terrible towel?
Is she wearing the Buffalo version of the towel? If so, that is hot and the look should be replicated ladies.
32. San Diego Super Chargers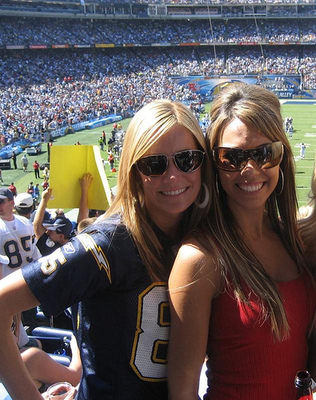 When is it a perfect time to snap a photo of two hotties during a San Diego game?
Whenever you can press the damn picture button on your camera. Just keep on snapping away folks, thanks.
31. Oh Those Sexy Bills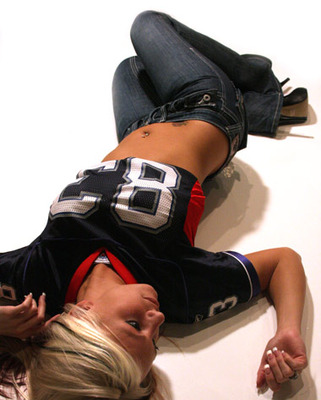 Seriously Buffalo?
If you could get credit for your hot female fans, you would have at least another four wins this season.
30. Reby Sky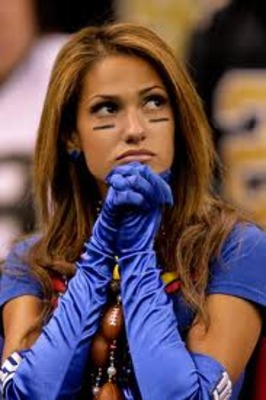 Reby Sky is probably one of the hottest super fans in the world.
This is not the only time she will make this list, just keep on watching.
29. That Is How You Celebrate a Super Bowl Victory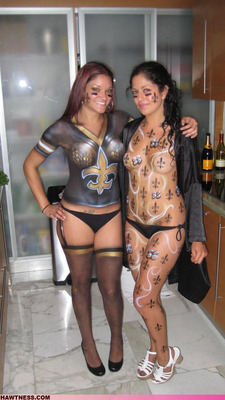 Do you need me to explain?
This is formal wear for a Saints game.
28. It Is Miami, What Else Did You Expect?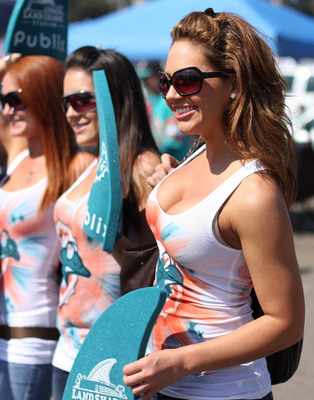 The city of Miami wins for hottest city. They should also be mentioned as one of the sexiest cities, too.
27. Go Cards!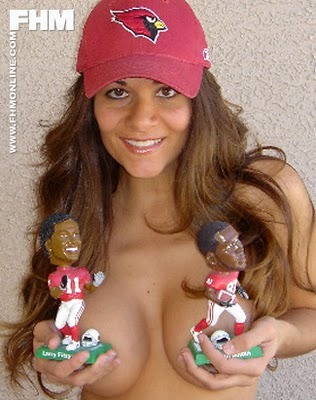 Does it need to be said that Anquan Boldin no longer plays for the Cardinals?
So someone should remove that figurine from this photo so that it is accurate, just saying.
26. She Is a Colts Fan, I Swear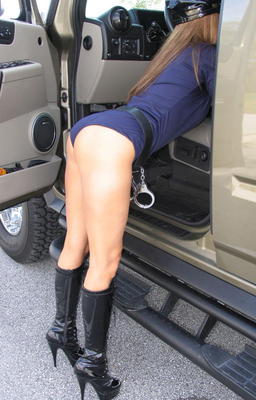 This photo was taken of an NFL fan during a game this season.
It is, however, a seat filler for the video below. This is a different female from a Colts game that was too sexy to ignore.
25. At Least The Bills Are Winning in Something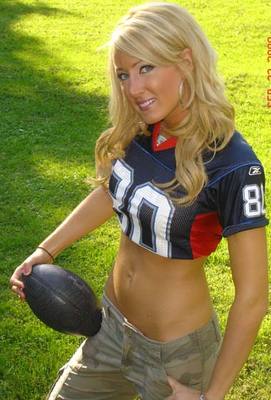 Again, the Bills should use their hotties in the stands to replace some of those losses.
Don't ask me how, just do it already.
24. I Will Have a Shot Please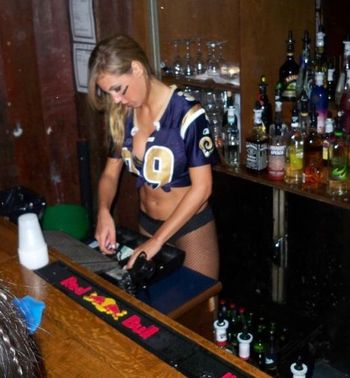 I bet she makes really good money as a bartender. She probably also thinks it has nothing to do with her amazing body.
23. Patriots Going To The Super Bowl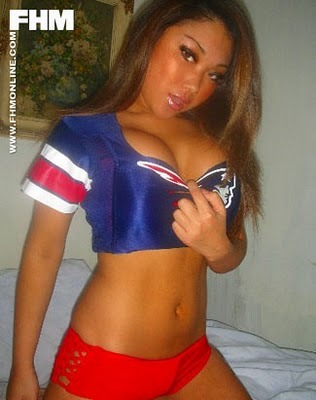 She is such a tease. Most women would have removed that top by now.
So if you want to be like most girls, get a move on it please.
22. She Is Good at Holding Things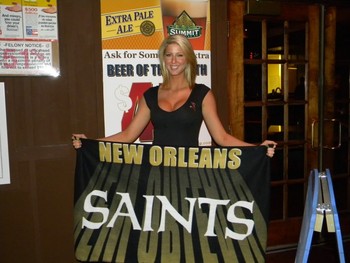 I said she was good at holding signs, but what I should have said is that she is GREAT at holding signs.
She is very talented for that job. Very talented!
21. That Is Why They Make Tom Brady Jerseys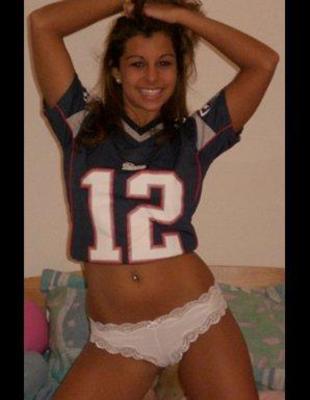 I think it is time for a lingerie game night for women only.
Men can go to the games but the women have the option of wearing jerseys with lingerie. No one will oppose.
20. The Greatest Ravens Logo Hold Of All Time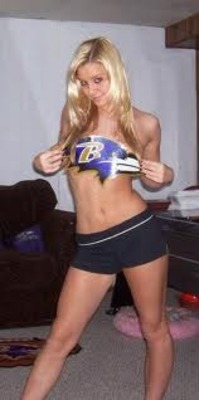 This is just another private photo that was probably taken with broken promises.
And we get to enjoy the downfall of that relationship.
19. Just a Few More Inches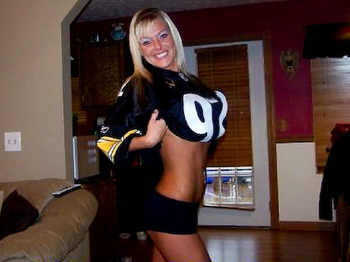 Is she taking it off or putting it on?
I cannot tell, but I want to know.
18. Go Bills Go!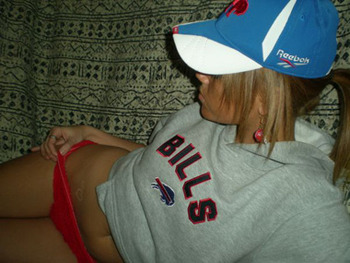 Another Bills fan on the list?
Hey New York, you guys might want to step it up a little more—your younger cousin, Buffalo, is kicking your ass on here.
17. Kendra: Ultimate Hottie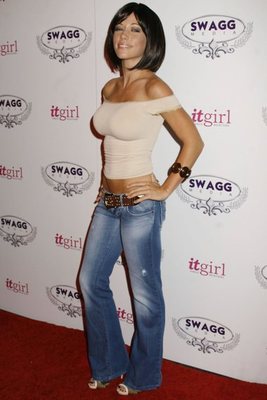 This chick is such a fan of the NFL, she went out and married a player and then had a kid with him.
Now that is fan power.
16. Jaime Edmondson Is Smoking Hot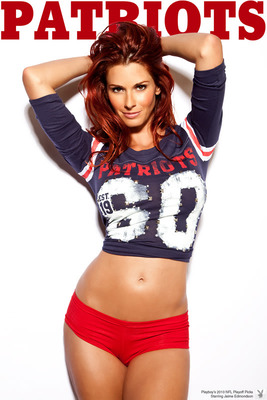 Jaime Edmondson has more photos like these.
She also has a video and since I am a fan of sexy videos...
15. The Panthers Are Bad, She Is Not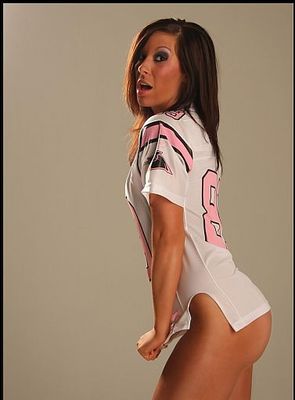 I would not have a problem with her wearing this to the next home game in Carolina. I bet most men would not either.
She could help raise the ticket sales in Carolina, too. All you have to do is tell everyone she is going to be walking around the stadium dressed like this.
14. Even The MILFs in Pittsburgh Love Alcohol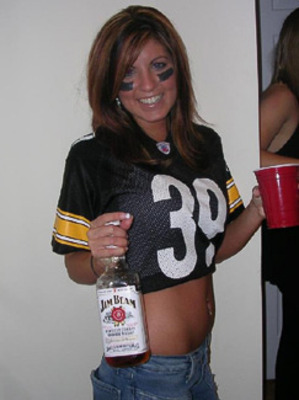 I love my Jim Beam the same way she does—with a hottie holding the bottle wearing almost nothing up top.
13. I Wonder What She Wears to The Beach?
This photo is just one of about a million reasons to move to San Diego.
She represents around 45,000 women that show up every game day in San Diego.
12. When The Vikings Were Winning, Fans Were Happy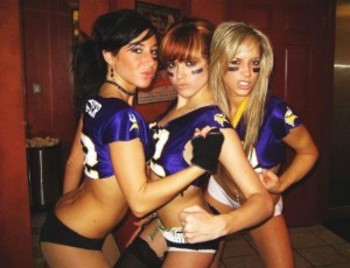 Things are looking brighter for the fans of Minnesota—they have much talent in the stands.
These three hotties solidify the phrase, "Things are hotter in threes."
11. Just Another Day in Paradise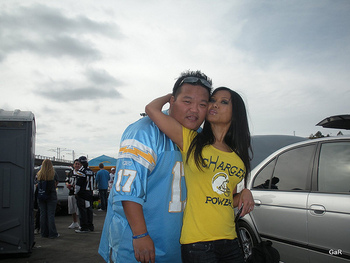 I told you San Diego brings the heat. They also bring some of the most beautiful women on the West side of the Mississippi River.
10. Mirror Image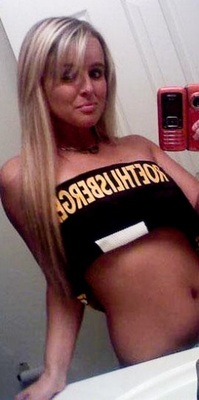 Her boyfriend told her, "Don't worry about it babe, I promise this photo is just for my eyes only. I will not share this with anyone, sweetheart."
But then they broke up and all is fair game then. Thanks for the photo bro.
9. Jamarcus Russell Is No Longer a Raider Man!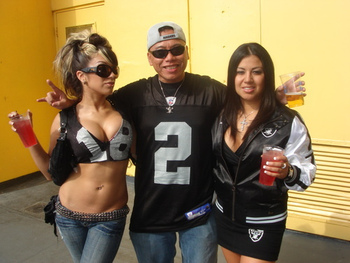 Regardless of the fact that this guy thinks he is cooler than the two smoking hotties standing next to him, he gets credit for making them pose for a photo.
Can anyone explain what the chick on the left is wearing? I am not complaining, I just can not see the jersey number—for some reason I am distracted.
8. I Promised You Some More Reby Sky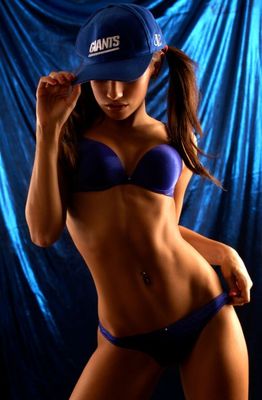 In other words, you are welcome...
7. The Perfect Raider Fan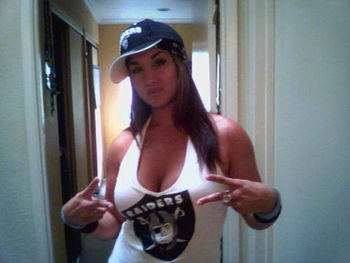 This photo summarizes how the rest of the country thinks of Oakland fans:
Throwing up the deuces, or gang sign, and repping her colors.
She is still pretty damn hot, regardless.
6. Perfect Saints Tube Top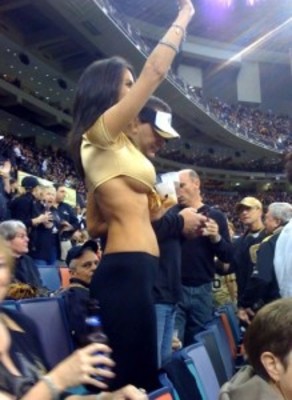 I want to take this moment to thank whoever snapped the photos of this goddess.
She knows what she is doing, hence the outfit, and she loves the attention. So if anyone knows who this is, have her contact Maxim and do a photo shoot already.
5. Who Cares About The Game?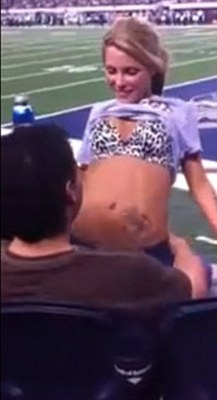 Words can not describe this fan, you must watch her in action...
4. Tom Brady Is Every Man's Idol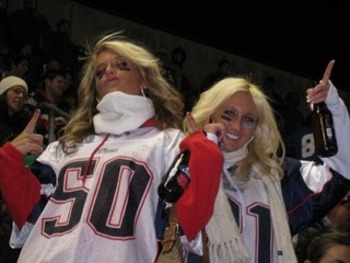 You do realize that Tom Brady will eventually get bored with his newest toy, Gisele, and want something else. I am sorry, that is just how guys are. We always want something but when we get it, we usually want something else.
These two leave plenty of options for Tom Brady when the Gisele thing crumbles.
3. It Is The Heather Chick From The Saints Game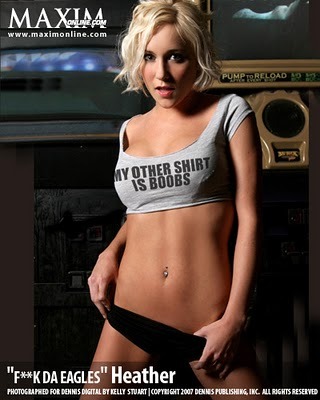 She might be known for wearing a vulgar shirt and being caught on camera during the Saints and Eagles playoff game in 2007, but she is now known as the mega hottie from Maxim.
She should put her other shirt on.
2. The Official Super Fan of The NFL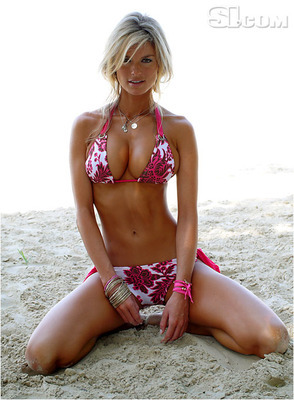 Marissa Miller is the official NFL Super Fan.
That is a great choice, as proven by this photo.
1. The Sexiest Colts Fan Of All Time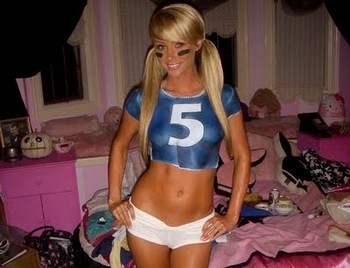 I don't think I need much more reasoning as to why I chose this beauty as the No. 1 overall hottest fan of the NFL.
Take a closer look at this photo and get back to me once you agree.
Keep Reading