John Wall, Blake Griffin and the Top 10 NBA Rookie Report Cards
Stephen Dunn/Getty Images

The NBA draft is a pivotal event.
One pick can change the destiny of an entire franchise.
A stacked draft class can provide for an embarrassment of riches (1996, 2003, 2008), while others provide nothing but duds (1990, 2000).
Most rookies tend to be inconsistent as they learn the ropes. Some come into the league NBA ready, while others need an adjustment period to acclimate themselves to the pro level.
So, how have the 10 best rookies fared so far and who's in the discussion for Rookie of the Year?
Begin Slideshow

»
Stephen Dunn/Getty Images

Selected fourth overall, Johnson was a puzzling pick for a team full of guards and wings.
Johnson has wrestled control of the starting shooting guard position and he's put up decent numbers in roughly 28 minutes a game.
He's averaging 9.4 points, 3.2 rebounds, 2.2 assists and 1.2 threes.
Of course, with the good comes the bad.
He's shooting 40 percent from the field and a center-like 60 percent from the charity stripe.
Until he stops settling for long-range shots and starts to take advantage of his athleticism to attack the basket more, his inefficiency should continue.
Grade: B
Doug Pensinger/Getty Images

Forbes was an undrafted prospect out of Massachusetts, but the Nuggets appear to have found a true diamond in the rough.
With J.R. Smith once again a fixture in George Karl's doghouse, Gary Forbes has been given an opportunity to play and show what he can do.
While his minutes and play have been a bit erratic, he's made great strides since the draft and is playing better than dozens of prospects selected ahead of him.
Gary's best performance came in a close game against the Knicks. He scored 19 points on 61.5 percent shooting, while grabbing nine boards.
As long as J.R. Smith is riding the pine, look for Forbes to continue to get minutes in the Nuggets' rotation.
Grade: A-
Drew Hallowell/Getty Images

Selected just behind John Wall as the No. 2 overall pick, there were high expectations for Turner.
He was considered to be the most pro-ready prospect of the draft class and was expected to contend for Rookie of the Year.
Even with an injury to Andre Iguodala, Turner has failed to step up and make any sort of true impact for the 76ers.
Turner has shown glimpses of his well-rounded game, but not enough to break into the top five.
In eight games since being inserted into the starting five, he's averaging 10 points, 6.6 rebounds and 2.1 assists.
While Evan has put up respectable numbers, he's having nowhere near the sort of impact that he was expected to have.
Grade: B
Ethan Miller/Getty Images

DeMarcus began the season as the Kings starting center. Through the first five games, he put up 13.4 points, 6.4 rebounds and 1.8 assists in just over 22 minutes a game.
While Cousins has since been yanked from the starting unit in favor of Samuel Dalembert, he still gets steady minutes.
Cousins is putting up adequate numbers, but his shooting percent has been awful. On the year, he's shooting an abysmal 38.5 percent from the floor. Until DeMarcus stops taking shots beyond 10 feet, his field goal percentage will continue to hover around the 40 percent mark.
DeMarcus is also turning the ball over at an alarming rate. A 2.6 turnover average is bad with 35 minutes, and horrible when you're playing less than 24.
Despite his issues, Cousins still has a lot of upside, and could approach a double-double average should he carve out a larger role in the rotation.
Grade: B
Favors started the season strong, averaging a double-double for the month of November, but has since fallen out of favor in the rotation.
Even so, Favors has shown brief flashes of his immense potential and why he was taken with the No. 3 pick in the draft.
Simply put, Derrick is a walking double-double machine in the making.
In just under 21 minutes, Favors is pulling down 6.4 rebounds and scoring 7.6 points on 53.6 percent shooting. While he's not contributing much in other areas, he has the physical tools and abilities to develop a well-rounded game.
Favors may not be a huge difference maker this season, but he's proving to be a nice complement to Brook Lopez. Given enough time, and the two could form a menacing post presence.
Grade: B
Chris Graythen/Getty Images

Eric Bledsoe played under John Wall's shadow last year while at Kentucky. He played out of position as the off-guard, but has returned to his natural position at the point in L.A.
Bledsoe fits into the same mold as Russell Westbrook: He's tough with a strong defensive presence. Eric is also lightning quick and a top-notch athlete.
With Baron Davis hobbled, Eric has come in and filled in admirably. In 13 games as the lead guard, Eric is averaging 10.5 points, 4.5 rebounds, 6.1 assists and 1.5 steals.
While his minutes are starting to drop with Randy Foye joining the rotation and Baron Davis set to return, Eric was far and away the second best point guard in the draft and he's outplaying nearly a dozen players selected ahead of him.
Grade: A-
Chris Graythen/Getty Images

Drafted eight overall, Aminu has been a pleasant surprise in an otherwise disappointing season for the Clippers. He has quickly taken control of the small forward position, moving ahead of Ryan Gomes on the depth chart.
Known for his strong work ethic, Aminu has answered one of the main concerns regarding his game: his shooting ability. For the year, Aminu is currently drilling a three a game at a ridiculous 51.7 percent from behind the arc.
This is a testament to his work ethic.
Since getting his first start, Aminu is averaging 12.8 points, 4.8 rebounds, 1.0 assists, 1.5 steals and 1.3 threes.
He can do it all, and within enough time, he should develop into one of the premier players at the forward position.
Al Farouq is long and athletic with a defensive prowess that the Clippers sorely lack.
The Clippers have had a weakness at the three, and Aminu looks like the perfect player to fill in that hole.
Grade: A
Jonathan Daniel/Getty Images

Landry Fields was ignored by most teams coming into the draft, but he's making each and every one of them regret it.
Picked in the second round with the 39th overall, Fields is easily the biggest steal of the 2010 NBA draft. To say that he has outperformed his draft position would be an understatement.
He first made waves during summer league play where he made a strong case for league MVP.
Since then, Fields has quickly earned the trust of the Knicks' coaching staff. He was named the starting two-guard on opening night and has a stranglehold on the position.
His best game of the season came against the Denver Nuggets where he recorded 21 points and 17 rebounds. The best performance by a Knicks rookie since Patrick Ewing.
Landry has an incredibly high basketball IQ with the maturity of a well seasoned vet. He takes smart shots, as evidenced by his 55.8 field goal percentage, which is ranked 11th in the league.
He has a well-rounded game that should only get better with time.
Grade: A+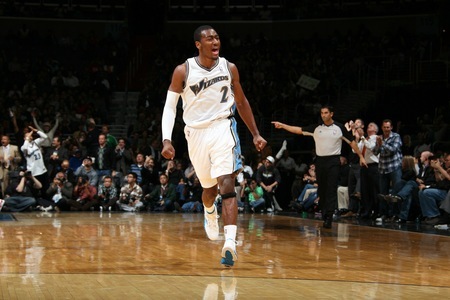 There was a lot of hype over John Wall before entering the draft and he has greatly exceeded expectations.
For the season, he's averaging 18.0 points, 3.0 rebounds, 9.1 assists and 2.8 steals.
Wall has made a seamless transition to the NBA and he defines the term impact rookie. He is a much better passer than anticipated, and his ability to steal the ball is second to none in the league right now.
While John is still turnover prone, losing the ball four times a game, he's a willing passer that should only improve as he learns to read defenses better. His jumper also needs work, but he has quietly made some minor improvements to his shot in a very short span.
It took only six games for John to record his first career triple-double. He is the third youngest player to have accomplished such a feat, and he did it quicker than Magic Johnson by 10 days.
Natives of our nation's capital should sit back and enjoy the ride.
Grade: A+
Stephen Dunn/Getty Images

Blake Griffin's rookie debut may have been delayed a year, but it was well worth the wait. Griffin is better than advertised and if he weren't a part of this rookie class, the Rookie of the Year award would be a one man race.
Through the first 15 games, Blake is averaging 19.2 points, 11.2 rebounds and 2.4 assists. His rebounding average is good enough for seventh best in the league.
For a 6'10, 250lbs power forward, Griffin plays well above the rim. He displays his freakish athleticism every time he steps on the court.
This man-child made his mark on the season with an astounding performance against the New York Knicks. He put up a career high 44 points, 15 rebounds and seven assists.
That game alone provided enough highlights to fill up ESPN's Top 10 Plays.
Blake's main weakness right now is foul shooting. He's currently shooting at a Shaq-like pace, hitting only 57.1 percent from the line. For a player with a solid jump shot, at least for a power forward, it's odd to see him struggling from the charity stripe.
At this point, even with all gaudy numbers John Wall has been putting up, Griffin is ahead of him.
This should make for an interesting race as the lead will alternate between the two in what should be a close finish.
Grade: A+