NFL Power Rankings Week 12: Rating the New York Giants and the NFC Defenses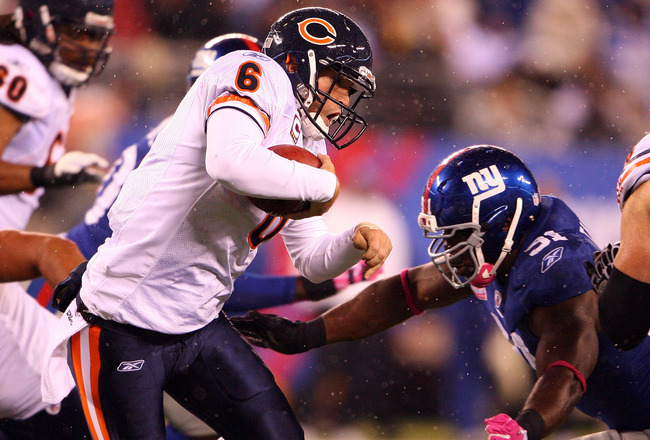 Andrew Burton/Getty Images
The New York Giants are a game out of first place in the NFC East after Sunday night's loss to the Philadelphia Eagles, but they have every reason to believe they can dominate the NFC from here forward.
Justin Tuck, Osi Unenyiora and company contained the nearly unstoppable Michael Vick all night Sunday, and continue their reign of terror over NFC quarterbacks. Overall, they have recorded 27 sacks and are allowing the fewest yards of total offense per game in the NFC.
The Giants are not the only playoff hopeful with an elite defense, though, and it may well be that of the NFC's four or five legitimate Super Bowl contenders, the winner will be the team whose defense best handles the change of seasons and the heightened intensity of December in the NFL.
Who has the pass rush to keep Vick in the pocket? Who stuffs the run well enough to grind Atlanta Falcons running back Michal Turner's progress to a halt? Whose defensive vulnerabilities could cost them their playoff dreams? Read on.
16. Arizona Cardinals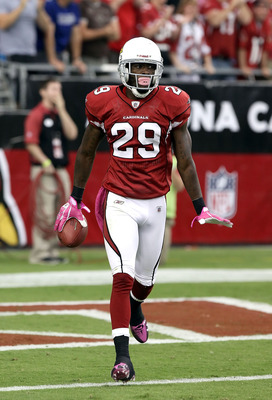 Christian Petersen/Getty Images
Injuries have piled up for an already leaky defense and have left the Cardinals with the worst defense (based on points per game) in the NFL. The pass rush, briefly a strength over the past few seasons, has evaporated, while the team has floundered in a 3-4 set that hardly seems to fit their personnel.
Dominique Rodgers-Cromartie, the unit's closest thing to a true stud, has had a disappointing season at corner. He picked off six passes and forced three fumbles last season, but this year he has only two interceptions and no forced fumbles. Bereft of the big plays that usually help them get by, the Cardinals have been unable to keep their opponents out of the end zone.
15. Washington Redskins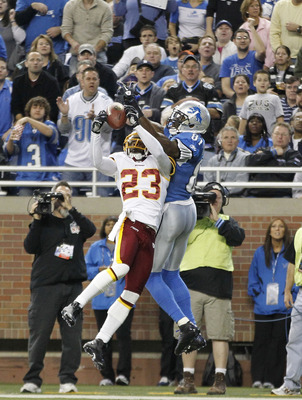 Leon Halip/Getty Images
When head coach Mike Shanahan and defensive tackle Albert Haynesworth began a summer-long media feud, Washingtonians ought to have known it would be a long season. The Redskins' defensive philosophy seems to be the old cliche: "Bend, but don't break."
In some senses, that mantra has served them well: all five of their wins this season have come in games wherein they themselves scored fewer than 20 points. Unfortunately, that kind of success is hard to sustain, and the Redskins have given up an average of a little over 36 points per game in their five losses. They also have allowed over 400 yards of total offense per contest, far and away the most in the NFC.
14. Dallas Cowboys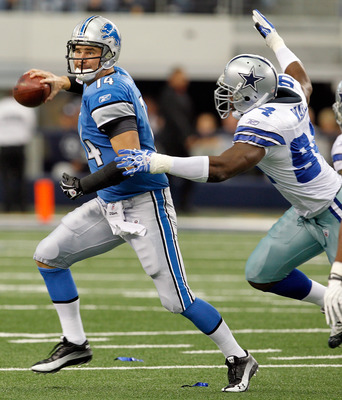 Tom Pennington/Getty Images
This was one of the NFL's dominant units just a few seasons ago, but these days it feels like DeMarcus Ware and the Bad News Bears.
Ware has eight and a half sacks, but the 'Boys have failed to stop the run and have turned over opponents just 15 times all season. Injuries have played a part in weakening the front seven, while the team continues to wait for corner back Mike Jenkins to figure things out: Jenkins had five interceptions last year but has only one this season, and has been torched repeatedly on the outside.
13. Seattle Seahawks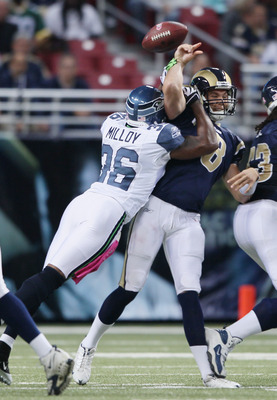 Elsa/Getty Images
It's hard not to like this Seattle secondary, anchored by safeties Lawyer "The Ageless Attorney" Milloy and super-stud rookie Earl Thomas. Lofa Tatupu isn't, you know, Lofa Tatupu anymore, but he still captains the defense well at middle linebacker and has an undeniable nose for the football.
Beyond that, though, the Seahawks defense is a mess. Opponents can run the ball almost at will, and the lack of pass rush generated by the team's front four forces the Seahawks either to bring forward their secondary or sit back and hope the opposing quarterback cannot pick them apart despite ample time. Seattle remains in the driver's seat in the NFC West, but that seat will feel warmer and warmer unless they find a way to balance their defensive unit.
12. Carolina Panthers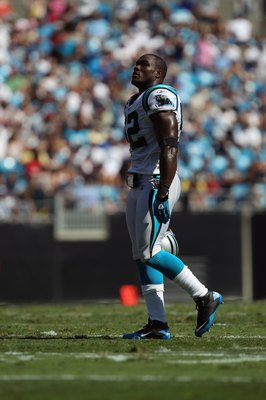 Streeter Lecka/Getty Images
The best defense is a good offense, and the Panthers suffer primarily because of their offense's appalling ineptitude. This group is actually good enough to make the team a modest contender, or would be if not for what is in every possible way the league's worst offense.
The problem is that the team's strength is its front seven, anchored by middle linebacker Jon Beason. When the other team gets the ball back as quickly and easily as opponents do against the Panthers, it gives those big men less time to recover. It also allows less chance for the secondary (led by Chris Gamble, and a disappointing unit overall) to stay fresh, and the field opens up as the defenders lose a step.
11. Detroit Lions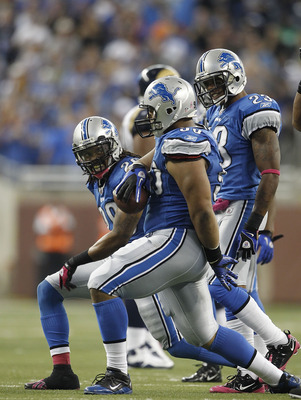 Leon Halip/Getty Images
This group is very young and extraordinarily talented, but has not yet put everything together. There may be no better defensive tackle in the NFL than rookie Ndamukong Suh, even right now. Kyle Vanden Bosch has also been a terrific addition to the team's front four. Still, the secondary has holes that will need to be plugged before Detroit can step forward into the first tier of NFC defenses.
10. Minnesota Vikings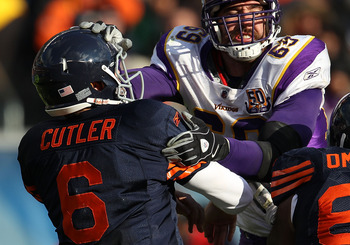 Jonathan Daniel/Getty Images
Like Dallas, Minnesota had consistently boasted of an elite defensive unit before their collapse this season. Jared Allen and the rest of the defensive line have let down a unit that relied on them too much as it was, and that has left gaping holes in the team's secondary.
Antoine Winfield's age and a season-ending injury to Cedric Griffin have taken away Minnesota's ability to lock down the outside, which has forced their safeties to cheat more in that direction. Meanwhile, the linebackers who had always played close to the line as run stoppers are now being forced to drop into coverage more often, a task to which Chad Greenway, especially, has proven ill-suited.
9. Tampa Bay Buccaneers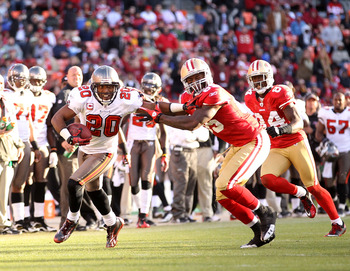 Ezra Shaw/Getty Images
Tampa has always played a defensive scheme highly dependent upon the skill level of certain key cogs, and their middling success this season is due to their middling talent on this side of the ball. Ronde Barber and Barret Ruud are well-rounded and fill the play-making roles well, but Tampa needs reinforcements to get more physical along the defensive line. Stopping the run has been a problem, and (because the Tampa scheme emphasizes shutting down the pass) will likely stay that way until the team can draft an impact run-stopper.
8. Atlanta Falcons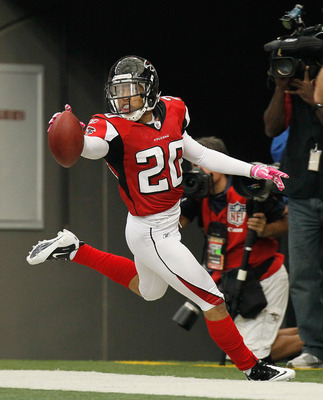 Kevin C. Cox/Getty Images
Brent Grimes is one of the league's underrated corners, and has been able to make plays in both the running and passing games over the past season and a half. He and Dunta Robinson (who has made fewer big plays but can shut down a great receiver on his good days) help Atlanta keep teams in the middle of the field, where a good and young group led by superb middle linebacker Curtis Lofton can handle opponents more easily. Atlanta needs just one or two more pieces to become a truly elite defense, but their Super Bowl hopes need not be squashed by the one in place already--especially because of the offense's potency.
7. San Francisco 49ers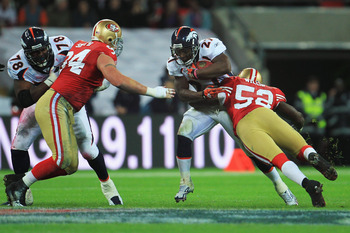 Chris McGrath/Getty Images
Patrick Willis is as good as it gets at inside linebacker, and 10-year veteran Justin Smith plays defensive end right in front of him. That is great for both Smith and Willis, because any potential double-teams go out the window. Smith has made plays himself, but his best contribution has been consistently keeping blockers from getting to Willis and Parys Haralson at the second level.
The problems for San Francisco all reside along the back lines. Nate Clements has not been the shut-down corner the team hoped for when they signed Clements as a free agent, and this year he is battling injuries. The rest of the group has fared little better, and the result has been inconsistent play by the entire defense: Neither Willis nor Takeo Spikes are the sort of inside linebacker who can easily or comfortably drift into pass coverage.
6. St. Louis Rams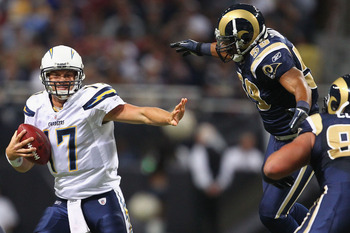 Dilip Vishwanat/Getty Images
The Rams love having James Laurinaitis, "The Animal," at linebacker. He can make plays in both the running and passing games, and he has done so with regularity in his second season. He leads the team with 58 tackles and has gotten even better as a blitzer.
The real hart of the defensive unit, though, may be O.J. Atogwe. The sixth-year safety has just 39 tackles and two interceptions this year, but that has been more than enough in addition to good deep coverage and a ton of energy at the free safety position.
5. Philadelphia Eagles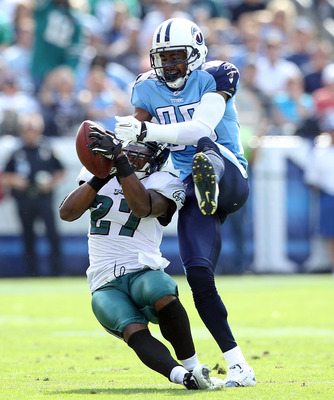 Andy Lyons/Getty Images
Asante Samuel remains one of the elite defensive playmakers in the NFL, having already picked off seven passes this season. In a defense long predicated on the play of a well-balanced secondary, that is crucial.
The emergence of Quintin Mikell as a studly companion to Samuel at strong safety, though, has really brought this defensive unit together. Mikell has 57 tackles, an interception and two fumble recoveries this season, and has improved in his coverage ability seemingly week-to-week. The Eagles are flying high right now and could soar into the playoffs with a top seed; Mikell will be crucial to their effort to turn that berth into a Super Bowl appearance.
4. New Orleans Saints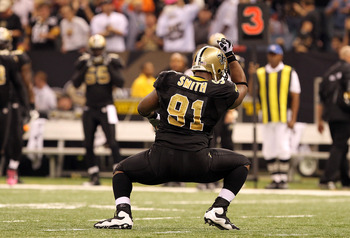 Matthew Sharpe/Getty Images
This unit was too often overlooked when the Saints were scoring points by the bucket last season, but they have kept the team afloat this year through leaner offensive times.
Will Smith leads a defensive line from which New Orleans seems always to get more production than one might expect. Alex Brown, whom the team signed after the Bears cut him early in the year, has emerged as a sturdy book end with Smith.
If Darren Sharper can get healthy and begin making plays in the secondary again, the Saints will be one of the NFC's top defenses. otherwise, Super Bowl hero Tracy Porter needs to step up a bit and fill the void for the team to advance deep into the playoffs against prolific passers like Aaron Rodgers and Matt Ryan.
3. New York Giants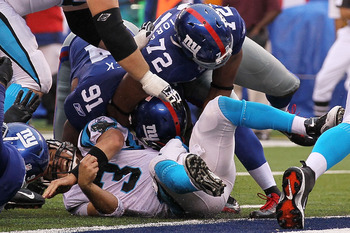 Chris McGrath/Getty Images
The Giants, as they always do, will emphasize pass rush in order to slow down opponents going forward. They need to beef up a bit against the run, especially as the weather turns and teams go to the ground more often, but the basic philosophy of keeping offenses off-balance and out of rhythm is a sound one.
Os Umenyiora, Justin Tuck and Barry Cofield all provide relentless, powerful pass rush, so it takes a really sound offensive line to slow them down. Vick and the Eagles were able to slice them up only when the Giants over-pursued or got out of their defensive lanes. That is their major vulnerability, and you can bet that the New York coaches will drill them into submission on that point by the time the playoffs start.
2. Chicago Bears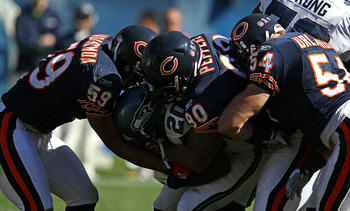 Jonathan Daniel/Getty Images
High-octane, swarm-tackling intensity has always marked the better nature of the Bears on defense, and it is back in force this season. Julius Peppers has not brought with him the sack numbers some expected, but his very well-rounded presence and his speed have seemingly spread to the entire defense.
Brian Urlacher looks better off for having had his season ended in Week 1 of 2009, as he is playing at as high a level as he has since 2006. Lance Briggs is the most under-rated 4-3 outside linebacker in football, one of the best at that spot in the past 15 years. The young secondary has had to learn on the job, but they have done so admirably so far. If the Bears go anywhere this post-seaosn, it will be on the strength of this group.
1. Green Bay Packers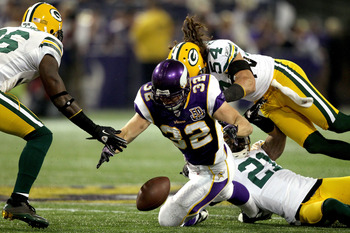 Matthew Stockman/Getty Images
The Packers are everywhere at all times defensively, and they want the football badly.
The pure athleticism of Charles Woodson and Clay Matthews would make the team strong on their own, but the team has bulldogs at virtually every other position who play high-energy, mean football. Matthews could easily top 15 sacks, while the rest of the defense focuses on getting the football whenever Matthews does not get to the quarterback.
In their last three games, the Packers have allowed ten points. Total. They shut out the Jets, held the Cowboys to one touchdown and allowed only a field goal to the Vikings, three offenses that (while not elite by the numbers) have worlds of talent and threaten the big play at all times. The Packers are as hot a team as there is in the NFL, and they might just be the NFC favorites.
Keep Reading

New York Giants: Like this team?