The Hottest Fan Photos Of The SEC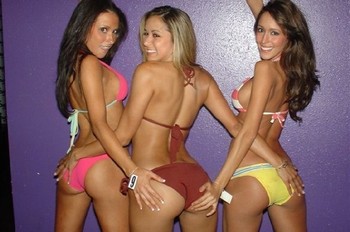 How do we spend our Thanksgiving holiday? What is there to do besides watching football all day on Turkey Day?
I can tell you one thing that could occupy your time during this week, looking at incredibly hot females in little clothing from the SEC fan bases.
I put this slideshow together for one reason, to help give you something to cure the holiday hangover. In my eyes, there is nothing better than sexy babes from college football.
I have compiled a list of the hottest fan photos taken from the around the SEC. Enjoy and have a great holiday!
25. Arkansas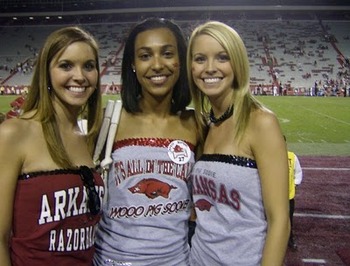 It didn't take long to find the Razorbacks fans. They are usually at the top of my rankings when it comes to fans, however, there was too much talent among the other teams in the SEC to place these babes any higher.
Pig Sooie? No thanks, I am good for now but can I have them instead please?
24. Those Sexy Gator Fans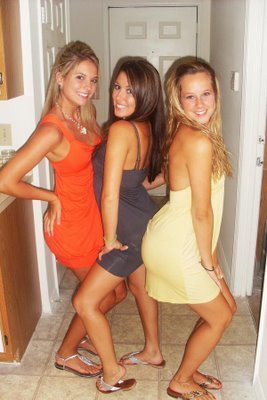 Aside from dedicating this entire slideshow to the University of Hot Women, I decided to only use a few pictures from Florida.
I could have used a million but I had to be fair to the others.
23. Kentucky Wow-Cats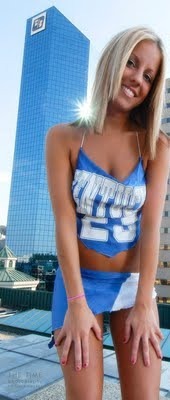 Whether she was on a rooftop or under a bridge, this hottie is fine in any spot.
If she needs help getting down, I have no problem with that.
22. Auburn Representing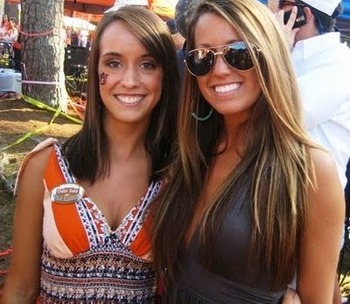 There is nothing sexier than a hot woman wearing Aviator sunglasses...
21. LSU in Short Skirts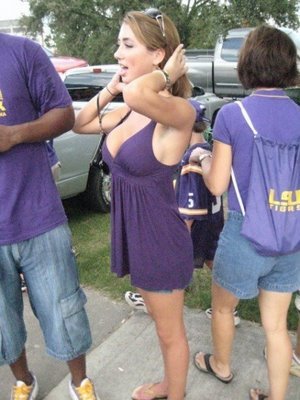 20. Arkansas's New Uniforms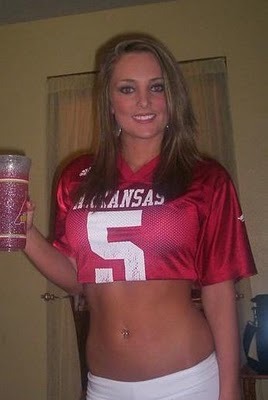 It would almost be a joke to see Ryan Mallet sporting this gear, but the way the uniforms have been getting tighter and smaller, this is not far off.
For now, we enjoy the half-drunk hottie.
19. Florida Gator Fans Travel in Packs of Hot Women
When I say that the Floirda hotties travel in packs, I literally mean that.
If you get a chance to go to Gainesville for a game, bring your camera and make sure you have the big memory card loaded up.
18. One Less Bulldog for the Rest of Us
Did anyone notice the bling on the finger?
Most men will say no, and who can blame them.
17. Tennessee Twins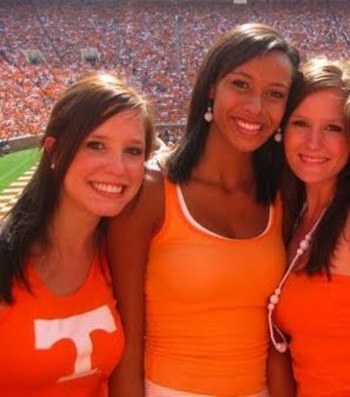 I am going to claim that the two on the outside are twins.
That being said, check out the hot twins and that one babe taking a picture!
16. Miss Everything from Georgia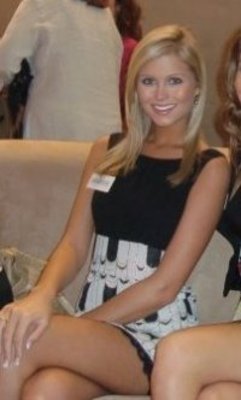 I call her Miss Georgia because someone has told me that she was Miss Georgia.
Now that you have that information loaded up, did she just get any hotter? Is that even possbile with this smoking hot babe?
15. Can You Guess Her Favorite School?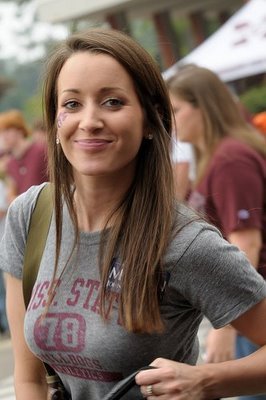 I was going to take a shot, but I just can not seem to tell who she roots for.
Every time I look at the name on her shirt, I get a little distracted.
14. 10 Reasons to Go to Arkansas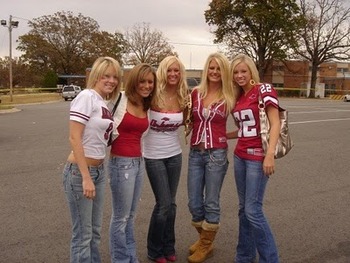 Two, four, six, eight,10.
That is how I came up with the 10 reasons. Five hotties, 10 twins. A deadly combination.
13. Kentucky Has Better Talent in the Stands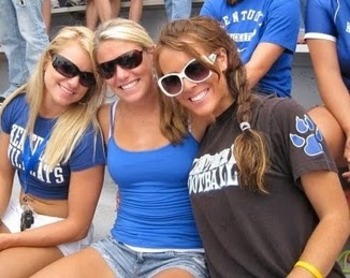 I make jokes about the Kentucky football team, but I mean no harm. They are a lot better than some random team from the WAC or something like that.
Now if only we could rank the teams in the BCS based on their fans. If that were the case, Kentucky would be ranked top-10.
12. Clothing Optional Auburn Fan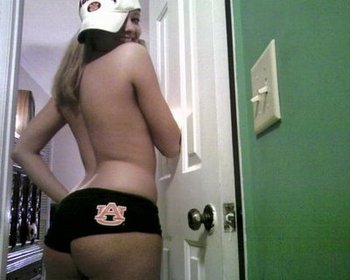 Auburn is on their way to a national title.
Meanwhile, in Alabama, this babe forgot to get fully dressed for this photo and no one seemed to be angry.
11. That Shirt Is Too Big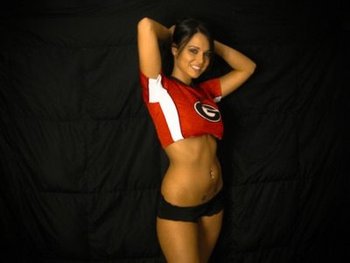 If the Bulldogs would have won more games this season, they would have had more women in this slideshow.
I will take this hottie, with the big shirt, anyways.
10. Bruce Pearl: Creep of the Week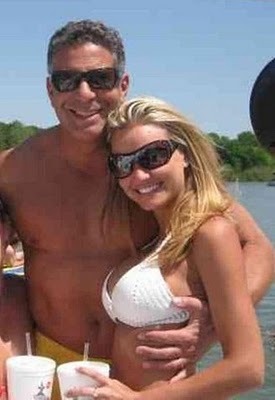 Yes, that is Bruce Pearl, head coach of the Tennessee basketball team.
If I had his money, was single and had no basketball team to coach, at least for the first few weeks, I would be doing the exact same thing.
She must like him because he is old. It has nothing to do with his money, I promise.
9. Another Hot Blonde from Oxford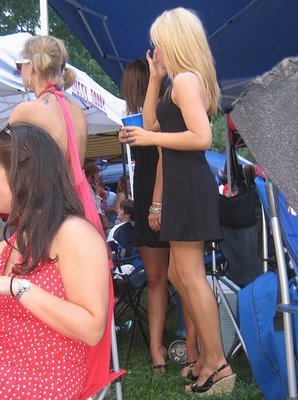 You can search all day for hotties from the SEC.
But then someone snaps a photo of this hottie when no one is looking and the work has been done for you. Thanks to the random photo taker.
8. Where Did Molly Sims Come From?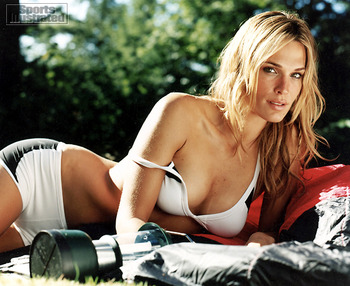 Vanderbilt does not have any talent. If they do, they are keeping it secret from the rest of the world.
So I will be using Molly Sims, a one-time student of Vanderbilt, as the lone representative of the university.
You can thank me later Commordore fans, if you guys are even still out there.
7. The Reason for Marriage Counselors
I think the title says it all.
Without women like this, Tiger would still be dominating the golf course.
6. That's a Normal Pose, Right?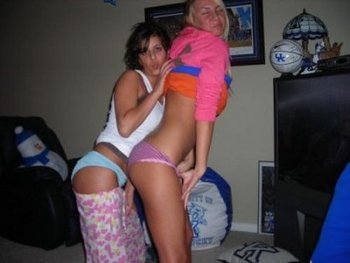 There are two things going on in this photo.
1) The Kentucky game was over about three quarters ago.
2) There may be some alcohol involved in the making of this shot.
5. Bourbon Street Trouble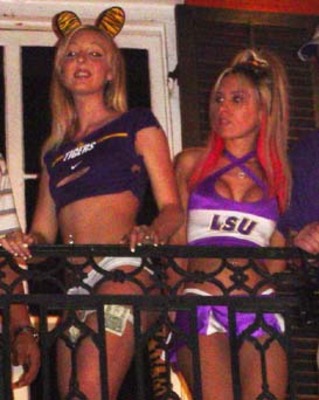 Have you ever been to Bourbon Street?
I have and it was filled with hotties like these two. The only difference was their lack of LSU gear and that's why these two babes make the list, they support the Tigers using their bodies.
4. Roll Tide Roll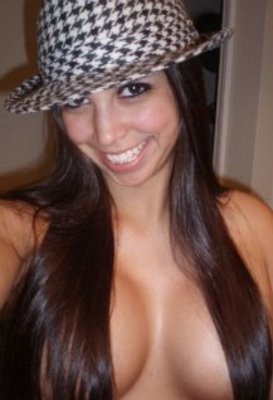 If there was only a way for the NCAA to allow females, that look like this one, to not wear clothing to the games if they feel that they don't want to.
I am certain no one would be complaining, I am not.
3. Just Another Ole Miss Lingerie Party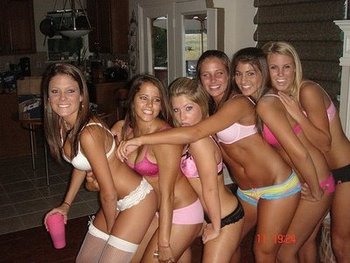 LSU just beat Ole Miss in a shootout last weekend.
However, there are no losers at this party. None at all.
2. Tebone Me? Nice!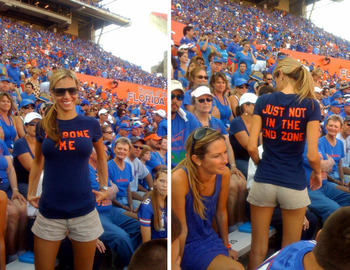 This photo might not be the most recent from Florida, but there are not too many highlights in Gainesville these days without Tebow down there.
So instead, I give you a classic babe with a classic Tebone tee.
1. Auburn Is Awesome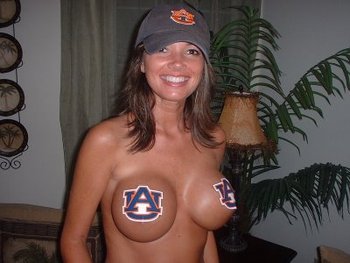 I am an LSU fan, this is not a secret to anyone.
That being said, doesn't Auburn look like a great place to go to school?
Keep Reading