Looking Forward: The Ideal 2011 Starting Lineup For The Milwaukee Brewers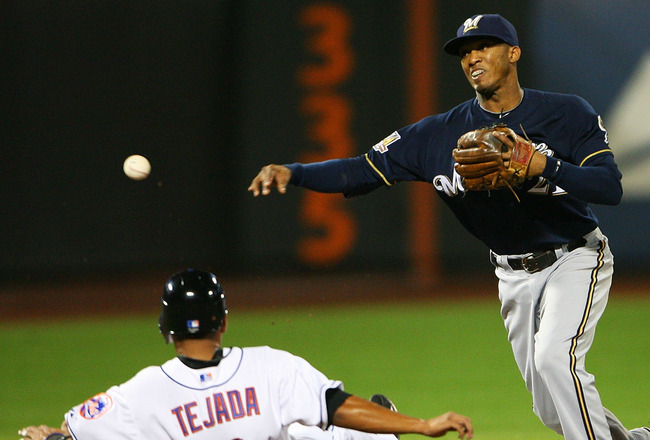 Andrew Burton/Getty Images
As the 2010 season slowly came to a close last month, so did the roster of the 2010 Milwaukee Brewers.
A season filled with disappointment, misfortune, and a handful of surprises brought us what we had expected: a team on the rise, with much potential in store.
Players were brought up solemnly to contribute to an effort worth fighting for. That is, of course, winning the NL Central in 2011. The hopes and dreams amid Milwaukee is that we can do that within the next few seasons.
Doug Melvin has drafted (and acquired) some amazing young talent throughout the last few drafts, and hopes to continue to do so. So much of our current successes rely and depend on the aptitude of our young players.
But for the sake of the current players on the roster, we must focus in on the 'here and now' part of the Brewers' equation for success.
The equation is simple, yet somewhat hard to figure: winning (Milwaukee's first priority), while preparing the new wave of talent into a complex, intelligent baseball club.
The hiring of newly-named manager Ron Roenicke, along with a fresh batch of coaches, will bring a new sense of urgency and pride to a young, adept ball club worthy of such instruction. One can only dream of what opening day has in store for us all.
With that being said, we must look further into what the Brewers currently attain, and how we plan to use it this upcoming season. There isn't much time to spare, so let's get started.
Starting Pitchers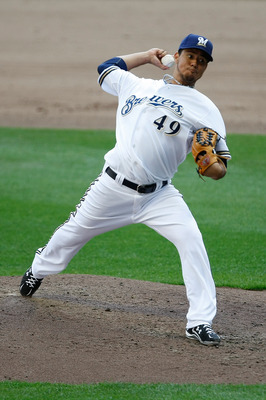 Scott Boehm/Getty Images
The Roster Projection
Yovani Gallardo
Gallardo's 2010 season was exactly what we had expected: 14-7, 3.84 ERA, 200 SO, 185.0 IP. Gallardo will continue to be the dominant force behind the bewildered Milwaukee pitching staff, and should continue to post numbers worthy of Cy Young candidacy.
Randy Wolf
Wolf showed signs of improvement towards the end of his first season with the Brewers, only further establishing himself as Milwaukee's No. 2 starter. Wolf went 14-12, with a 4.12 ERA to go with an expected 142 SO.
Chris Narveson
Narveson managed to post impressive shutouts against notoriously big-hitting ballclub's in 2010. The only trouble for Narveson is how he manages the first inning. Other than that, Narveson is definitely Milwaukee's (most underrated) No.3 starter.
Manny Parra
Once one of the Brewers' best up-and-coming young starting pitchers, Manny Parra now finds a possible permanent starting position. With past troubles giving up runs in large batches, Parra will need to adjust his game for the long-haul this season.
Relief Pitchers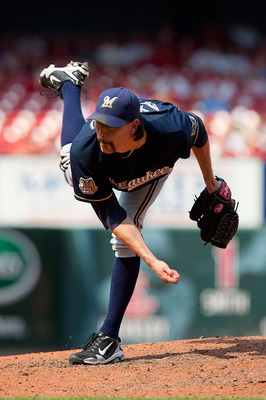 Dilip Vishwanat/Getty Images
The Roster Projection
John Axford
Axford finished a solid 2010 season as the Brewers' primary closer. Finishing with 24 saves, and a 2.48 ERA seemingly gives him the job next season with Trevor Hoffman gone.
Carlos Villaneueva
Villy was called up on September 1st along with Mat Gamel to give a little more experience under their belt. Villanueva has had enough experience throughout the years to earn him one of Milwaukee's primary relief-jobs.
Kameron Loe
Excluding Axford, Loe was arguably the most impressive young relief arms the Brewers used last season. Loe ranks 8th in holds (Hld) last season with 22 solid relief efforts.
Zach Braddock
Braddock was yet another young, impressive relief pitchers the Brewers ignited last season, posting 15 holds, 41 SO, and a 2.94 ERA. Braddock should get the recognition he deserves next season.
Todd Coffey
Coffey didn't have quite the year he was looking for last season, attaining a 4.76 ERA with just 13 holds to boot. Nevertheless, he will be needed in key situations in 2011.
LaTroy Hawkins
Since being acquired from Houston at the beginning of last season, Hawkins has costed Milwaukee a multitude of victories, thanks to his pitching miscues. Hawkins has been on the 15-day DL since August 12th, and looks to seriously improve many areas of his game.
Catchers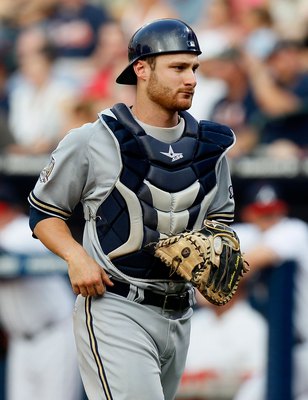 Kevin C. Cox/Getty Images
The Roster Projection
Jonathon Lucroy
After dismal offensive production from Greg Zaun at the beginning of last season, the Brewers established future star Jonathon Lucroy to the offense on a regular basis.
The move paid off for Milwaukee, as Lucroy ended up with 26 RBI, 4 HR, and a .253 BA. It's safe to say Lucroy will be handling the starting position for the majority of next season.
George Kottaras
Before giving Jonathon Lucroy a majority of the games towards the end of the season, George Kottaras got a decent chunk of playing time.
As a part-time catcher in 2010, Kottaras managed to bat .203, while piling up 9 HR, and 26 RBI. His role next season has no clear prospectus thus far.
First Basemen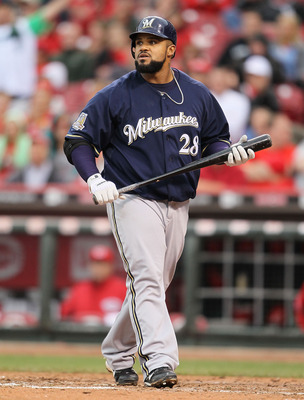 Andy Lyons/Getty Images
The Roster Projection
Prince Fielder
It's clear that 2010 wasn't Fielder's premier season, and questions are now only beginning to swirl over his status with the Brewers. Nevertheless, Prince is more than likely to stay with Milwaukee until the beginning of the 2011 season.
Fielder managed to rack up .261 BA, 32 HR, to go with just 83 RBI. He also maintained his reputable on-base percentage at .401 -- a mark that even some of the best cannot reach.
It remains to be seen whether or not Fielder will in fact become trade bait for potential starting pitching --and if his stock starts to drop, there may not be any possible trades coming Milwaukee's way this off-season.
Fielder is still (obviously) the No.1 first baseman on the Brewers' roster, and will remain so until further notice.
Second Basemen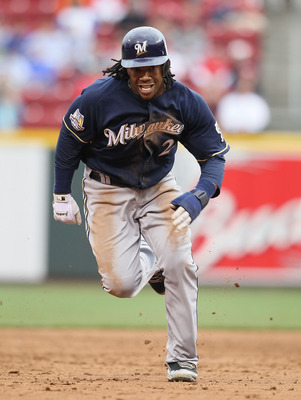 Andy Lyons/Getty Images
The Roster Projection
Rickie Weeks
The prospectus within Milwaukee remains that Rickie Weeks will sign a contract extension with the Brewers, putting him in prime position to keep his lead-off role for 2011.
Weeks was at nearly the top of every major offensive category for second basemen, totaling up 83 RBI, 29 HR, and a .269 BA.
Weeks battled multiple lingering injuries last season, yet still managed to prove his worth throughout the course of an entire season -- something that he hasn't been able to do his entire career. Should Weeks continue to keep up the consistency, along with the All-Star type numbers, he could potentially be looking at multiple Silver Slugger awards.
Along with the bat, Weeks has also been able to get it done with the defense. Weeks attained his personal best FPCT (fielding percentage) at .980. In 2010, Weeks only committed 15 errors total; a league best for second basemen who played at least 150 games.
Third Basemen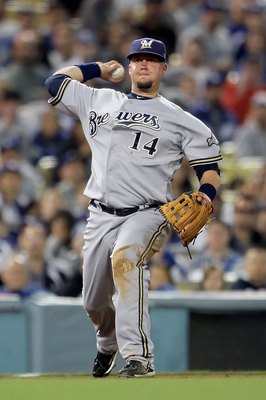 Jeff Gross/Getty Images
The Roster Projection
Casey McGehee
During his breakout season, 3rd-baseman Casey McGehee managed only to lead the Brewers in RBI (104), along with 23 HR, and .285 BA. Pretty impressive stuff coming from a guy who was dumped by the Cubs only two years ago.
It's safe to say McGehee will keep his starting job in 2011. Should his successes continue, don't be surprised to hear Silver Slugger talk.
Arguably the MVP of the Brewers last season, McGehee certainly is on his way up within the league.
Mat Gamel
Gamel had limited time during his 61-game stint in 2009, a season in which he piled up 5 HR, 20 RBI, and a .242 BA.
Should Prince Fielder be traded away, it is certainly not out of the question for Ron Roenicke to move either Gamel or McGehee to first base.
As one of the top prospects the Brewers have ever had, Gamel will surely get playing time wherever there is a spot open.
Shortstops
Dilip Vishwanat/Getty Images
The Roster Projection
Alcides Escobar
One of the top prospects the Brewers have had in years, Escobar is the sure-fire shortstop of the next decade.
Not only is he a threat at the plate (accumulating 41 RBI, 4 HR, .235 BA in 2010), Escobar is also an ominous part of the Brewers' plan to steal bases at any point in time.
Escobar maintained a FPCT (fielding percentage) of .968. Obviously not his best effort out in the field as of the 2010 season, however Doug Melvin has stressed Escobar's defensive skills many times during his development.
Last season was Escobar's 'break-in' year, and we should expect great things out of him in 2011.
Outfielders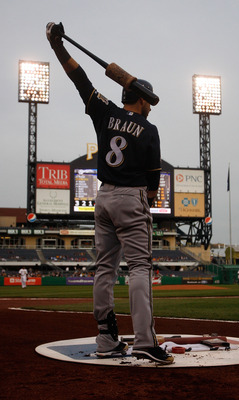 Jared Wickerham/Getty Images
The Roster Projection
Left Field: Ryan Braun
2010 wasn't the best year Braun has ever posted, yet somehow he managed to impress us all.
Batting .304, with 25 HR and 103 RBI wasn't even enough to be named Brewers MVP (which went to Casey McGehee), and 2011 should bring forth much improvement from the future hall of famer.
Defensively, Braun covered the outfield with ease -- attaining a .990 fielding percentage by the end of the season. Remember, 2010 was only Braun's 3rd season ever playing left field.
Center Field: Lorenzo Cain
Lorenzo Cain broke onto the scene around the middle part of the season. Since then, Cain has made a name for himself -- especially in the field. Cain has been apart of many web gems in just a short stint thus far with Milwaukee. With a fielding percentage of .980, Cain is certainly in position to have the Center Fielder's job.
Cain's batting has also impressed many, batting .306, along with 1 HR and 13 RBI.
Right Field: Corey Hart
Having the best personal season of his career earned him a brand-new contract from Doug Melvin and company. Of course, those impressive numbers he managed to put up didn't come without time, and dedication.
Hart (along with Ryan Braun) made up two thirds of the NL's starting outfield in last season's All-Star Game, and this coming season makes for the same.
As for 2010, Hart batted .283, with 31 HR and 102 RBI. However, the most impressive statistic was Hart's slugging percentage, attaining .525 just last season.
Coaching Staff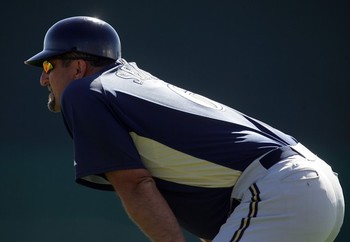 Coaching Staff Review 101
The hiring of Angel's bench coach Ron Roenicke will certainly spice up the Brewers' clubhouse, as well as sprucing up the entire fan base in Milwaukee.
Sure, the new 'win now' attitude that Roenicke carries may cause many caution flags for the rest of the newly hired coaching staff. But the fact that Doug Melvin was eager enough for this team to go out and get acquainted with a new, aggressive manager speaks wonders about his new found character.
As for the rest of the coaching staff: there is much to be accomplished this season.
Starting with the newly hired pitching coach Rick Kranitz, who takes over one of the league's worst starting rotations as far as earned runs go.
Kranitz, former Baltimore Orioles pitching coach, is eager and ready for the challenge presented to him. Changes won't come overnight, but rest assured he will implement consistency and strength to a rotation that desperately needs it.
Ed Sedar (above), since signing with the Astros as an outfield instructor for seemingly a week, is now back with the Brewers. Taking over the reigns as the third-base coach will present a great challenge for Sedar.
The rest of the coaching staff is as follows:
Bench Coach - Jerry Narron, 1st Base Coach - Garth Lorg, Hitting Coach - Dale Sveum, Bullpen Coach - Stan Kyles
For all your Brewers info, news, updates, and more, make sure to visit Brewers Daily
Keep Reading

Milwaukee Brewers: Like this team?